Have you ever played the Never Have I Ever Game? This holiday gift exchange game is a hilarious holiday adaption of the very popular Never Have I Ever that's appropriate for kids, teens, and adults! And with tons of holiday themed Never Have I Ever questions, this will be one gift game you'll want to play year after year!
What is Never Have I Ever?
Growing up one of my favorite games ever was Never Have I Ever. We played it all the time in high school and even in college if I'm being honest. The basic idea is that everyone sits or stands in a group and one person says, "Never Have I Ever XYZ" and they name something they've never done. Then anyone who has done that either switches places or puts a finger down depending on how you're playing the game.
This will make more sense as you read through this entire post about how to play Never Have I Ever!
But the ultimate goal is that it's a fun way to get to know other people a bit better and it's normally pretty hilarious, especially if you stick with Never Have I Ever questions clean enough for all ages. It may not be one of my favorite party games for adults, but it comes pretty close!
How to Play Never Have I Ever?
In a standard game of Never Have I Ever, there are two different ways you can play but the general idea is the same.
Everyone stands in a circle and one person says "Never have I ever XYZ," (replacing XYZ with something they've never done). This could be something like never breaking a bone, never going out of the country, etc. Just something that person has never done that they think other people probably have.
Anyone who has done the thing the person says must switch places with someone else in the circle who has done it. This is the more interactive and active version.
Alternately, if you want to play a version where people get out. If someone has done something, they have to put down one of their five fingers. First person to have to put all five fingers down is out. This getting out version is better for teens and older and the interactive version is good for all ages.
How to Win Never Have I Ever?
To win never have I ever you have to be the last person with fingers still up when everyone else has put their fingers down, but like I already mentioned – I like the no winners, just moving around and laughing version instead!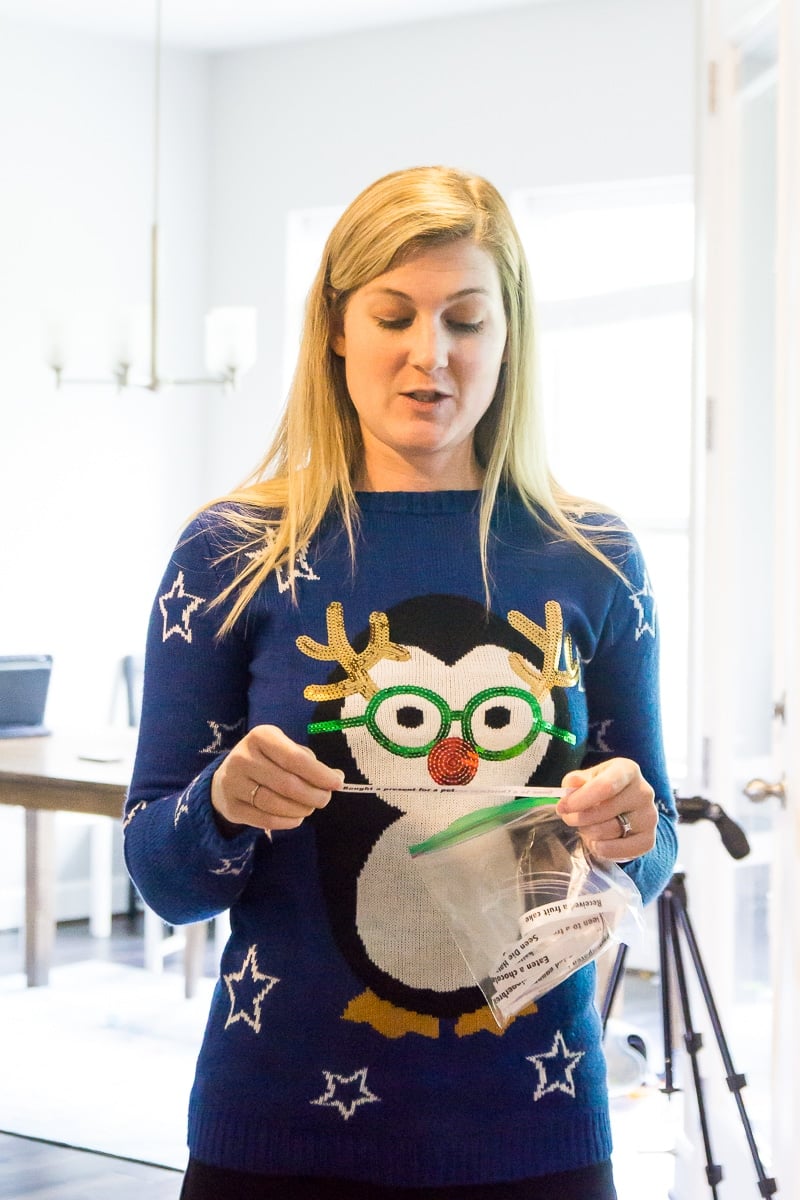 Christmas Never Have I Ever Game
Okay so you've got the basic gist of how to play Never Have I Ever? Now let's talk about how to do this as a Christmas gift exchange game because that's when it gets really fun! Watch the quick video below to see how this game is played then read through the detailed instructions below for more information and the actual rules!
Never Have I Ever Game Setup
First off, ask everyone to bring a wrapped gift. These gift exchange gift ideas are great for anyone who might need ideas!
Then print out the list of Christmas Never Have I Ever questions (get them below), cut them into strips, and put them in a holiday gift bag that's big enough for someone to stick their hand into and pull out a paper.
And lastly, clear out a space that's big enough for everyone to stand in a circle and move among the circle without having to push and shove each other out of the way.
How to Play Never Have I Ever Gift Game Edition
1 – When people arrive at the party, have them put their wrapped gift on the table.
2 – When you're ready to play, have people stand in a circle in the space previously cleared out. Then give each person a wrapped gift at random and have them put it at their feet.
Before you get started, explain the game and make sure they are very clear on three very important rules. If you're worried about these being an issue, I recommend trying out one of these other gift exchange games instead.
No pushing/shoving/touching other people in any way.
No running – just walking.
Whoever gets to a gift first gets that spot, no fighting over a spot.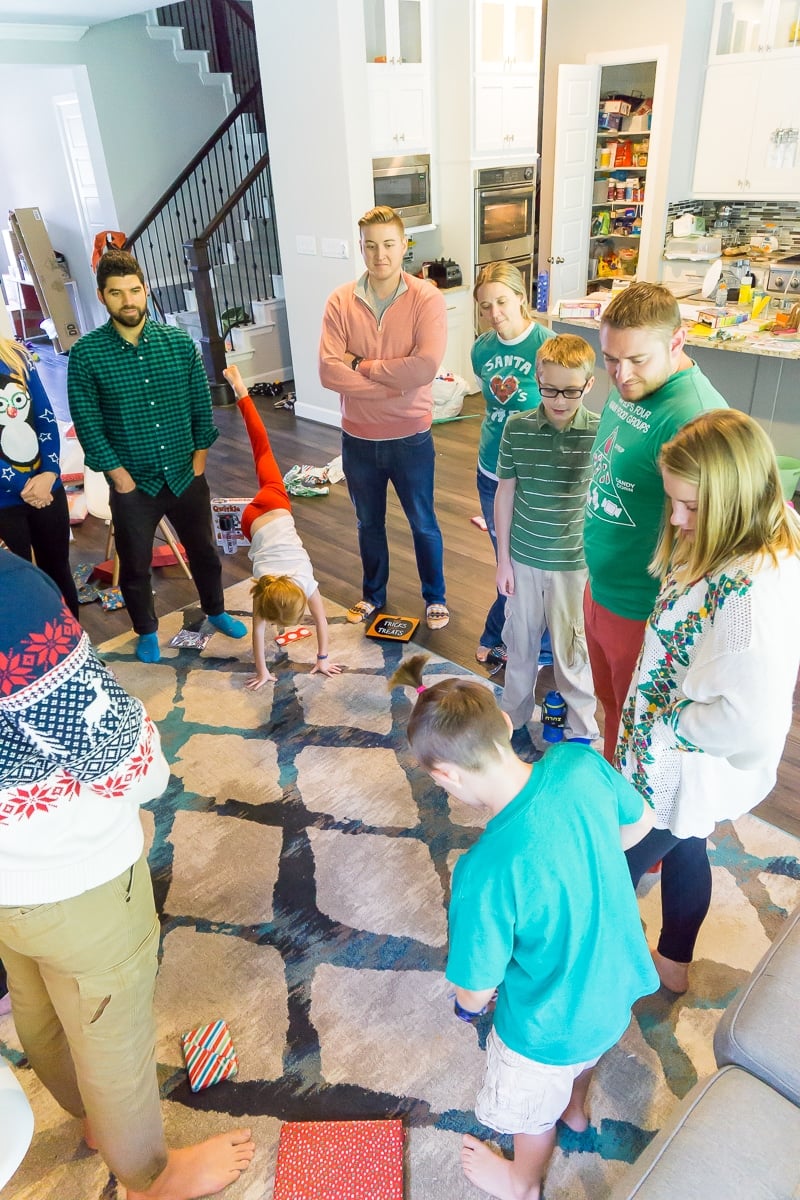 3 – Pick someone to go first. Give them the bag of Never Have I Ever questions and have them pick one out of the bag. Have them say, "Never have I ever [insert holiday saying from the bag here]." Anyone who has done the thing on the paper, including the person who read it, must change spots with someone else that is at least two spots away from them (so no switching with the person next to you). GIFTS STAY PUT.
4 – Find the person who read the question and have them unwrap the gift at their feet while everyone is watching so people know what it is. Then the opened gift goes back on the floor and the wrapping paper or gift bag gets set aside.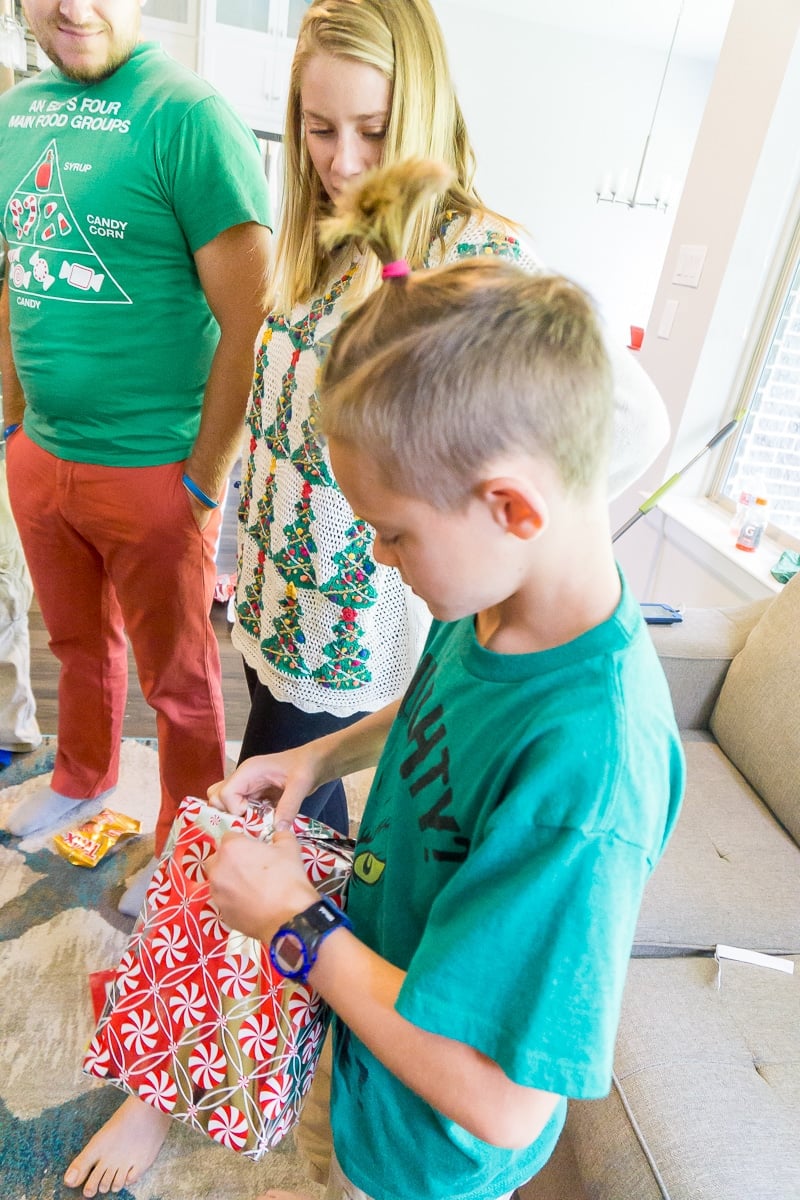 5 – Hand the bag of questions to the person to the right of the person who just unwrapped their gift unless that person has already read a statement, then pass it to the next person on the right who has not had a chance to read yet.
6 – Repeat the same thing again. Never Have I Ever XYZ, people move who have done it, and gifts stay put. The second person to read unwraps their gift (unless it's already unwrapped) and then passes the gift bag along.
7 – Continue playing until everyone has had a chance to read a Never Have I Ever statement (there are over 50 different options). All of the gifts will not necessarily be unwrapped if people moved to already wrapped gifts, so at the end of the game once the final moving is over, whoever's gifts are not yet unwrapped can unwrap their gift.
8 – Everyone ends up with the gift at their feet after the final round.
Want more gift exchange game ideas?
Get the ultimate gift exchange game bundle! The best gift exchange games all in one printable PDF – instructions, printable cheat sheets, printable playing cards, and more! Click on the image below to check it out.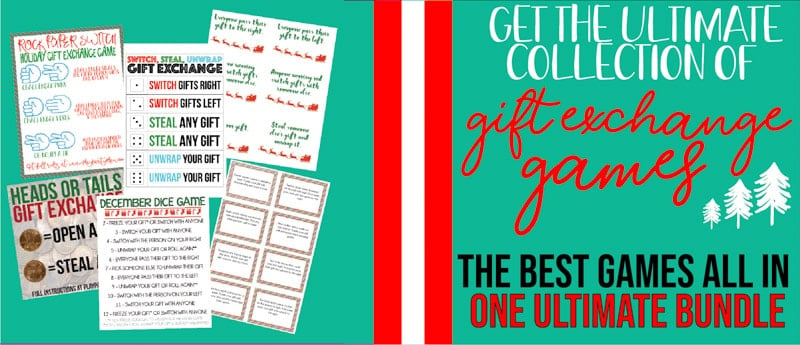 Christmas Never Have I Ever Questions
I've put together a document with over 50 different Never Have I Ever questions, really statements, that are holiday related in some way. You can use these for the game or if you'd prefer just have people come up with their own holiday "Never Have I Ever questions," just be forewarned that this tends to add a lot of time to the game because people can take a while to think of things.
Never-Have-I-Ever-FinalFinalFor the purposes of this gift exchange game, I recommend just going with the list I've already put together or some other predetermined list!
Enter your first name and email address into the form below to get the printable list. If you cannot see the form below, click here to get to it.
Don't forget to pin these Never Have I Ever questions & game idea for later!