These sixteen Christmas gift exchange games are some of the most creative and unique gift exchange ideas ever! No more traditional white elephant gift exchange, this year try one of these gift exchange ideas instead and impress your guests with such fun ideas!
16 Fun Christmas Gift Exchange Games
Try one of these fun and unique gift exchange ideas this year to break the norm. Almost every holiday party I've been to in the past ten years has had a very similar gift exchange along with other Christmas party games.
Everyone brings a wrapped gift and gets a number. The first person chooses a gift and unwraps it, the second person can steal that gift or choose another, and so on.
I don't even have to write out exact details because you all know. It's the same game everyone plays at their holiday party every year whether you're celebrating with family members for a family gift exchange friends, or even an office gift exchange.
This year I dare you to break out of the typical gift exchange box and try one of the unique gift exchange games below at your holiday party. They'd be perfect go along with these Christmas games. Let last year be the final year you did something lame.
The only other thing you need is an amazing white elephant gift and luckily I have a ton of great white elephant gift ideas for you!
Gift Exchange Games Index
I've split these games into three sections for you. Click on the links below to jump straight to those games!
Want to see how fun these games can be? Watch the video below to see these games in action!
Want all of these in printable form in one place?
Get the ultimate gift exchange game bundle! The best gift exchange games all in one printable PDF – instructions, printable cheat sheets, printable playing cards, and more! Click on the image below to check it out.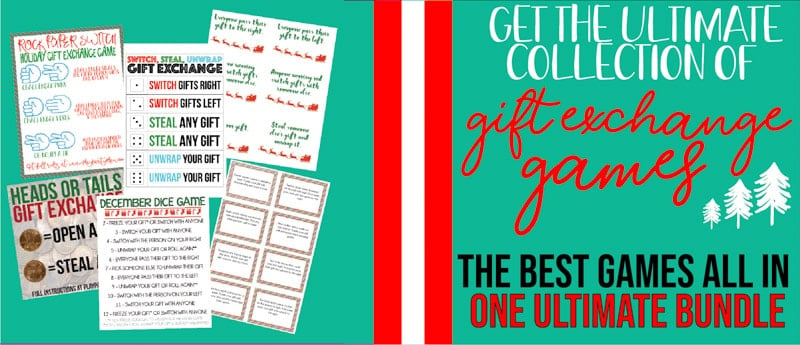 Dice Gift Exchange Ideas
These games are played with a set of dice and the dice tell you what to do with the gifts! They're super fun and a great change because the gifts are controlled by dice – not choice!
1 – Switch Steal Unwrap Dice Game
In this game, everyone starts with three small gifts. You roll the dice and the dice determine if you switch, steal or unwrap gifts.
Game ends when all the gifts are unwrapped.
This is by far one of the best gift exchange games I've ever played and my most viral gift exchange game for good reason – it's a blast! And you don't know what's going to happen until the last gift is unwrapped!
Get the full instructions and printable dice cards here as well as blank cards! You can do this one with gag gifts, but I prefer it with real ones!
2 – December Dice Gift Game
Prep:
For this game, you will need two six-sided dice. Ask all of your guests to bring a wrapped gift. And print out the dice rolling cards, people will want to know what's happening to their gifts! Here are some great gift exchange gift ideas if anyone needs them!
How to Play:
1 – Have everyone sit in a circle with their wrapped gift in their lap.
2 – Give the dice to one person in the circle and tell them to roll the dice and follow the instructions that correspond with the number they roll. For example, if they roll a 6 everyone would pass the gift to the right, roll an 8 and everyone passes to the left.
3 – Go around the circle allowing everyone to roll the dice two times (or however many you choose). During the second round before someone rolls, if they have not yet unwrapped their gift have them up wrap it so all of the gifts are unwrapped by the end of the second round.
4 – Once the dice have gone around the circle the number of times you chose, your guests will keep the gift in their hands. This type of gift exchange is great because it's so random, you never know what will happen!
Get the Printable December Dice Cheat Sheet
To print the dice cheat sheet, enter your email and first name below to get a copy of the file. If you do not see a box below, click here to get to the form.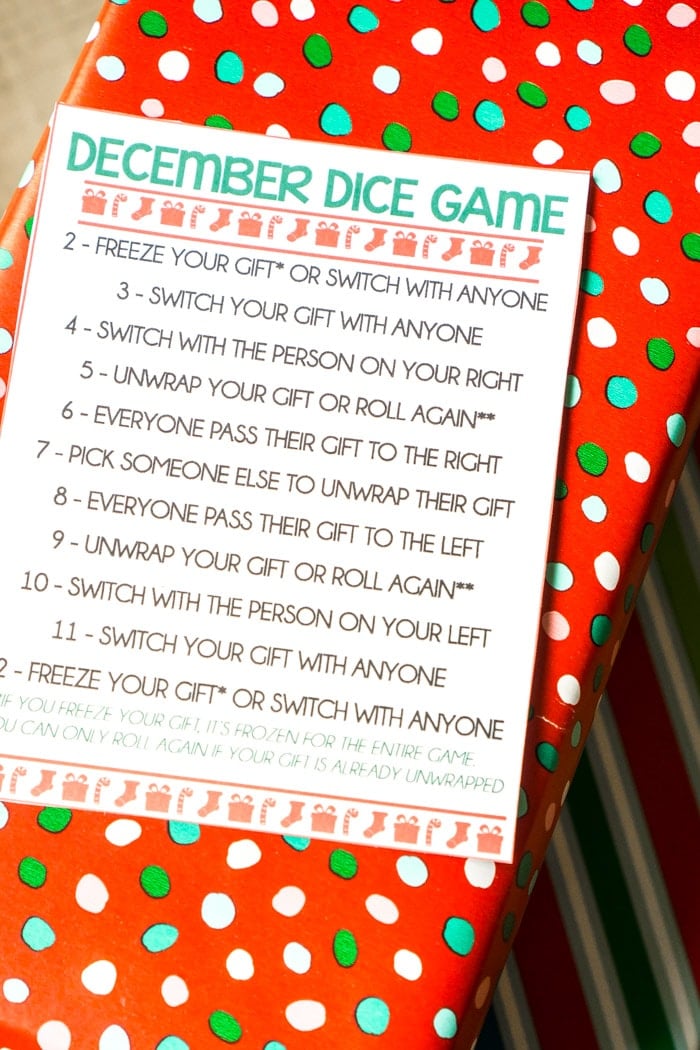 Gift Exchange Card Games
These games are all ones that use a set of custom cards designed just for the gift exchange. Some of the cards tell you what to do – others give you special actions you can use to better your chances during the game.
And they're all super fun!
3 – Scrooge Your Neighbor
This game is played just like any regular gift exchange with one exception – everyone gets a character card at the beginning of the game, characters inspired by A Christmas Carol.
During the gift exchange, you can use your card to do certain actions like peek at a gift before opening, block a steal, and even unfreeze a frozen gift!
This is a new game we played this year and absolutely love it! Get the cards and all the rules for Scrooge Your Neighbor here. It's one of the best game of white elephant gift giving we've played!
4 – Pick A Gift, Any Gift
In this game, everyone brings one gift just like in a typical white elephant gift exchange. Instead of just deciding whether or choose a gift or steal someone else's, you pick a random card instead.
The card will tell you what to do with your gift – steal, swap, unwrap, pick a second gift, and more.
This is one of our favorite gift exchange games! Get the free printable gift exchange game cards here!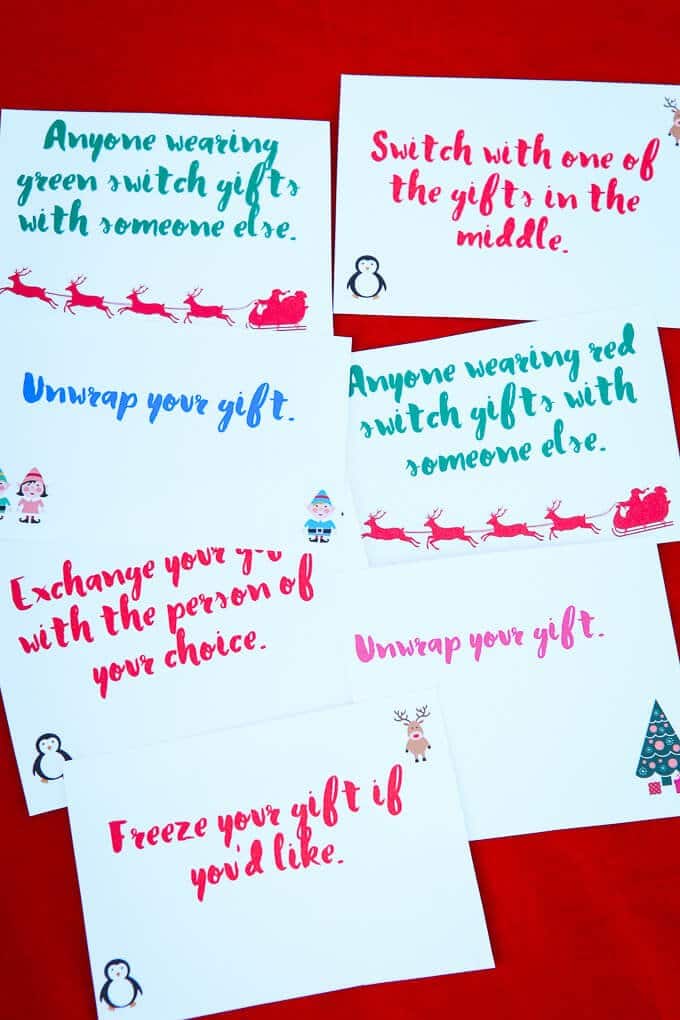 5 – Twelve Days of Christmas Gift Exchange Game
The last of these gift exchange games is another favorite! Apparently all of these are my favorite because they're all so fun!
Similar to the game above, the card you draw in this game tells you what to do with your gift. Only this time instead of random sayings, these cards are all themed based on the 12 days of Christmas song. It's perfect for a 12 days of Christmas party!
So not only is it fun, it's hilarious to read what happened in the new version of this song (and game!). Play this and these 12 days of Christmas games for one festive event!
Get the full details and printable cards here.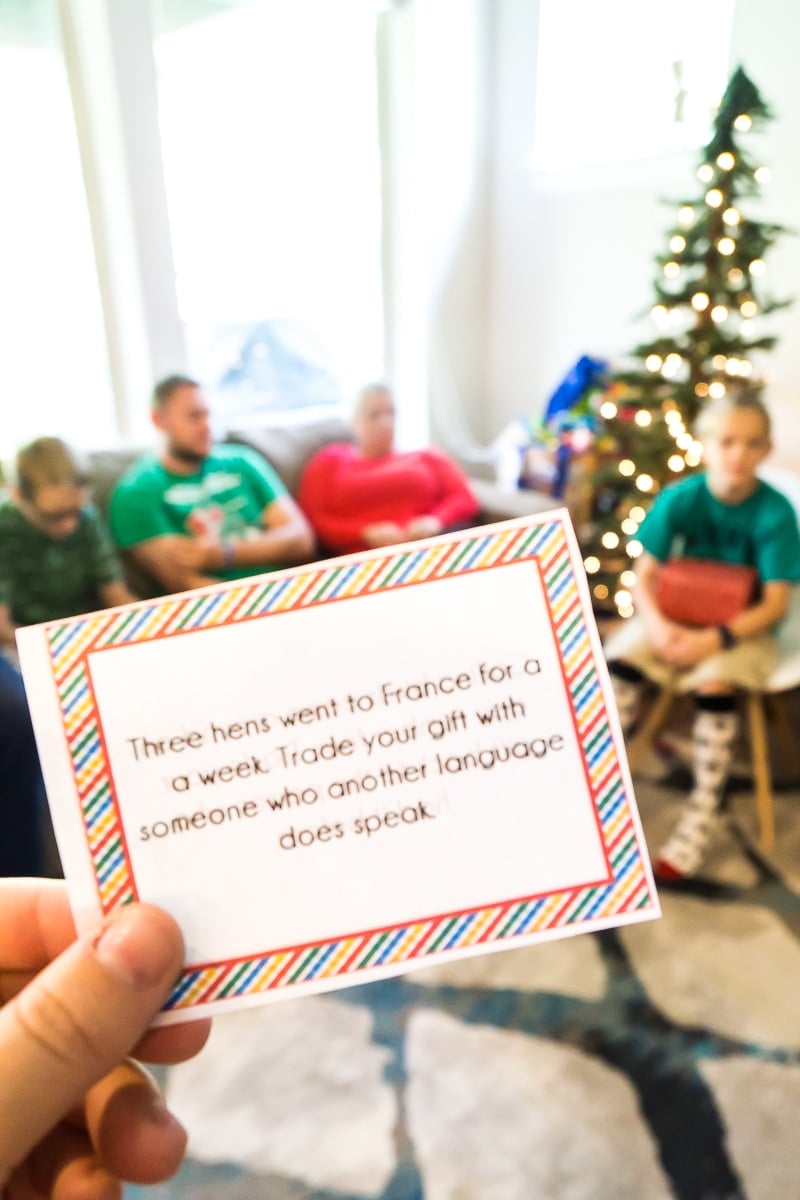 6 – Deck of Cards Gift Exchange
This deck of halls gift exchange game is similar to the dice one above except you're using a deck of cards instead! Each card that gets flipped tells you to do something like passing gifts around a circle, stealing gifts, and more!
This is my favorite new gift exchange and will definitely be a group favorite!
Get the rules and the printable deck of cards gift exchange game here.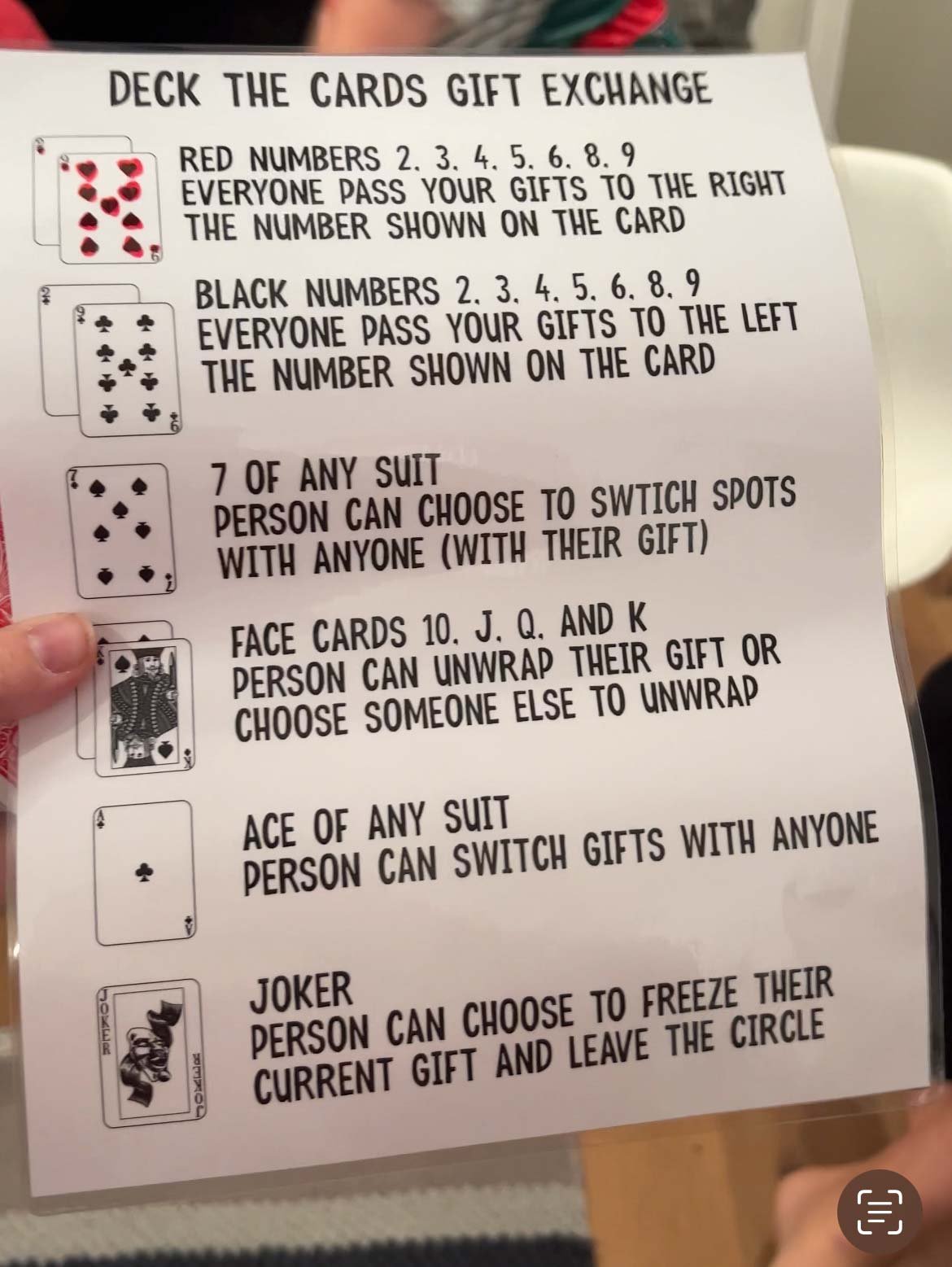 Game of Chance Gift Exchange Games
Similar to the gift exchange games with dice above, these ones are also based on an element of chance – whether it's a flip of a coin or winning a challenge! Just another fun way to change up the typical white elephant game!
7 – Santa's Helper Gift Exchange
In this game you're trying to get the perfect gift for someone else instead of yourself! Everyone shares things they like and dislike then secretly you play the game trying to get the best gift for your person!
It's hilarious, fun, and a great way to change up a gift exchange! You could also use these cards for a secret Santa exchange where you draw names of who your gift recipient will be.
Get rules and the free printable tell your elf cards here.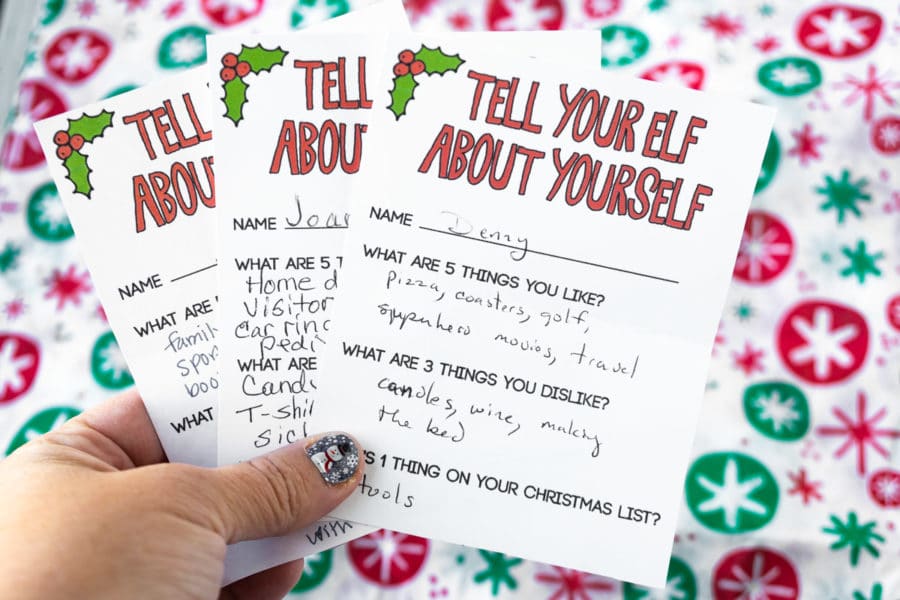 8 – Heads or Tails Gift Exchange Game
Let your gift exchange be dictated by the flip of a coin in this fun heads or tails gift exchange. Heads you choose a gift to unwrap, tails you get to steal from another person.
It's amazing how just adding a little coin to a game can change it completely.
Get full rules and instructions here.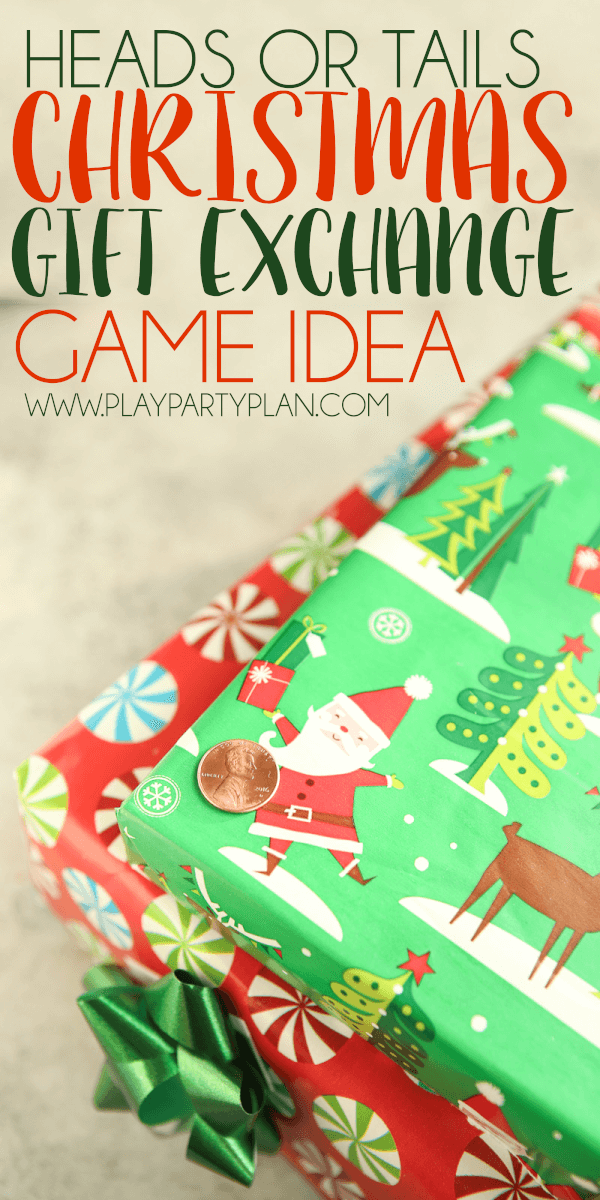 9 – Rock Paper Switch Gift Game
This game is played similar to a traditional gift game or white elephant game. The big difference is that in order to steal a gift from someone, you have to beat them in rock paper scissors first.
But that's not all – this gift exchange game is full of fun twists and surprises all based on whether you go with rock, paper, or scissors!
Get full rules, instructions, and a printable game sheet here.
Active Gift Exchange Ideas
These are the gift exchange games that will get your guests up and moving around the room or the gifts get moving all over the place! That might happen a bit with the other games as well but these games are designed to be active and interactive!
10 – Holiday Hustle Gift Exchange
If you've ever thought a gift exchange lasts too long or you just have a short amount of time to do the exchange, this fast paced gift exchange is controlled by a one-minute hourglass timer!
It's maybe one of my favorite gift exchange games ever, and I can guarantee that no one is going to be mad when your gift exchange lasts ten minutes instead of an hour!
Get the full rules and instructions for the holiday hustle gift exchange!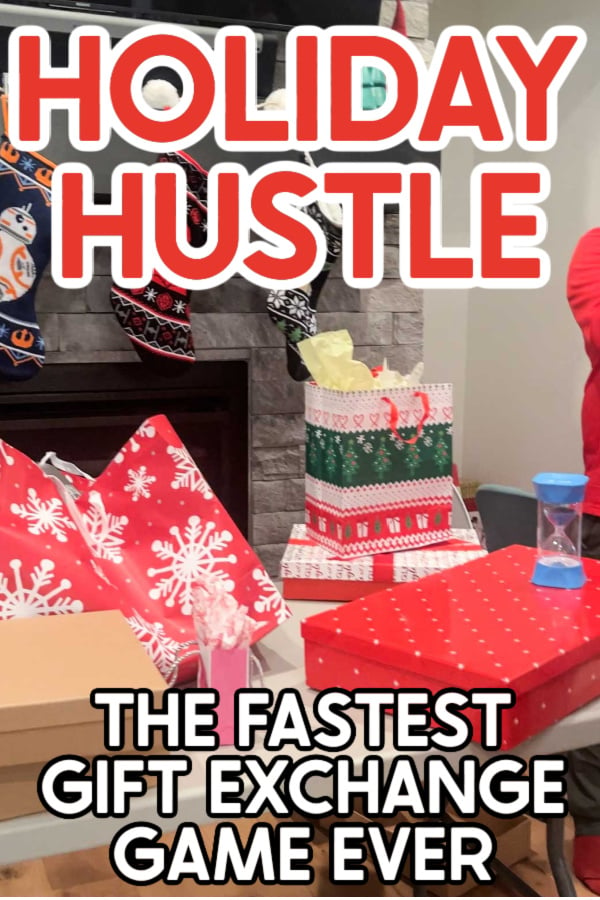 11 – Musical Gifts
Prep: This game probably works best with smaller (20 or less) groups of people. For this game, ask all of your guests to bring a wrapped gift. When your guests arrive ask them to put their gift in a designated area. Have your guests sit in a circle.
How to Play:
1 – To start the game, pick out a random gift from the table and give it to someone in the circle.
2 – Play Christmas music and tell your guests to pass the gift around the circle until the music stops. It's like musical chairs but with gifts!
3 – When the music stops, whoever has the gift in their hands will unwrap the gift, show the rest of the group, and leave the circle with their gift. That's the gift they end up with for the game.
4 – Repeat with another gift and another person until everyone has gotten to unwrap a gift and is "out of the game."
This one is great if you're doing a family gift exchange, a gift exchange with homemade gifts, or anything where party attendees might get feelings hurt if stealing is involved!
Alternative Option!
If you'd rather make the game a little simpler and less time consuming, you can just start everyone with a gift at the beginning of the game. Play music and have everyone pass their gifts around until the music stops. When the music stops everyone opens their gift and goes home with that gift.
Or you can do two rounds and have half the people unwrap their gifts and half not. Then after the second round have the other half unwrap and everyone go home with whatever they ended up with.
12 – Christmas Never Have I Ever Gift Exchange
You know the traditional Never Have I Ever game? This is a holiday gift exchange take on that where people read Never Have I Ever statements and if they've done the thing – they have to move seats (and leave their gift behind).
It's hilarious and a great way to get people switching without hurting anyone's feelings with stealing. This one is best in small groups of 20 or less.
Get full instructions for the game and over 50 Never Have I Ever questions for this Christmas version here!
Present Passing Gift Exchange Ideas
The beauty of these gift exchange games is that there's no stealing or really choosing involved. The lines in the poem or book determine where the gift ends up!
These games are great for a girls night, office party, or any time you may not want to hurt people's feelings with stealing! Or if you don't have long to play.
13 – Lucky Last Line Gift Game
In this fun gift exchange game, you wrap up a gift with multiple layers of wrapping paper and include a line of a poem on each layer of wrapping paper.
Start the gift with one person who has to pass the gift off to someone who matches the description in their line of the poem.
Keep passing and unwrapping the gift until the final person ends up wrapping the gift itself, not just another layer! The person who unwraps the final gift gets the larger gift inside!
Get the free printable poems (four different versions) and full rules here.
If you wanted to do something closer to the pass the parcel game, you could also add inexpensive gifts to each layer.
This game works really well with large families, large groups, and when you want something with gifts at your Christmas parties but not necessarily a formal type of gift exchange.
14 – Left Right Poem Gift Exchange Game
In this game, everyone brings a wrapped gift and sits in a circle. Read the poem and when the words "right" or "left" are read, everyone passes their gifts left or right.
You've gotta pay close attention though because it can get crazy with rights and lefts all over the place! And it's no easy task!
The best part of this is being the reader and watching the hilarity happen during this holiday gift-giving game!
Get the full instructions and free printable Christmas gift exchange poem here!

15 – Mug Gift Exchange
Instead of having people bring a wrapped gift, have them bring a mug filled with small wrapped gifts! Then use the left right poem above to exchange Christmas gifts with a mug theme!
Or if you want some other fun ideas to do with the mugs, here are some great mug exchange ideas that would be so much fun for a Christmas party this holiday season!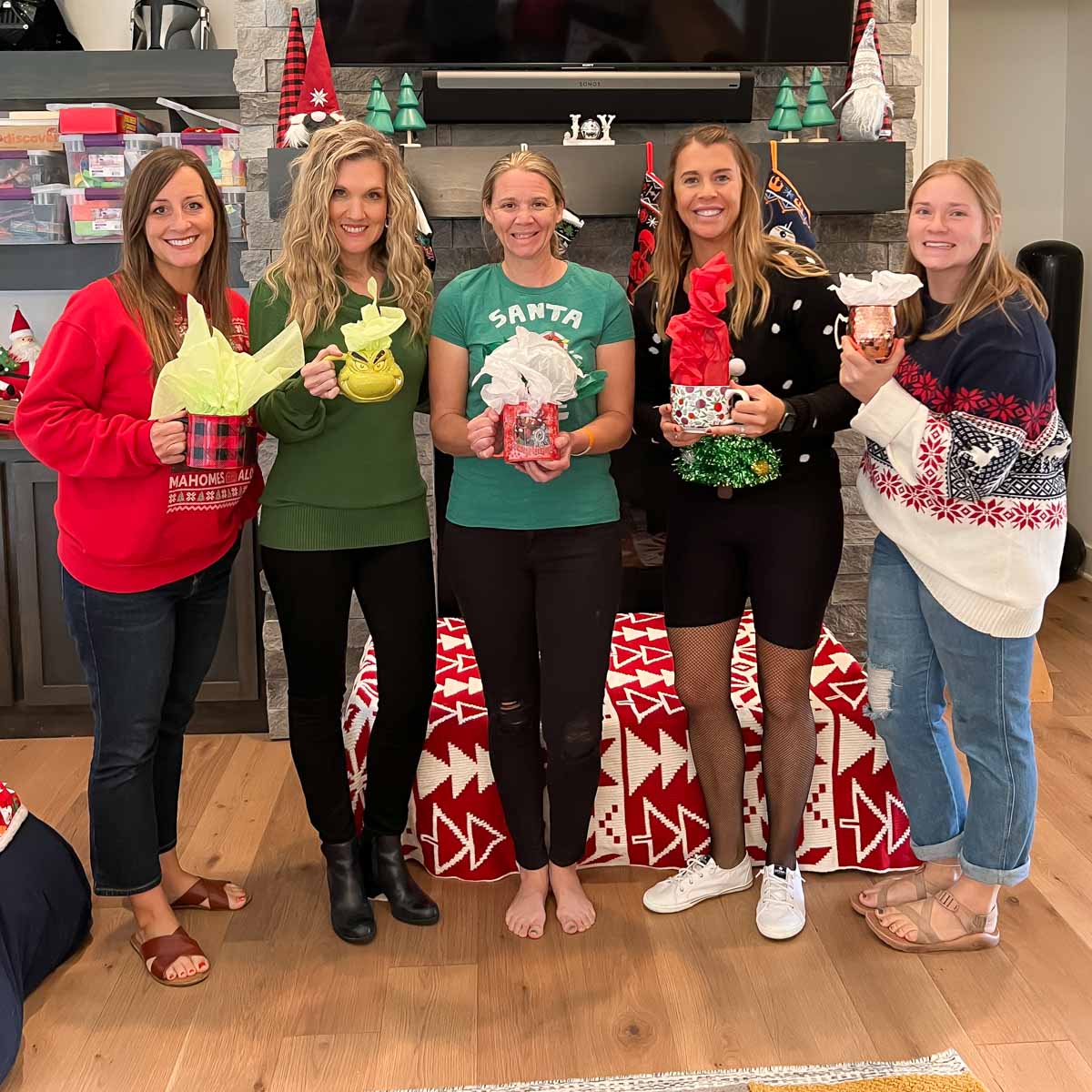 16 – Grinch Gift Exchange
In this fun variation on the left right game mentioned above, everyone passes their gifts at different times while the How the Grinch Stole Christmas book is read! It's hilarious and a lot of fun for any age!
This is a similar type of gift exchange to the left right one with a Grinch gift theme!
Get the full instructions for this Grinch gift exchange game here!
Gift Game FAQs
How to Play Gift Exchange Games with Deck of Cards?
You can either play this deck of cards gift exchange if you want an actual game with a deck of cards.
Or you can play any of these gift exchange games with a deck of cards instead of using numbers. I talk about this a bit in my heads and tails gift exchange game but the idea is that instead of writing out numbers for everyone and having whoever gets #1 go first – instead, pick out two sets of matching playing cards, enough cards in each set for everyone in your group.

So for instance if you have 20 people playing, you would do two sets of 20 cards (A-K of hearts and A-7 of spades).

Then instead of just saying #1 go first, pick a card from one set of the deck and whoever has the matching card goes first. It keeps people on their toes and not knowing who goes next. Way more fun in my opinion than just set numbers!
What Are Some Good Christmas Gift Exchange Themes?
Some of my favorite theme ideas that I've heard over the years are below. Tell everyone coming the theme and encourage them to buy a gift that follows that theme. I've listed out a few below but here is an entire post dedicated to Christmas gift exchange themes!

Season (e.g., summer fun, winter wonderland)
Starts with the first letter of their name
Inspired by their favorite holiday movie
Inspired by the 12 days of Christmas (get some ideas here!)
Vacation related
Food related
A particular color
Inspired by a phrase or song title (e.g., O Holy Night, To All A Good Night)
Date or night out
White elephant
How Many People Can Play Gift Exchange Games?
The number of people that can play each of these gift exchange games is dependent on the game, and you'll need to check out individual instructions for the games.

But general rule of thumb, the more complicated the game – the less people. If you have a large group, go with something simpler like Heads or Tails or Lucky Last Line.
What are Good Christmas Gift Exchange Ideas for Families?
All of the gift exchange games in this post are totally family-friendly but if you have younger kids (like my 5-year-old) who don't understand the idea of stealing gifts, having gifts stolen from them, and not getting what they want – I'd recommend you setup the younger kids with one of these Christmas party games and leave the gift game playing to kids that are a bit older and adults of course.

Out of the gift game ideas above, my favorites for families include the Grinch gift exchange, left right gift exchange, and never have I ever!
Want all of these in printable form in one place?
Get the ultimate gift exchange game bundle! The best gift exchange games all in one printable PDF – instructions, printable cheat sheets, printable playing cards, and more! Click on the image below to check it out.