The ultimate list of gift ideas for gift exchanges with everything from hilarious to practical gifts! These are the white elephant gifts that will have people laughing and stealing them all night long!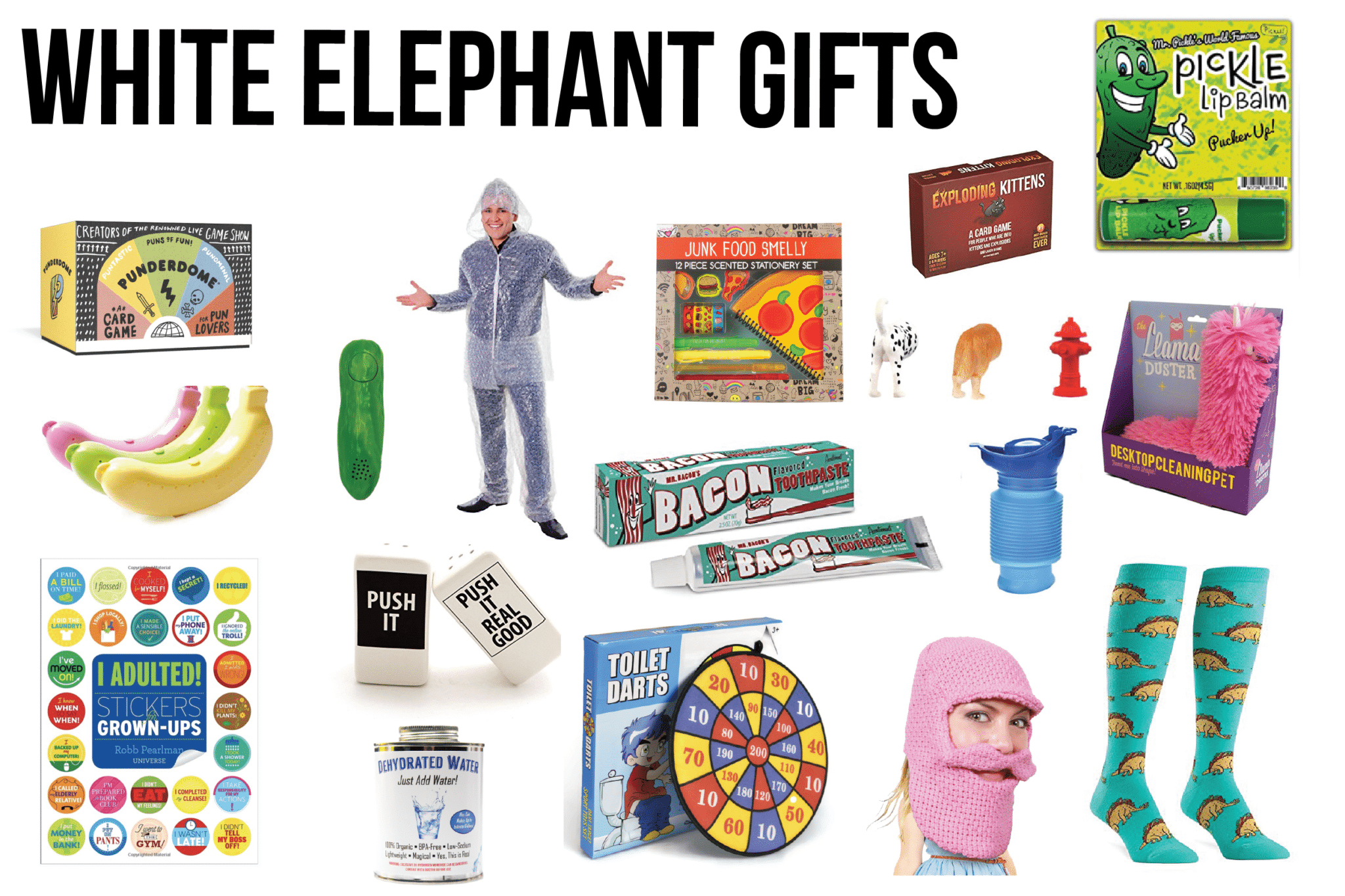 I've yet to meet a single person who has never participated in some sort of holiday gift exchange and most of us have participated in quite a few. What nobody talks about is how difficult it is to pick out the perfect gift exchange gift, especially if it's a white elephant exchange!
I've hosted and been to my fair share of gift exchanges in the past and these ideas are inspired by some of the best gift ideas I've ever seen and heard about.
I've broken it into a couple of different categories to really create the ultimate list of gift exchange gifts – white elephant gifts and regular gifts – that will work for just about anyone.
These are great if you're looking for unisex gift ideas or gifts that work for any age – kids or adults!
So grab a gift, wrap it up nice, and pretty – maybe even add one of these Christmas gift tags – and get ready to play!
What is a White Elephant Gift
Before we get into the gifts, let's start with a quick clarification of what white elephant gifts actually are. I was talking to someone recently and realized that some people don't know what a white elephant gift exchange actually is.
I mean, it's possible there's a totally different white elephant gift definition, but this is how I've always heard it.
A white elephant gift is a gag gig, something that's designed to be funny and not taken seriously.
If you're going to a white elephant gift exchange, the goal is to bring something that will make people laugh or will be something unique and funny.
I know some people tend to go on the more offensive route, but that's not my thing so these gifts are funny without being offensive. There's a little potty humor but always practical potty humor!
I also try to bring things that are funny but not something that will go in the trash as soon as everyone leaves. So no empty paper towel rolls or broken picture frames, but to each their own.
Tip!
swapping presents with someone else. They may be played a little differently – it might be a dice gift exchange or even a never have I ever Christmas game, but it likely includes some stealing. Coming up with a gift that you think people will actually want (but a funny one) will make the stealing portion of the game so much better!
The Best White Elephant Gifts
I purposely included white elephant gifts that would be funny but things that people might actually keep, not just throw in the trash five minutes later.
These are inspired by some of the best white elephant gift ideas I've seen in all the parties I've hosted, but there are plenty of others out there if you want to just use this as an inspiration spot!
You can click on the links in the list to purchase the items or just use this list to get ideas for buying them in stores! All of these gifts are in the $10-$30 range since that seems to be the price most gift exchanges are!
I Adulted! Stickers for Grown-Ups Book – who doesn't want to be rewarded for doing things like the dishes!
Poo-Pourri Toilet Spray – this stuff is actually awesome, I always bring a travel one with me, but it's also a funny gift!
Bag of Unicorn Barf – funny things like this always get a good reaction from the group when in reality it's just a gourmet treat wrapped up in a white elephant gift.
Sweet Dreams are Made of Cheese Knife – it's a cheese knife with a song lyric, perfect for getting some laughs and steals!
Exploding Kittens Card Game – this is one of our favorite board games for adults, but it's kind of a funny one making it a great gift! Throw Throw burrito would make a great option as well.
Money Duck – kind of like a scratch off ticket, you never know how much you're going to get!
Funny socks – people like socks, people like to laugh, these are a fun one to get people to laugh.
Beard Head Beanie – this is both ridiculous and practical!
Christmas Vacation Moose Mug – if you're a fan of movies, this one will be a big hit!
Toilet Tag – this is great for couples and looks absolutely hilarious, I'd steal it!
Nope Mug – anything with a funny saying on it would be good but mugs and tumblers are popular.
Dehydrated Water – this one is just funny, not super practical but funny.
Personal Potty Pee Bottle – this is an actual thing but could be a really funny gift.
Dill Pickle Lip Balm – anything with a weird flavor like pickle but that could actually be used works well!
Picture frame – fill it with some random person's picture, maybe a celebrity, maybe a viral meme.
Squatty Potty – okay so we love ours but it sounds ridiculous at first!
Justin Bieber Singing Toothbrush – I mean giving out anything with classic Bieber is a good idea.
Dog Butt Magnets – I've seen these at Ikea and other places and think they're pretty cute but also funny!
Yodeling Pickle – there are no words for this one, but I know a few kids who would love it!
Richard Simmon's Sweatin' the Oldies – do I even need to explain?
A Banana Guard – one of those things no one actually needs but people will likely want!
Fold in the Cheese Towel – any sort of TV or movie merchandise is good!
I Could Pee on This and Other Poems by Cats book – really any funny book would work but people seem to really like cats, so this is a good option!
Santa Chimney Hat – really any funny hat would work, but I like this one being Christmas themed!
Cooking with Coolio Cookbook – five star meals at a 1 star price, does it get any better??
Tacosaurus Socks – they're tacos that look like dinosaurs on socks. Three good things in one pair of socks.
Unicorn Onesie – you can do the unicorn if it's a girls night or get a more universal animal for unisex gifts!
Pink Llama Duster – cute, funny, and practical. I'd be okay going home with this one!
Prank Packs – you could always just grab one of these prank boxes and put a real gift inside, get good laughs with a good gift!
Punderdome – another fun and hilarious game that just seems silly!
More Christmas Gift Guides
If you need help finding other Christmas gifts, I've got plenty of ideas for those as well!