This past weekend I hosted an outer space party for kids to celebrate the launch of the new Disney Imagicademy Mickey's Magical Math World app. Kids will love the app and these fun outer space party ideas!
My family loves Disney. When my toddler was tiny, I would turn on Mickey Mouse Clubhouse and he would get this huge grin on his face and just sit there and watch the entire episode without moving. It was glorious.
For our party, I thought it would be fun to recreate Mickey's Magical Math World by throwing an outer space party complete with all sorts of group games similar to the ones in the app!
Outer Space Party Food
I hosted the party at a time that was in between meals, so I could get away with just serving dessert. Someone at the party actually commented that my house is known for sweets and the kids always get really excited to come over because of that.
I'm not one to disappoint kids, so I went all out on this fun outer space themed dessert table complete with floating planets I made with 36″ balloons and hula hoops!
I centered everything around that amazing backdrop Elena from World Wide Party made for me to match all of the other outer space printables she designed just for the party! I love how she incorporated the outer space theme with all of the different shapes to really capture the Disney Imagicademy Magical Math World feel!
I served a ton of outer space themed food like moon pies, star crunch, saturn's rings (peach rings), milky ways, cosmic brownies, and starbursts. And that amazing cake? Only the top layer is actually real. The rest of the cake is just styrofoam cake forms wrapped with ribbon and decorated with a felt ball garland that I picked up at TomKat Studio during my visit at BASH.
I topped the cake with planet, Disney, and rocket cake pops that Shauna from Cara Bella Creations designed for me. Everything including the water bottles and juice boxes was labeled with food labels from the Outer Space printable collection. And finally, I added in our stars – Mickey and Minnie Mouse to finish off the table.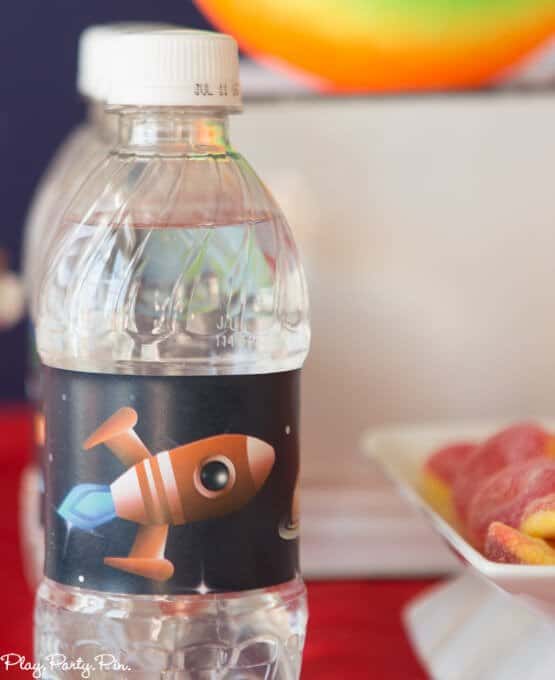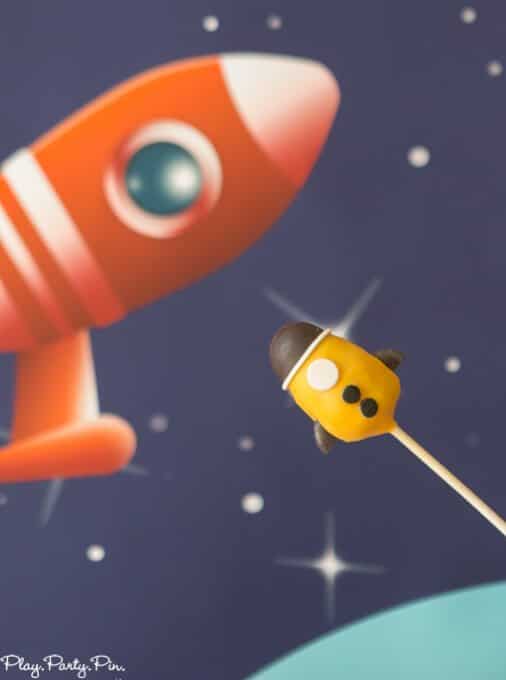 Disney Imagicademy Outer Space Party Games & Activities
I planned three different activities for the party based on activities in Mickey's Magical Math World, but I'll be honest, once the kids started playing the app on K's iPad mini, I really wasn't sure they would ever want to do anything else.
I set it up to display on our main TV using airplay with our Apple TV and the kids who weren't playing just watched the other kids play until it was their turn. The kids absolutely loved all of the fun outer space themed activities like helping Mickey fill ships with aliens, helping Goofy recycle space trash according to shape, and helping Daisy get sleeping aliens safely to their rooms. Even my husband got in on the action.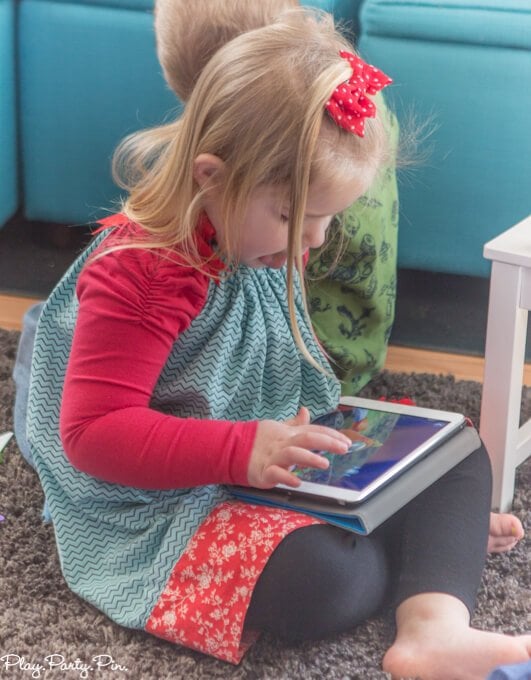 Once I convinced the kids that they could do the other activities and still watch the app on the TV, we did three other activities – coloring Imagicademy puzzles, building rockets and robots, and a game I called don't wake the duck where kids had to try and choose the bucket that Donald Duck was hiding under. It was so fun to see the kids using their creativity in fun math games and watch them use their imaginations as they designed different rockets and colored their pictures!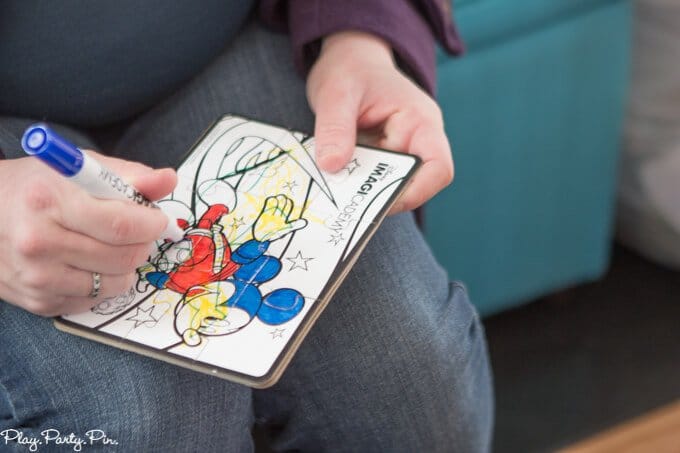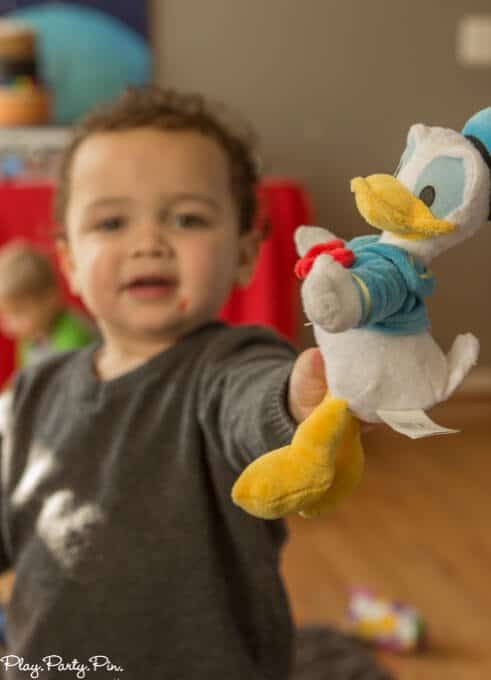 And then my little boy decided that all the party decorations were actually toys. I'd say the kids loved the 36″ balloons from Celebration Lane!
As each of the kids left, they were given a little party favor package with Imagicademy art supplies and a thank you tag thanking them for making the party out of this world!
You don't have to throw a party of your own to enjoy all of this fun! Just download Mickey's Magical Math World from your Apple app store and enjoy an outer space adventure right in the comfort of your own home. I promise your kids will love it as much as mine did!