Since K doesn't really have an opinion about his birthday party themes yet, I decided to pick a theme this year that I thought would be fun to plan, while still having meaning to K. The one thing that we do the same every day, or at least most days, is read the book Pajama Time by Sandra Boynton for bedtime. Richie and I both know the words by heart, and K gets a big grin on his face when we get to certain pages in the book. The book is super playful, colorful, and whimsical so I knew it would make for a great first birthday party.
The Food
Since the book is a bedtime book, all of the food was either breakfast food or based on something from the book. Before I planned out anything else, I knew that I wanted a cake to be the centerpiece of the food table. I drew out what I wanted the cake to look like based on K's favorite page in the book and handed the picture off to the talented team from The Boutique Bakeshop. I knew that the cake would be cute, but the cake they delivered blew me away in how perfect it was. It was the best dessert table centerpiece I could've asked for.
While I loved the whole thing, I especially loved the cake topper. They even designed the animals to actually look like the animals in the book. If you are in the DC area, The Boutique Bakeshop is fantastic! And best of all, they actually provide a free smash cake for your little one's first birthday if you buy a full size cake.
Sticking with the animal theme, Alexandria Cake Pop Company made these darling animal cake pops in all sorts of yummy flavors. They also made the cake pops for my Honey Bunches of Oats party, and I knew they would do a great job. And they did. I mean just look at that hippo.
K thought the cake pops were the best thing ever. As soon as I gave him one, he ran away like he thought I was going to take it away.
To complete the dessert table, I also made chocolate covered Oreos that I decorated with polka dots and stripes (for the stripey and polka dot pajamas in the book), chocolate covered pretzels with sprinkle stars that I bought from The Baker's Confection, pajama sugar cookies, and a bunch of candy that I ordered from Oriental Trading Company.
I decorated the dessert table using some doll beds that I bought at Ikea and spray painted, styrofoam covered in blue striped scrapbook paper, and a copy of the Pajama Time book. And for the backdrop, I covered a canvas with fabric, vinyl from Expressions Vinyl, and pictures to look like the cover of the book.
And strung a DIY party banner from our mantle.
Just to the side of the dessert table, I setup a little stand with a cute printable and "breakfast in bed" bags that I made by adding stripes of blue Scotch Tape to white gift bags. By creating bags for people to take home goodies, people were more inclined to take things home, and I didn't end up with tons of extra treats leftover.
On the other side of the room, I se tup an actual food table. Since the party was at 5PM, I knew we needed to serve something substantial and not just dessert. The table was setup like a cute bed with this custom headboard I made, pillows, and Beanie Babies I picked up at a flea market during our Tampa trip.
We kept the actual food fairly simple with pancake stacks held together with star picks, smoothies with star straws, fruit stacks that I cut into stars with a cookie cutter, decorated party eggs, and breakfast burritos with little "Pajamy to the right and pajamy to the left flags."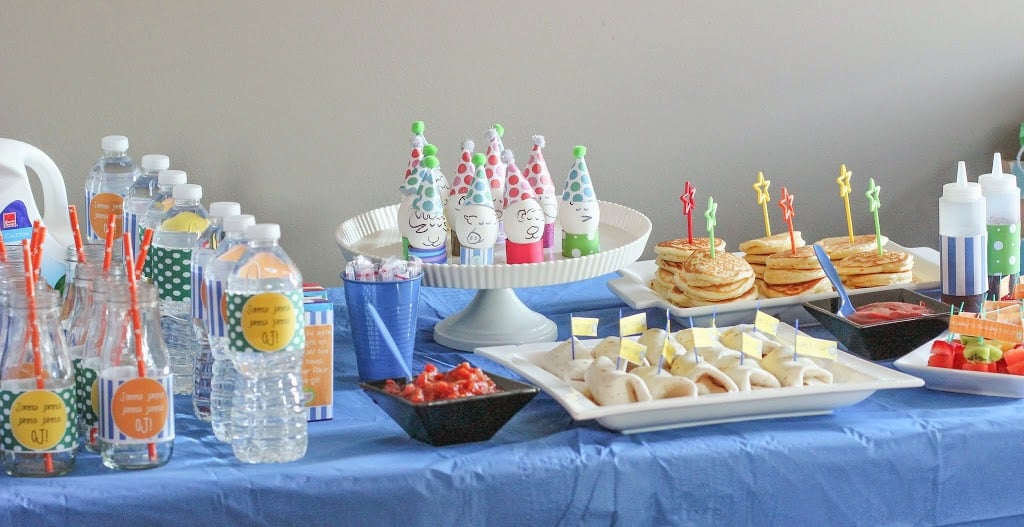 And to drink, we served juice boxes, orange juice, and water. All three were decorated with cute printables I designed with sayings based on the book.
Decorations
I kept the decorations to a minimum with a
birthday boy wreath
on the door and blue, green, and confetti filled balloons in the house.
Activities
Most of the kids that came to the party were K's age so we kept the activities pretty low key since getting 1-2 years old to do anything can be tough. We filled a pull-string piñata with toys and snacks (fruit snacks, raisins, etc.) appropriate for 1-2 year olds.
It was pretty hilarious though because none of the younger kids would go near the piñata; I think they were actually afraid of it. K just sat in grandpa's lap the entire time and watched. Luckily there were a few kids that were older who had no problems getting the treats out.
We also played some of these fun pajama party games.
We also had planned to have Richie read the book to the kids, but everyone was enjoying just hanging out so we ended up skipping it. At the end of the party, we cut the cake and sang to the birthday boy. I still can't believe he's one. I have no idea where the last year went. Isn't he cute in the outfit I made him? Excuse the poorly fitted pajama pants; it was my first attempt at pajama pants.
Most of K's friends were able to come, and it was so fun to see all of the little kids running around in their PJs. I know K won't remember but I'm still glad it turned out so well.
As guests left, they were given a copy of the book wrapped up with a personalized gift tag that I bought from Pick Your Plum. I thought the book, in addition to their breakfast in bed bags and piñata treats, were the perfect party favors.
Once all of the guests left, we opened gifts with K and gave him his smash cake. Isn't the smash cake so cute? I love how The Boutique Bakeshop matched it to the main cake.
K wasn't quite sure what to think of the cake at first but then he got a little more excited about it. I still think he preferred the cake pops; kids just like things on a stick I guess. I sure love this little boy of mine.
You can download all of the printables shown in this party by clicking on the button below. I've included a free printable package with the bottle labels, juice box labels, straw flags, and thank you tags!
If you cannot see the button, click here to get the PDF file.