If you're searching for things to do in Daytona Beach, search no further. This guide to what to do in Daytona Beach will give you enough things to do for a weekend getaway, a week, or even a month if you're staying that long.
My husband and I took our sons to Daytona Beach for a quick weekend getaway. I've only ever been to Daytona Beach once before and that was for a whirlwind VIP Daytona 500 tour when Nextel took over the Nascar Race Series back in 2004.
We walked the Daytona boardwalk and ate some ice cream but that trip was mostly about the race. And very different from this one.
Honestly before our trip this past month, I knew very little about things to do in Daytona Beach other than the speedway and the beach.
But there is so much more.
In the space of just three days, we found so many awesome Daytona Beach attractions, my boys are already asking when we can go back again. These were our favorite Daytona Beach things to do, but I have no doubt there are enough things to do you could easily spend a week or longer visiting.
But for us, a weekend getaway was the perfect amount of time to visit this great spot in Central Florida!
Best Things to Do in Daytona Beach
Here's a quick list of all of our favorite things to do but make sure to keep reading for all the details on why they're must-do Daytona Beach activities!
Daytona Beach
Park on the beach
Daytona International Speedway
Daytona Beach bandshell concerts
Daytona Beach Ocean Shoppes
Daytona Beach boardwalk & Pier
Congo River Golf
Dolphin and manatee tour
Ponce Inlet sandbar
Ponce Inlet lighthouse
Marine Science Center
Daytona Lagoon Waterpark
Reptile Discovery Center
Daytona Beach Restaurants
Beachfront Resort Living
Daytona Beach Events
Daytona Beach
Daytona Beach has 23 miles of beautiful beaches that run from one end to the other. If you only have a weekend like we did, make sure to plan at least a few hours at one of the world's most famous beach options!
Or better yet, plan a few hours one morning and then a few hours one afternoon later on in your trip. It's a popular destination so it can get busy during the peak hours of day.
The beach is easily one of the best things (and the most fun things) to do in Daytona Beach; it's named Daytona Beach for a reason!


Park on Daytona Beach
Speaking of the beach, one of the most unique things about Daytona Beach is that you can actually drive down and park right on the beach. There are traffic zones and on the Saturday morning we were there, the parking zone was filled with beachgoers' cars lined up side to side.
Beach parking is only available via a few access points along the beach and costs $20 for the entire day (no free parking here). But it's so worth it, especially if you don't want to have to haul all of your stuff with you!
Oh and make sure to watch young kids, my son wasn't used to cars driving on the beach and kept walking into the traffic zone. If it's your first time, definitely pay close attention to young children while in the Daytona beach area.
Daytona International Speedway
We were a little too busy to actually get to the speedway ourselves, but everyone I've talked to said it's pretty incredible. And from what I can remember from years ago, it is.
If you can't see one of the Nascar races, you can still go on a VIP tour of the speedway to get a sense of how impressive it is to watch cars zooming around the corners. It's fun for the entire family!
Or if you want to do something really thrilling, there's always the Richard Petty driving experience as well that actually lets you get into a race car for a short drive!
Daytona Beach Bandshell Concerts
There are way too many Daytona Beach Events and festivals going on regularly to list but one of the more popular ones during the summer is the free concert series on Friday and Saturday nights on the Daytona Beach Bandshell.
Live music starts at 7:15PM on Friday (June 2nd to September 1st) and Saturday nights (May 27 to Sept 30). You can see Friday night lineups here and Saturday night lineups here.
It's located right in front of the Ocean Walk and free to the public unless you want to buy VIP tickets.
On our visit, the concert was an Earth, Wind, and Fire tribute band that finished with an energetic cover of Uptown Funk that had everyone in the area on their feet dancing. Just be aware that this is one of the most popular things to do on summer weekends, so it may be packed!
Daytona Beach Boardwalk Fireworks
After Saturday night concerts, don't miss the 9:45PM fireworks shot from the Joe's Crab Shack pier every Saturday night throughout the summer series.
Ocean Walk Shoppes Daytona Beach FL
The Ocean Walk Shoppes in Daytona Beach is a bright and colorful space full of shops, some of my favorite restaurants in Daytona Beach, the Daytona Beach Bandshell, and even a movie theater!
And it leads out to the beach and the boardwalk lining the beach. It's a fun place to spend an afternoon or evening, especially on a weekend summer night before a free summer concert.
It's also the perfect place to pick up a souvenir if you would prefer to have lots of options instead of just one gift shop or two.
Daytona Beach Boardwalk
Every beach needs a boardwalk.
Play games in a classic arcade, explore a Daytona Beach clock fountain, read about the history of beach racing, and enjoy a piece of the world's most famous taffy from Zeno's Boardwalk Sweet Shop at the very end of the boardwalk.
You may even luck out and see some street performers giving it their all along the white-sand beaches! We had a great time exploring this short walk on our trip. Plus, there's free entry to the boardwalk, which is always a bonus!
If you want something not so free, try out one of two thrill rides at Screamer's Park, rides designed to make you do just that – scream. There used to be a ferris wheel and roller coaster here, but it was replaced with these rides instead. The slingshot is supposed to the world's highest slingshot!
This is as close as you'll get to an amusement park in Daytona Beach so enjoy (or head to Orlando for some real theme parks).
Congo River Golf Daytona Beach
You would think I would recommend playing miniature golf at a mini golf course right? Then you'd be partially right. I do recommend the mini golf, but I also recommend feeding and holding the alligators while you're there.
Congo River Golf has an ultimate package that gives you the chance to experience everything they offer – feeding alligators, holding a baby alligator, playing miniature golf, mining for gemstones, playing arcade games, and even getting a fun souvenir golf ball of your choice.
And before I move on, I have to mention the mini golf. It may not have been the best in terms of course holes that I've ever seen but the additions to the mini golf made it one of my favorites ever.
They have a little scavenger hunt you can do during the mini golf game to find items to win a scratch ticket at the end (or a medal for kids). (You know I love scavenger hunts!)
And my personal favorite – spinners at select holes that change up the game. Each one is different gives you something to do for that hole such as hit it behind your back, choose someone to stand in the middle of the hole while you're shooting, take an extra free shot, etc. It's the only time I've ever seen that, and I'm already trying to figure out how to recreate it at home!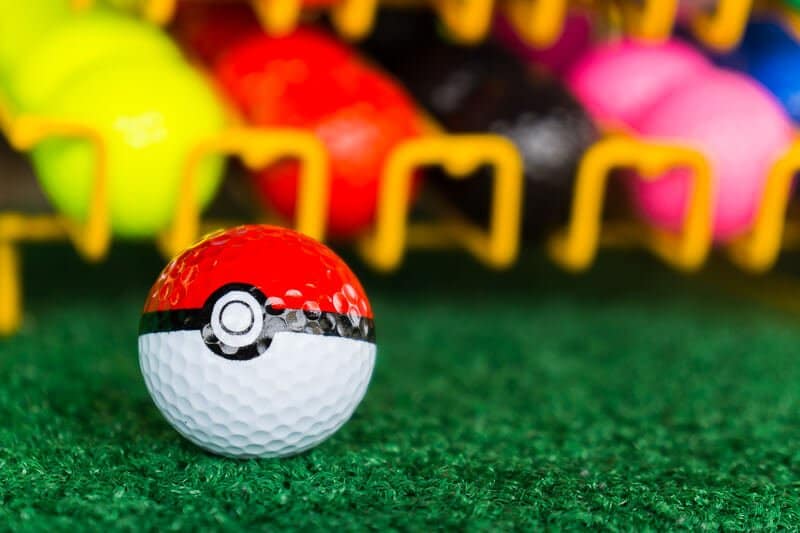 Dolphin and Manatee Eco Tour
Ponce Inlet Watersports offers 90 minute eco tours where you fill into a shaded boat and sail through the intercoastal waterways looking for all sorts of sea life.
The crew on our tour was fantastic and the boat ride was really one of the highlights of the trip. I loved not only seeing the sea life but hearing about how the sandbars change daily based on the tides, about the different waterway systems, and more eco trivia.
And for $31.50 a person (ages 3 and under are free), it was a fantastic way to spend the afternoon and a great way to get into the great outdoors – plus a nice introduction to "water sports" for my kiddo.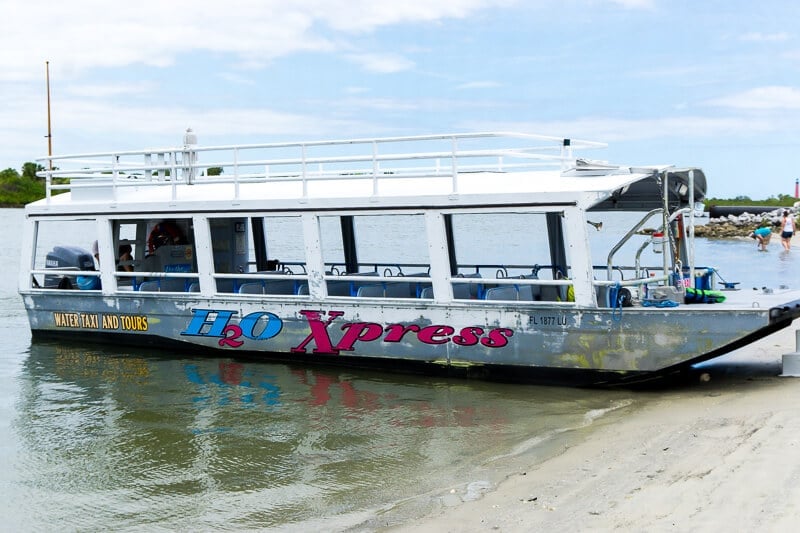 It didn't hurt that we happened upon a pod of maternity dolphins with their babies who played around our boat for about 30 minutes. It was truly amazing to see so many dolphins up close and in the wild.
They also have a ton of other tour options as well but this was the one that was available during our weekend.
Ponce Inlet Sandbar
Our eco tour guides told us that people will climb the Ponce de Leon Inlet Lighthouse to see which sandbars are available each day because they're always changing.
The sandbars within the intercoastal waterway can be there in the morning and completely covered by the tide in the evening, making them a fun place to play for an afternoon. It's like a natural wonder!
We saw a ton of families and dogs (the two pet-friendly beaches are in the inlet) enjoying the beautiful sandy pop-up beaches and next time we're in town, we'll definitely be joining them.
Ponce Inlet Lighthouse
Ponce Inlet Florida is just a few minutes drive from Daytona Beach and sitting right in the middle is the iconic Ponce Inlet lighthouse.
The naturally colored coral brick juts into the blue sky makes it easy to spot from the water, the beach, or the nearby roads. The walk up is a bit brutal but the views from the top are worth it. Climb the lighthouse then head to the nearby marine science center.
There's also plenty of walking around at Lighthouse Point Park if you want to walk around without having to climb the tallest lighthouse in the area! But regardless of if you climb it or not, this historic site is a cool site to see.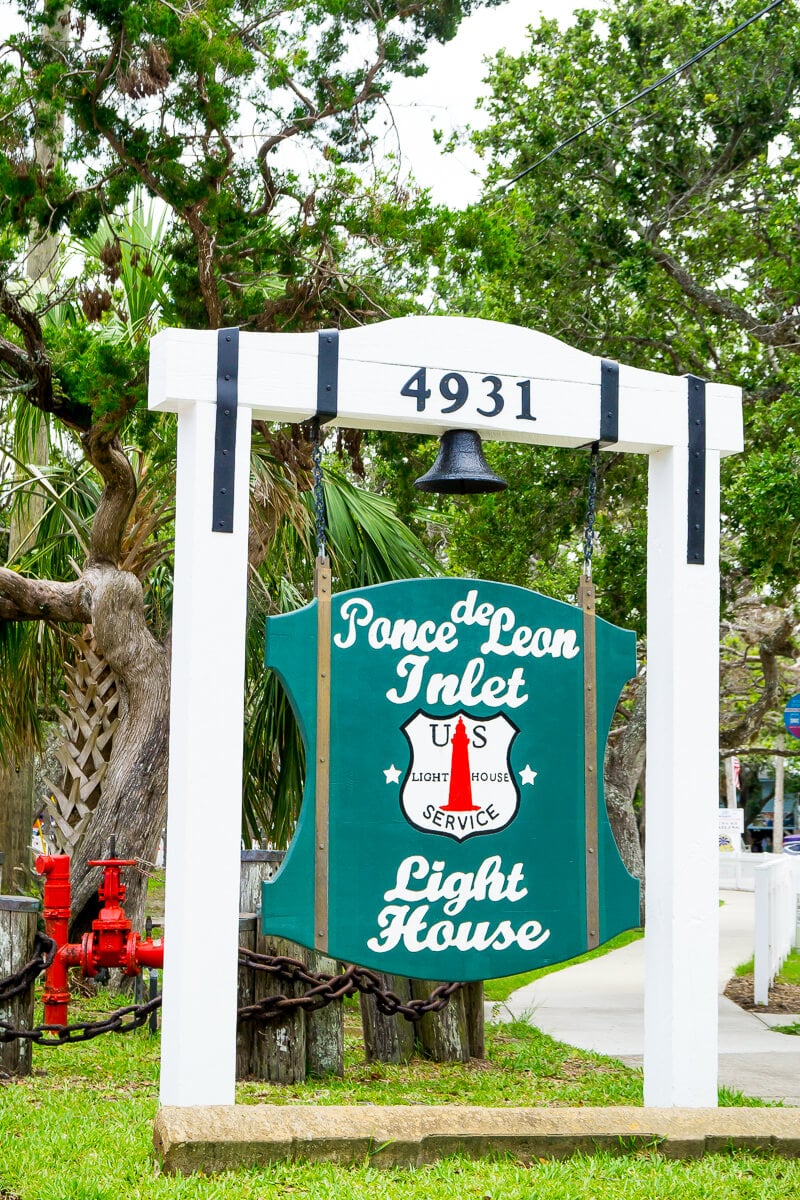 Marine Science Center Daytona Beach
Just around the corner from the lighthouse is the Marine Science Center. It's the local sea life hospital where sea animals and birds are brought when injured and nursed back to health. It's also a fun place to spend an hour or two exploring the educational exhibits they have to offer.
It's a small science museum but a fun one that my boys both loved!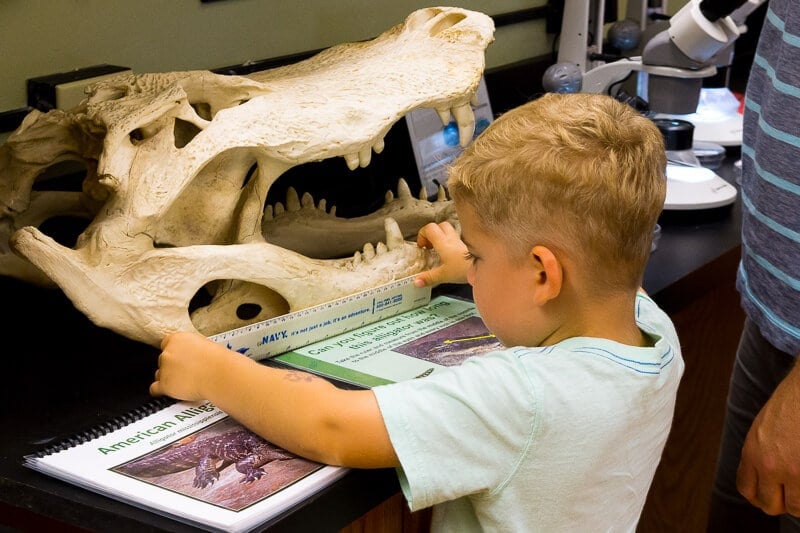 Don't miss the touch tank with stingrays that are eager for a little back scratching, the octopuses who play with balls for physical therapy, and the sea turtle hospital where staff members are taking care of the beautiful creatures.
Outside is a small nature trail where you can see large birds, sea turtles, and more.
It's one of the lesser known things to do in Daytona Beach but a great place to spend a few hours with kids and the whole family enjoyed all the interactive exhibits.
Daytona Lagoon Waterpark
Daytona Lagoon is one of the more popular Daytona Beach attractions and located just across the street from the Ocean Walk Shops and Restaurants.
Plus, it was just remodeled in 2022 and all ready to play!
It's a fun way to cool off on a hot day if you're looking for something other than the sand and salt water. With a number of twisty slides, a lazy river, a wave pool, and a massive kid water bucket play area, it's definitely a good alternative when you're sick of the beach and still want to cool down.
Also at Daytona Lagoon water park are go-karts, arcade games, a splash pad, and small rides that'll keep a family entertained.
Reptile Discovery Center
Just down the road about 30 minutes is the small and educational reptile discovery center. Head in for the chance to see both venomous and non-venomous snakes that'll haunt snake haters' dreams while somehow making your kids' dreams come true.
And don't miss the presentation Thursday through Saturday at 11:30 and 3PM (except Sunday) where the trained staff will extract venom from one of the snakes and bring out snakes for the kids and adults to hold if they choose.
Outside of the reptile discovery center is the discovery trail where you can see reptiles such as lizards, turtles, and crocodiles in their natural habitat outside along some nature trails.
While it's not technically one of the things to do in Daytona Beach, it's close enough.
Daytona Beach Restaurants
Okay so you have to eat amazing food while you're in Daytona Beach!
I already wrote up an entire post about our favorite Daytona Beach restaurants so there's no need to recap that here. But let me just say, the food was unique, delicious, and affordable. We had everything from gummy worm topped donuts to the best grilled cheese I've ever eaten in my life.
On your trip, make sure to plan in at least a handful of these places to eat in Daytona Beach. Your stomach will thank you.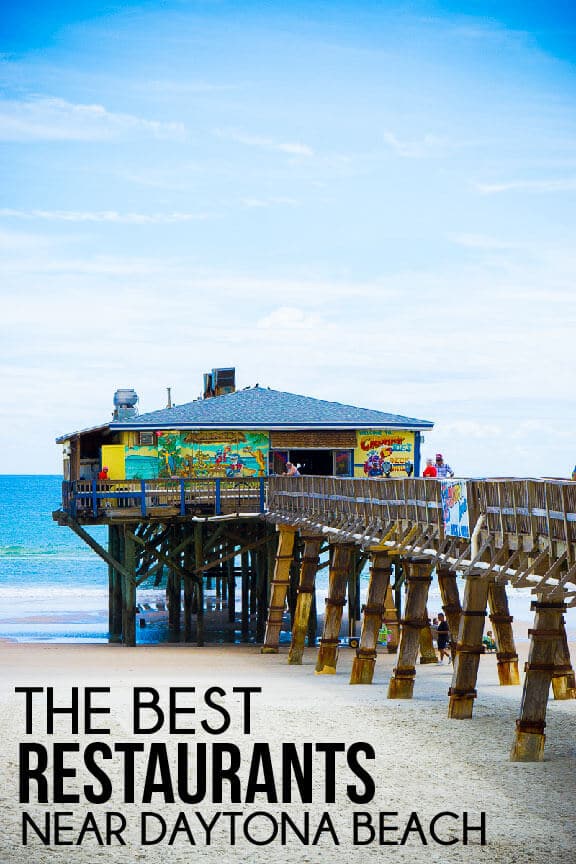 Where to Stay in Daytona Beach
There are plenty of Daytona Beach hotels to choose from but our resort of choice is The Shores Resort & Spa. The resort has rooms that are perfect for families, sleeping 4 or 5 with the help of a fold out chair bed.
The beds were incredibly comfortable and the ocean view balcony was the perfect way to enjoy the complimentary bottles of water provided for guests.
And don't miss out on Sunday brunch at Azure (best grilled cheese ever!) and the complimentary s'more kit provided to guests for roasting marshmallows on the fire pit at night.
More Things to Do in Daytona Beach
Ever since I wrote this post a few years back, I've been getting people emailing me and commenting on posts with recommendations for other things to do on our next trip! So while I personally haven't been to these places, these are other things to do that are worth looking into more!
They're definitely on my Daytona Beach things to do list for next time!
Daytona Beach FAQs
Does Daytona Beach have a boardwalk?
Daytona Beach has a boardwalk filled with shops, high-thrill attractions, restaurants, and live music on the weekends. It's right along the beach and a great way to fill an hour or two!
Is Daytona Beach worth visiting?
Daytona Beach is great for a day or weekend trip! There is 20+ miles of beautiful beach, great food, and lots of marine life to be seen! It's definitely worth visiting for a day or two.
Which airport do you fly into for Daytona Beach?
Daytona Beach International Airport is approximately 3 miles outside of Daytona Beach but is a smaller airport and does not have as many direct flight options as larger nearby airports like Orlando International Airport (90 minutes).
When is the best time to visit Daytona Beach?
While the least crowded time at Daytona Beach is during winter months when it's cooler, you don't get to enjoy the beach and warm Atlantic Ocean as much during those months. I recommend visiting during spring, summer, or early fall when the weather is warm – ideally summer but know it's going to be crowded. I definitely recommend avoiding spring break.