Next time you head to Daytona Beach, make sure to try out at least something off our list of the best restaurants in Daytona Beach! Great breakfast, lunch, dinner, and dessert options with a little bit of something for everyone. Daytona Beach may be known for racing, but the best Daytona Beach restaurants show that the food in Daytona Beach is almost as good as the racing!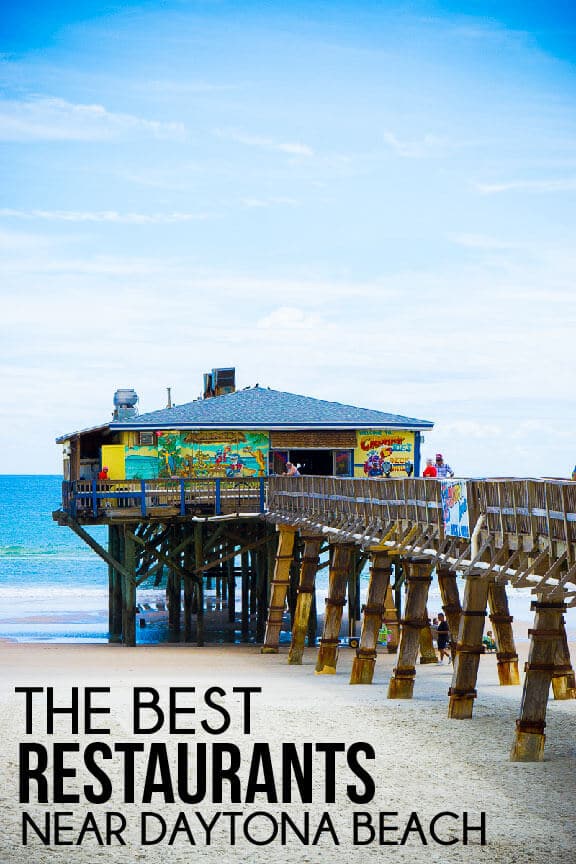 When I go anywhere, I'm always on the lookout for the best food and fun things to do. It's kind of my thing – food and fun.
Our family trip to Daytona Beach was no different. The only difference was that I didn't go into the trip expecting to find such amazing food. I know some places are known for the food – I just didn't know that Daytona Beach restaurants were going to be so good.
Before our trip I put together a huge list of places to eat in Daytona Beach based on recommendations from friends, online sources like TripAdvisor, and my own places I wanted to try near where we were staying.
This final list of the best restaurants in Daytona Beach is put together based on my family's experience with each of these restaurants. I didn't try everything in the area during our visit but if you are just visiting for a short trip, these a delicious way to start!
The restaurants on this list have great food, great service, unique dining room locations, and sometimes just great atmosphere. But be assured that they will all have good food that you can enjoy! So as you're coming up with fun things to do in Daytona Beach, make sure to add eating at these places to your list!
Must-Try Restaurants in Daytona Beach
As a quick disclaimer, while this post is titled Daytona Beach restaurants, some of these are actually technically in cities very near Daytona Beach. But for the sake of simplicity, I just wrote Daytona Beach. All of them are located in in the Daytona Beach area.
Once you've picked out your favorite restaurants in Daytona Beach, map them out and drive away. I've split them up by breakfast/brunch, lunch/dinner, and dessert. Feel free to eat dessert if that's your thing. Or first and last. That's my thing.
Mike's Galley is an unassuming mom and pop style diner that's just a few minutes from The Shores Resort and Spa and the Oceanwalk Shops on S Atlantic Ave. Honestly if I hadn't read the reviews on Trip Advisor, I'd never have even known it was there.
The cinnamon rolls are huge. We tried the biscuits and gravy, hash brown casserole, and crab egg Benedict and were happy with all three. The menu is full of items with reasonable prices. And the service is fantastic.
Sit in a rocking chair outside, ask a couple of questions from a trivial pursuit game, and enjoy a leisurely breakfast without a care in the world. It's a great place to start any day and one of my favorite places for early morning food before the beach.
Mike's Galley Website | Trip Advisor Reviews
Crabby Joe's is more about the ocean views than the food (but the food will still keep your taste buds satisfied), but it needed a spot on the list because the location is fantastic.
Crabby Joe's sits out on a pier right in the middle of the ocean with fishing off the end, made to order omelets at breakfast, and good enough food for me to still recommend it as somewhere to eat, not just explore.
Park your car on the beach and wander over for a plate of their popular french toast or a drink to enjoy with your view. It's kind of like the Daytona Beach version of Joe's Crab Shack, except not the chain restaurant.
Crabby Joe's Website | Trip Advisor Reviews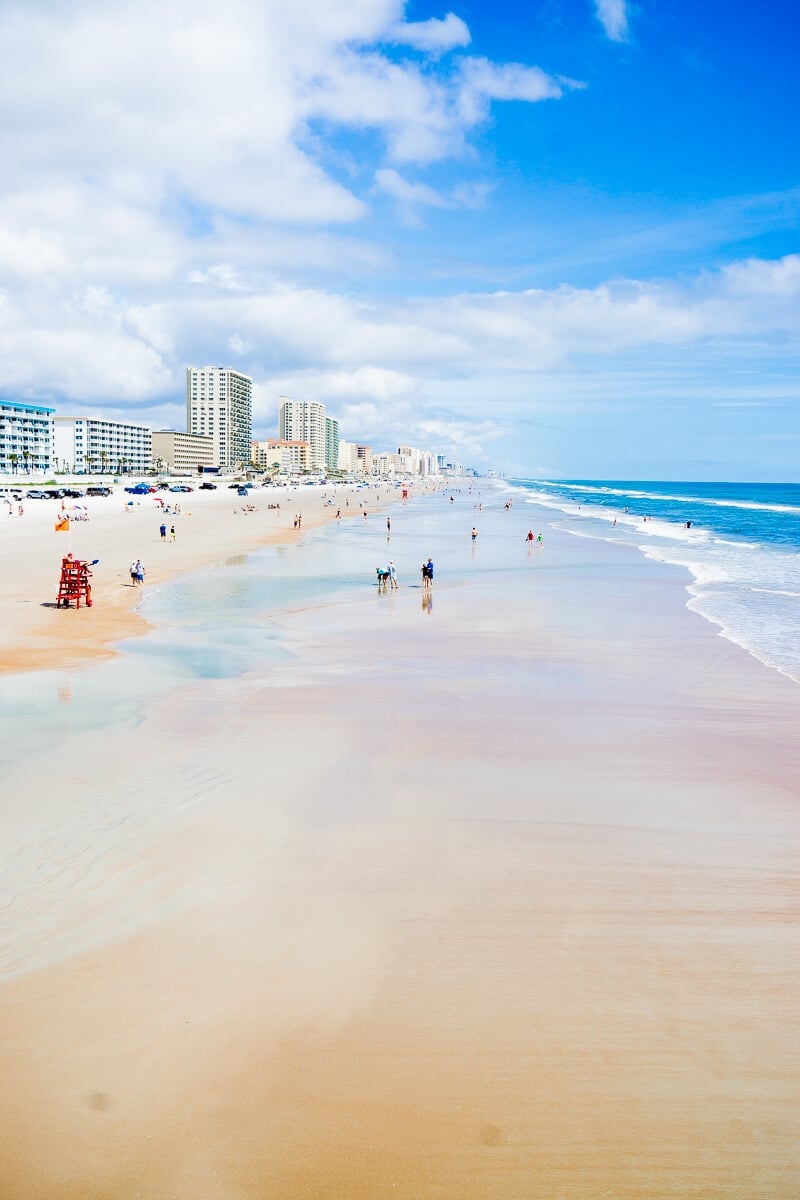 One of the best things I ate on our entire trip to Daytona Beach was the grilled cheese from the brunch menu at Azure at The Shores Resort & Spa. To be honest, it might have been the best grilled cheese I've ever eaten, or at least the top five.
The grilled cheese is toasted in panko, which gives the outside the crispiest crunch ever, which perfectly complements the various types of cheese layered inside the sandwich. It comes served with sweet potato french fries that I could have eaten all day long.
While the grilled cheese was the star of our meal, my husband also thoroughly enjoyed the lobster frittata and was regretting not ordering the poke from the brunch menu. The entire menu feels like what you'd find in an upscale restaurant but will a not so stuffy atmosphere. The menu has something for the whole family!
Azure also serves breakfast, lunch, and dinner with fine dining both indoors and outdoors by the resort's pool and bar area. I preferred the outdoor dining but to each their own!
Azure Website | Trip Advisor Reviews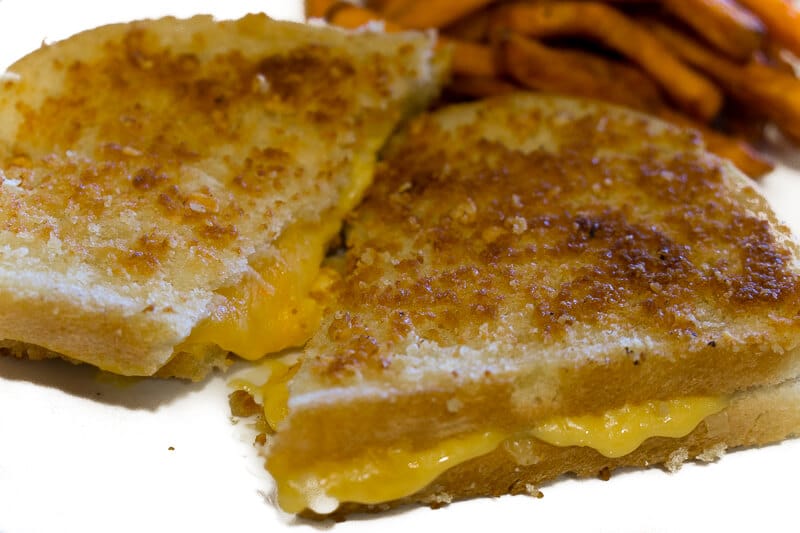 Not sure Donnie's Donuts can really be considered breakfast when the donuts come topped with things like sour gummy worms, but donuts are typically a breakfast or brunch food so I added it anyway.
When we walked in the door for the first time (yes, we went back) we were told Donnie's makes vintage and modern donuts – vintage cinnamon sugar cake donuts and modern donuts covered in crazy toppings like fresh fruit, cereals, nuts, and more. Their donuts are almost a work of art!
Don't stick to just what your eye can see on the pre-made donut trays. If you walk around the left corner, find where they make custom donuts.
They'll take their cake donuts and top them with pretty much whatever you want. Icings, toppings, you name it.
My son went for a sprinkle and sour gummy worm donut, and I was highly tempted by the key lime icing option. Next time. It's the perfect spot to grab some donuts before taking the very short drive to a local park or the beach.
Donnie's has two locations – one on Ormond Beach and one on New Smyrna Beach.
Donnie's Donuts Website | Trip Advisor Reviews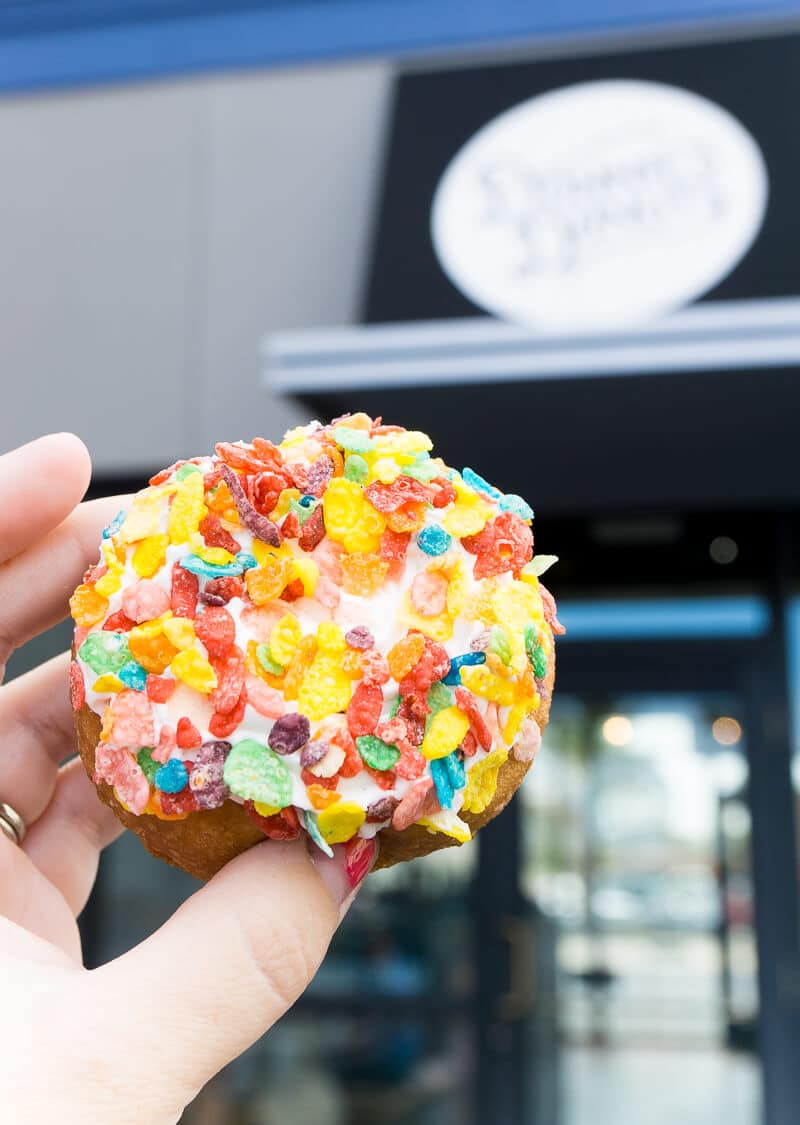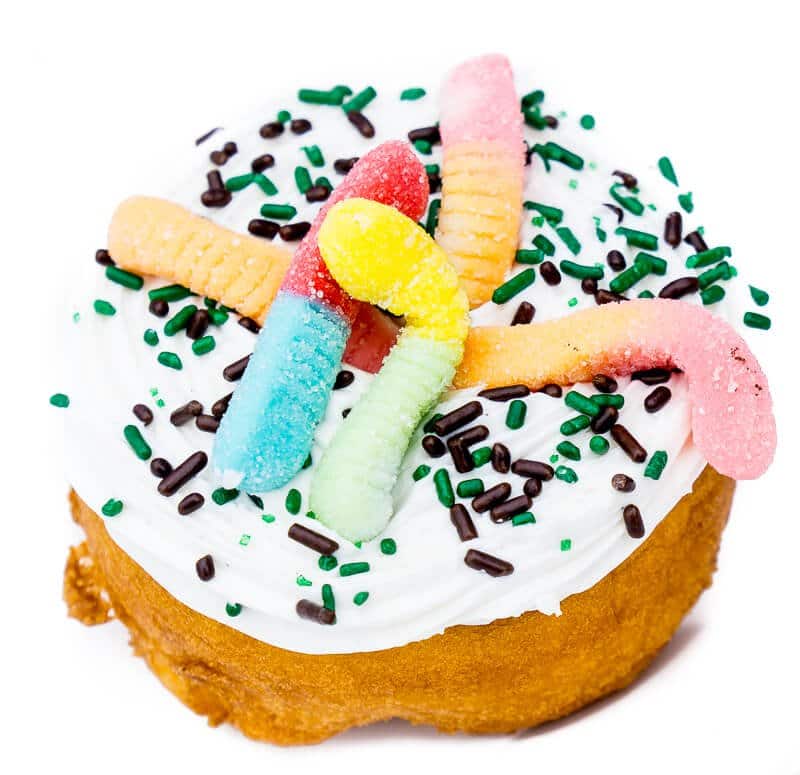 The one thing everyone told us about Sloppy Joe's was that the mozzarella sticks were as big as Twinkies. People weren't kidding.
I love mozzarella sticks and these were definitely the biggest I've ever seen. They came four to a plate and were literally the size of Twinkies.
Order a plate to share and enjoy the biggest bite of fried mozzarella you'll probably ever take.
Sloppy Joe's is also known for their sloppy joe nachos (also huge) as well as a fantastic location right in the Daytona Beach Oceanwalk Shops on N Atlantic Ave.
We ate a late lunch of coconut shrimp, nachos, sweet potato tots (so good!), and grabbed our drinks in take home shark cups to take for a walk on the beach right below. The chicken wings also looked amazing!
It's also one of our favorite restaurant options in Daytona Beach to listen to live music at the Daytona Beach concerts on Saturday nights!
Sloppy Joe's Website | Trip Advisor Reviews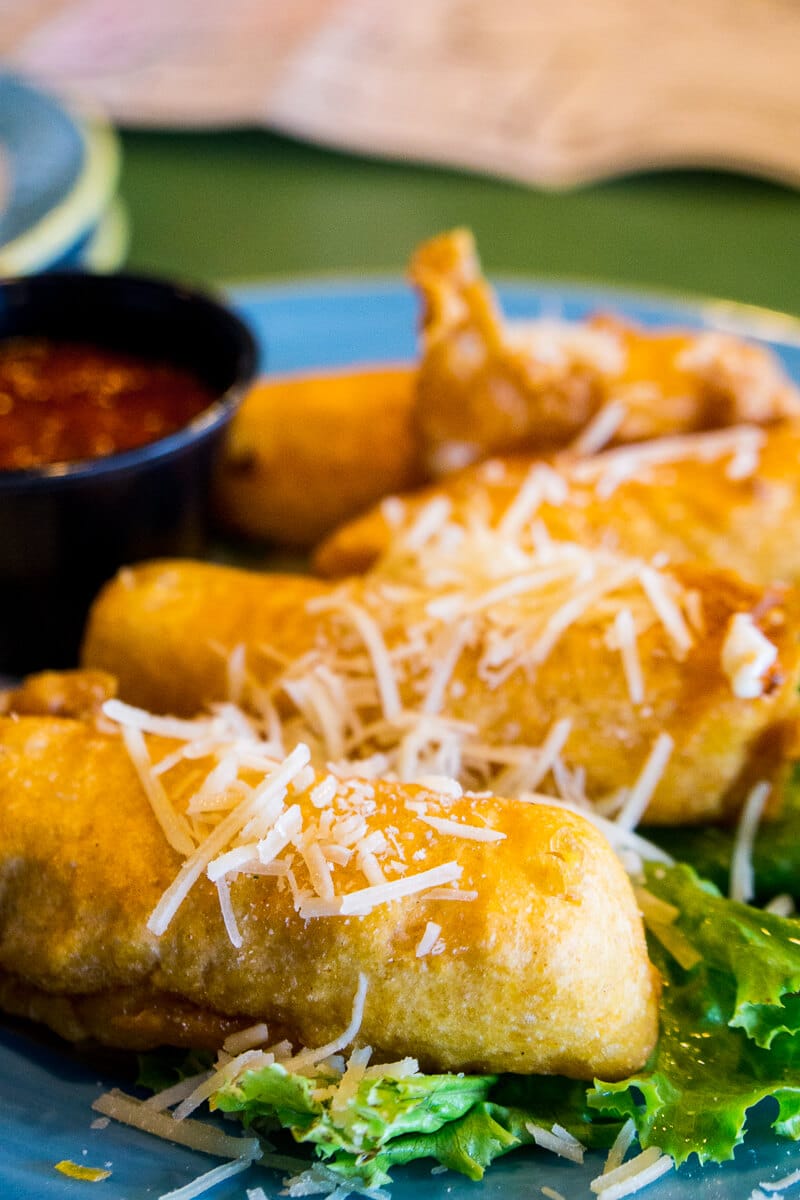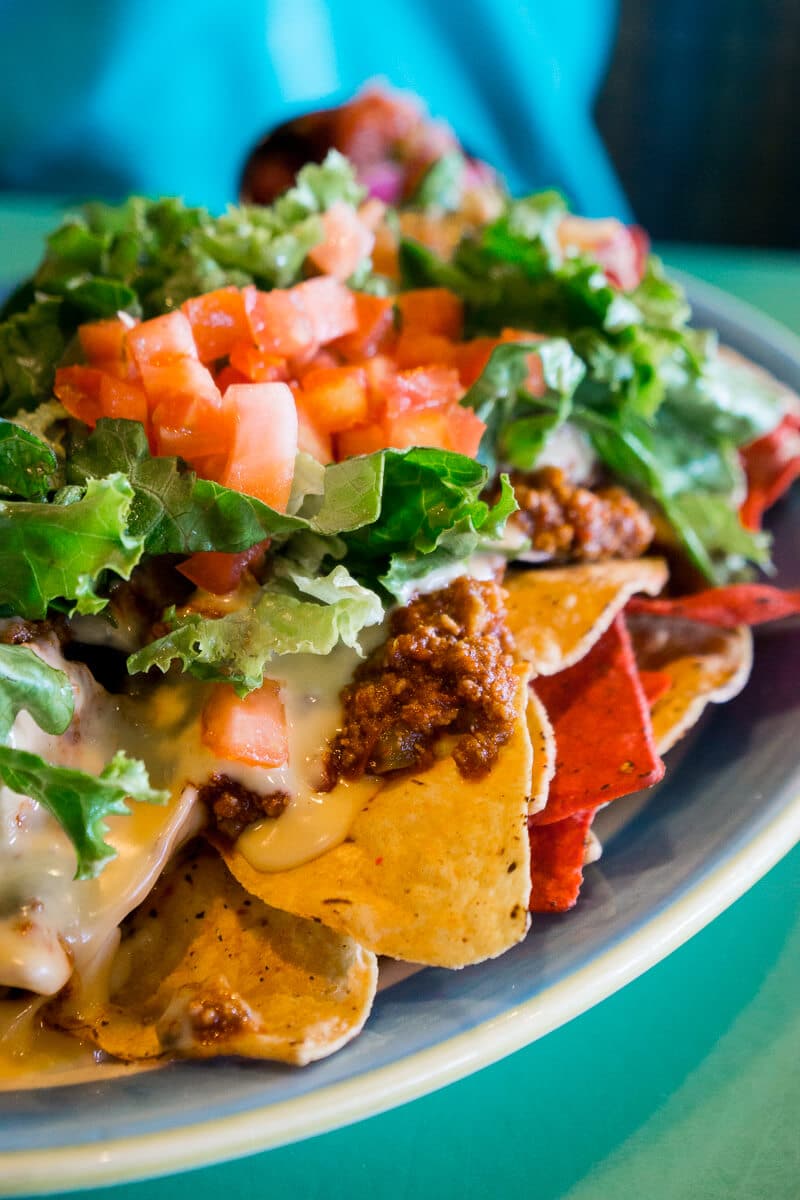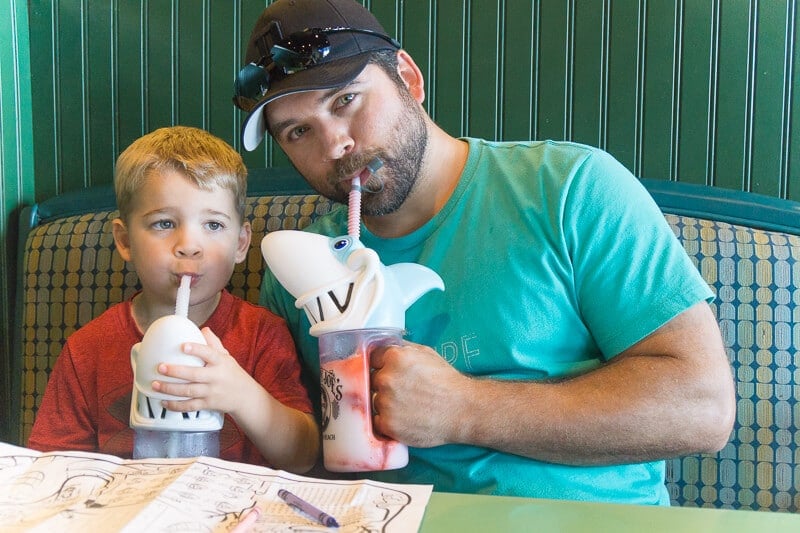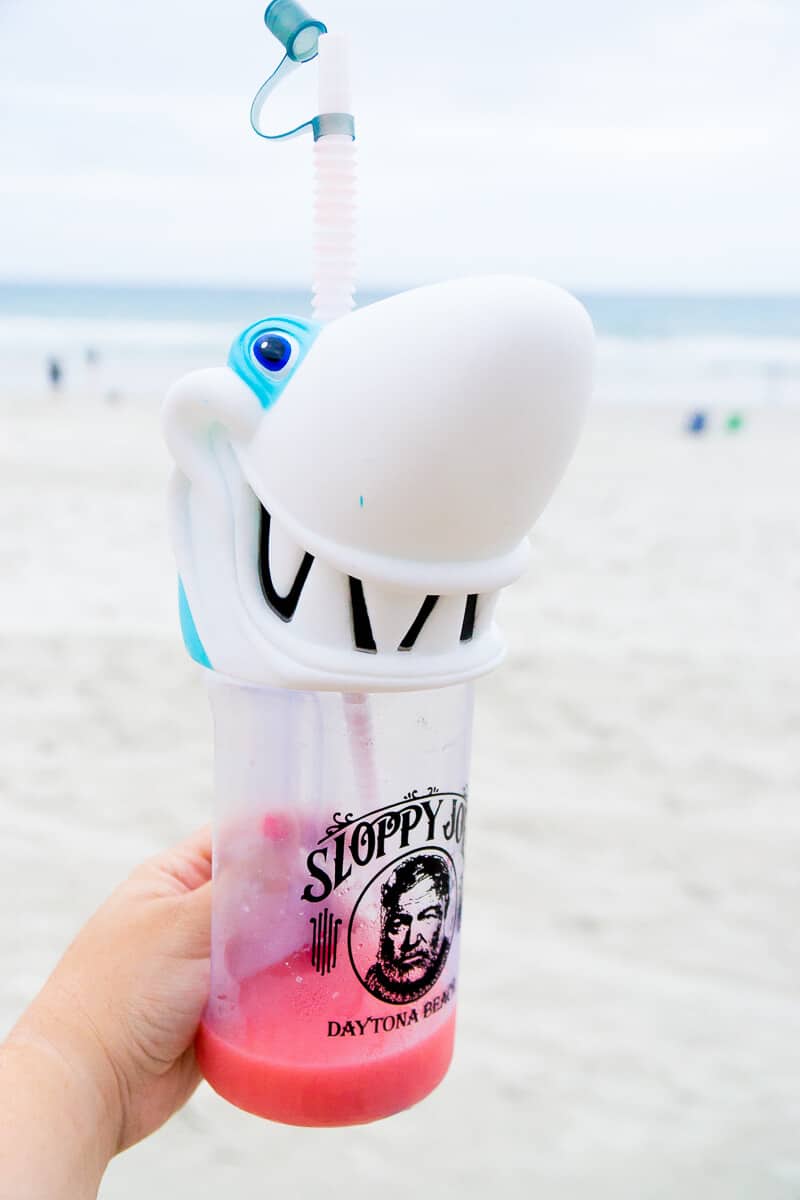 Senor Taco
Senor Taco is not the place to go if you have a big party, want a long leisurely lunch, or don't like tacos. But if you're a Taco Tuesday fan, make sure to plan in a stop to this taco shop for a great experience!
Tacos are served in one of three styles or make your own. And the tacos, burritos, and quesadillas are made to order and delicious.
They're not particularly unique or creative – just good, fresh, tasty tacos that hit the spot when you want a quick lunch. And if you like excellent food, you'll like these ones.
They also just opened a brand new location called Senor Taco Too with an expanded menu that's worth trying!
Senor Taco Website | Trip Advisor Reviews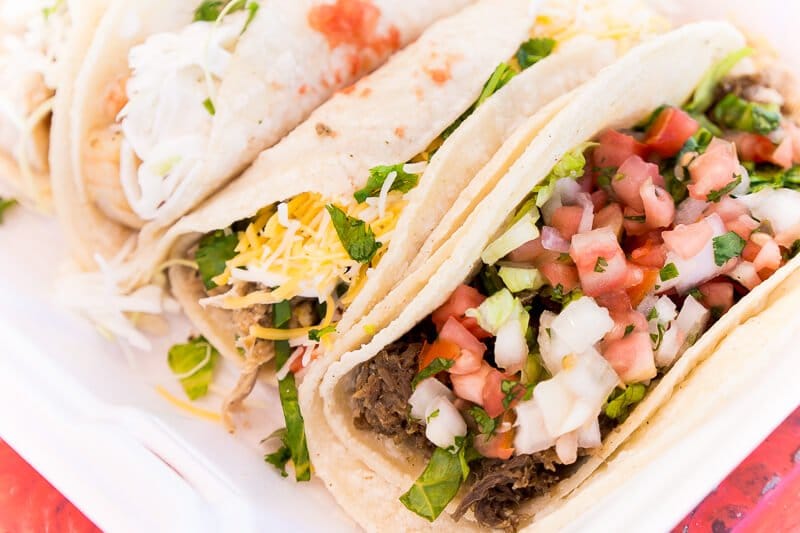 Don Vito's Italian restaurant
Don Vito's is the only place on this list that is near the Daytona International Speedway (right off W International Speedway Blvd). All of the other Daytona Beach restaurants are closer to the beach, but it's only like a ten minute drive and well worth the drive.
Don Vito's is the epitome of a family Italian restaurant. Great authentic Italian dishes. The best service. And a place where you feel comfortable letting your kids run around without shoes on because you feel like family.
It's a family run place that thrives on fresh, made to order food, and great pizza dough.
We skipped the pastas and entrees and went straight for all the carbs.
Fried ravioli to die for, delicious bruschetta, pizza rolls so good we took them home on the airplane, and pizza with crust my husband is still talking about a week later. They had some of our favorite dishes of the entire trip!
I only wish we'd been in Daytona Beach for longer so we could have tried entrees and desserts, our stomachs were too full of the best pizza crust to fit anything else.
Don Vito's Website | Trip Advisor Reviews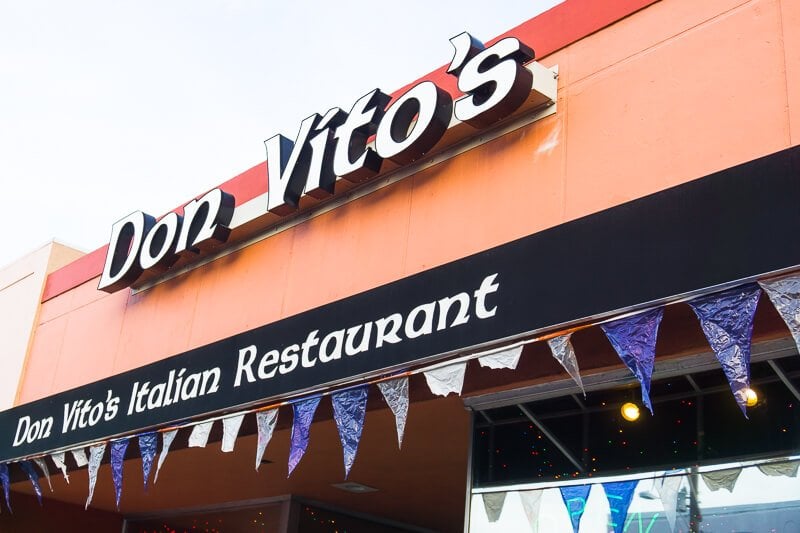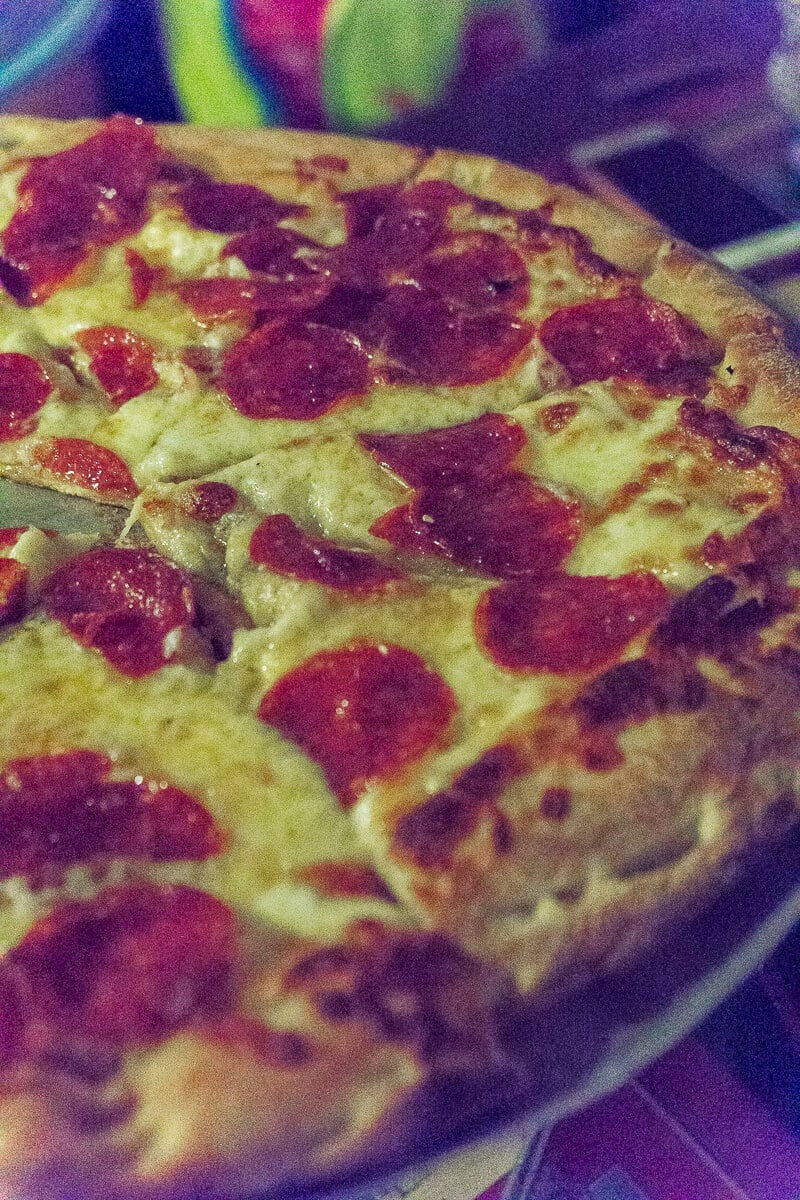 Best Place for a Sweet Treat in Daytona Beach
Okay now it's time to talk about the sweet stuff! While these aren't technically restaurants, I'm a huge fan of desserts whether it be ice cream or cheesecake, cupcakes or gummy worms. My sweet tooth loved all of these sweet places to eat in Daytona Beach!
Zeno's is apparently a Daytona Beach staple as we had a number of people tell us it was a must-stop spot during our trip, and they were right!
It's at the very end of the boardwalk, right near the Daytona Beach main street pier. If you love taffy or other candy, it's definitely worth the short walk. Zeno's says they're the world's most famous taffy maker and even if it's not true, I believe it.
I've never seen so many varieties and colors of taffy in my life and had to buy an entire bag that I can't even eat right now because I have to try the flavors when my dental work is done next week!
I picked out about 20 different pieces with flavors ranging from German chocolate cake to Key Lime Pie and had a great time trying every single one of them.
And my son who doesn't like taffy picked out a bag full of gummy worms, gummy sharks, and other gummy sea creatures. It was his favorite food in Daytona Beach Shores for sure. And the best part? You can enjoy your treats while dipping your toes in the Atlantic Ocean steps away.
Zeno's Website | Trip Advisor Reviews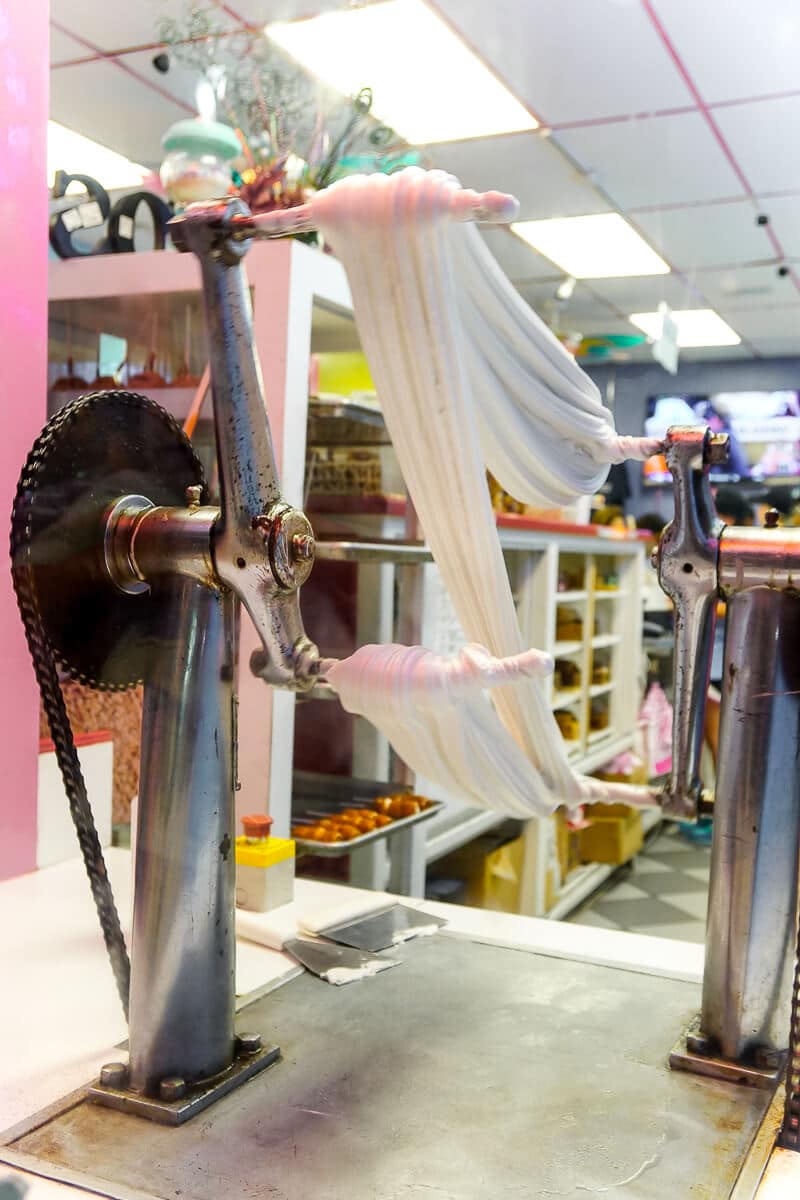 Every beach town needs to have a good ice cream place and for Daytona Beach, Cow Lick's is one of the best. We knew it was going to be good as soon as I saw the teenagers hanging out in the backroom playing Phase 10 with their ice cream and the local family competing at one of the PacMac tables in the front.
There are a few arcade games, a bouncy ball machine, and a lot of cute cows decorating the place.
And when it comes to ice cream – they have it all. Milkshakes, sundaes, and a very popular banana split.
Pick your size (portions are huge!), your flavors, and enjoy a nice creamy treat along with other Daytona locals.
Cow Lick's Website | Trip Advisor Reviews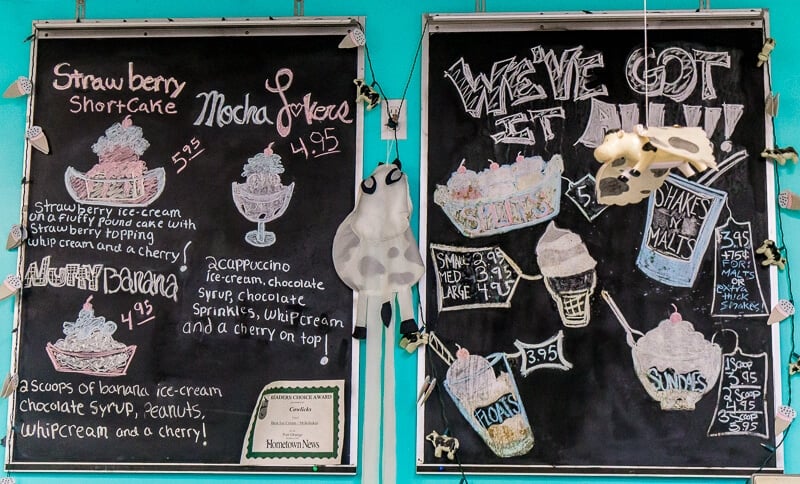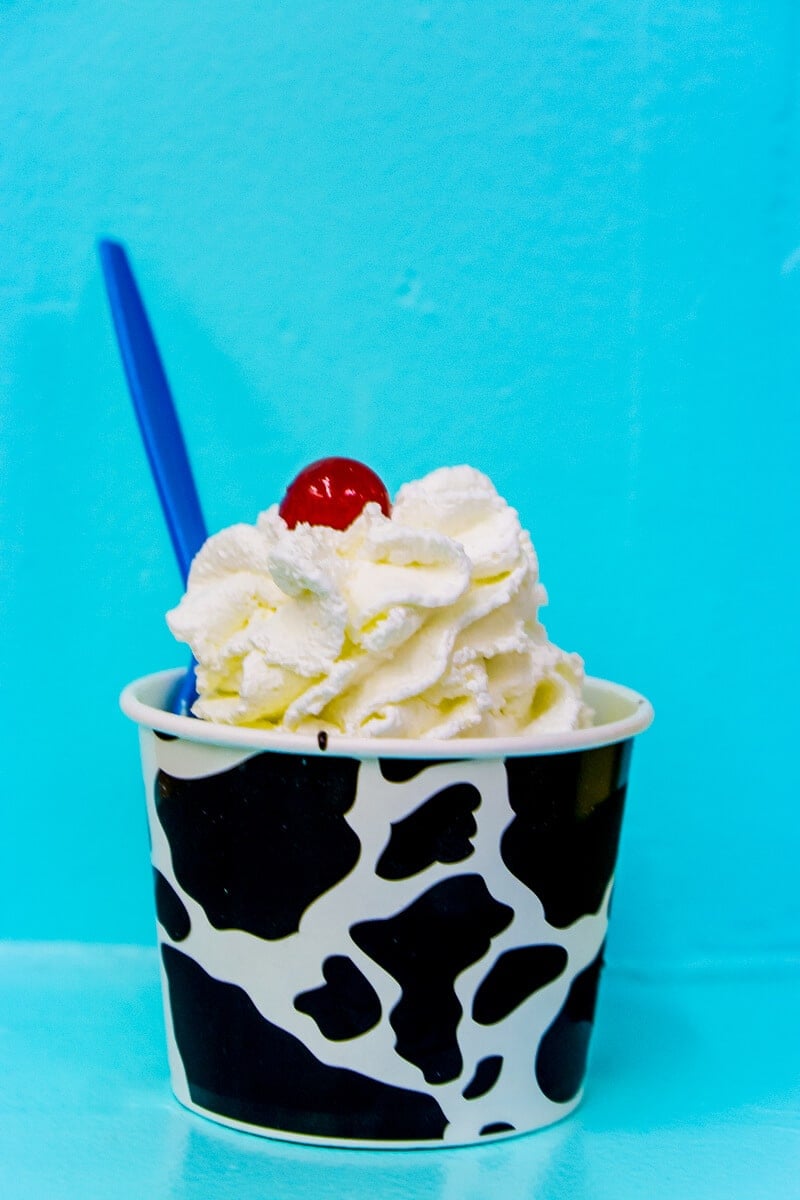 More Great Daytona Beach Restaurants
While I have not personally tried all of these restaurants, they came highly recommended by my readers! If you go, let me know how they are and would be a perfect place to try on your next visit if you need more places to eat!
FAQs
What kind of food is Daytona Beach known for?
Being a beach town, Daytona Beach is known for fresh seafood like shrimp, crab, clams, and all sorts of fish. You'll find seafood popping up in menus everywhere in unique combinations like dips, sandwiches, pastas, and more.
Does Daytona Beach have good food?
Daytona Beach has great food if you know where to look for it, especially if you're a seafood lover. In addition to good food, they also have restaurants with beautiful beach and ocean views to make the food taste even better!