Use these simple tutorials to recreate the popular Toy Story Midway Mania games at home! From Hamm & Eggs to Dino Darts, here's everything you need for fun Toy Story games right in your own backyard! Kids will love having their favorite Toy Story Mania games to play with their friends.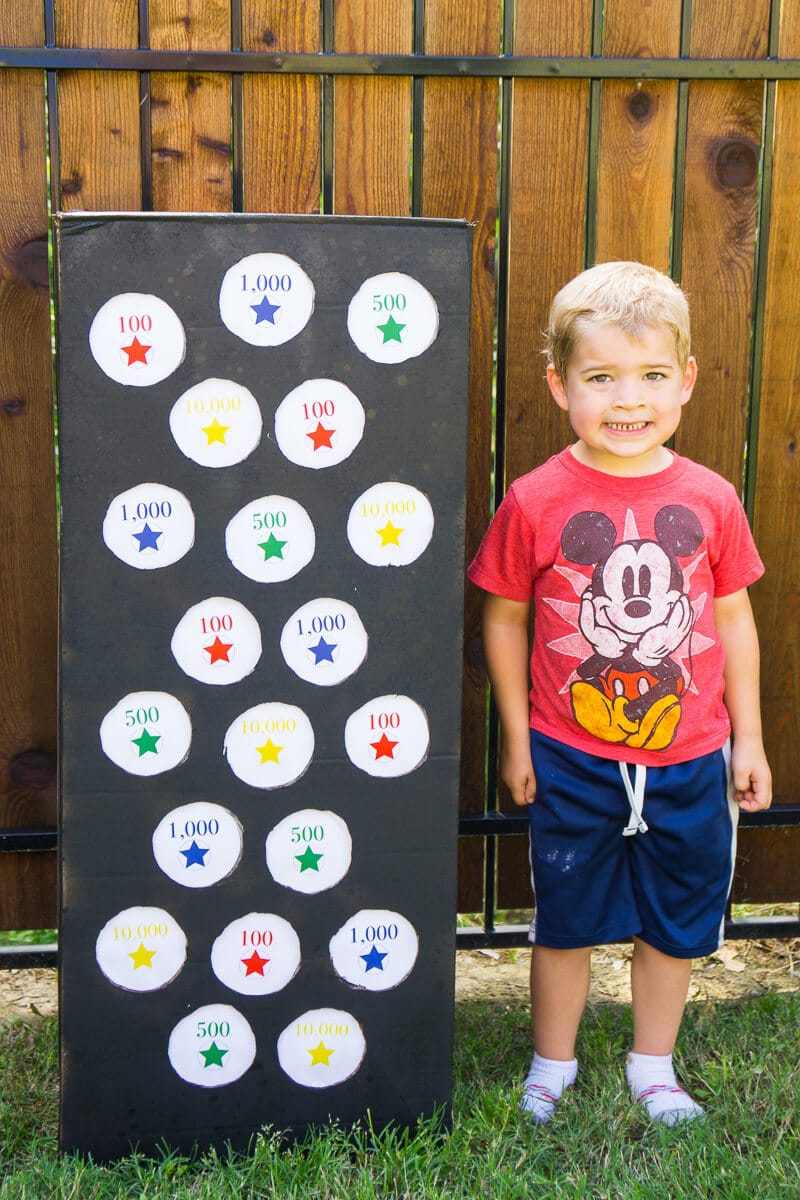 For my son's Walt Disney World party this year, I recreated some of our favorite experiences and rides from Disney World for the party. Like millions of other people, our two favorite things at Hollywood Studios are the Jedi Training Academy experience and the Toy Story Midway Mania ride.
Since we obviously couldn't do virtual carnival games at home, I decided to recreate four of the five Toy Story Mania games at home instead.
And the kids loved it! Definitely one of my favorite pieces of the entire Walt Disney World themed party! We also gave them Toy Story bags to hold all of their goodies from the party, and they were a huge hit (and functional!).
DIY Toy Story Midway Mania Games
Toy Story Midway Mania Games: Hamm & Eggs
In the actual ride, this is the game where you are tossing "eggs" at farm animals as they move across in a barnyard scene. We changed it up a bit and had kids tossing plastic eggs at little farm animals glued on top of cups. And for prizes, we used these cute pink pigs from Oriental Trading Company, there had to be a "hamm" in there somewhere!
Supplies:
Make It:
This game is literally as simple as gluing one mini farm animal on top of three of your cups. Then stack the cups in a pyramid of three cups on the platform with the farm animal at the top. Use the tape to create a line the kids have to stand behind to toss the eggs.
Play It:
Give kids three eggs to throw and have them try to knock down the cup with the farm animal. If they can do it, they win a cut little plastic pig (or something else from Andy's toy box full of prizes).
Toy Story Midway Mania Games: Dino Darts
On the ride, you launch virtual darts to try and pop balloons, all in front of a volcano dinosaur scene with Rex and Trixie from Toy Story. In our game, we did pretty much the same thing except the kids just picked a balloon to pop rather than throwing the darts. It was for preschoolers after all!
Supplies:
Make It:
Fill all of your balloons with prizes and blow up. Then use the thumb tacks to attach the darts to the cardboard. Make sure to get thumb tacks and not push pins or the balloons will just come out. We learned that the hard way!
Play It:
Give kids a dart and allow them to go up to the dart board to choose one balloon to pop. Once the balloon pops, they win the prize inside. I highly recommend you have someone supervising this game so no one gets hurt with the darts!

Toy Story Midway Mania Games: Punch Camp
In the actual Toy Story Mania ride, this game is called "Green Army Men Shoot Camp," and it's filled with green army men parachuting around in the background while you're trying to toss baseballs to break plates.
Since I didn't want to buy that many plates just to break, I changed it up and made a punch box similar to the one I used for my gratitude game last year instead. And I incorporated the plates by making the punch circles match the designs on the plate in the actual ride!
Supplies:
Make It:
Print out the "plates" on regular white copy paper or vellum.
Cut one tissue paper square per cup.
Turn one cup over and place the rim on the cardboard box. Trace around the cup making a circle. Repeat in whatever pattern/spacing you want to use for the game. I recommend keeping them at least a little spaced out so when you cut, the holes don't just fall in on top of each other.
Once all of your circles are traced out with a pencil, use the exact knife to cut them all out. Spray paint if desired.
Put a prize in each of the cups then use the hot glue to glue the tissue paper square onto the rim of the cup, making sure that there is tissue paper leftover around the rim. Repeat with all of the cups.
Hot glue or tape the "plates" on top of the tissue paper.
Hot glue the tissue paper square (that's on top of the cup) inside of the cardboard box, on top of the circle you cut out. Make sure to not glue the "plate," and just the tissue paper and/or cup because regular copy paper is pretty hard for young kids to punch through.
Repeat with all of the cups until you have a complete punch game.
Play It:
Kids take turns choosing one "plate" to punch. When they punch, the tissue paper should give way and they can grab the prize out of the cup. Depending on the number of kids and number of plates you have, kids can go once, twice, or a zillion times. Just be forewarned that kids loved this, so you may want to do at least two per kid if possible.
Toy Story Midway Mania Games: Flying Tossers
In the ride, you throw rings around the little green aliens that Sid pulls out of the claw machine in Toy Story. And out of all four games, this one is actually the most similar – a ring toss around little green aliens!
Supplies:
Make It:
For our game, I cut (9) 1 inch circles out of the card board, spaced evenly apart, and out of the foam board. I then hot glued the foam board on top of the cardboard, making sure the circles lined up perfectly. Make sure they are spaced out enough that you can fit a ring around each one. Once the foam board was on, I lowered a piece o the PVC pipe into one of the holes and hot glued it in place.
You can also just hot glue right on top of the foam board and skip the holes, but it's not as sturdy and will likely come down if anyone hits it too hard. Repeat with all of the PVC pipe pieces. Once the PVC pipes were in place, I gently glued the little green aliens on top to finish it off!
Play It:
Give kids three rings of any color and have them try to toss the rings over the little green aliens. If they can toss or drop (for the younger kids) a ring around an alien, they win a prize!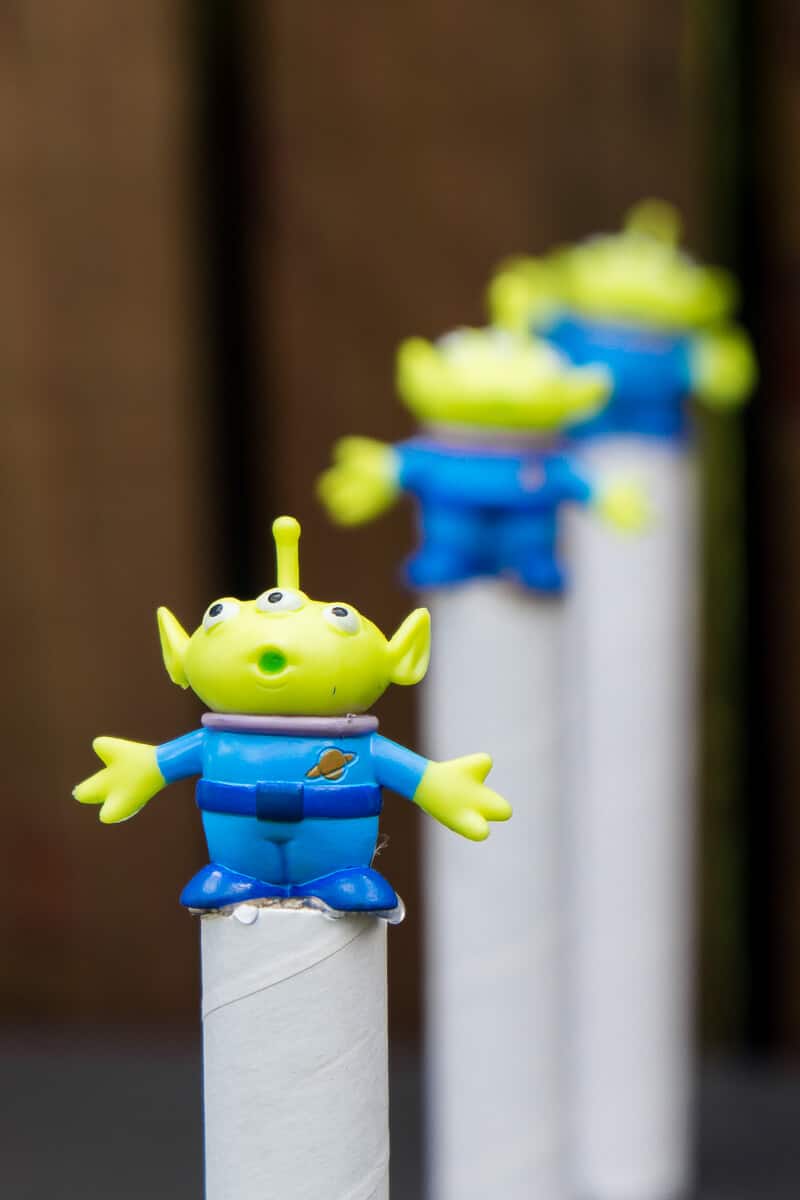 Toy Story Midway Mania Games: Prize Ideas
I mentioned a handful of prizes that we used for the games in the game descriptions above, but here's the full list of prizes we used as well as a couple of other Toy Story inspired prize ideas.
Have you ever been to Hollywood Studios? Which game is your favorite on Toy Story Midway Mania?