I seriously have no idea how I have a preschooler. I mean, he went to half day preschool earlier this year but it was only for about two hours. This year my son starts full day (9-2) preschool, and I really can't believe it. Don't get me wrong, I'm excited. But it's still hard to believe my baby is going to his first day of school.
I've seen so many moms out there who have a really hard time letting go and realizing their kids are growing up and going to school – whether it be preschool, kindergarten, or even 1st grade. I love my son, but I also know how good school is for him, especially being our only child. He needs the fun and interaction he gets from other kids.
And I need the break.
So instead of wiping away tears from either you or your kids, try out one of these six easy ways to make the first day of school awesome for everyone, mom included.

Six Easy Ways to Make the First Day of School Awesome

#1 – Let your kids pick out a first day of school outfit.

A little while before the first day of school, go school shopping and pick out a new outfit that's going to make your child feel comfortable, excited even.

My son of course picked out dinosaur everything and demanded that he get to wear it before the first day of school to play. He'll still wear it the first day of school and be just as happy in it then.
#2 – Don't forget the shoes!
When they're picking out a new outfit, let them pick out a cool new pair of shoes too. But instead of holding those off for the first day of school, let them wear those shoes as much as they want before school starts because no one wants to be wearing a pair of shoes that haven't been broken in yet when they're nervous and uncomfortable.
As a mom, I swear by Stride Rite. Not only are they comfortable, they're easy to get on, which is essential when you're teaching your preschooler to put on their own shoes.
And unlike so many other brands, they all seem to run about the same size so you can buy them somewhere like Zappos.com (yay for fast and free shipping!) and know that they're going to fit. And if they don't for some reason, Zappos.com offers a fantastic 365-day return policy and world-class customer service.
I let my son look at all of my pictures online, and he picked out the new Stride Rite Leepz in Blue Lime Leather Mesh. And that was before he knew how that not only are they colorful and cool looking, they actually light up. Talk about an excited 3-year-old.
#3 – Spend a lot of time together the week before.
This one is for both you and your kids. Plan out fun activities like going to the zoo or a park to just spend time together. By the time the week is over and it's time for school, you won't feel any sort of sadness about being separated because you'll have spent plenty of time together recently.
My son doesn't go back to school until early in September, and I'm already trying to stock up on quality time together so I don't miss him or feel guilty about sending him to school.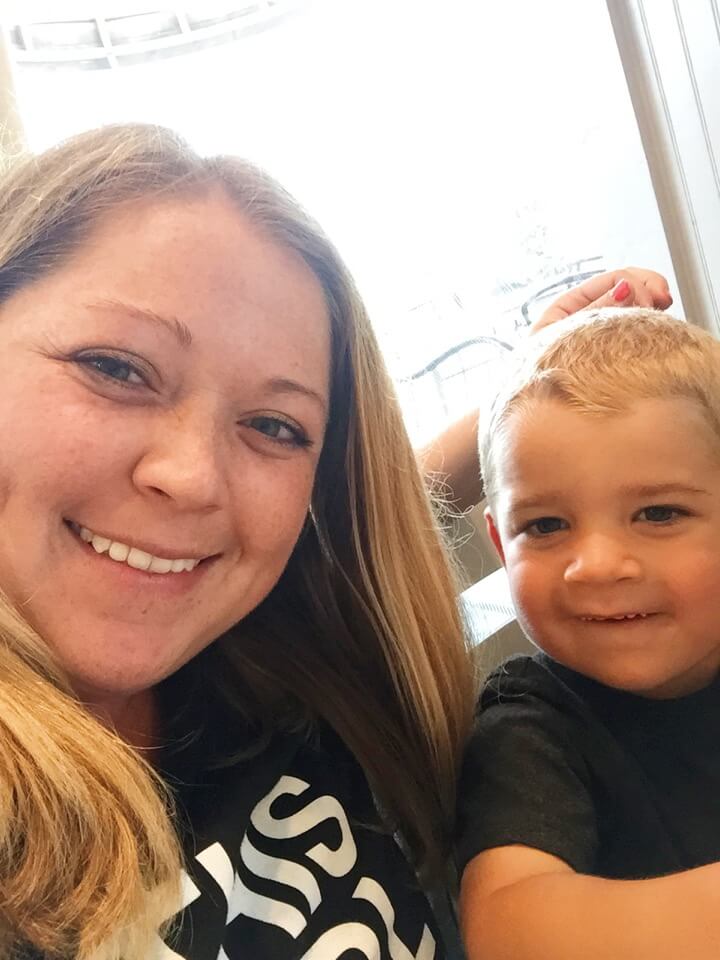 #4 – Plan active adventures.
This one goes hand in hand with #4. Once school starts, there is going to be a lot of sitting and listening. Try to plan some really active and fun adventures the week or two weeks prior to school starting to get some of the energy out.
This is especially true of preschoolers like K who really need to run on a regular basis. And if your child is just going to part-time preschool or kindergarten, plan fun adventures for the days they have off.
We'll be living in Texas for the first time once preschool starts, so I'm excited to explore every park and playground the state has.
#5 – Make the morning of memorable.
The night before the first day of school, get everything ready. Get backpacks packed with snacks, change of clothes, paperwork, etc. And lay out the first day of school clothes. Do whatever you can the night before to make the morning of not quite so hectic.
Then on the morning of, make a fun breakfast, put out activity placemats, write silly notes for our kids. Take first day of school pictures so you can look back and see how much they've grown. Do whatever it is that will have you both enjoying your last few hours together rather than stressing out about every little thing.
#6 – Do something for yourself.
Back to school can be stressful for everyone. Once you've all survived the school drop-off, give yourself an hour or two to just relax and do something for yourself. Get a massage or a pedicure, go grocery shopping without fighting the kids, or take a nap. You deserve it.