Have a preschooler going back to school soon? Use these great back to preschool ideas to make the first day of preschool go as smoothly as possible! Who knows, you may get to skip the back to preschool first day jitters all together!
I still can't believe kids are going back to school already. My son is going back to school, well back to preschool, but not for another few weeks. And since there are plenty of posts out there already with tips for going back to school, I thought it'd be fun to share some of my tips for making the going back to preschool process a little smoother.
Because we all know, preschoolers can be a bit challenging, especially when it comes to doing something they may or may not want to do.
This will be my son's third and final year in preschool before he heads into kindergarten, and I've learned quite a bit over the past three preschool years. These tips have helped us make going back to school a bit easier each year!
Preschoolers Going Back to School Tips
#1 – Let Them Choose Their Back to School Outfits
One of the biggest fights I have with my preschooler on a regular basis is what he's going to wear. I almost always let him choose his clothes but on Sundays, we like to wear nicer clothes to church. And every Sunday, it's a fight.
Make the first day of school easier by letting your preschooler pick out what they're going to wear, no ifs, ands, or buts. If you're worried about what they'll choose, give them a drawer full of clothes that are school approved to choose from. Or set out a couple of mom-approved fall outfits they can choose from.
Just give them a choice.
#2 – Think Comfortable Back to School Clothes
When you're deciding what options to give your preschool for going back to school, stick with comfy clothes like Hanes® X-Temp® Boys' Raglan Henley Short-Sleeve T-Shirt. They look great, come in a variety of colors (we bought them all!), and are really soft.
I honestly wasn't sure if my son would wear it, but he loved it and wore it with his super soft red Hanes EcoSmart Sweatpants all day long, even though it was probably a bit too hot for sweat pants!

#3 – Don't Forget the Change of Clothes
Once your preschooler picks out the clothes they're going to wear, go through the same clothes and pick out a change of clothes to put in their backpack. And don't forget the underwear/boxers and socks!
My son loves the Hanes Ultimate Boxers and the red Hanes® ComfortBlend® Ankle Socks, so I make sure to always include both of those along with actual clothes. You just never know how messy, wet, or otherwise dirty they're going to get!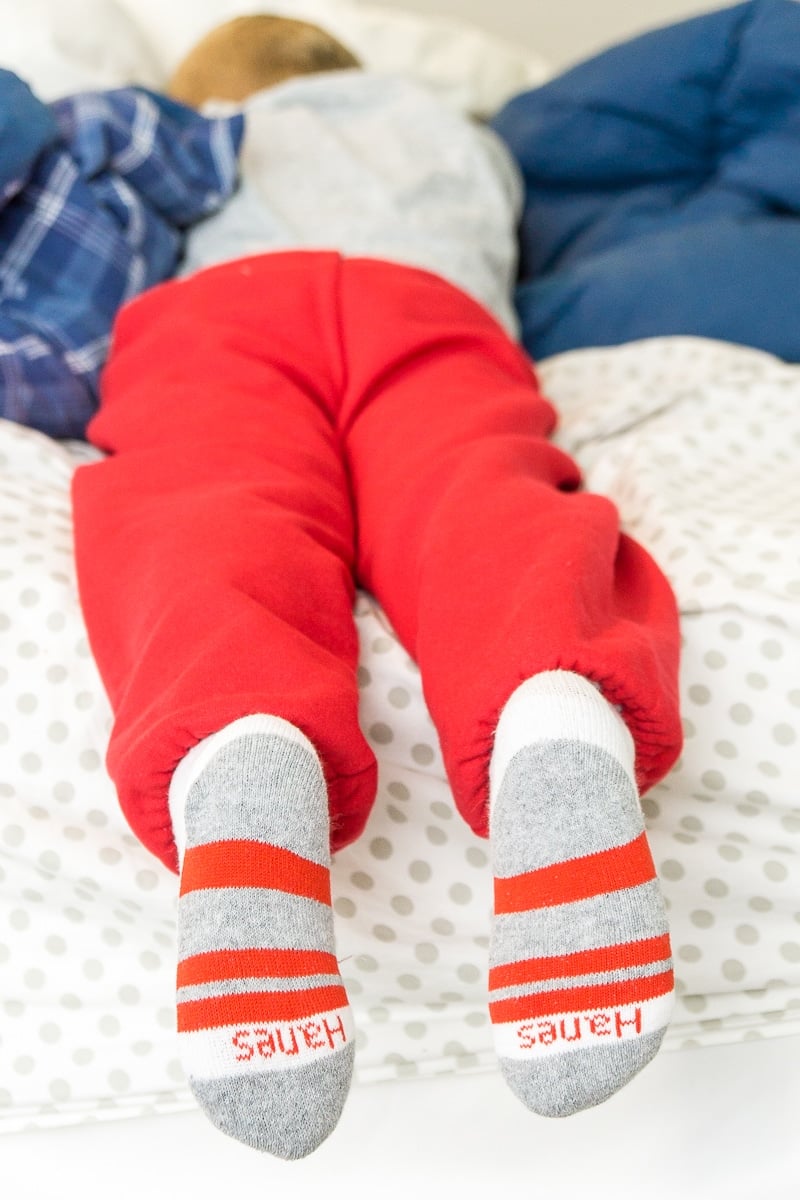 #4 – Start Getting Up Early a Week Before School
One of the things I find hardest about school is getting back into a routine of waking up in the morning. Since it's just me and my son (my husband is at work), I often let him sleep as late as possible during the summer, even sometimes as late as 10AM so I can get work done.
To get ready for school, I'll start getting him up an hour before school starts about a week ahead of time so his body can adjust and be ready for the rude awakening come the first day of school.
#5 – Give Yourself an Extra 15 Minutes on the First Day of School
I know it's tough but try to get your preschooler up even a bit earlier on the first day of school. Inevitably something will go wrong and you'll need those extra few minutes to deal with a meltdown, your child saying they don't want to go school, or something being spilled on their brand new outfit. You're going to have moments like this, so plan the extra time in so you can still make it to school eventually!
#6 – Be Patient with Your Preschooler and With Yourself
This is probably my most important tip. It's the first day of school, not the Olympics. No matter how crazy your preschooler is being, try to remember that they're probably nervous. Going back to school can be scary and they need you to be their cheerleader, their support system, and their patient mom who reminds them it'll be okay, not yells at them to move faster.
And be patient with yourself. If you're late, so what? It's okay. Your kid isn't wearing matching socks? So what. Get them to school, put on some comfortable Hanes Leggings, and give yourself a reward for surviving the first day of school. It only gets easier.