Looking for fun back to school ideas for preschoolers? These free printable placemats are a fun way to get kids excited about going back to school or even just for a fun every day morning. Designed to be colorful, fun, and used with Fruity Pebbles, they're a great way to make learning fun! Print, laminate, and put out on the table with a bowl full of Fruity Pebbles for happier kids enjoying rainbow colored cereal!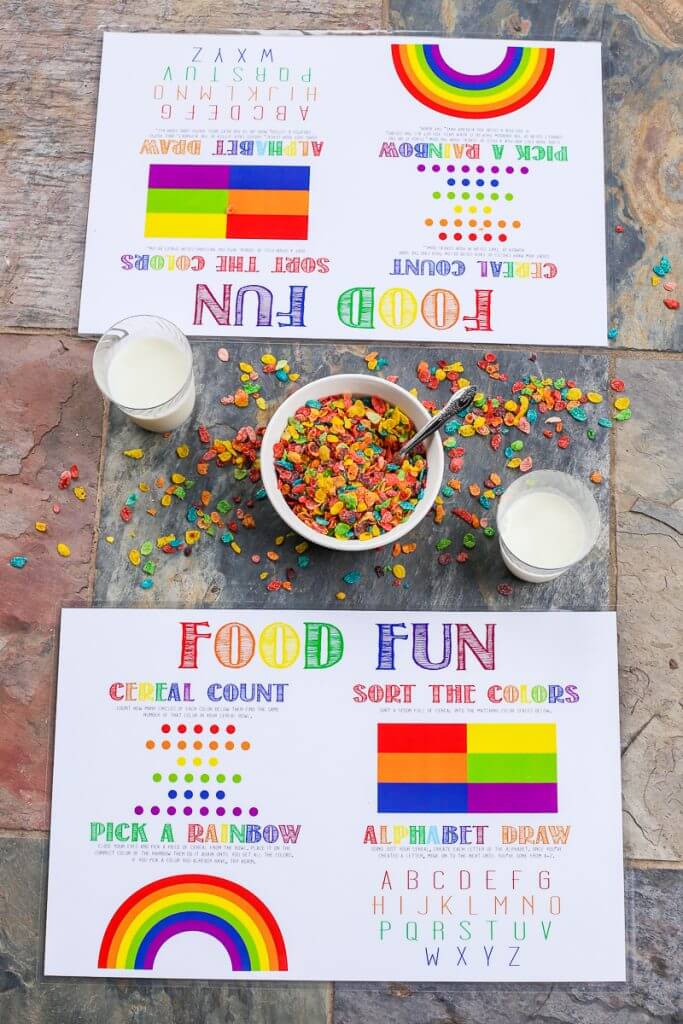 My son loved the travel placemats I made last week so much, that I thought it would be fun to create another more colorful placemat that's perfect for a back to school breakfast. With four different activities all inspired by our favorite colorful cereal, Post Fruity Pebbles, I know he's going to love them. They'll be perfect to go along with these other fun back to school ideas that I shared last year!
These would also be great for a back to school party where everyone gets a placemat and a bowl of Fruity Pebbles. You could even have races to see who could finish each activity first – the pick a rainbow one in particular is a super fun game to play with or against friends and could be used just by itself with other back to school ideas as well.
Back to School Ideas: Fun Printable Placemats
Print out the back to school placemats by clicking on the image or links below. They're designed to be printed on 11×17 paper, but if you'd like an 8 1/2 x 11 version, you can download one below as well. It'll just be a bit smaller and a tighter fit but still definitely useable. I also laminated mine so that I can pull them out like once a week for a fun entertaining breakfast without having to worry about printing them again. No one said back to school ideas can't be used throughout the year as well!
Download the 8 1/2 x 11 version
This post is sponsored by Post Pebbles Cereal.