Have a child going into kindergarten soon? Start getting ready for kindergarten now with these easy tips and tricks! Everything from buying the best back to school clothes to working on their letters and reading with fun activities!
While this post is sponsored by Abercrombie Kids, all opinions and ideas are 100% my own. This post also contains affiliate links; if you purchase via one of my links, I may receive a small commission at no additional cost to you.
My son starts full-time kindergarten next week. I'm both a little nervous and excited. Nervous because I know I'm going to miss having my little buddy with me all the time. And excited because it means I'll have some scheduled alone time to get work done, train for my half-marathon, and maybe take a nap every once in a while.
And my son? He's nervous and excited too. He went to a 2-day kindergarten camp last week and came home saying he had a really fun day, so I'm hoping that's a good sign.
But still – going to full-time school for the first time is tough. I mean change is tough for anyone and going to kindergarten is a big change.
Tips for Getting Ready for Kindergarten
I put together some of the things we've been doing to help with the getting ready for kindergarten process in hopes that maybe some of these things will help you too!
1 – Let them pick out back to school clothes they're comfortable in.
I put this first because I personally think it's one of the most important things you can do. Going to a new school is scary and uncomfortable. Let them pick out clothes that will at least let them feel comfortable even if inside they're not.
If you want comfort that still looks good, our choice for back to school clothes is Abercrombie Kids. I told my son that he could pick out a couple of things for school, and he (okay I) went a little crazy, but they were all so cute, we had a hard time picking just a few.
So cute and so soft.
We went to Disneyland last week and my son refused to take off what he calls his "soft blue shirt," even though he wore it on the plane, at the park, and to sleep in. We finally convinced him to switch it out with another soft Abercrombie shirt, which is why he was wearing a Mario Kart shirt to Disneyland instead of a Disney one.
But if you want a Disney one, Abercrombie Kids has a number of fun new Disney shirt designs just in time for back to school!
And don't forget the pants. I wanted him to wear jeans, he wanted sweatpants – we compromised with the new Abercrombie jeans with sweatpant stretch.
They're amazing.
They look like jeans (for me) and feel like sweatpants (for him). They're great for school or play whether they want to monkey around on the playground or roll them up to play in the sand.
I asked my son today if he wanted to take off his jeans to put on sweatpants before taking a nap. His response? I'm already wearing sweatpants. True story.
They're a win-win for everyone!
Moral of the story – let them pick out clothes they love. If they feel good, they're much more likely to have a good day.
2 – Get Into a School Routine Before School Starts
If your school schedule is anything like ours, it's not the same as your summer schedule. Our school starts at 7:50AM and gets out at 3:10PM. It's a long day that starts early. And we are not early people in the slightest.
But we're working on it. This past weekend we did one last hurrah to California to enjoy the summer sun, sleep in, and snack on some of the best treats we could find!
And now that we're back, we're getting on a schedule. The past few days we've been waking up when we will for school, going to bed when we will for school, and trying our best to eat dinner on time.
It's going to be as much of an adjustment for the rest of the family as it is for my son, so we are all working on it together!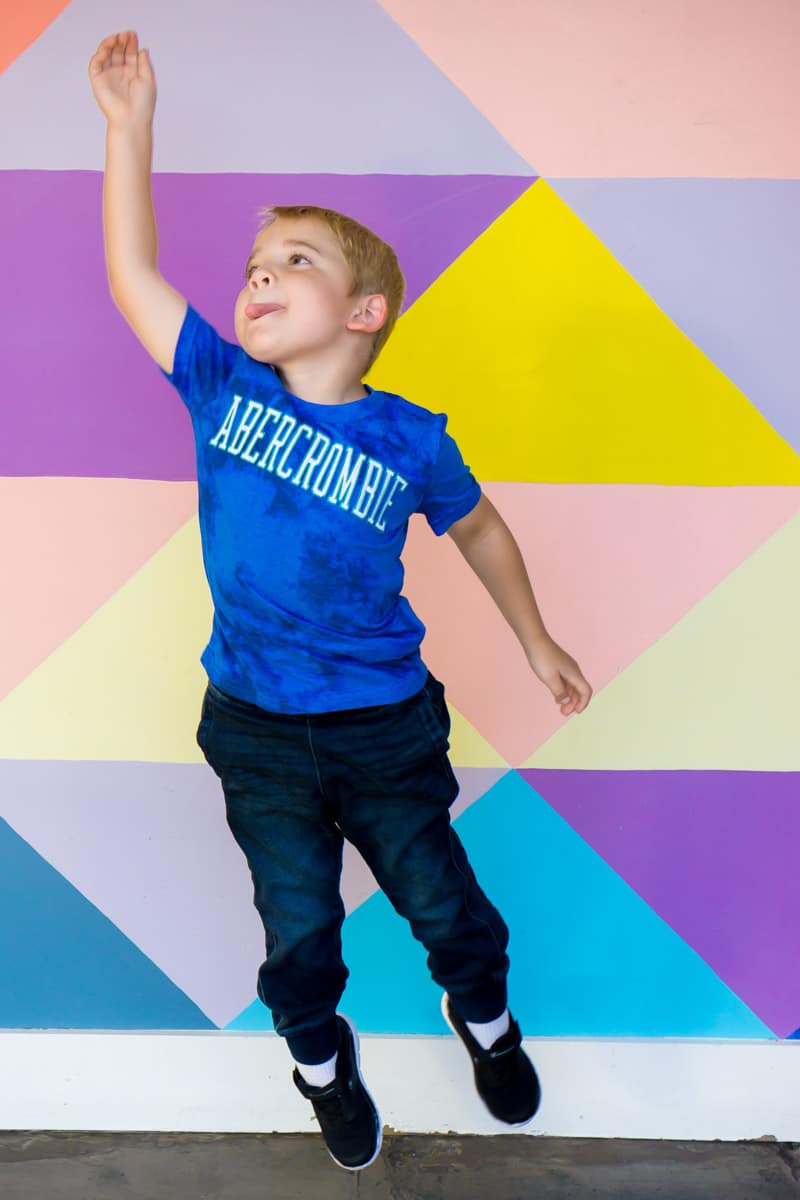 3 – Get Familiar with the School
Schedule a tour. Send your child to the school provided orientation. Go to meet the teacher night. Do whatever you can to help your child get familiar with the school they'll be going to so it's not a strange place.
I mentioned it before but my son did a 2-day kindergarten camp this week (wearing these jean "sweatpants" yet again) and came out of it feeling like he knew other kids, knew the teachers, and knew how the day worked.
Okay really he came out of it telling me that I could save my money because he was going to earn "Tiger Bucks" to buy himself a toy at the mall.
I didn't have the heart to tell him that his tiger bucks were only going to work at his school, not the mall. No need to shatter his dreams yet.
I'm just glad he was listening to the teachers.
4 – Read Books Together
Speaking of getting ready for kindergarten – one of the things they'll spend a lot of time doing in kindergarten is reading. Get them prepared for all of the reading by spending time reading at home.
This was the one thing the elementary school principal told me to work on this summer – making sure they're used to reading and story time.
You can practice their letters and numbers with fun activities like these ones as well but most of all, help them develop a love for reading and books. Try one of these activities to make reading even more fun or try going to the park and alternate reading a book with 10 minutes of playing.
5 – Talk It Up
This is something I've struggled with a bit this year because I wasn't sure how to talk about kindergarten without scaring my son or making him nervous about kindergarten camp. But about a week before camp, I started talking about how much fun he was going to have, which of his friends would be there, what kind of fun things they'd be doing (e.g., recess, puzzles), and just all the positive things I could think of.
And when he walked in the door to camp last week, he was mentioning those things we'd been talking about for the past week. They stuck, and they helped him get through an otherwise scary situation.
Do the same with kindergarten. The more you talk about it, the less scary and "new" it will be. Add that to an amazing Yoshi shirt and sweatpant stretch jeans, and you're golden.
Tips for the First Day of Kindergarten
No matter how much you do to help with getting ready for kindergarten, the first day is still going to be a little scary. Take the edge off by doing something special that they'll love. These are just some of the fun ideas you could try – do whatever makes the most sense for your child!
6 – Make it a Celebration
Get a surprise breakfast treat, do this back to school scavenger hunt (with a little surprise at the end), or play some of these back to school games to make the first day of school (or night before) a fun thing. Games are a great way to get everyone laughing and feeling comfortable even if you're just playing with your own family.
7 – Pick Out Clothes the Night Before
Go through all of those fun back to school clothes together and pick out the perfect outfit for the first day. And a backup outfit in case they change their mind.
If your son is like mine and wants to wear a long-sleeved pineapple shirt the first day and it's going to be 95 degrees out, I give you permission to hide that shirt and bring it back out when the days aren't quite as hot. The shirt is cute but way too hot for Texas in the middle of August.
8 – Send Surprises in Their Lunch
There's nothing more comforting than a note or surprise from mom or dad in the middle of the day. Add these printable lunchbox games into their lunch box for a fun lunch activity! I love the idea of lunchbox jokes too but not all kindergarten kids can read so jokes can be tough if no one is around to read them!
9 – Keep the Surprises Going at Pick-Up Time
Last but not least, when you pick up your child from kindergarten, make a big deal out of how brave they were. Talk about their day. And have a special surprise or treat waiting for them to help keep the fun going. Make it a frozen treat if they talk you into wearing that perfect long-sleeved shirt on a hot day!
Yoshi Graphic Tee
Star Wars Porg Graphic Tee
Mario Kart Graphic Tee
Red Long-Sleeved Pineapple Shirt
Blue Tie Dye Logo Tee
Long Sleeve Shirt with Moose Logo
Medium Wash Denim Joggers
Dark Wash Denim Joggers