These out of the blue gift box ideas are perfect for anyone looking to surprise someone for no reason! A blue gift box filled with blue gifts, blue balloons, and a cute tag is such a fun way to tell someone you were thinking of them while maintaining a safe six feet of distance!
This post is sponsored by Balloon Time. All ideas and opinions are 100% honest and my own.
Out of the Blue Gift Box Ideas
If you've ever heard of the different love languages, I'm totally a gifts person. Gifts, especially surprise ones, are my favorite way to tell someone I'm thinking about them.
These out of the blue gift box ideas are a fun way to do just that – tell someone you're thinking of them – with no specific occasion or reason. It's even better than a birthday gift because it's not something that someone will be expecting.
Those are the best kind of gifts! And this one is perfect for right now because it's a great way to surprise someone from a distance!
Supplies
For this blue gift idea, the main supplies you'll need are blue things to fill the box but in addition to a bunch of blue gifts, here's what else you'll need to make it!
Balloon Time Standard Helium Tank (or Jumbo if you already have that)
Blue helium balloons
Blue balloon ribbon
Blue balloon weights
A large cardboard box (big enough to fit a few blown up balloons)
Blue wrapping paper
Blue tape
Blue bow
Printable out of the blue gift tag
We made this gift with the boys as a surprise for their grandparents so the box was filled with their favorite treats, activities to do with the grandkids, and things they can use around their lake house while maintaining social distancing.
Blue Gift Box Ideas
Here are some other ideas to get you started if you can't come up with blue gifts of your own!
Any of their favorites in blue packaging – bags, balls, boxes, and jars all work well
Blue colored treats (jelly beans, wrapped chocolates, licorice, sodas, etc.)
Pet treats or toys
Things for the house like art prints, kitchen towels, decorations
Games or activities you can do together
Streamers or other decorations
Jewelry
Books or movies
Instructions
One of the things that I love about this gift is that it's so easy to make and so fun to surprise someone with! Here's a quick step by step of how we made our gift!
1 – Blow up your balloons.
One of the most fun parts of this gift is the blue helium balloons that float up when the recipient opens the gift. It just adds a super fun element of surprise before they get into all the blue items in the box!
We always have a Balloon Time Standard Helium Tank (or two) on hand in our garage, which made this super easy. If you don't have one on hand, you can find out where to buy one here.
There are so many more things you can do with the Balloon Time tank from playing fun spelling games to making balloon candy grams – I highly recommend just keeping one on hand!
The tank will also come with white balloon ribbon and various 9″ latex balloons – you can save those for another fun project later!
Have an adult use the Balloon Time tank to blow up the balloons, tie them to ribbons, and tie to balloon weights. Kids can help with the rest of the gift but adult supervision is required when using balloons.
Please read all warnings and precautions on the Balloon Time box before use.
We blew up the balloons first because we knew we were going to wrap the gifts and give them to grandparents right away.
If you're not planning to gift the box until the next day or a little later, wrap and fill your box first then add the helium balloons right before you close up the box so the balloons still float when the box is opened.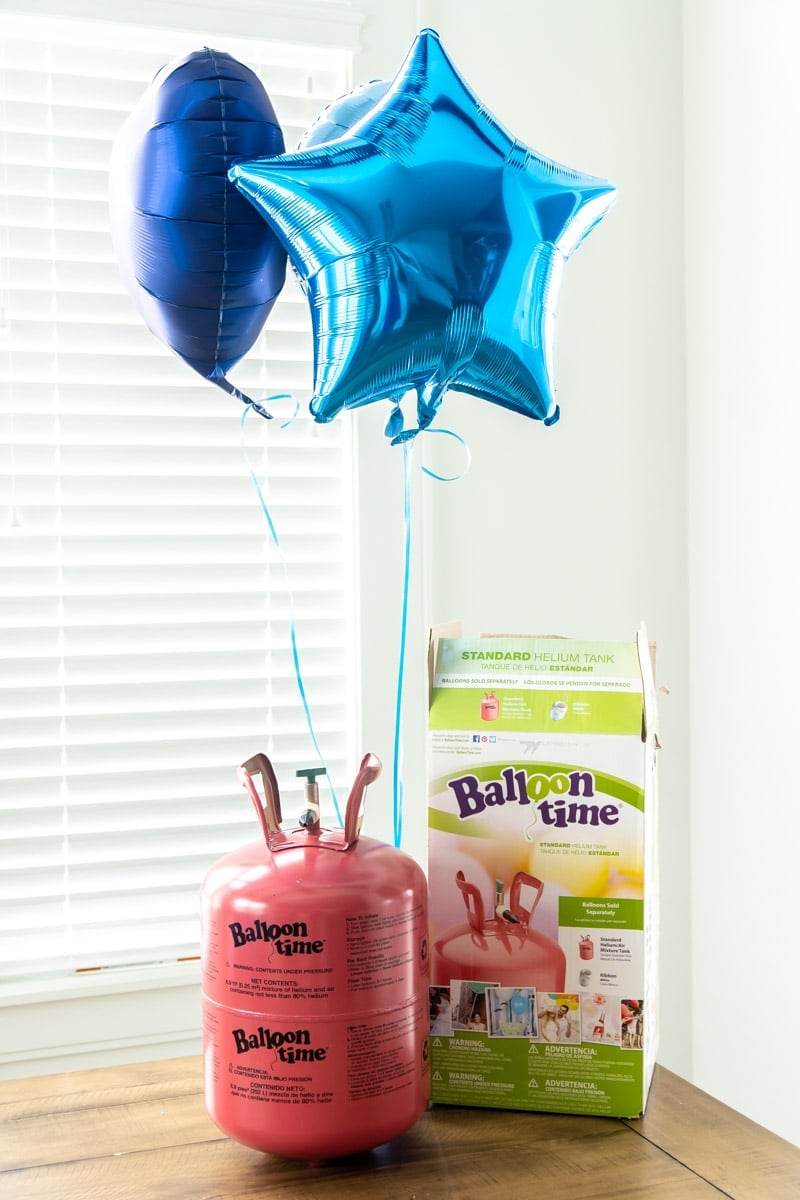 2 – Wrap
Pick out a fun blue wrapping paper and wrap your box completely in the blue wrapping paper. It's a blue gift box after all!
3 – Fill your box
This is where kids can really help! Go shopping and let them pick out blue items that they want to put in the box.
My son picked out the watering can, baseball bat, bubbles, and blue treats. He was way more excited to put those items in the box than anything else, but he still had fun helping with the things I picked out.
Any time you can get kids involved in the decision making or actual creation process, the more fun it is for everyone! I let the boys put all of the items in the box before closing it up tight!
And don't forget the balloons – you might need two people to put them in. Have one person hold them in the box while the other person closes it up with some blue tape!
4 – Finish it off
Last but not least, finish off the box with a bow and the free printable gift tag I made for you below. I included a spot to sign your name on the gift tag if you want or leave it blank if you want to surprise them after like we did!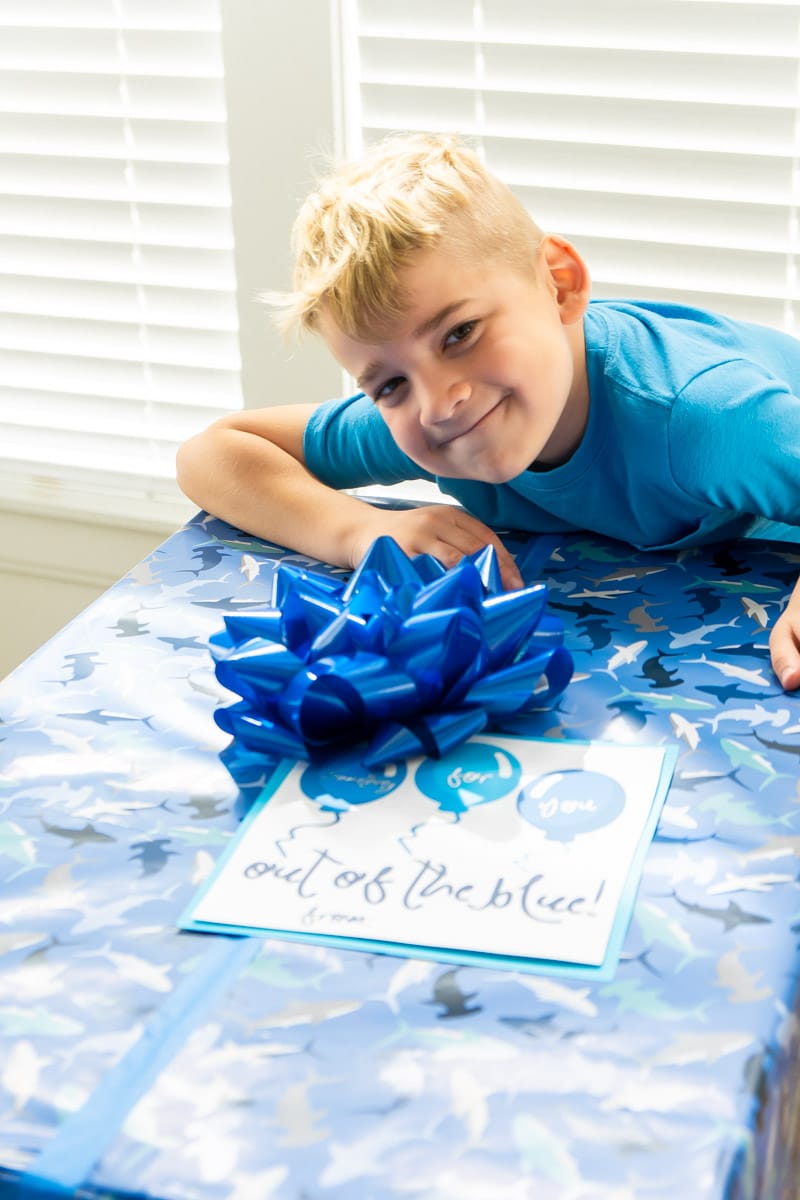 5 – Drop it off
Now it's time for the best part of all – giving someone your gift! My boys dropped the gift on my parents' doorstep, rang the doorbell, and got back in the car to watch.
Or if you don't want to be around when they open the gift, simply leave it on the doorstep for them to be surprised when they find it.
Download the Printable
Want to make your own out of the blue gift box? Download the free printable gift tag here! Add your name (or don't), tape it to the box, and enjoy showing someone you care with these fun blue gift box ideas!
Click here to get your printable!
Other DIY Gift Ideas