Looking for a clever neighbor gift, teacher gift, or even holiday gift idea? Add these orange you glad free printable gift tags to a box of orange items for the perfect gift idea for any person or occasion! Simply print out the free gift tags, cut, and add them to your items of choice!
This post contains affiliate links. If you purchase via these links, I may receive a small commission at no additional cost to you.
Orange You Glad I Made Gift Tags?
I'm a big fan of punny gifts. Personalized gifts too but punny gifts are my favorite. I've already made Wreck it Ralph gift tags, just because gift tags, chick flick inspired gift tags, thought it was time to make some more!
These orange you glad gift tags are inspired by son's favorite knock knock joke. You probably know the one. Honestly, if you've ever heard a knock knock joke before, it's probably this one.
If not, this is how it goes. It's literally the only knock knock joke I ever remember so my son hears it every time he asks me to tell him a joke, which is a lot.
Knock knock.
Who's there?
Banana.
Banana who?
Knock knock.
Who's there?
Banana.
Banana who?
Knock knock.
Who's there?
Orange.
Orange who?
Orange you glad I didn't say banana again?
Orange You Glad Gift Tags
This fall I was trying to come up with a creative gift idea for a friend who's family just got through a battle with cancer. I wanted to send something fun and uplifting that might make them smile when they opened it.
Kind of like this box of sunshine gift, but I didn't want to do a box of sunshine.
So I came up with the idea to do an "orange you glad," gift because who doesn't smile when they think of that popular knock knock joke. Their particular gift tag said, "orange you glad you're all done," but there are so many different ways you could use this pun!
And luckily for you, I made eight different free printable gift tags you could use for various occasions.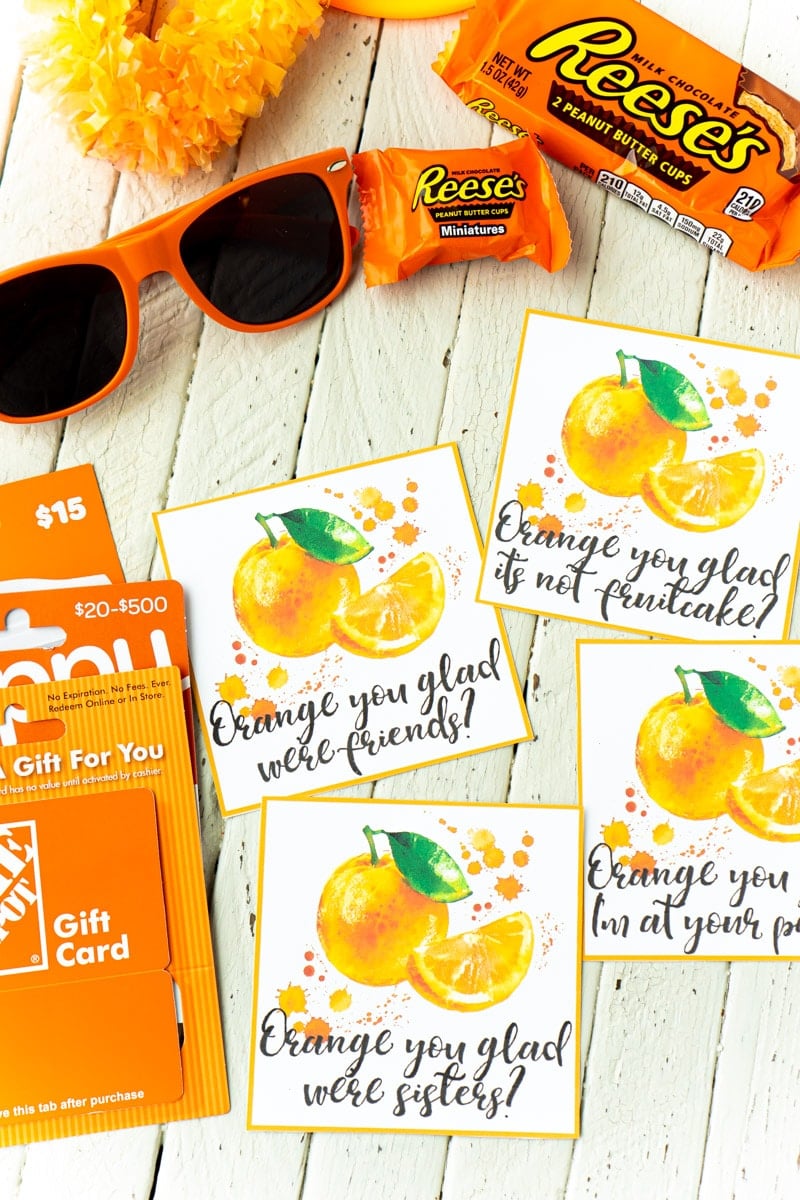 Orange you glad you're all done? (could really be for anything – finishing a semester of school, finishing finals/big test, chemo, etc.)
Orange you glad we're friends? (for a friend)
Orange you glad I'm your sister? (for a sibling)
Orange you glad you teach my kid? (for a teacher gift)
Orange you glad we're neighbors? (for neighbor gift)
Orange you glad it's not a fruitcake? (for a holiday gift)
Orange you glad I'm at your party? (for one of the most fun hostess gift ideas)
Orange you glad you got mail? (for a just because gift)
What Goes in an Orange You Glad Gift?
This is the easiest gift to put together because you literally just fill it with orange items! My friend's box included things like gift cards, a game for the family, treats, activities for the kids, and more.
Try to get things that are mostly orange but a little other color is okay too. You could also do things that are flavored orange even if they're clear or other colored but the basket full of orange items is a really fun visual if you can find all orange!
Once you've got all your orange things together, simply put them in a basket, box, or bag of some sort. Add a little orange wrapping paper or orange tissue paper to round out the orange theme.
Then last but not least, add one of the printable gift tags you can get below. There are gift tags for every occasion and person!
100 Orange Gift Ideas
I walked around two different stores and picked out orange things that made sense for the family I was sending it to, but I put together a huge list of orange items below you could put into your gift if you're stuck!
Orange pearl necklace
Orange scarf (or mittens, hats, or gloves)
Orange spatulas or other kitchen tool
Orange travel pillow
BB-8 Toys or really anything
One of these Star Wars gifts (there are a bunch of orange options)
Orange honey with crackers or bread
An orange book like this Pokemon one for kids or this Orange World one for adults
Orange Bird bangle (or anything else Orange Bird)
Orange casserole dish or other kitchen dish
Orange baby teether (one of our favorite new mom must-haves!)
Fox anything – like this fox pillow or this Fox GoPals )
Orange peel face mask
Orange Crush t-shirt
Orange glow sticks
Big Orange book of beginner books by Dr. Seuss
Orange box of chocolates
Orange cupcake liners and cupcake mix
Orange slice keychain
Orange pens or pencils
Orange rock candy
Orange kiwi face mask
Dunkin Donuts gift card
Other items you can find in your local grocery store!
Orange soda – Fanta, Crush, Sunkist, etc.
Orange juice, juice boxes, sparkling water, gatorade, Sunny D, Tang
Peach rings
Reese's
Cheetos
Pringles, sour cream and cheddar chips
Clementines, oranges
Cheese
Goldfish
Baby carrots
And here are some popular gift card options that are orange if you want to go that route:
And if orange isn't your thing, you may want to try this blue gift instead!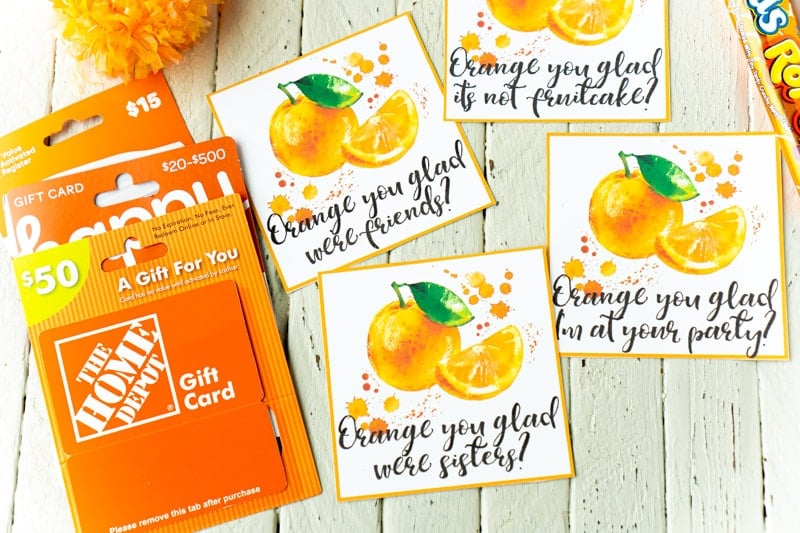 Download the Free Printable Gift Tags
Enter your first name and email address below to get the free orange you glad gift tags. You'll receive an eight page PDF document – one page for each of the tags listed above.
If you cannot see the form below, click here to get to it.
I recommend printing the tags on white card stock so they're not as flimsy. Then attach to the gift with ribbon, tape, or orange baking twine.
More Printable Gift Tags
I have tons of other free printable gift tags! If these orange you glad ones don't work, try out one of these other gift tags instead!
Don't forget to pin these orange you glad printable gift tags for later!