Show your bridesmaids how much you appreciate them being by your side on your big day! These are some of the best bridesmaids gift ideas for your besties!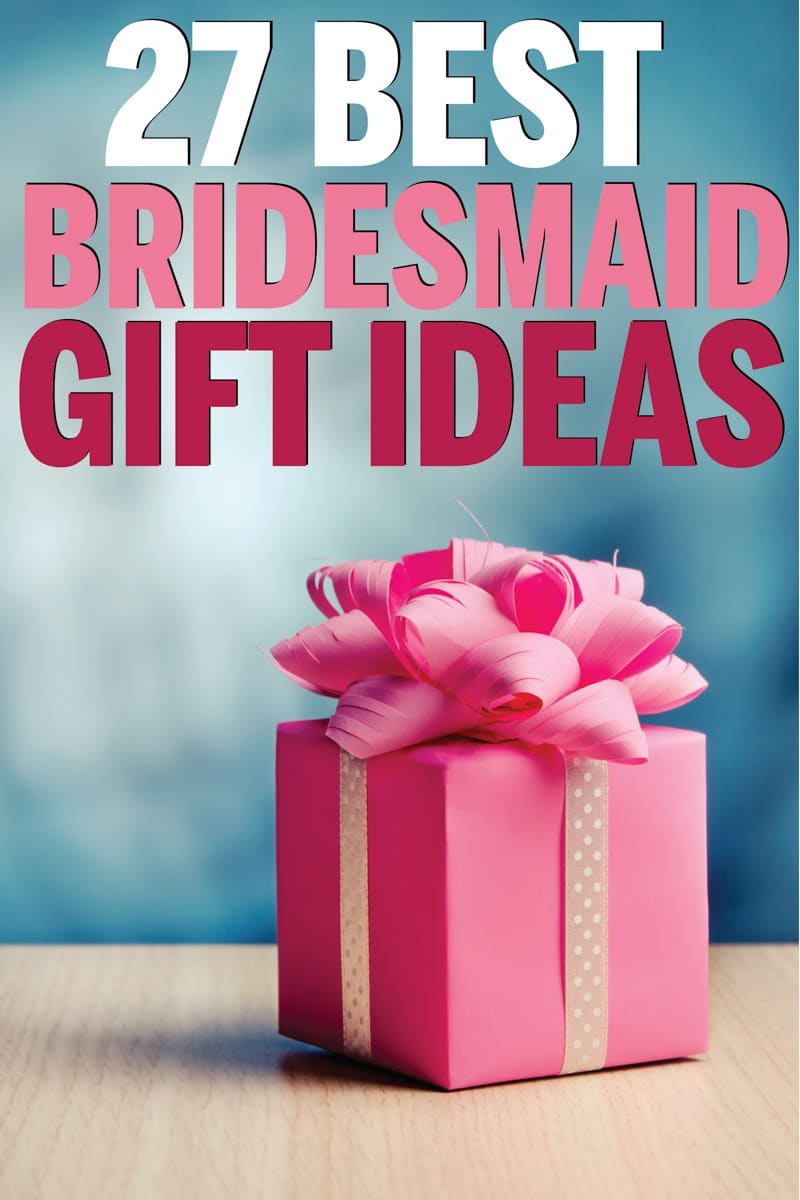 This post contains affiliate links. If you purchase anything via these links, I may receive a small commission at no additional cost to you.
Why Bridesmaid Gifts?
Your wedding day wouldn't be the same without your besties by your side!
They were so happy for you when you announced your engagement, endured multiple dress fittings with you, threw you a dreamy bohemian bridal shower, listened to you complain about your mother in law, played the most fun bridal shower emoji game, and are here to walk you to the finish line of wedded bliss!
Show them how much you appreciate their friendship and support with a special bridesmaid gift. Whether you prefer to give personalized bridesmaid gifts or unique bridesmaids gifts, this list has all the best bridesmaid gift ideas for your girls!
Unique Bridesmaid Gifts
Their friendship is one-of-a-kind and so are they! Show your girls just how special they are with these unique bridesmaid gifts.
Keep their feet cozy after the big day with bridesmaid socks. Perfect for relaxing in after a night of dancing.
Write a love note to your bestie on a candle! Pick one of the advertised messages or choose your own with a personalized candle.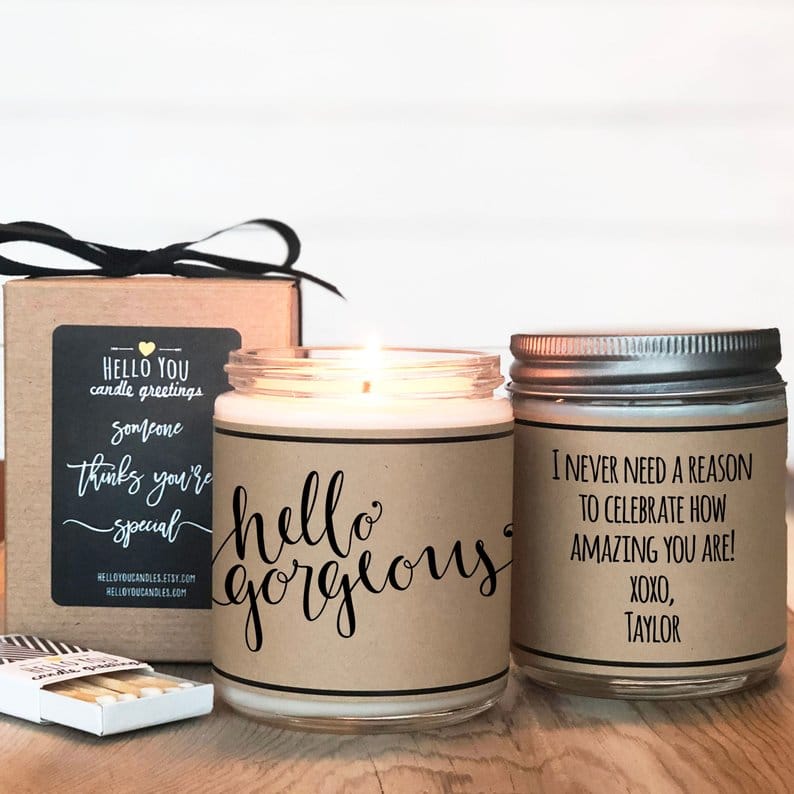 Pack a tote full of goodies and then get it personalized for a unique bridesmaid gift. This personalized tote is so pretty!
These unique minimalist earrings could also be jewelry for the big day!
Bridesmaids usually have a ton of stuff to lug around after the wedding. Gift them a personalized duffle bag to pack it all up!
Gift your gal pals movie-inspired chick flick gift baskets. There are four different options inspired by four great movies.
Personalized Bridesmaid Gifts
Put their name on these gifts to make these personalized bridesmaid gifts something they'll cherish forever!
A personalized heart ring dish is a sweet sentiment for your girls. They can keep their jewelry on this at home.
They were there for you when he put a ring on it. Return the favor with a pretty personalized ring. This is something they can wear everyday and be reminded of your friendship.
Perfect for the bachelorette party or lounging in before the big day. These bridesmaids shirts are cute and comfortable.
This rose gold bar necklace is so pretty. Add their name to it for a pretty personalized touch.
Get these fun floppy beach hats customized for your besties. Perfect for bachelorette parties and future girl weekends!
These initial necklaces are so fun! Add their initials to it for a personalized and adorable gift.
They can sip rose all day in these personalized wine tumblers. You can pick their favorite colors or match them to your wedding colors.
A personalized compact mirror is tiny enough for them to carry around and check lipstick smudges on the big day. They won't get these mixed up since they're name stamped.
Provide their jewelry for the day with these personalized pearl bracelets. Pretty enough for any special occasion!
Hopefully there will be some lounging around before or after the wedding. They'll be set with these personalized beach towels. Colors and font are customizable!
DIY Bridesmaid Gifts
Put a little love in your gift giving with a DIY bridesmaid gift. If you're the crafting type, you can save money and give a personalized present with these DIY bridesmaid gifts.
Pretty DIY bridesmaid robes are a perfect gift and a great thing for everyone to wear as they get ready on the big day. Style Me Pretty has the tutorial on how to make these.
Gift them everything they might need to survive the big day with a bridesmaid survival kit. The Shabby Creek Cottage shows you how to make this cute jar and what to put in it.
Put together a spa box that is drop dead gorgeous! You can include a candle, nail polish, a tea mug, fancy tea, and more.
I love these personalized gift boxes from All That Sparkles. She included chambray shirts, TOMS shoes, wine glasses, and a personalized purse!
Make these leather DIY monogram keychains from A Coastal Bride using your Cricut. These look so classy and would be easy!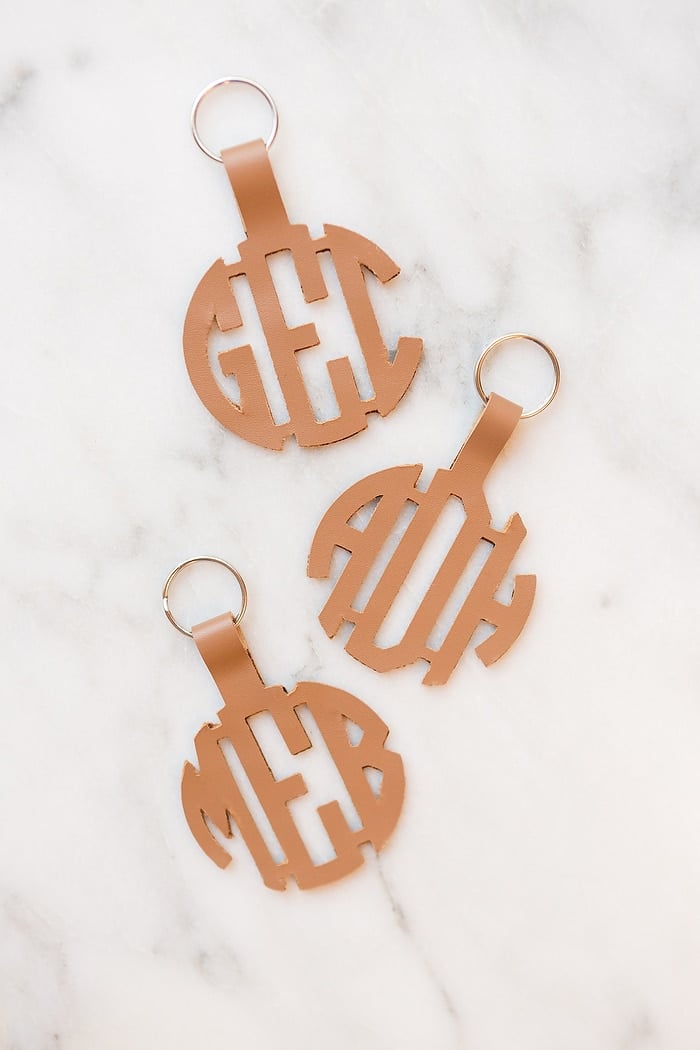 Cheap Bridesmaid Gifts
You don't have to spend a fortune to show your appreciation. After all, everyone knows how expensive planning a wedding is! Show your bridal party you care with these thoughtful but inexpensive bridesmaid gifts.
Put together a small & simple gift for your favorite friends with some goodies they might need on the big day! Costs less than $15 a bucket.
These stylish personalized sunglasses look anything but cheap. The cute floral pattern and monogrammed initials give these so much style.
Thank your ladies for helping you tie the knot with these cute hair ties. They could also wear these as bracelets.
These macrame key chains are a perfect gift for the bride throwing a bohemian wedding. They won't set you back much either.
Bridesmaid Asking Gifts
Ask your girls in style if they'll stand by your side on your wedding day. These bridesmaid asking gifts are a perfect way to ask them to help you tie the knot.
Add these free printable tags to any will you be my bridesmaid gifts that you hand out.
Ask your girls to be in your wedding in style. This spa in a box will make them feel so loved and excited for your big day!
This pretty shoulder shawl has a sweet sentiment and could be something they wear if they get chilly on the wedding night.
A Coastal Bride has the cutest DIY for will you be my bridesmaid pinatas! Let your friends smash these up to prepare for your day!
Let them know you can't tie the knot without them by gifting some knot earrings. These would also make pretty earrings on the wedding day.
Your bridal party does so much in helping you prepare for your big day. Make sure you show them how much you appreciate their friendship with some special gifts.
These personalized bridesmaid gifts and DIY bridesmaid gifts are items they'll cherish forever, just like your friendship!
Don't forget to pin these bridesmaid gifts for later!