Last month my baby sister got married. My baby sister. That means all five of us are now married and my parents are officially empty nesters. Good thing, since they just jetted off to Bosnia for the next 18 months.
Before my sister got married, I had the chance to host a fun bridal shower for her in Phoenix and try out some of these fun things to do in Phoenix while we were there! These Bohemian bridal shower ideas are some of my all-time favorites!
It was a little tricky because we had to do it inside (Phoenix is HOT!), and we had to make do with what we could find in the rental home and a nearby thrift store since we were all flying in for the destination wedding. It turned out to be a beautiful bohemian bridal shower fit for my beautiful sister. And my sweet grandma told me it was the prettiest table she'd ever seen.


Bohemian Bridal Shower Theme & Decorations
The theme for my little sister's wedding was a mix of bohemian, wildflowers, and pastels. To this day, I'm still not quite sure what the actual theme was, so I mainly focused on using pinks, purples, and golds mixed with some wildflowers and colored roses.
I started by stringing streamers in her colors behind the table to add a whimsical and colorful element. This is one of the simplest backdrops ever, simple yet still fun.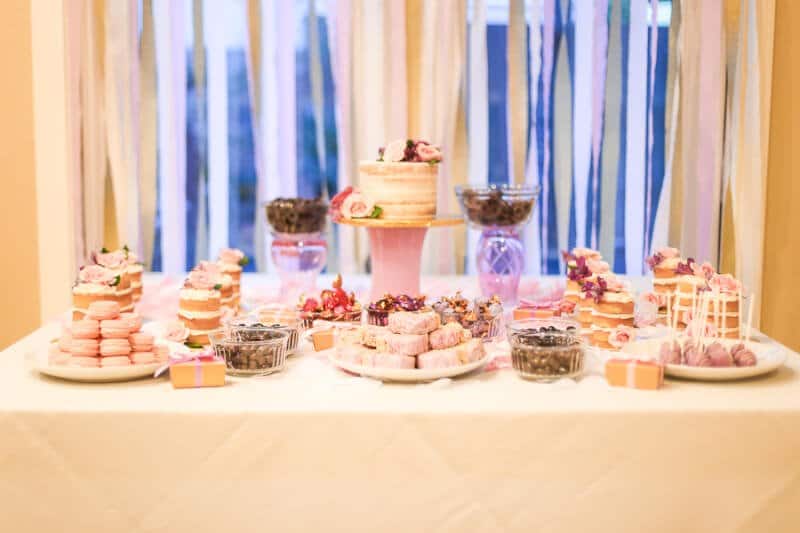 Tip: If you are dealing with a destination wedding or event, head to a local thrift or donation store and see if you can find vases, plates, or even glasses that'll work to make your own cake stands. I didn't have a single real cake stand and was still able to add height, color, and interest to my table by pairing colored vases, plates, and platters together.
And if you have a square table that has a lot of extra space, try filling up the space like I did with rose petals, flower petals, little gift boxes, or even ribbon or fabric pieces.
Bohemian Bridal Shower Food
I was lucky enough to get a great recommendation for a local cake and dessert specialist. I literally called like three days before the shower, and they were able to make me a beautiful naked cake, mini naked cakes, rice crispy treats, cake pops, and even some macarons (my sister's favorite).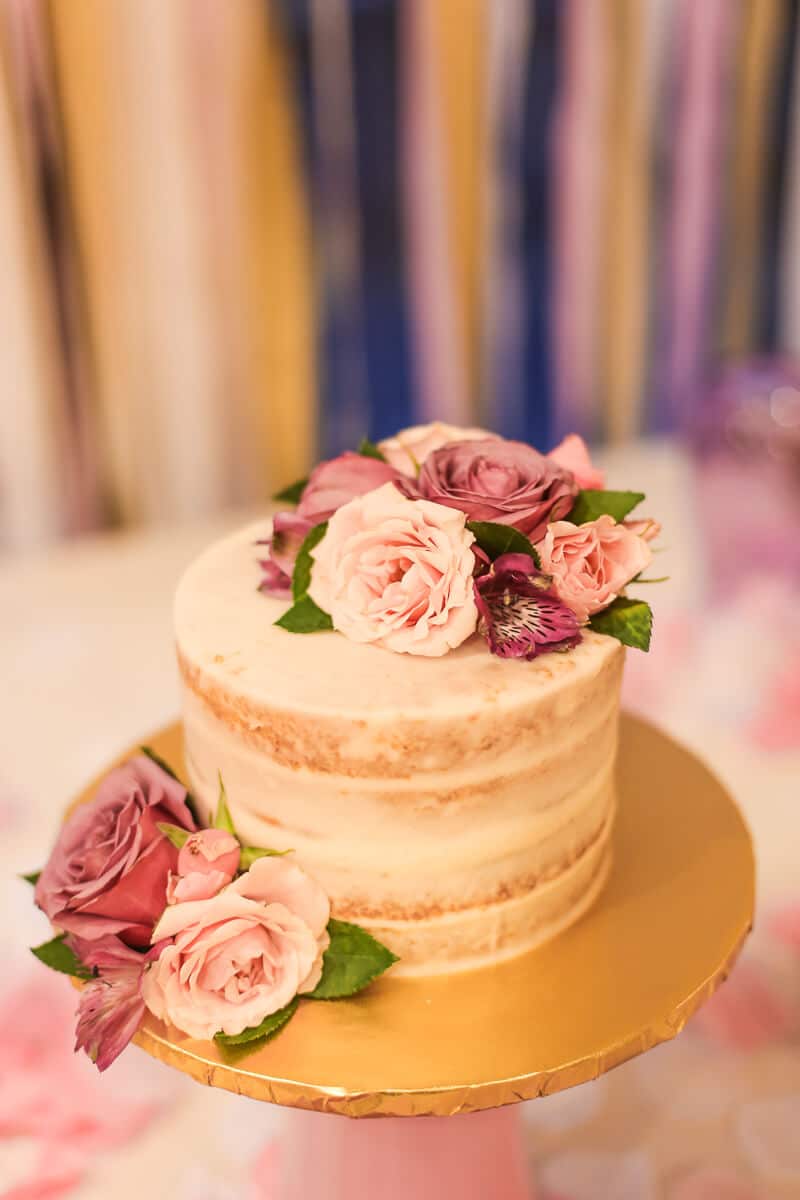 To finish off the table, I ordered what every bridal shower needs – Godiva Chocolates. I went a little crazy with the chocolate and no one complained. I had to have some of the Godiva Truffles in every one of her colors, and I couldn't choose between the chocolate covered almonds, cashews, or pretzels so I went with all three. And a variety of Godiva Truffle Flights for our game winners.
I'll be honest, I was a little nervous about the Godiva chocolate being shipped to Phoenix. Like I said before, it's HOT in Phoenix, like my feet were almost blistering from a quick run to the car with no shoes on, hot.
Even with the suffocating heat, the chocolate survived. Godiva has a great no melt shipping policy, and this bridal shower is proof of that guarantee. Not only was the chocolate still completely solid, it was even almost a bit chilled. And if Godiva Chocolate can survive the 115 degree heat in Phoenix, it can survive pretty much anything.



Bohemian Bridal Shower Favors
Last but not least, each of our guests was given a personalized two-piece Godiva chocolate box with the bride and groom's names and wedding date on them as favors.
When you're ordering on the Godiva website, you can choose what you want the ribbon to say, what color you want the ribbon to be, and more to personalize the favors for your event. They were the perfect way to end the night.


Bohemian Bridal Shower Games
As part of the shower, I split the group into four teams and we played six of these hilarious bridal shower games. And then for the more reserved guests, I came up with a modified version of my love story printable bridal shower game that uses scrambled titles of famous love songs instead of romantic movies.
We had a two-way tie but after finding out that one of those winners actually worked as a team with someone else, our winner received a gift card to buy some of her own romantic music.
Get the Free Printable
Enter your first name and email address below to get the free printable. The printable will come with both the game PDF and answers!
You'll be immediately taken to the PDF to download and receive a copy to your email shortly after. If you can't see the form below, click here to get to the form to enter your info.