This bridal shower guess the emoji game is a fun way to get guests involved and laughing at any bridal shower or engagement party! Try to figure out which popular romantic comedy each line of emojis represents but be warned, they can be a bit tricky!
This post contains affiliate links. If you purchase via these links, I may receive a small commission at no additional cost to you.
Bridal Shower Guess the Emoji Game
Have you ever played a guess the emoji game? We did this Christmas emoji game during the holidays and this baby shower emoji game at my sister's shower, and they were both a huge hit!
You simply look at the emojis and try to figure out what the emojis are representing. Emojis can be tricky so think hard and you may even need to think about the emojis in different ways than than the obvious.
Then you have to put it all together to guess the movie!
It's the perfect option if you want something less active than these hilarious bridal shower games.
For this emoji bridal shower game, you do need to know a bit about the movies they're representing to get the right answer for some of them at least.
But I had to make some of them a bit more challenging or everyone would get them all!
And then there's the easier ones like Titanic – hopefully that's one everyone will get!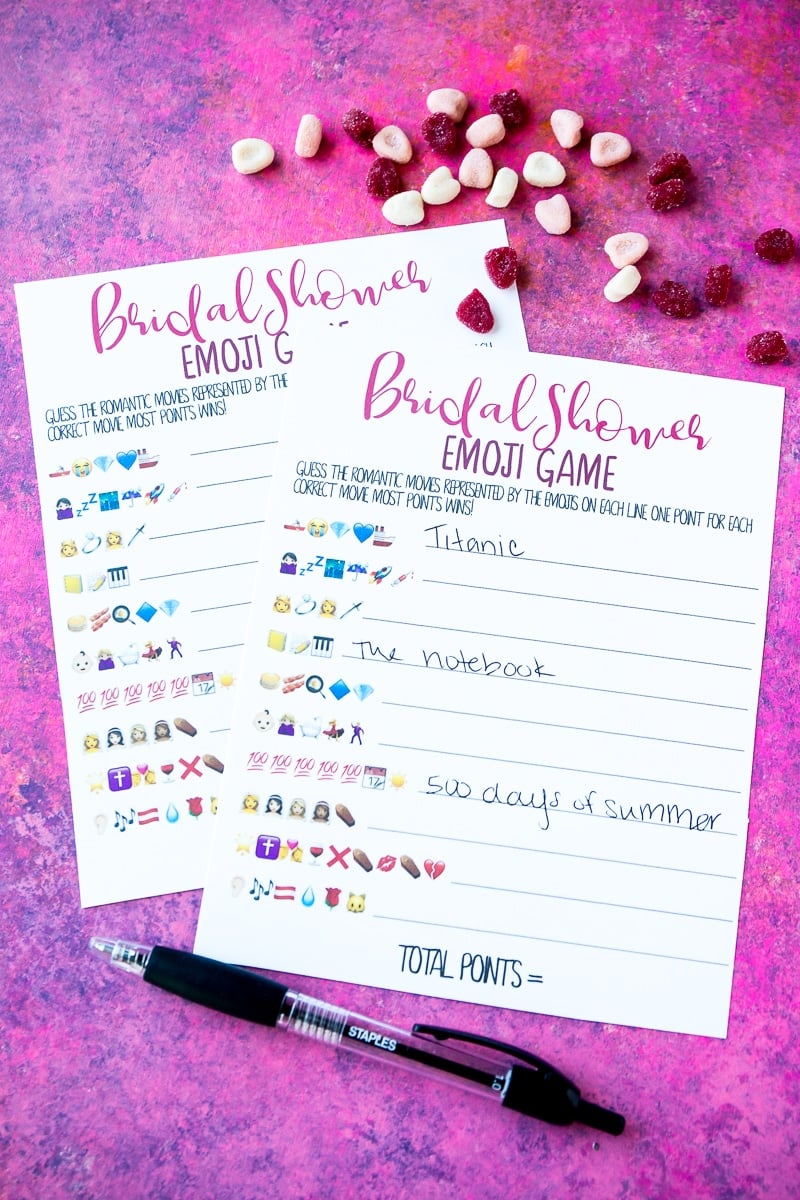 Emoji Bridal Shower Game Supplies
The beauty of this emoji bridal shower game is that it really takes very little to play. It's kind of like this love song printable bridal shower game!
All you really need are the printable games and some prize ideas! Oh and maybe some one of these mocktails to drink while people are playing!
I've put together a great list of bridal shower game prize ideas at the bottom of this post if you need ideas.
Or here's a collection of my personal favorite bridal shower favors/prize ideas!
How to Play This Bridal Shower Guess the Emoji Game
This bridal shower emoji game is almost as easy to play as it is to setup.
Simply print out the cards, give people a pen, and say go. Okay maybe don't say go – explain the rules and set a timer for 10 minutes and let people fill out their answers.
And the rules are:
Write down the romantic movie title represented by the emojis
No looking at your phone or getting help from a friend
Pens down once the timer goes off – no filling in the blanks as you're going through the answers
One point per correct answer, most point wins
You could also just set these printable guess the emoji game papers out on a table and let people fill them out at their leisure, but it's more likely people will not finish them, look at their phones for answers, or get help from others.
If you want the best experience have everyone sit down and play at the same time. Then go over the answers all together.
Person who got the most correct wins. If there's a tie, ask one of the bridal shower themed trivia questions and see who gets the closet to choose your winner.
How many novels had Nicholas Sparks published by 2018? (20)
How many Academy Awards did Titanic win in 1998? (11)
What year was Patrick Swayze born? (1952)
And if you think this emoji game will be too tricky but you still like the movie idea – try this love story bridal shower game instead! Players have to guess names of romantic movies based on mixed up phrases (woman in crimson = lady in red).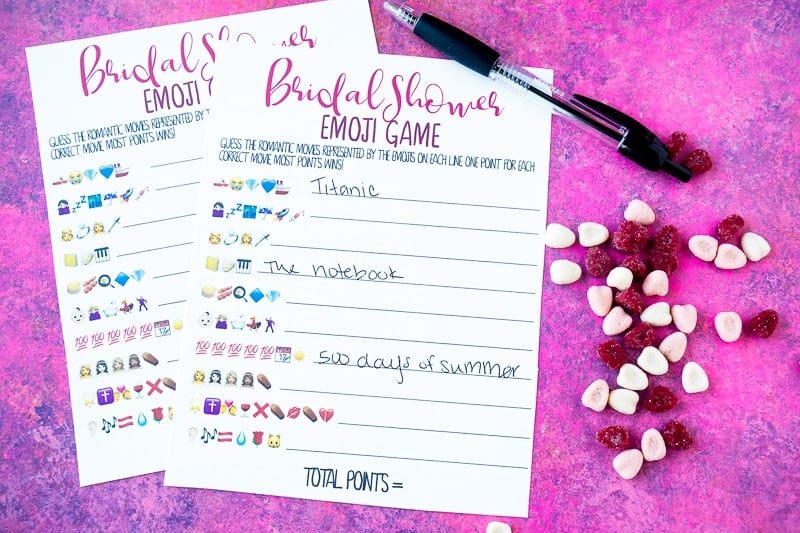 Guess the Emoji Game Prize Ideas
If you want more generic bridal shower game prizes, here's a great list of my favorites! Otherwise, here are some perfect bridal shower prize ideas that work well for this particular bridal shower guess the emoji game!
Download the Bridal Shower Emoji Game
Simply enter your first name and email address in the form below to get your printable PDF file. You will be taken directly to the file and be sent a link in an email!
The file comes with a 3-page PDF:
A full sheet version of the emoji game
A half sheet (two to a page) version of the emoji game
An answer sheet
If you cannot see the form below, click here to get to it.
Don't forget to pin this bridal shower guess the emoji game for later!