Planning a trip to Ruidoso, New Mexico? This is the ultimate guide to visiting Ruidoso including the best things to do in Rudioso, the best Ruidoso restaurants, and of course the best Ruidoso cabins to stay in during your visit! 
This post is sponsored by the Village of Ruidoso. I also received free lodging, meals, and activities from some of the companies mentioned in this post. All opinions and ideas are 100% honest and my own.
While everyone else around the country has been breaking records for snowfall this year, we haven't seen any in Texas. So a few weeks ago we decided to take my snow loving kiddo to Ruidoso, New Mexico in hopes of a snow-filled weekend adventure.
Ruidoso did not disappoint – in snow or adventure!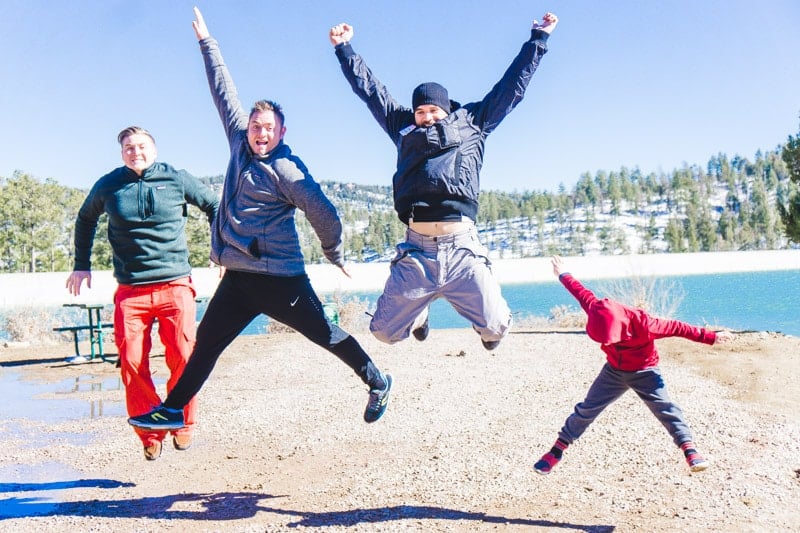 Top Things to Do in Ruidoso New Mexico
I've put together a quick recap of our weekend along with my list of the best things to do in Ruidoso. Our top Ruidoso NM things to do includes everything from tubing and skiing for the more adventurous as well as spa days for anyone looking for a bit more mountain relaxation.
Backcountry Attitudes Adventures OHV Tour
Want to really get outdoors? Try hopping in an off-roading buggy with a Backcountry Attitudes OHV Tour. I did a desert version of this when I went to Phoenix last year and as soon as I saw the video, I knew the boys traveling with me would love this adventure.
And I was right! Even my 5-year-old was able to go and loved racing through the outdoors in an OHV vehicle. I called beforehand to let them know we were coming, and they had a booster seat all setup in the back of the OHV vehicle, and they were fantastic getting him fitted with a helmet and gear!
Never done an OHV tour before? Backcountry Attitudes offers 2, 3, and 4 hour tours so you can choose what makes the most sense for your experience and adventure level. You can also choose whether to drive your own buggy or have a guide drive it for you. If you have multiple adults, there are breaks during the trip where you can even switch drivers to give everyone a turn!
I recommend driving it yourself – way more fun than being driven around! And as long as you follow the guide, you'll be totally fine even if you've never driven anything other than a car before.
Backcountry Attitudes also offers other outdoor adventures like guided mountain biking tours and water rentals when it's warm enough for the water. After our experience with their guides and team, I'd highly recommend trying out anything from their team!
Spa Day at the Inn of the Mountain Gods
While the boys were having their outdoor adventure, I was having an adventure of my own at the brand new spa at the Inn of the Mountain Gods.
I only had time for a massage but wish I'd had more time to take advantage of the relaxation area, hot tub, and other amenities that are free of use for spa guests.
The massage itself was wonderful and exactly what this tired pregnant mom ordered. The therapist communicated just enough without being overly chatty and made the prenatal massage relaxing and soothing without ever being uncomfortable. Next time I want to try out one of their more unique services like the tranquil body cocoon body treatment!
Ruidoso Winter Park Tubing
One of the most family-friendly and budget friendly activities we did all weekend was tubing at Ruidoso Winter Park. It's a park setup specifically for snow tubing and super fun for kids – especially if you're spoiled like my kiddo and have a dad who pulls you everywhere in the tube.
For everyone else, you'll be doing a good bit of walking from the end of the tubing runs to the bottom of the hill where they have stand-up conveyor belts to take you to the top of the snow hills. It's exhausting but really fun for all ages!
A couple of tips for your visit.
Check the height restrictions on the website before you go. There are height limits for their small kids corral as well as the hills.
Go close to when they open, they tend to get busier as the day goes on and the lines can get long.
Ask to do tubing trains – way more fun than just tubing down the hill on your own.
You can't take vinyl tubes on some of the lifts/runs – make sure you know which tube you grab before you head to the hill.
If you're going on a cold day, they also rent out heated VIP igloos that come with pizza, lift tickets, and more.
The website shows and advertises large family tubes that hold up to six people at once. These are not available all the time, only when the weather allows and so far this season, they haven't been available yet. I wouldn't get your hopes up on those!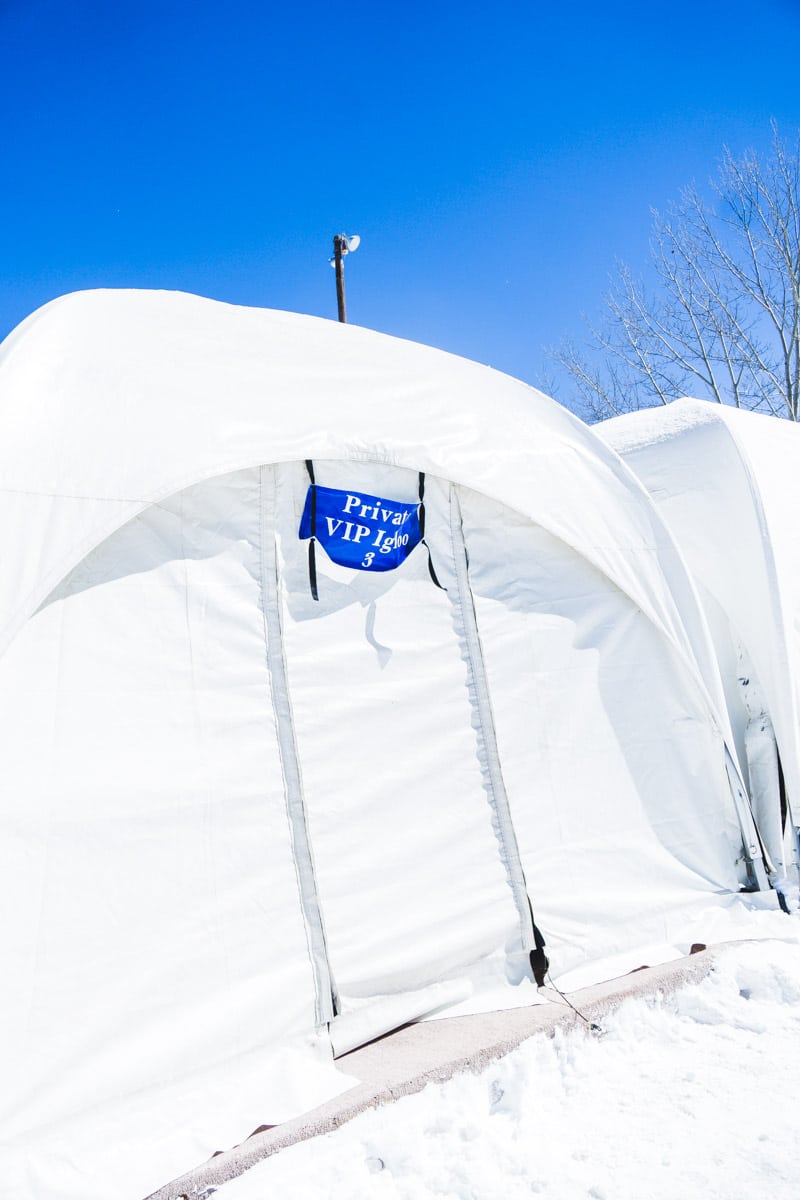 Ruidoso Winter Park also has a small zip line that's available on when the weather cooperates. It was too cold and windy while we were there to try it out, but when we drove by on Sunday, it looked like people were doing it with smiles on their face!
Ski Apache Ruidoso
One of my absolute favorite parts of our entire trip was getting up on the slopes. Okay fine, I personally didn't get to go down any slopes, but I was able to watch my kiddo put on skis for the first time and roll around in the snow in delight.
Seriously. He was so excited about the snow he dove right in after his ski lesson was over.
Ski Apache is the only place for Ruidoso skiing, and it totally delivers. It's a gorgeous 45 minute drive from downtown Ruidoso and pretty much straight up the mountain.
We went a day after it snowed and both my brothers said the actual slopes were great with powder that was ideal for snowboarding. And with everything from bunny hills to black diamond runs through the trees, there's something for everyone – both skiers and snowboarders.
While my brothers were snowboarding down the mountain, my husband and kiddo took their very first ski lesson. The instructor was fantastic and had my son skiing down the practice slope by the end of the hour lesson. Watching him ski might've been my favorite moment of the weekend.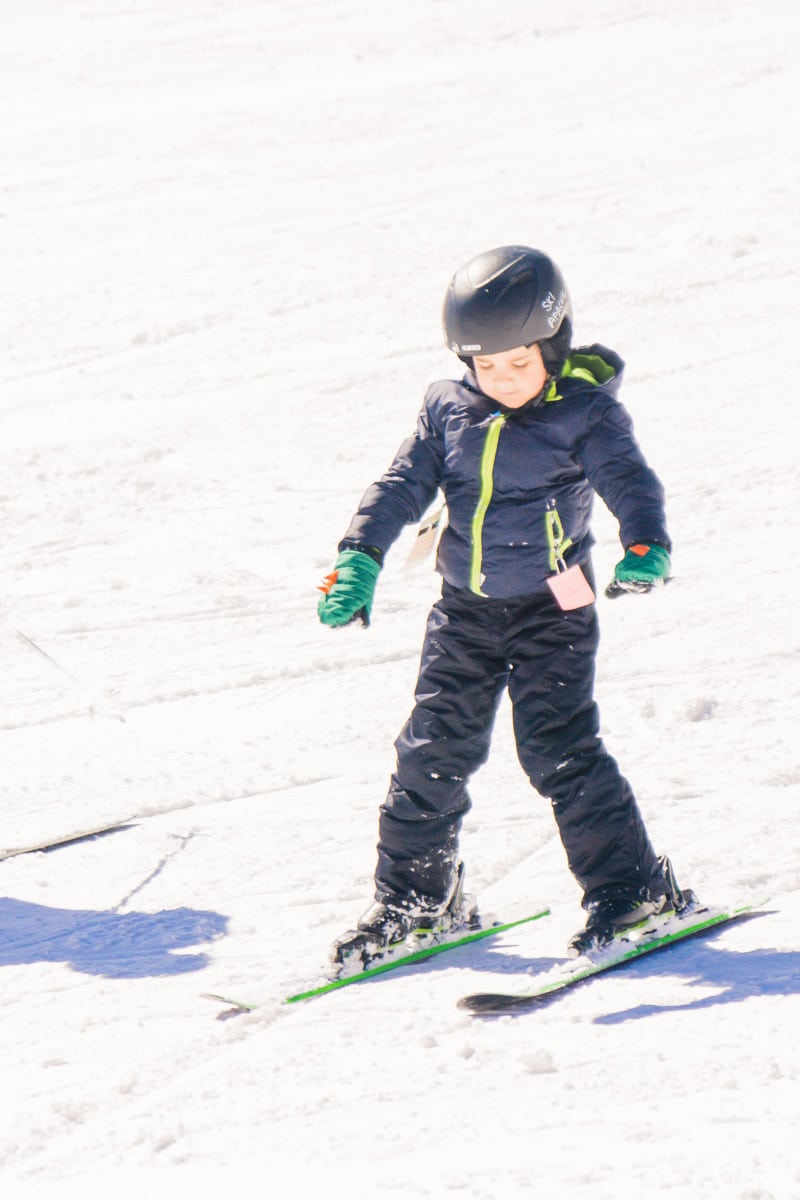 That or riding the Ski Apache gondola to the top of the mountain to just play in the snow. I wonder if he'll still love snow as much once we move to Kansas and get it every winter?
If you book lift tickets online ahead of time, you can save a few bucks! Or if you only want to do a half-day on the slopes, Ski Apache offers a half-day ticket that starts at 1:00PM for a bit lower cost. Just be prepared for the crowds; things were pretty light when we arrived Sunday morning and packed up quickly as the 1PM time approached.
Midtown Ruidoso Shopping
Have some extra time on your hands? The midtown Ruidoso shopping district is full of cute boutiques, bakeries, art galleries, and speciality stores and totally worth spending a few hours exploring.
There's public parking available along the street as well as behind many of the stores. Park at the top or bottom of the street and leisurely shop, taste, and marvel at the beautiful art and handmade items.
Oh and if you need a pair of my favorite travel shoes, they have a store for those too!
Get the full list of shops here!
Picnic at Grindstone Lake
Just a few minutes from downtown Ruidoso and the Elk Run Cabins (my recommended choice of lodging) is Grindstone Lake. We went the day after it snowed so the lake was rimmed with snow (and ducks!) but still glinted beautifully in the sunset. If it hadn't been so cold, we probably would've brought along our eats from Cornerstone Bakery and picnicked along the shore.
With its location so close to other attractions, even if you don't want to picnic – it's worth a quick stop just to see. Or make an afternoon of it and go for a beautiful hike after your picnic. There is plenty of country to explore nearby.
Ruidoso is also really close to a number of incredible national parks and landmarks like White Sands Monument and the Valley of Fires.
Where to Eat: Ruidoso Restaurants
With the exception of one meal, all of the Ruidoso restaurants we tried were both unique and delicious. We didn't get to try as many restaurants in Ruidoso NM as I would have liked but the ones we did try I can highly recommend!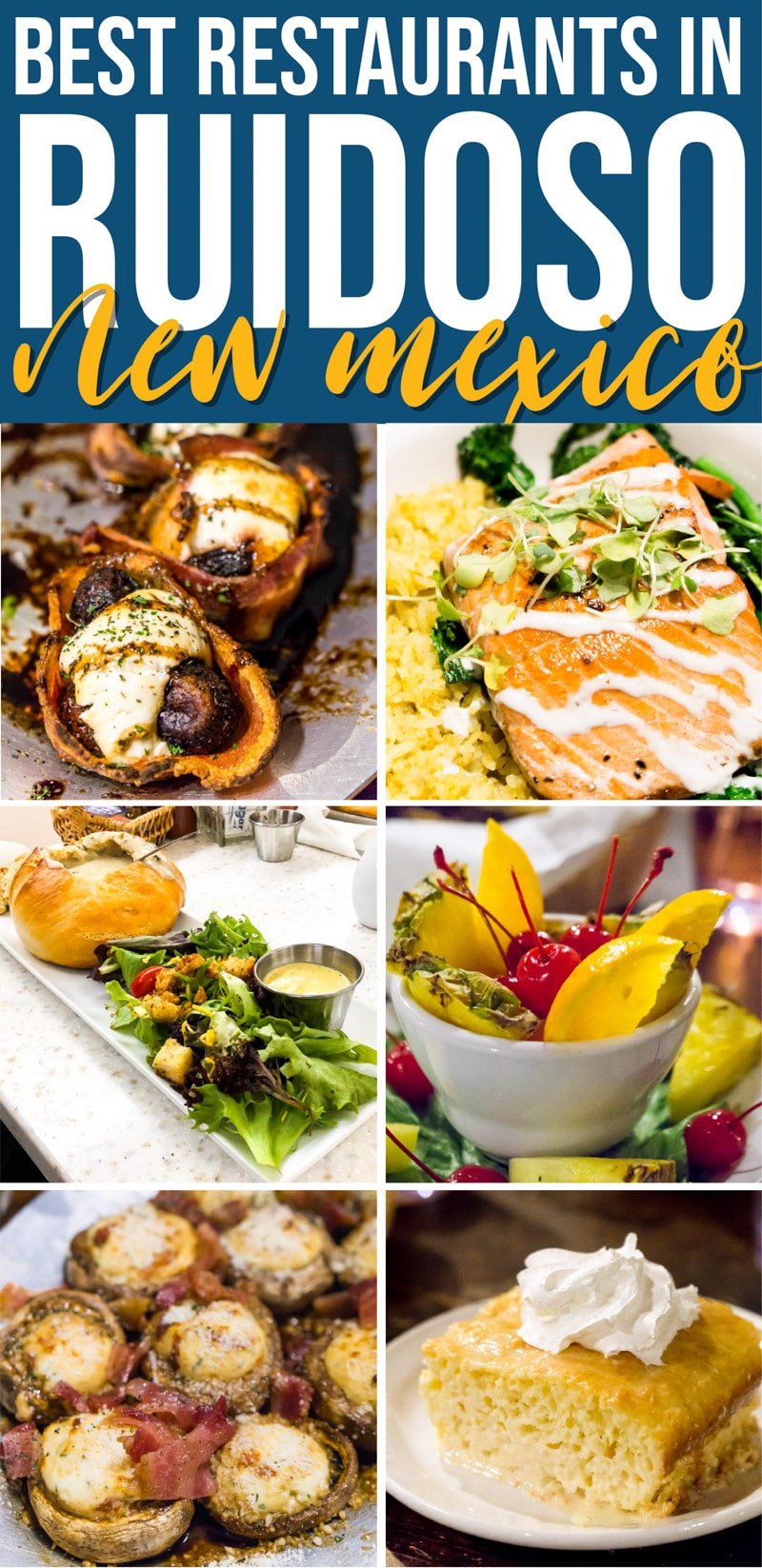 Restaurants in Ruidoso: Casa Blanca
Casa Blanca serves delicious homemade Mexican food in a warm and family-friendly setting. Honestly when I looked at the menu, I wasn't expecting much other than your typical Mexican restaurant. And I'm not normally a huge fan of Mexican.
But Casa Blanca does things differently than traditional Mexican restaurants. For starters, the guacamole was rich and delicious without a bunch of extra stuff mixed in. And it came out looking like avocado ice cream, a huge scoop that was plenty for our family to share. They also brought out plenty of chips and salsa about two minutes after we sat down and kept those bowls filled all night long.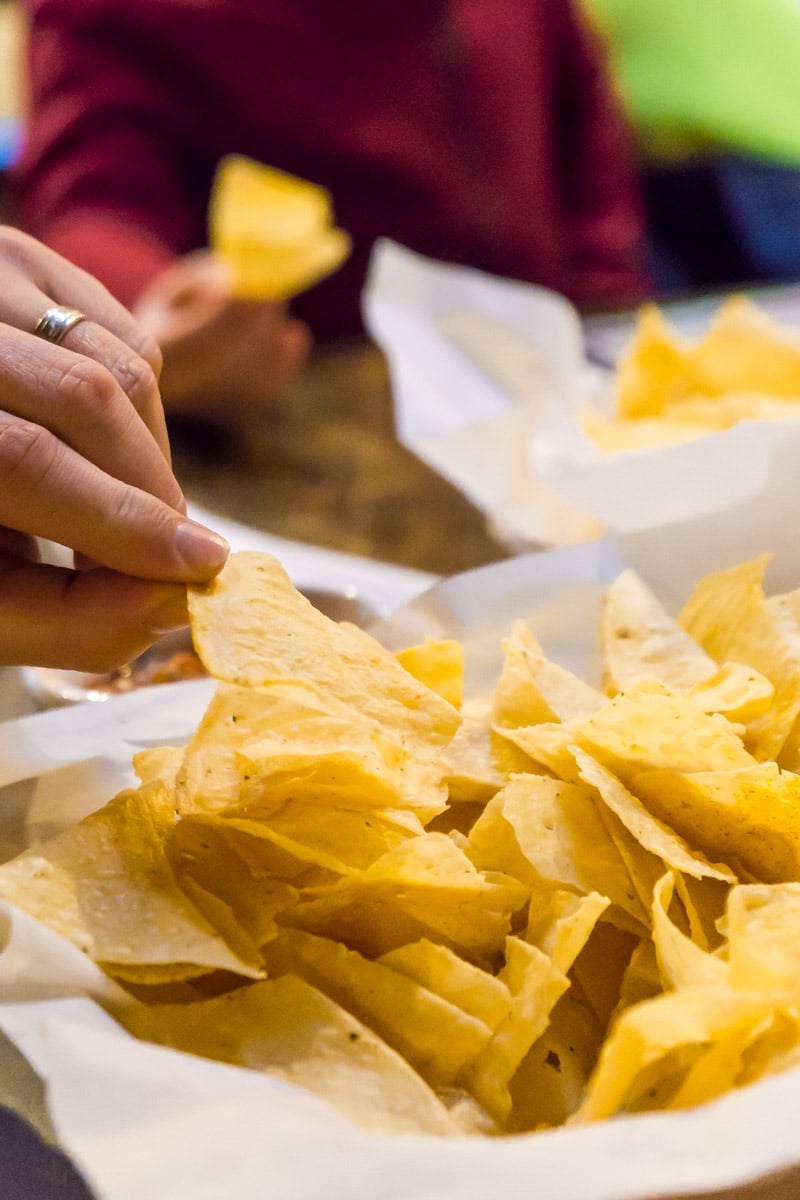 For our appetizer, we tried their sampler trio of pepper jack cheese sticks, their infamous fried green chili strips, and bacon wrapped jalapeno poppers. This pregnant mama can't do anything spicy right now, so I skipped the appetizers but all of the boys at the table said everything was delicious. And the serving size was huge – the three of them couldn't get through everything and had to take home leftovers.
The entrees were just as big and flavorful. My brothers both tried the carne asada – steak covered in salsa, cheese, and guacamole, aka Mexican steak. And both of them who claimed to not be hungry finished every little bite because they didn't want to waste any of the deliciousness.
My husband had the salmon tacos – one word of caution, if you don't want fried salmon, ask for the salmon grilled. He ended up with fried salmon tacos, which were good but not quite what he was expecting! I tried the compuestas that were exactly what I was craving along with maybe the best fruit cup I've ever had.
Not sure if the handfuls of marascino cherries really come with the regular fruit cup, but they were a sweet surprise.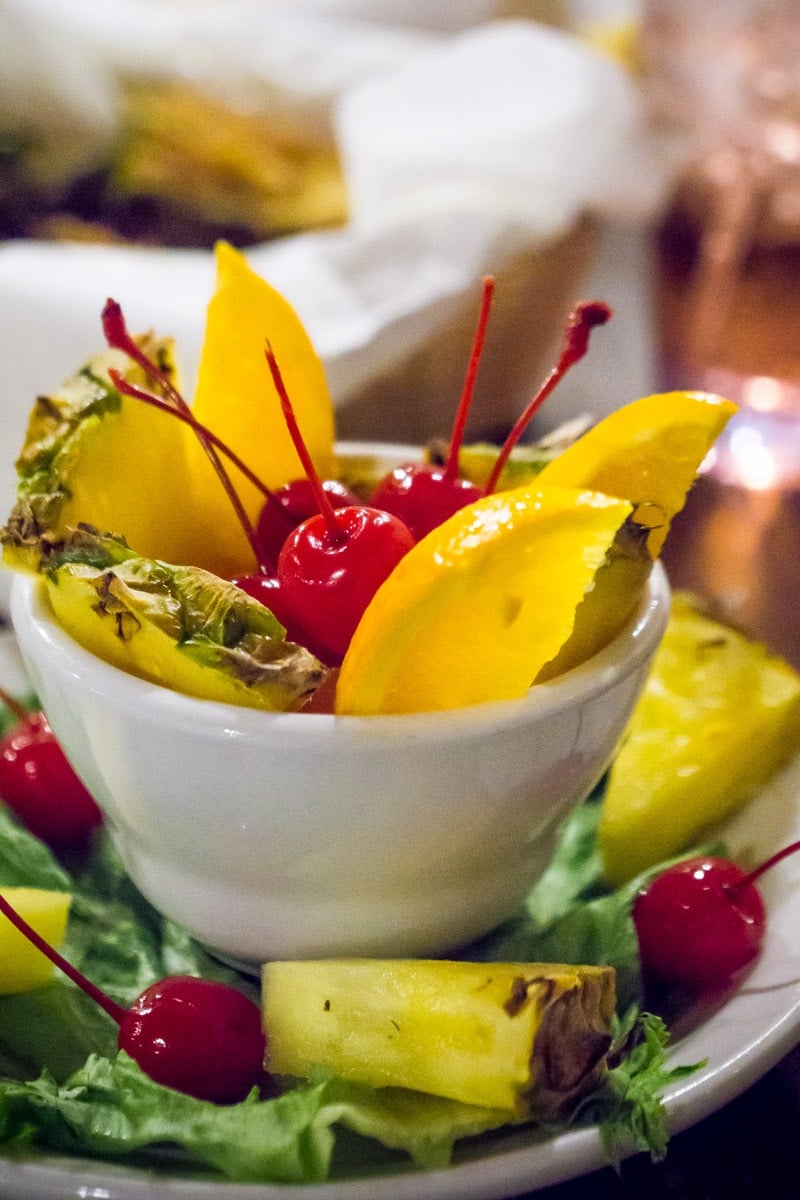 Last but in Casa Blanca's case definitely not least – dessert! I was pleasantly surprised by how good the tres leches and dulce de leche cheesecake (the special dessert of the day). If you have to skip one, skip the ice cream sopapilla. It sounds amazing but was just okay.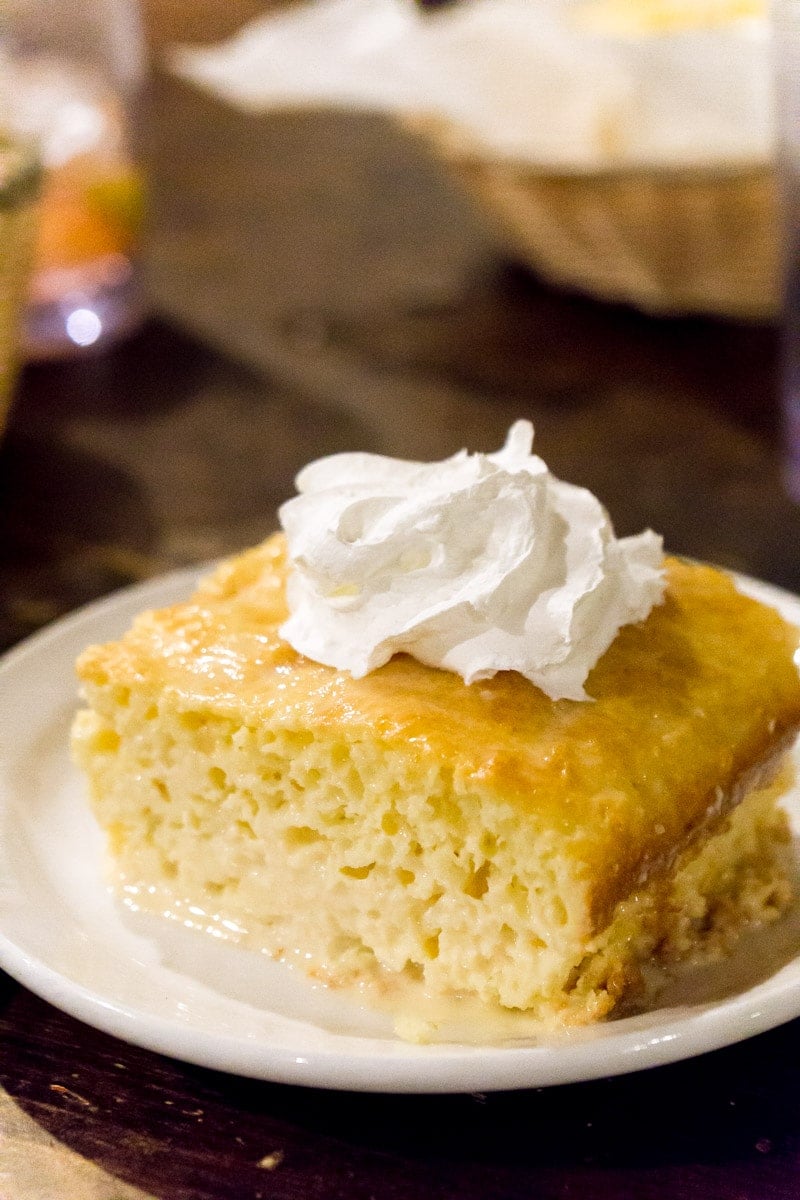 Restaurants in Ruidoso: Cornerstone Bakery and Cafe
This is the place to go for breakfast or lunch. We actually ended up going twice during our quick trip – once for lunch after the OTV tour and once just to grab some more of their bread and pastries.
Cornerstone Bakery and Cafe has both an actual cafe and a grab and go counter where you can choose from pre-made pastries and bakery items. Even if you don't have time to stop and eat, make time to stop in for some pastries and the cheese bread. Amazing!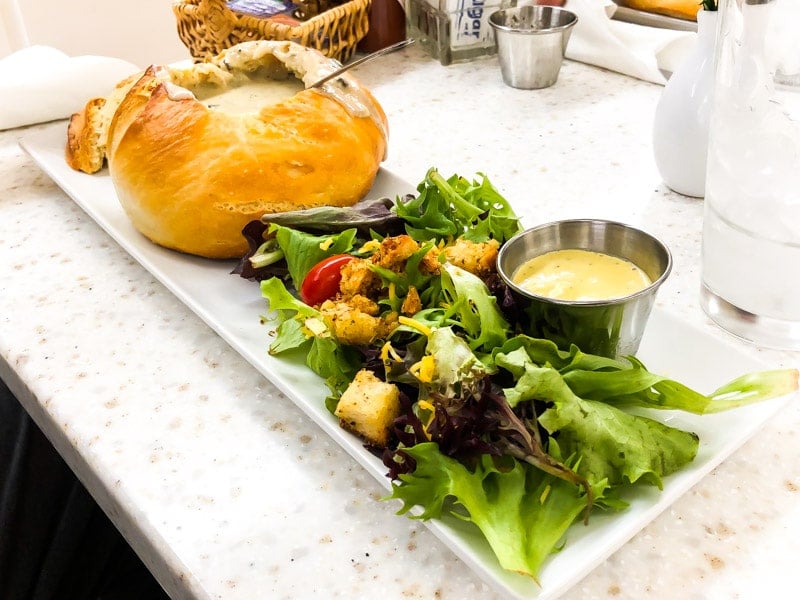 The cafe serves typical cafe food – soup, sandwiches, and salads. If you get a soup, get one on in a bread bowl. The bread is seriously delicious.
Restaurants in Ruidoso: Hunt & Harvest
Out of all of the Ruidoso restaurants we tried, Hunt & Harvest is the one we would go back to again and again. It's a farm to fork restaurant right in downtown Ruidoso combined with the cutest shop and absolutely delicious.
From the bacon wrapped figs (still dreaming about them!) to my cornmeal crusted chicken, this was definitely the highlight meal of the weekend.
They even had gourmet options for my kiddo who just wanted mac and cheese! Instead of standard mac and cheese, he could choose from mac and cheese with bacon, green chili mac and cheese, or even ghost pepper mac and cheese. He opted for the bacon mac and cheese and even as an adult, I thought it was fantastic!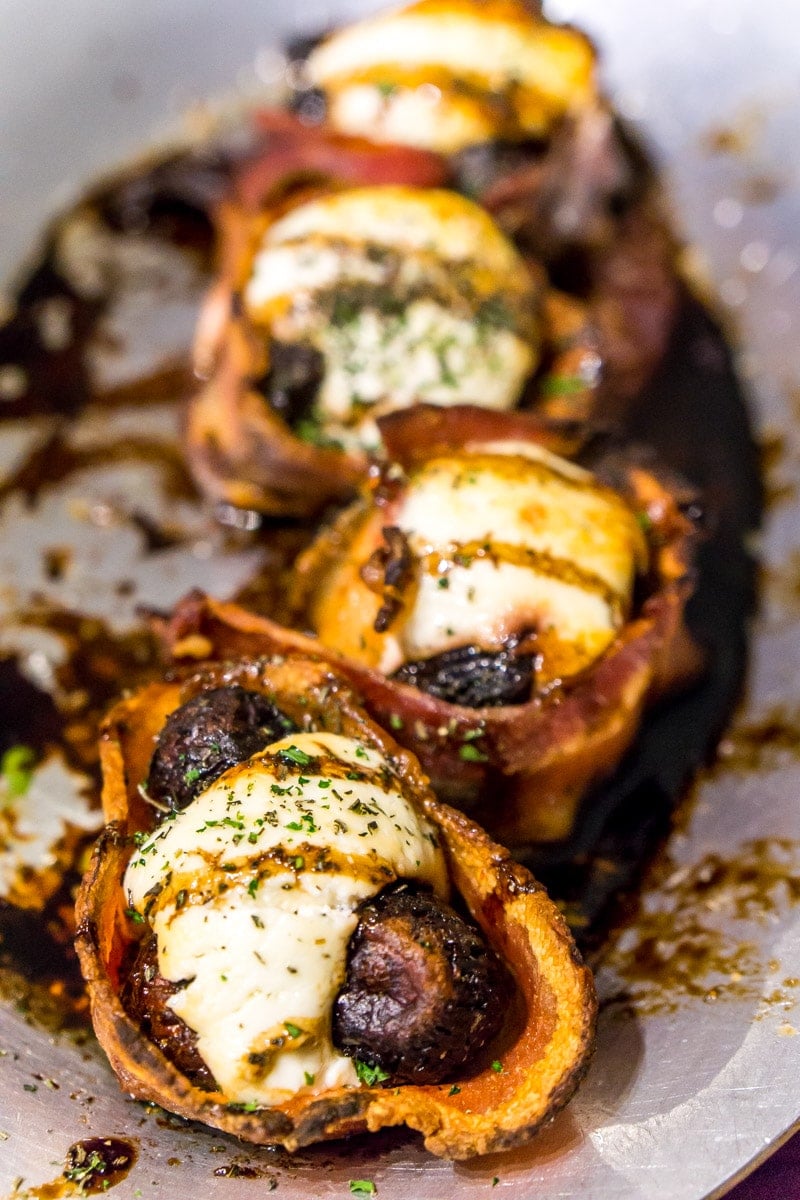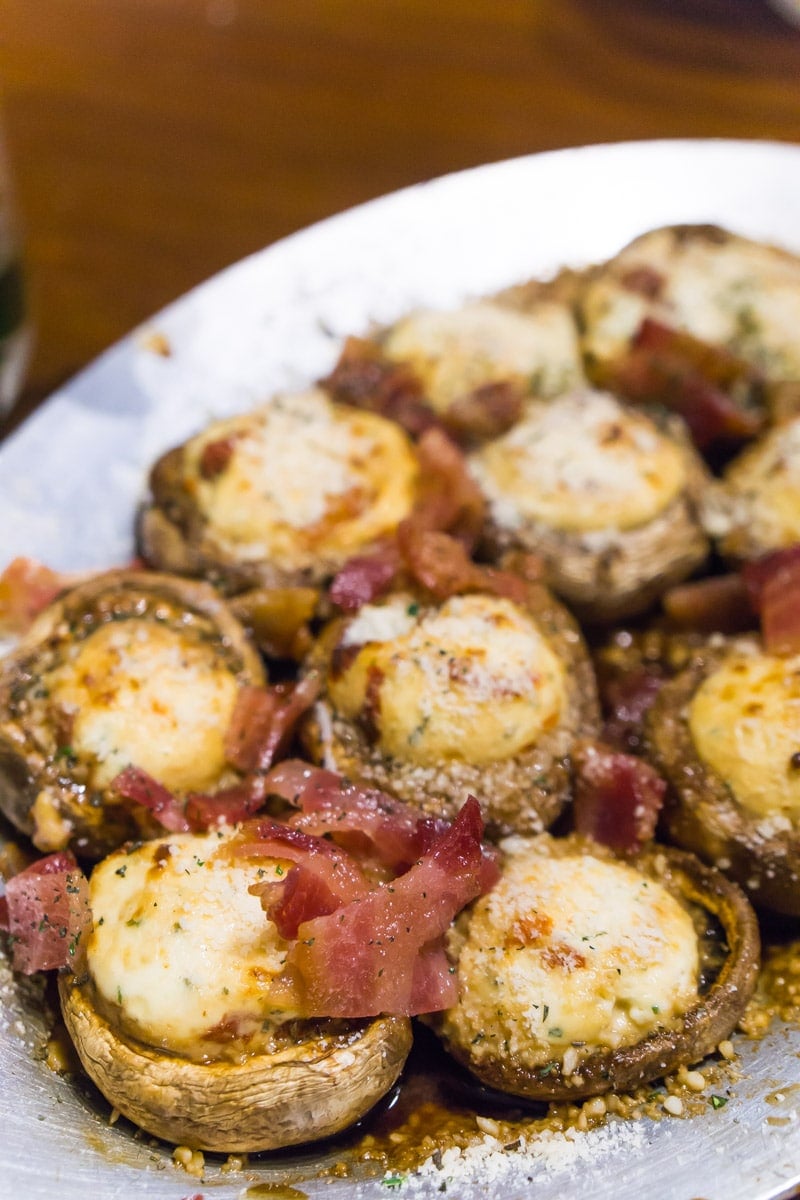 The only miss for us were the brownies for dessert. They were just meh but the ginormous snickerdoodle my son had was spectacular. Soft, chewy, and did I mention huge??
If you still want the amazing food but in a more lively atmosphere, The Hidden Tap underneath Hunt & Harvest serves almost the same menu and has games, activities, and a bar!
Restaurants in Ruidoso: Inn of the Mountain Gods Buffet
Let me preface this by saying this is a buffet and it is not a Vegas caliber buffet. My great-grandpa actually recommended the buffet to us so we headed up for lunch and some spectacular views from the resort.
I'm including it in my post because the buffet is unique as buffets go and because if you go during lunch on the weekdays, it's only $10.99. If you're feeding a family, $10.99 for an all you can eat buffet is an amazing deal.
So what makes the buffet unique?
It's actually setup kind of like a food court with different areas with their own type of food – Asian, Italian, home-cooking, etc. There really was a little bit of everything and even the pickiest eater will be able to find something. The highlights for us were the made to order pasta and omelet bar and the fresh sopapillas (ask for honey!).
If you need more recommendations for Ruidoso Restaurants, Discover Ruidoso has an entire list of recommended restaurants in Ruidoso!
Where to Stay: Ruidoso Cabins
Now that you know what kind of fun you can have – let's talk about where to stay! There are plenty of Ruidoso hotels but if you're headed to the mountains, why not enjoy a more authentic outdoor experience and stay in one of the many Ruidoso cabins available!
We stayed in Elk Run Cabins and not only were they beautifully decorated and super cozy inside, they were perfectly located just a few minutes from all of the main attractions in Ruidoso.
One of the best parts about Elk Run Cabins is that they actually have three different units that you can rent separately for smaller groups or rent together for larger parties. We brought my two brothers along for the trip, so we ended up booking both their two-bedroom unit and their one-bedroom unit. Renting both units gave us the chance to spread out a bit and gave everyone their own private bedroom – so important after an exhausting day on the slopes!
While the cabins aren't huge or luxury cabins, they're great for families and the owners really went above and beyond with the details. The cabins were updated just a few months ago and you can totally tell! Just a few of the highlights:
Numerous heaters throughout the house including one in the bathroom to keep you warm after hopping out of the shower
Roku systems with each of the TVs so we could hook up and watch Netflix, Amazon Prime, and other movies
Individually designed cabins – ours was an elk theme and my brothers' was a bear theme
All the dishes and amenities you could think of were provided
Sofa bed in the living room of the 2-bedroom so you could technically sleep up to six guests
An entryway to take off shoes and wet clothes
You can book the three different cabins through Airbnb here, here, and here! Use my tips for booking an Airbnb stay for the best deals!
How to Get to Ruidoso New Mexico
Ready to book your trip? You can either drive to Ruidoso (you'll want a car for getting around regardless of if you fly or drive) or fly into one of these three airports!
Roswell – direct flights from Dallas and Phoenix (woohoo!), 90 minutes from Ruidoso

El Paso – about 2 ½ hours from Ruidoso, more non-stop flight options

Albuquerque – just under 3 hours from Ruidoso, many more non-stop flight options
I also mentioned you'll need a car to get around. I highly recommend if you're coming during the winter time and snow may be in the forecast that you get a car with 4WD. I just called ahead of time to make sure one was available and my rental car company had it all setup when I arrived.
More Tips for Visiting Ruidoso
Still need more tips and ideas for your trip to Ruidoso? Need more tips for visiting Ruidoso? The Discover Ruidoso website has you covered with everything from the best Ruidoso restaurants to top things to do in Ruidoso!
Don't forget to pin these things to do in Ruidoso.