Celebrate the Jurassic World release with a dinosaur dig, the dinosaur party games for dinosaur lovers of all ages! This post contains affiliate links for your convenience!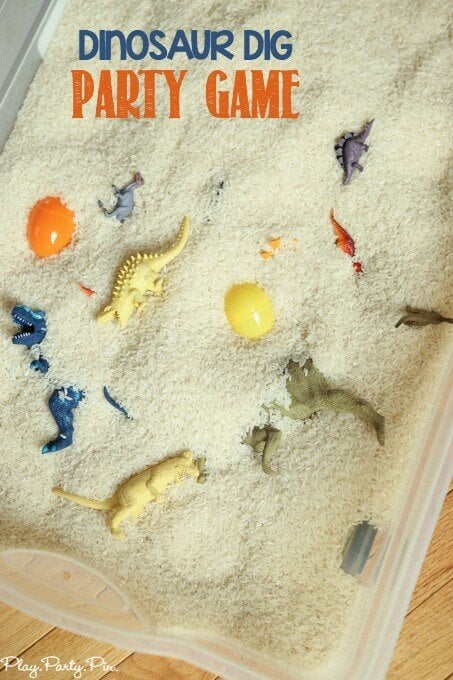 Jurassic Park is frightening in the dark, all the dinosaurs are running wild. Unless you live in a cave, you probably know that this weekend is the release of Jurassic World. And I can't get that song out of my head. It's been a really long time time, 14 years to be exact, since the last Jurassic Park movie was released and 22 years since the original came out. You know what that means? That means that a good number of the people who will probably go see Jurassic World this weekend weren't even born when the original Jurassic Park came out.
And that makes me feel really old. I have vivid memories of going and seeing the first one with my family. And teaching my brother how to play the theme song on the piano; to this day I think it's the only song he can still play. Now, now I'm playing dinosaurs on a daily basis and watching The Land Before Time with my two-year-old. People still love dinosaurs, and I'd be willing to bet dinosaurs will be one of the most popular party themes this year.
Today I'm joining two of my blogging friends to bring you awesome ways to celebrate the Jurassic World release this weekend – with dinosaur cookies, DIY Jurassic World t-shirts, and my contribution, a dinosaur dig party game or activity for dinosaur lovers!
The basic idea of the dinosaur dig is that you'll fill a large bucket with rice and small plastic dinosaurs, dinosaur eggs filled with candy, silly putty eggs, etc. Then cover the "prizes" with the rice and for the game have the kids dig for dinosaurs. You can either see who can find the most items in a certain amount of time (for older kids), see who can find certain items the quickest (again for older kids) or just let the kids dig around in the rice to find a prize or prizes to take home.
This is one of the easiest party games you'll ever plan and put together. And bonus, if you don't want to do something else, the dinosaurs the kids find during the dig can be their party favors! I'm all about killing two birds, okay pterodactyls, with one stone.
Supplies:
Under the bed storage bin
Rice – I used three 10 lb bags of white long grain rice to fill my storage bin
Small plastic dinosaurs like these ones
Other dinosaur toys or prizes
Eggs filled with candy/prizes (dinosaur eggs)
Instructions:
I feel kind of silly even giving you these instructions because it's so simple. Fill the bucket with rice then hide the dinosaurs and prizes inside the rice. You could also use uncooked pasta or sand, but I found that the rice is easier to buy in bulk and much cleaner than the sand. Just make sure you have a vacuum on hand for after the dig is over. I guarantee you'll need it.
For younger kids: Let them dig around in the rice to find a prize or prizes to take home. Or just let them dig around and play in the rice for as long as they'll stay entertained. We did this for preschool one week and the kids literally dug around to find the animals for almost an hour.
For older kids: See who can find the most items in a certain amount of time or see who can find certain items (e.g., T-rex, brontosaurus) the quickest. You could even turn it into a relay and have one team find all of one type of dinosaurs and another team find all of another type.
And for a prize for the winner, Hasbro has the coolest line of new Jurassic World dinosaurs out. The Hasbro team was nice enough to send my son a free Tyrannosaurus Rex, and he literally takes him everywhere. And when he can't find him, he roars until we figure out where he left him last. I get it. He's seriously one of the coolest dinosaur toys that I've ever seen with him light up eyes, dinosaur roar, and a jaw that opens and shuts on his victims when you move his head down. He would definitely make the perfect prize for the dinosaur dig winner OR a great gift for a dinosaur lover. You can buy him on HasbroToyShop.com or at toy retailers nationwide.
Now that you have everything you need for awesome dinosaur party games and prizes, check out these other ideas to round out your perfect dinosaur party plan!