Thanks to FloraCraft® for sponsoring this post!
These foam dinosaurs are one of the easiest dinosaur craft ideas for kids, perfect for an afternoon playdate, preschool, or just a kid who loves dinosaurs!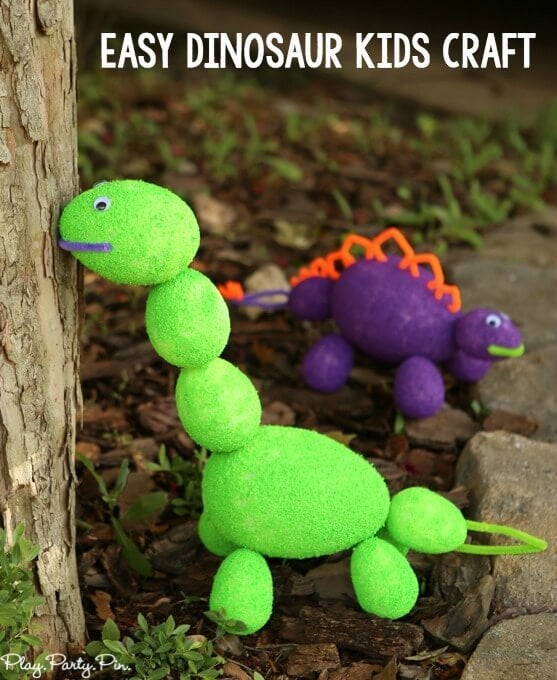 It's time for another edition of #MakeItFunCrafts and this month our challenge was using FloraCraft® Make It: Fun® Foam Eggs to create a kids craft. Since my two-year-old is absolutely obsessed with dinosaurs these days, we decided to turn our eggs into fun foam dinosaurs. These are an easy dinosaur craft that would be perfect for a dinosaur party, and I'm guessing with the release of Jurassic World just around the corner, there will be plenty of those coming up soon!
Supplies:
FloraCraft® Make It: Fun® Foam Eggs – they come in four different sizes; we used the largest for the bodies, the middle ones for head/neck/tail, and the smallest ones for the legs
Craft paint
Toothpicks
StyroGlue®
Googly eyes
Pipe cleaners
Instructions:
Open all of your FloraCraft® Make It: Fun® Foam Eggs and decide exactly how you'll build your dinosaur. For our brontosaurus, we used the largest size for the body, two small ones for the neck, five extra-small for the legs and tail, and one medium size one for the head. By laying them out, you can see exactly what it'll look like and know what color to paint them. If you're doing this with a bunch of kids, I would probably do this step first and just give the kids a "kit" with the pieces they need to create their dinosaur. Or just give them a bunch of different foam eggs and let them be creative.
Next you're going to paint the foam eggs. We found that it works best if you put a toothpick in one end that you can hold while you paint the foam egg. Once you get close to the end of the toothpick, put another toothpick in the opposite end, remove the original toothpick, and finish painting the final spots. We then poked the toothpick into a foam wreath leftover from my spring wreath centerpiece to let the paint dry.
After the paint dries, put your dinosaurs together using toothpicks. Then get creative with "decorating" your dinosaurs with googly eyes and pipe cleaners. The pipe cleaners are great because you can literally just stick them right into the foam eggs, no glue required. You can stick with regular dinosaurs or use the foam eggs to build any sort of creatures you want like our prehistoric snake and three-eyed fish. The stegosaurus is my favorite.
We had so much fun building the dinosaurs then having a little dinosaur playdate on our deck. I tried to tell my two-year-old that they didn't need to go down the slide, but he wouldn't listen. The best thing about these is that they're easy to make, so putting them back together after a toddler pushes them down the slide isn't too tough either.