Recreate your favorite experiences from Walt Disney World at home with these fun Disney birthday party ideas! Use these ideas and free printables to host your own Disney party or playdate for preschoolers at home! And don't forget to invite the adults, Disney kids of all ages will love these ideas!
I was asked by Disney Parks to show you how to create a Disney Kids themed preschool playdate and since my son's birthday party was last month, we decided to skip the playdate and go all out with a birthday party instead! Any of the tips in this post will work for a birthday party or a playdate!
For my son's 4th birthday party, we decided to come up things to represent some of my son's favorite things from our Disney World vacations over the past two years. Since my son hasn't been to the water parks, we skipped the water parks and focused on the four main theme parks – Magic Kingdom, Epcot, Hollywood Studios, and Animal Kingdom.
With my son's help, we picked out activities for each park and set up those activities in a part of our backyard then invited all of my son's friends over for a fantastic Disney World themed party! For more great ideas, check out these fun Disney World ideas for preschoolers!
Easy Disney World Themed Birthday Party Ideas
We kept the party fairly simple with just a few different activities, but you could easily recreate any of your favorite Walt Disney World experiences at home!
Disney Birthday Party Ideas: Magic Kingdom
For us, Magic Kingdom is all about the rides and with way too many favorite rides to choose from, we decided to just get a big 5-in-1- Magic Kingdom bounce house to represent all the rides. And the kids loved it and probably would've been just fine bouncing for the entire party if there weren't other fun things to do!
One of my biggest tips for planning parties for preschoolers – don't plan too much! We planned a couple of small activities but the majority of the party was just free playtime. Also if you're doing an outdoor party like we did, make sure to provide shade, places to sit down, and lots of liquids so no one gets overheated, especially when they're doing something active like jumping in a bounce house!
Or if you want to go with something more themed, you could do a Mickey's Not So Scary Halloween party too with lots of Mickey's Not So Scary food items!

Disney Birthday Party Ideas: Animal Kingdom
For the animal kingdom portion of our party, we decided to go with two different activities – a dinosaur dig and an animal safari hunt. The first was a dinosaur dig to represent the big dinosaur boneyard in the dinosaur section of Animal Kingdom.
I purchased this set of dinosaur eggs (with mini dinosaurs inside), a sandbox, play sand, and a bunch of sand digging tools for the kids to dig for their own dinosaurs.

Second, I created this free printable wild safari animal hunt for the kids and my mother-in-law led the kids on their own little stuffed animal safari on a trail behind our house. Having other people help gives you the chance to enjoy time with your preschoolers, so take advantage of any family + friends who volunteer to help!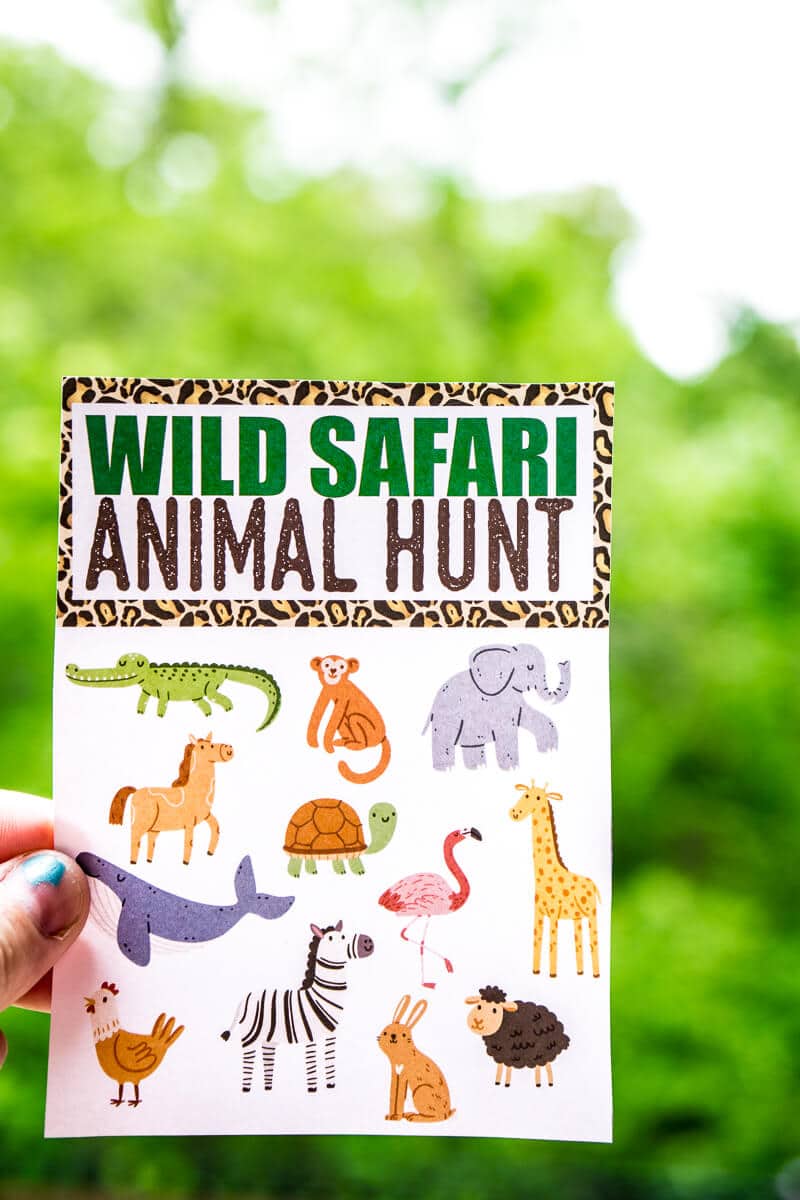 Disney Birthday Party Ideas: Hollywood Studios
We came up with two activities for Hollywood Studios as well – Star Wars Jedi Training games and DIY Toy Story Midway Mania games.
Each of the activities only took about 10-15 minutes, which is ideal for preschoolers because that's about the length of their attention span. Anything longer and you'll start losing them!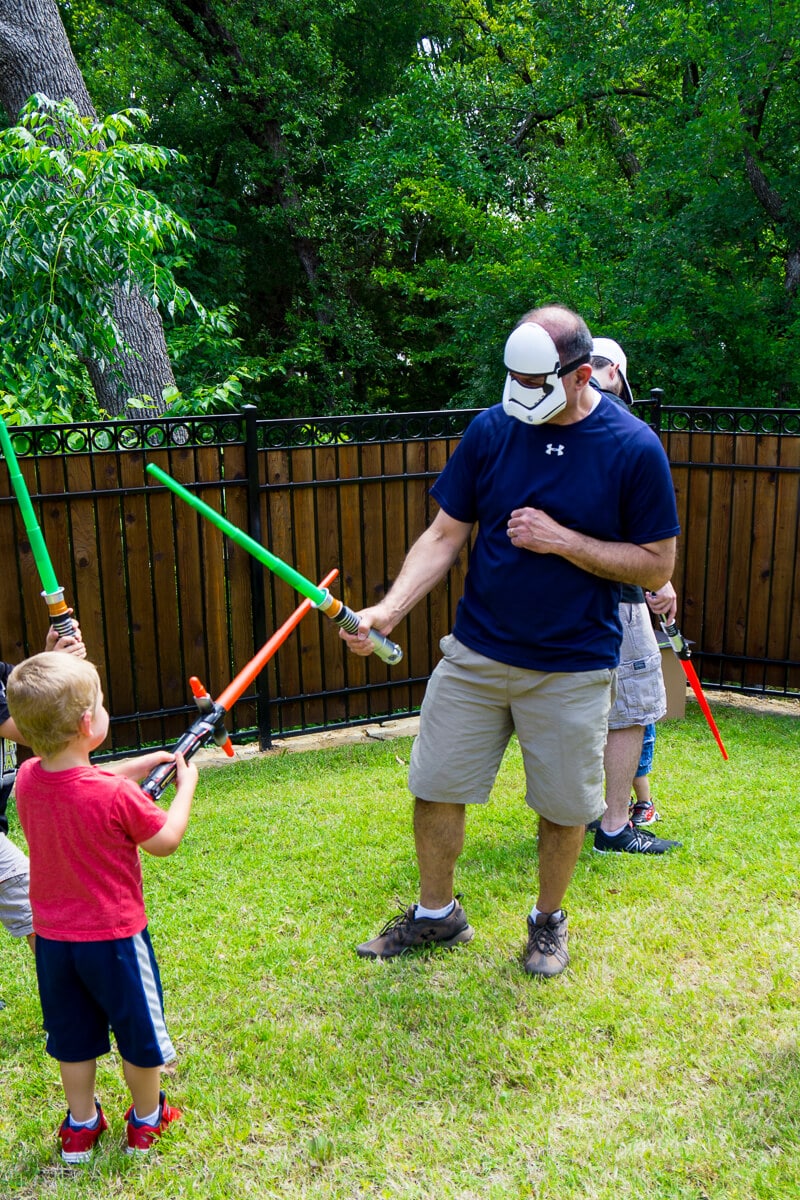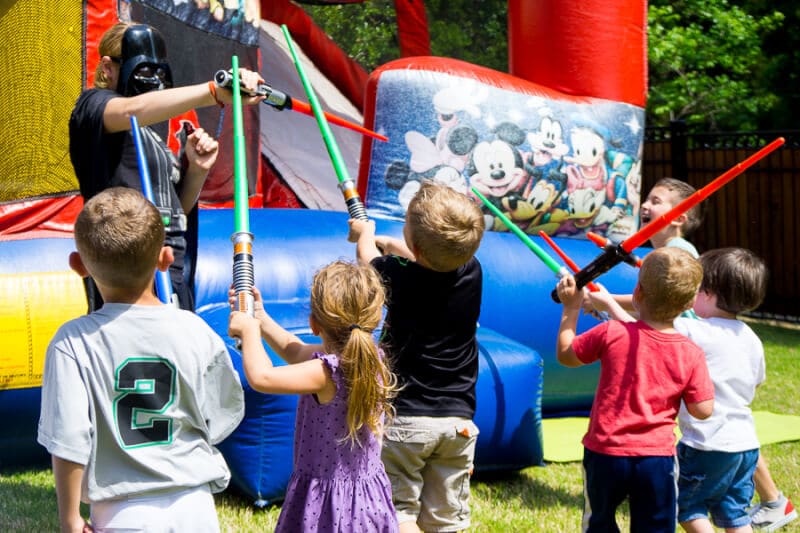 When the kids arrived, we gave them each a Toy Story bag and sent them in the direction of the games. They could each pop one or two balloons in the dino dart game, break one plate in the Toy Story punch camp, and play the Hamm & Eggs and Flying Tossers games as often as they wanted to win Toy Story themed prizes. Here are all the details for these DIY Toy Story Midway Mania games.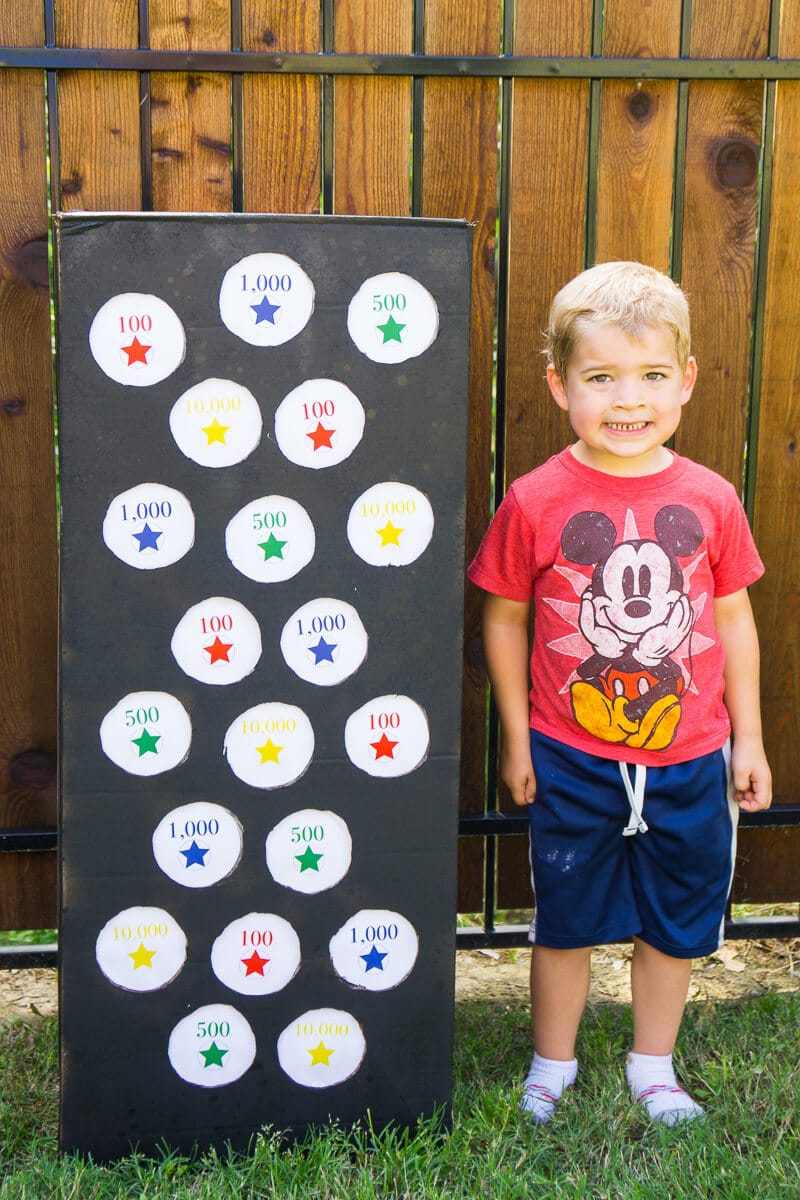 Disney Birthday Party Ideas: Epcot Food
One of our favorite things to do at Epcot is to eat around the world showcase. We decided to skip the activities for Epcot and made a food table with our favorite foods from the world showcase – in preschool form!
I created free printable food tags that you can print by clicking here using free images on my memory maker photo pass from my last trip!
In addition to all of the food on the table, my talented sister created a Spaceship Earth cake using this ball cake pan for the center of the table. I also created these printable signs for "Club Cooler," coolers full of different types of sodas and drinks – like the beloved Club Cool in Epcot!
And last but not least, we added some of our favorite Epcot characters to the table.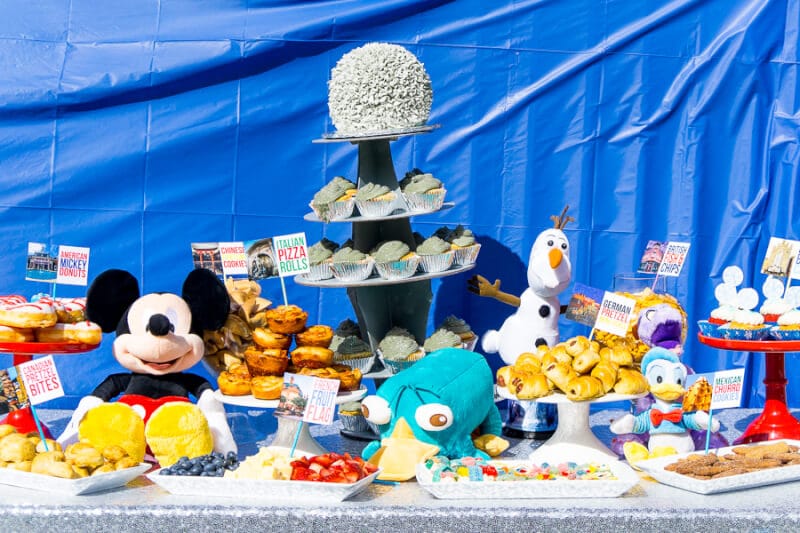 When you're planning food for preschoolers, think about things that are easy to eat and creative takes on their favorites – pizza, hot dogs, candy, and crackers. We incorporated all of my son's favorites in fun Epcot themed ways.
Disney Food Ideas:
Germany – Mini pretzel dogs
Canada – homemade pretzel bites and cheese dip
Japan – candy sushi (my favorite!!)
France – red, white, and blue fruit plate
China – fortune cookies
Norway – FROZEN bundt cakes
America – Red, white, and blue Mickey donuts
Mexico – these churro cookies
United Kingdom – Fish & chips (goldfish & chips)
Italy – Pepperoni pizza rolls
I've hosted a lot of really fun birthday parties like my son's Pajama Time party or Pop a Wheelie party, but I think this one was my all-time favorite. And it has nothing to do with the fact that I love visiting Disney World, this party was really just fun!
And preschoolers are my favorite age, whether you're visiting Disney with them or just inviting them over for one magical Disney playdate or party at home!
As a recap, here are my five best tips for hosting a Disney playdate or party!
Tips for Hosting a Disney Playdate or Party
Get your kids involved in the planning – they'll enjoy it more if they had a say in the party!
Don't over plan and for activities you do plan, try to keep them short and sweet!
For outdoor parties, have plenty of places to sit down, places that are shaded, and liquids on hand to avoid any overheating.
For food, put a creative Disney spin on preschool favorites like hot dogs, pizza, and pretzels!
Accept help from family and friends who volunteer – it'll give you more time to enjoy the party with your preschoolers!
What is your favorite Walt Disney World park?