If you have kids that love dinosaurs, they're going to love this dinosaur scavenger hunt! It's perfect for dinosaur themed birthday parties or just a dino hunt adventure after school! Simply print, place, and play for one amazing prehistoric adventure!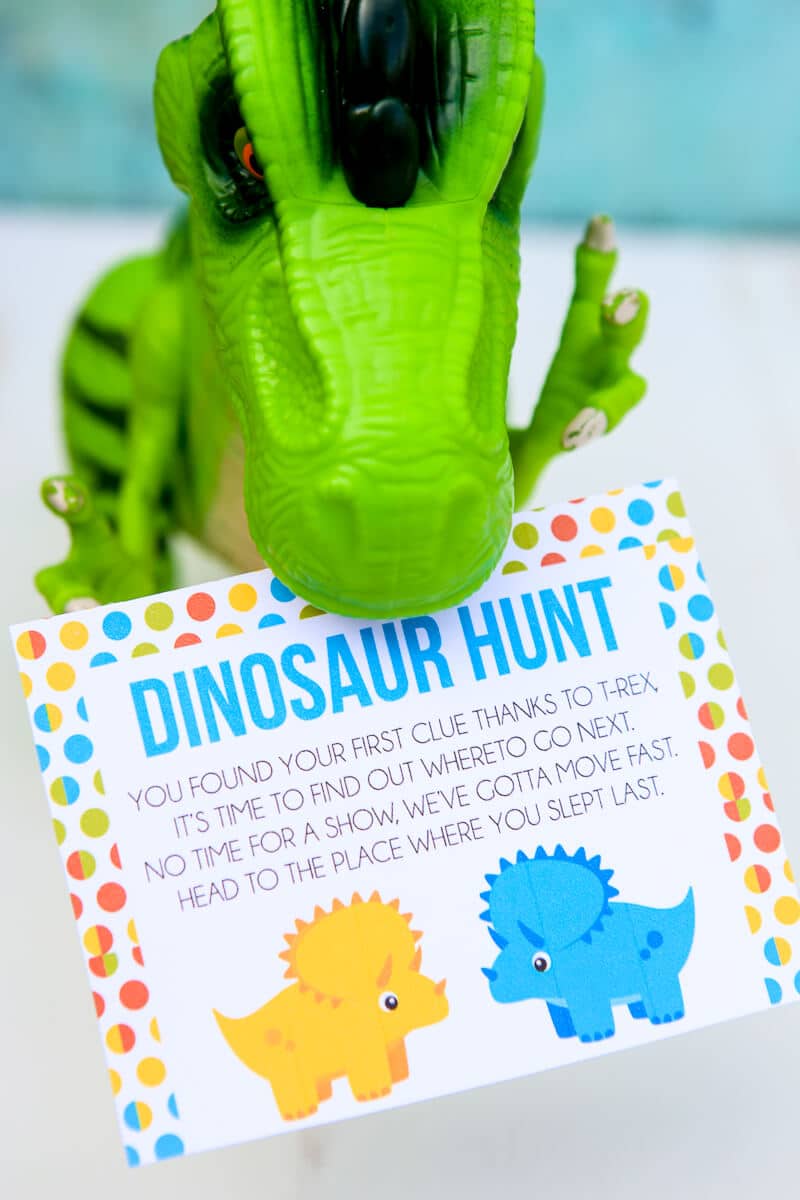 This post contains affiliate links. If you purchase via these links, I may receive a small commission at no additional cost to you.
Dinosaur Scavenger Hunt
My son is a dinosaur lover, like I'm talking dinosaur obsessed. For our Wednesday adventure this week, all he wanted to do was go on a dinosaur adventure, so I spent an hour looking for all of the places that you could see dinosaurs in the DFW area.
And for his 3rd birthday, I put together a fun dinosaur hunt that had him searching all over our house for dinosaur clues. It'd be a great dinosaur party game for any dinosaur birthday party! Definitely one of my favorite scavenger hunt ideas I've ever put together!
If you have dinosaur loving kiddos, they're going to love this fun free printable dinosaur hunt I put together for my munchkin's birthday a couple of months ago.
Pretty sure you'd win mom of the year if you set up this dinosaur hunt and the prize at the end was getting to have a living room picnic with these dinosaur cookies or everything you need for this dinosaur craft idea!
This roll the dinosaur game is a great option if you're having a larger group than works with this scavenger hunt.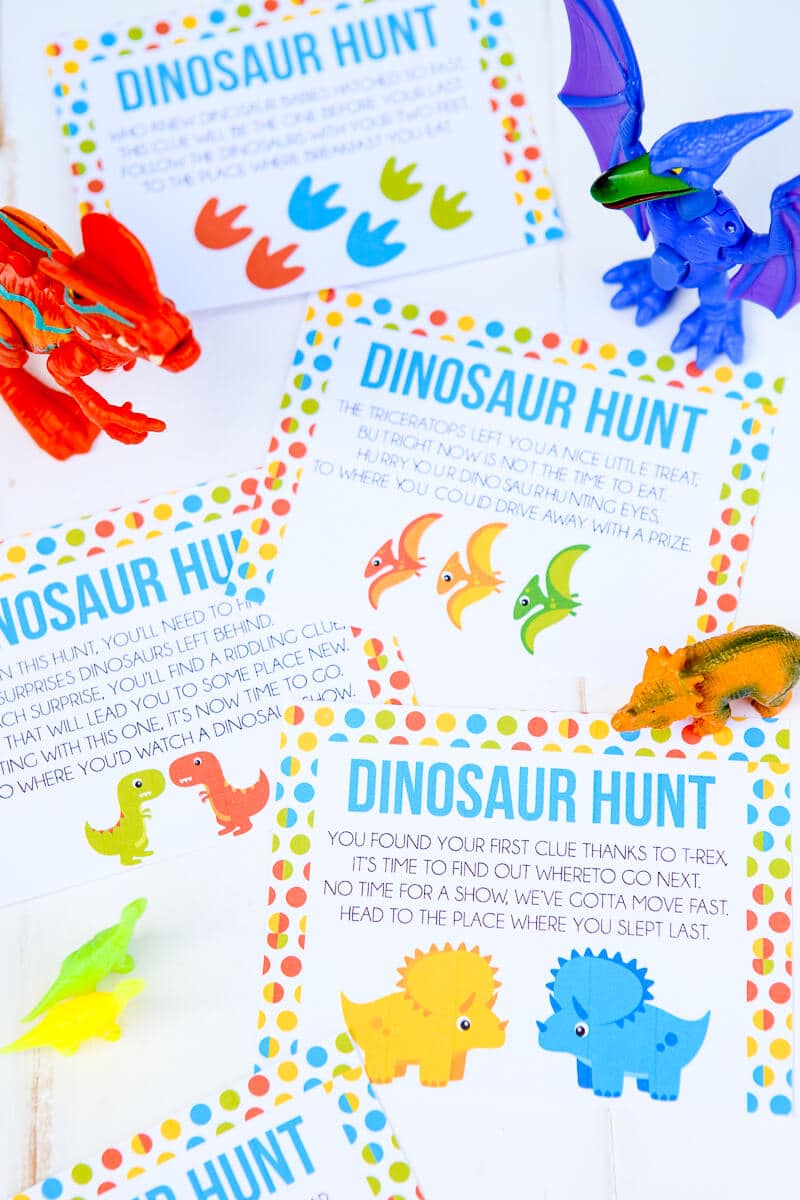 Dino Hunt Supplies
You really don't need much for this dinosaur scavenger hunt, just a few things you probably already have around the house if your house is like mine.
Printable dinosaur scavenger hunt (get it below)
Dinosaurs (to hold the clues) – optional
Tape (to tape up the clues)
Prizes for the end of the scavenger hunt (ideas below)
How to Set Up this Dino Hunt
1 – Print out the dinosaur scavenger hunt and cut out the cards individually. Make sure to keep them in order because the scavenger hunt story really only makes sense if you keep them in order.
2 – Then collect dinosaurs from around your house (assuming you have some). If you don't, you can totally skip this step altogether!
But if you do, my son thought it was super fun that I put one of his toy dinosaurs with each of the clues, kind of like the dinosaurs were the ones actually leading him on the hunt.
3 – Place the clues, dinosaurs, and prizes around the house where they go. I recommend doing this while your kids are at school or otherwise preoccupied so they don't know where all the clues are.
It's no fun if they know where any of the clues are because then they often just start going out of order and ignoring the clues. Make sure to keep the first clue out and not hidden as is this is what you'll give the kids to get the hunt started!
You'll notice this dinosaur scavenger hunt is written in a way that makes it sound like the dinosaurs are leaving clues and prizes behind. For my son's birthday, I actually had wrapped gifts with each of the clues that he collected along the way (okay fine, I collected them) and then we opened them all at the end. The gifts were all dinosaur related naturally.
But you can totally do it however works for you whether the "prizes" left behind are tokens or tickets they can turn in for one prize at the end. Or you can do little things throughout, just do whatever works for your group.
4 – Place the prizes at the very end of the scavenger hunt for the kids to find them! Alternately, you could also put small little prizes all along the hunt instead of one at the end. Totally up to you. One thing to note is that if you do put things all along the way, kids sometimes get distracted and just started playing with the prizes found along the hunt.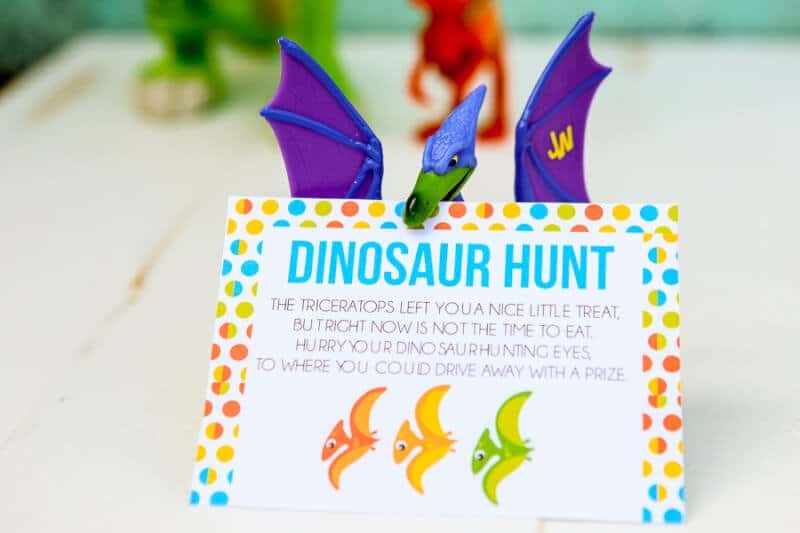 Dinosaur Hunt Prize Ideas
There are so many different things you could have as prizes for the end of the dinosaur hunt. If you're doing this for just your own kid or kids, you can obviously go a bit bigger than if you're doing something for a lot of different kids at say a dinosaur birthday party. Pick things from this list that make the most sense for the kids who will be doing the hunt! It'd be really fun to get some of these personalized dinosaur bags and put a couple little dinosaur prizes in them! Everyone loves something with their name on it!
Smaller Dino Hunt Prize Ideas ($5 or less)
Bigger Dino Hunt Prize Ideas (Over $5+)
Get the Printable Hunt
Enter your first name and email address below to get the free printable. You'll be immediately taken to the PDF to download and receive a copy to your email shortly after.
If you can't see the form below, click here to get to the form to enter your info.