Not all parties have to be about the food. Hopefully these basketball party ideas will show you that a couple of DIY projects and crafts can make a party awesome even if you don't have a ton of food.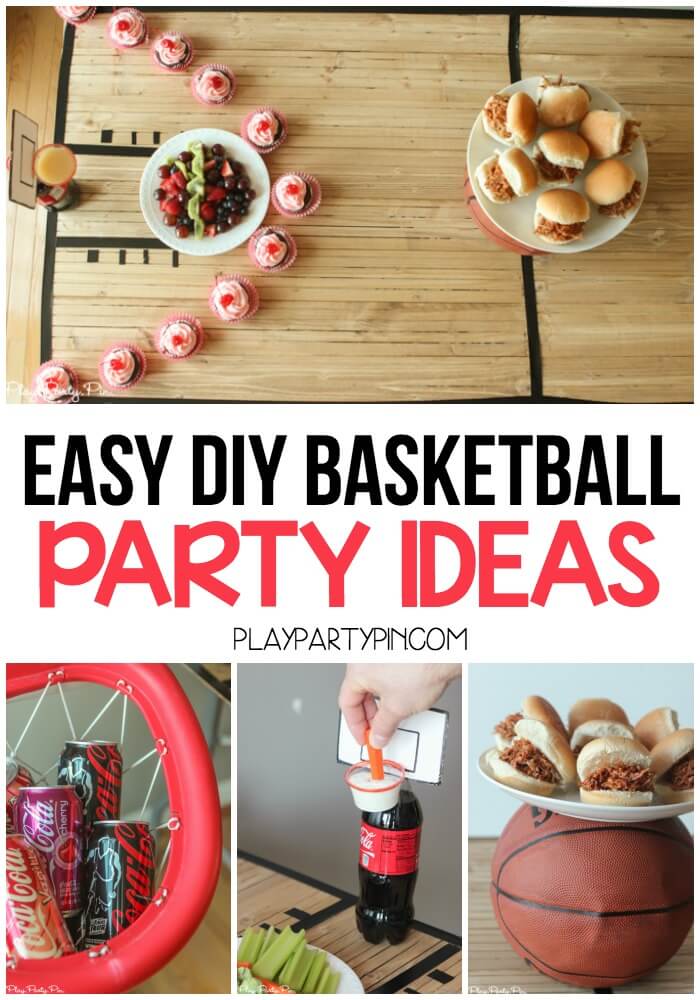 My family loves basketball. In fact, when I put together a book for my dad's 50th birthday two years ago and asked all of his friends for stories/quotes about him, I would guess that at least half of them are stories from a time when my dad, my brothers, or even I was playing basketball. Since I can remember, it's always just been a huge part of my life.
And with a brother who played in the NCAA®, another brother who played (and sprained his ankle) the night before his wedding, and a dad who just loves the game – I'm guessing it always will be.
One of my favorite things about basketball is the NCAA® March Madness tournament. I just love how as long as you make it into the tournament, you have a chance. I was watching a sports show the other day and they were talking about how the first two days of the tournament are two of the most exciting days in the year for sports fans.
Regardless of whether or not your favorite team is actually in the tournament, there is just something so fun about watching games go into overtime and seeing an underdog beat the favorite at the last minute. I haven't been able to watch as many of the games this year as I would have liked since my two-year-old isn't a huge fan of watching basketball all day, but when I was working full-time, I would just take my laptop into our kitchen and "work" from there while watching the games. Pretty much the two best work days of the year.
So this year since I couldn't watch as many of the game as I wanted, I decided to put together a simple little party while my father-in-law was in town to enjoy as many of the games as I could. I started it all with this awesome tabletop basketball court I made using wainscoting, Mixwax natural oak stain wipes, and black electrical tape.
Aside from drying time, it really took me all about 15 minutes total to make. All you have to do is stain the wainscoting, slide them together, make your out of bounds and half court lines, then finish it up with your key and free throw line. Instead of adding the circles and three-point line with the electrical tape, I finished the table off with food to create those lines. Kind of fun right?
Oh and for the hoops, my sweet husband cut cardboard backboards and I hot glued little dip cups with the rims colored orange to them. And then we added it all to our Coke bottle "poles", leftover from our football party, so that people could dunk their fruits and veggies, or their "freebies."
For the three point line on either side of the table, I made Cherry Coke cupcakes and topped some with a cherry buttercream and maraschino cherries and topped the others with a chocolate buttercream and fondant basketballs. I used this recipe for the Cherry Coke cupcakes, and they turned out delicious even if all my toddler wanted to do was eat the cherries and basketballs.
Last but not least, I made slow cooker Coke pulled pork sliders and put them on top of a basketball cake stand (i.e., a deflated basketball topped with a plate) to make the center circle on a basketball court. The pulled pork sliders were so easy to make – just throw pork tenderloin and enough Coke to cover it up in the slow cooker and let it cook on low until nice and tender. Then shred, top with barbecue sauce, and put in slider buns. Easy and delicious!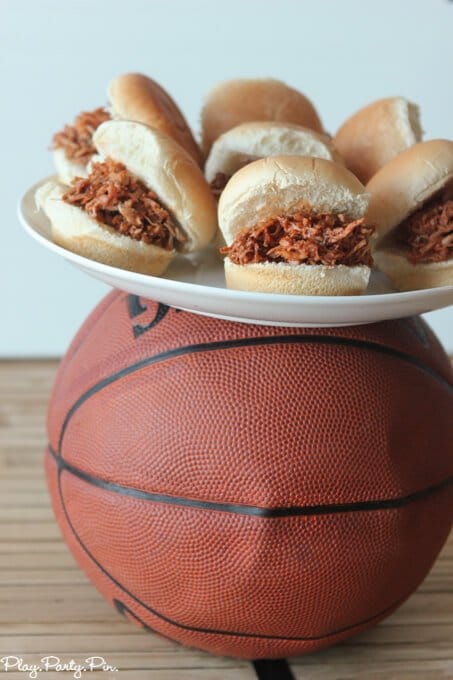 I picked up a couple of packs of the three different flavors – Coke Zero, Vanilla Coke, and Cherry Coke and used my son's basketball hoop as a "drink bucket." I also setup a fun final four blind taste test with my husband and father-in-law, where each flavor of Coke was given a cup color and they had to try each in a series of rounds to get to an ultimate winner, or best flavor. And the ultimate champion? Vanilla Coke!