Making your very own cake toppers is simple with the Cricut Explore Air 2! Simply cut the cake toppers, glue to something more supportive, and put on your cake. No one will ever have to know how easy the cake toppers were to make!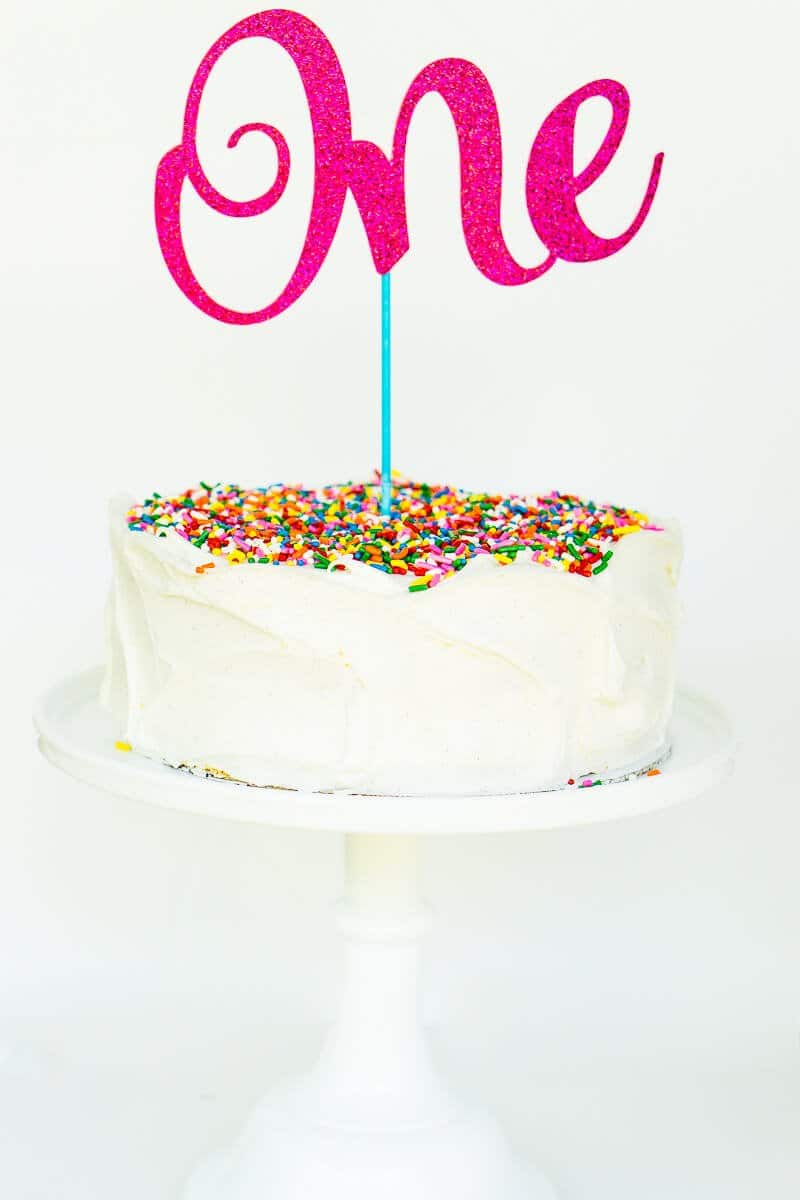 This post contains affiliate links to products for your convenience. If you purchase via my links, I may receive a small commission at no additional cost to you.
One of my favorite things to make with my Cricut Explore Air 2 is custom cupcake and cake toppers. For my once upon a summer birthday party, I created a simple glitter cake topper to match the castle in my backdrop. And while it may look fancy, the cake topper took me less than ten minutes total to create and that includes creating the file for my Cricut Explore Air 2 to cut.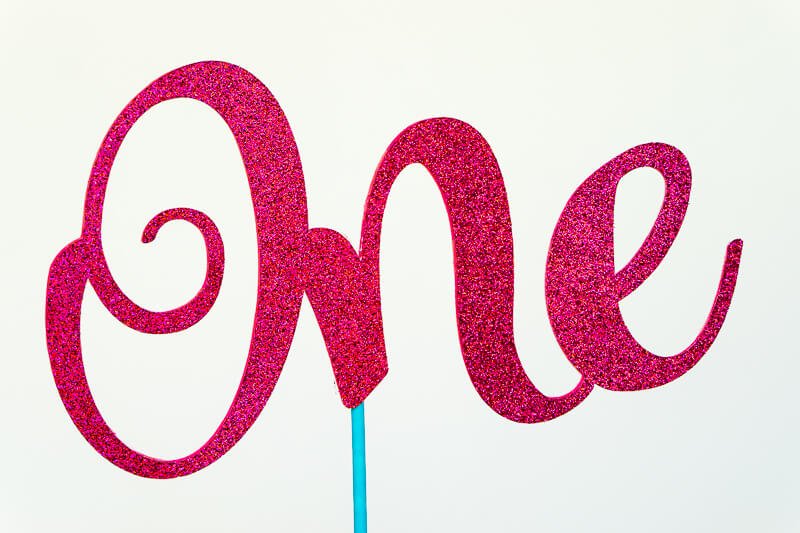 How to Make Custom Birthday Cake Toppers
Supplies to Make Cake Toppers:
Instructions to Make Cake Toppers
1 – Pick the Word for Your Cake Topper
Pick out the word that you want to use for your topper. I chose one since it was a first birthday party. Open the brand new Cricut Design Space and add text in whatever your preferred font is. I find it's easier to use a script font so the letters connect but if you prefer something else, go for it.
2 – Design Your Cake Toppers
Once your have your text written out, resize the text to whatever size you want your topper to be. I made mine 7 1/2 inches wide and 4 1/2 inches tall. If you have a bigger cake than I used, feel to make your topper bigger. My only recommendation is that if you go much bigger, I recommend using two lollipop sticks instead.
Once your font is the right size, select your text and click ungroup. This will separate your letters and allow you to overlap them for cutting. Grab each individual letter and move them to where the edge of each letter is overlapping the one next to it.
Once you have them where you want them, click the weld button at the bottom of the edit toolbar to weld your letters. This will join your letters together into one shape to cut rather than cutting out each of those individual edges.
3 – Cut Your Glitter Card Stock Cake Toppers Design
Place your piece of Cricut glitter card stock on a regular grip Cricut cutting mat, making sure to line it up with the top and side edges.
Click the "Make It" button in the Cricut Design Space. Make sure your design looks okay on the preview page then click "Continue" again.
Turn the dial on the Cricut machine to custom and select the Cricut Glitter Card Stock option in the dropdown on the settings page. Once your settings are correct, push the mat all the way to the rollers then click the double arrow load button when prompted on the screen. Make sure the mat is secure then click the Cricut button to cut.
And watch the magic happen.
4 – Weed Your Glitter Cake Toppers Design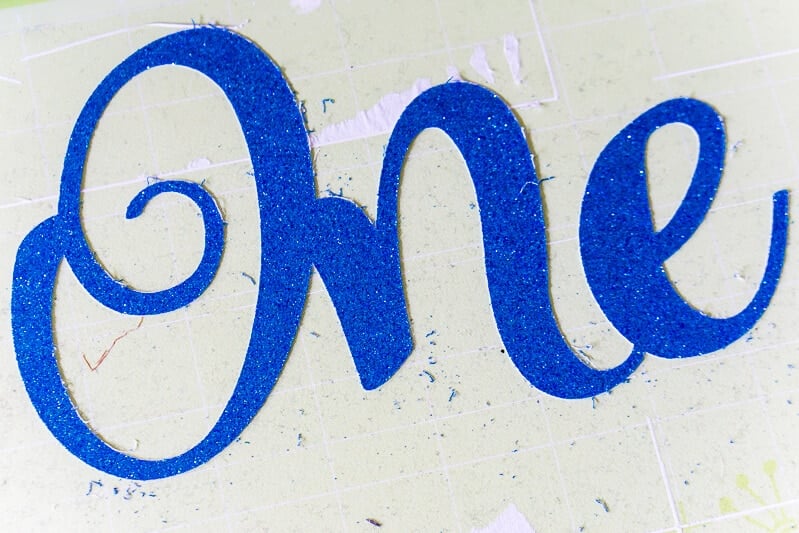 Once the design is cut, carefully pull back the card stock that is not cut to reveal your cut design. Use a Cricut Weeder if necessary to carefully remove any small pieces until you have one clean design.
5 – Repeat the Cake Toppers Cutting with the Poster Board
Do the exact same thing you did with card stock again with the poster board with one exception – turn the dial to poster board instead of custom before you load your mat. Everything else is exactly as you just did with the card stock, you're simply cutting the exact same design twice – once on card stock and once on poster board.
6 – Glue the Cake Toppers Designs Together
Glue the card stock cutout directly on top of the poster board cutout. The poster board version is simply to add durability and strength to the card stock when you actually put it on the cake. Place a book or something heavy on top of the two for a few minutes to let the glue really do its job.
7 – Tape the Cake Toppers on a Stick
I simply used a colored lollipop stick but you could bedazzle a stick with jewels, you could use a decorative straw, or you could get more creative than any of those ideas with your stick. Just pick something sturdy then tape or hot glue it to the back of your cut out design, making sure the tape is not visible from the front.
8 – Place the Cake Toppers on the Cake
That's it! All that's left is to put your brand new cake topper into the cake.


Win a Cricut to Make Cake Toppers
Want to win your very own Cricut? Head to my once upon a summer first birthday party for your chance to win!
Don't forget to pin these cake toppers to make later!