These once upon a summer first birthday ideas are a great way to celebrate the start of summer and a special one-year-old. Part fairytale, part modern summer, and all parts fun – these first birthday party ideas will have everyone going home happily ever after.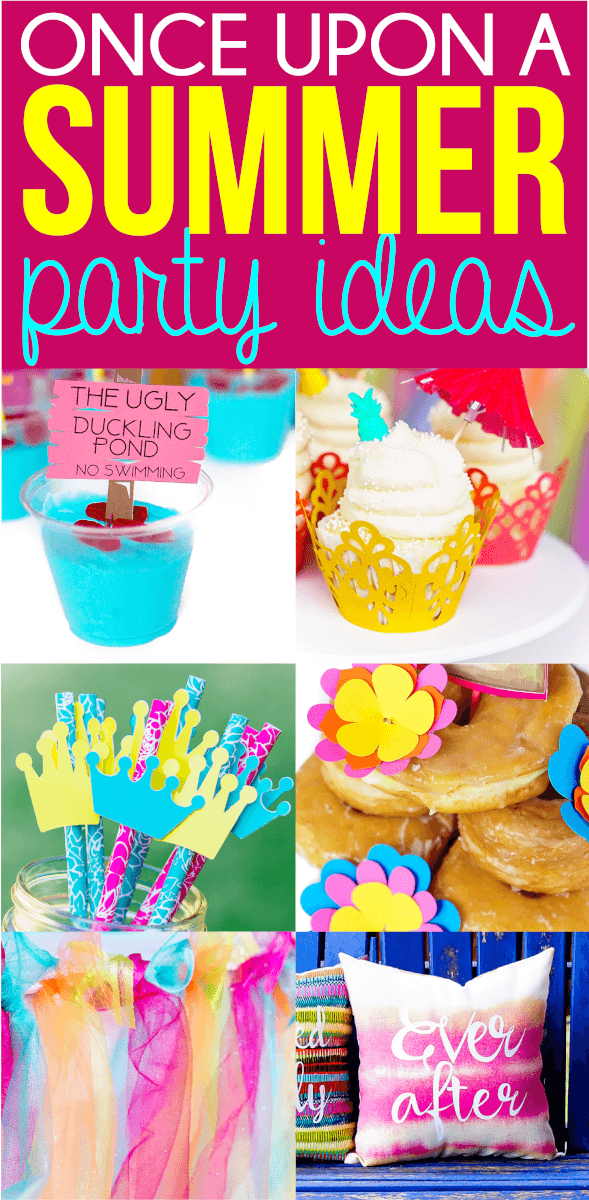 This post has been sponsored by Cricut and includes affiliate links. All ideas are 100% honest and my own.
Once Upon a Summer First Birthday Ideas
I only have a son, which means that I've had the chance to do all sorts of boy parties like my son's Pop-A-Wheelie party and his Pajama Time first birthday party. It also means I very rarely get to do anything girly, unless it's a girls night like my spa and pamper party.
So when I was asked to come up with first birthday ideas to share, you'd better believe I decided to go with a girl theme instead of a boy one. Maybe I'll get a girl of my own someday but for now, being able to share cute girl first birthday party ideas is good enough for me.
Once Upon a Summer First Birthday Ideas: Theme
I really wanted to do a party using a play on the word one. So instead of using one, I changed it to once and thought – oh I'll do a fairytale, once upon a time themed party. And then I started looking at colors and color palates and realized I really wanted to do a bright and bold summer themed party instead.
So I joined the two and came up with the once upon a summer party theme. Once upon a time fairytale theme combined with modern summer colors and twists. It sounds a bit crazy but you'll see what I mean.
Plus I really wanted to play summer bingo!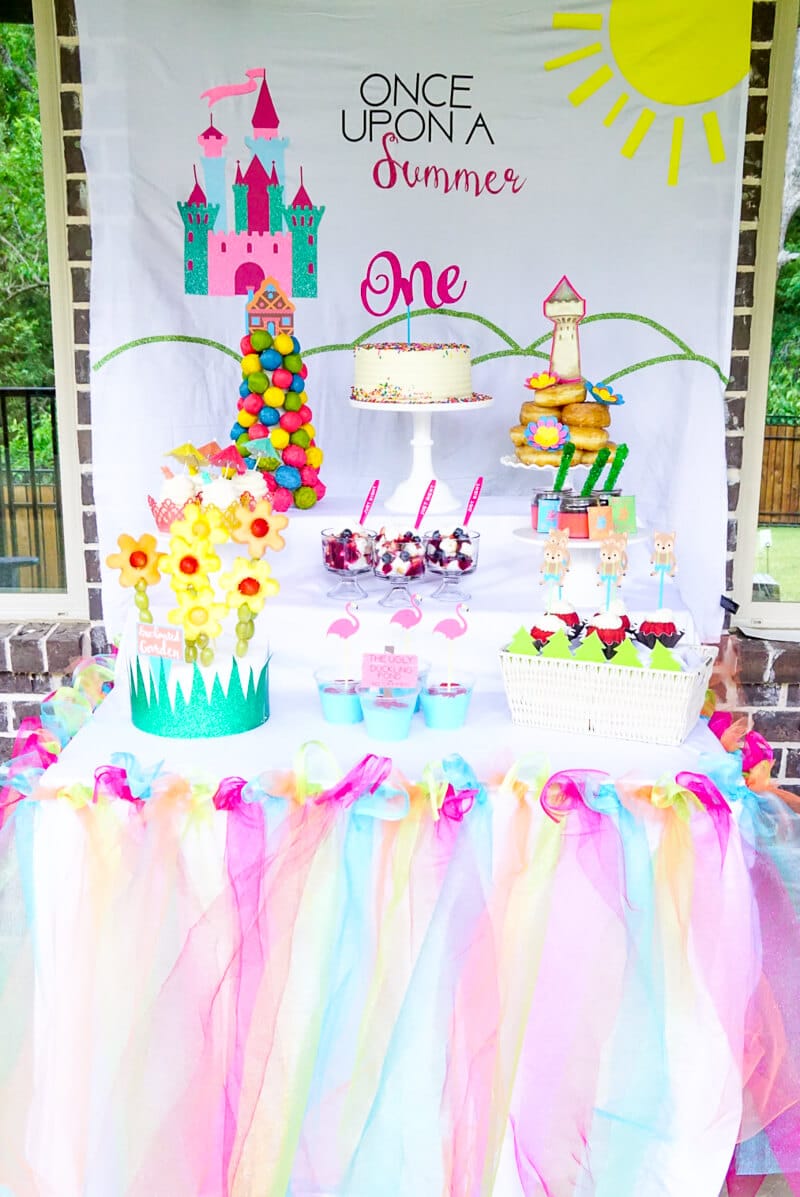 Once Upon a Summer First Birthday Ideas: Supplies
I love to make my own party supplies and the brand new Cricut Explore Air 2 makes it so easy. I was able to print, cut, and draw all of the supplies for my party in a day. And as you'll see in this post, the party included a lot of little touches, printables, and details – all made with my Cricut Explore Air 2. I tell everyone I can, the machine really cuts like butter, even the most intricate designs like the cupcake wrappers I made for my princess and the pineapple cupcakes.
For this party, I used:
I also used the following designs from the Cricut Design Space store. Most of these were included with my Cricut Access but some were a small additional fee.
Castle – M42C4D
Spring Border M3EC93 (the grass)
Tower – MD365C7
Flourish Cupcake Wrapper – M476A6
Gazebo – M47534 (seed packets)
Enchanted Garden – M2B713AA
Sign – M41A38
Flamingo – M2B5F455
Big Bad Wolf – M2B5E2F8
Once Upon a Summer First Birthday Ideas: Decorations
Every good fairytale has to have a castle and a scene with a castle on a hill. So I created a sunny and hilly castle scene using iron on vinyl and ironed it onto a white sheet to create a backdrop for my party table.
I used a castle from the Cricut Design Space shop and Cricut Iron-on Lite in pink, black, maize, cyan, and raspberry as well glitter iron-on in kiwi and green for the backdrop. I love how the backdrop turned out with all of the different colors, really hitting that colorful summer feel I was going for. And be honest, who wouldn't love to live in that castle? I would!
In addition to the backdrop, I created a tulle table skirt to go around the table and give it that princess tutu feel. I'll be sharing a tutorial for that soon or you can just buy a rainbow tulle table skirt!
It was actually a lot simpler than it looks and really tied the princess/summer theme together! And last but not least, I used white Iron-on Lite vinyl to turn store-bought pillows into custom fairytale pillows to tie in our outdoor seating.
Once Upon a Summer First Birthday Ideas: Food
The food is really where I had the most fun with this party. Everyone knows first birthdays aren't just for one-year-olds. First birthdays typically mean a couple of kids and a lot of adults that are coming to eat good food, celebrate the baby, and enjoy the company.
All of the food for this party is kid-friendly but not necessarily kid-oriented if that makes sense. They're all desserts I think kids and adults alike would enjoy!
And every food I served had a theme tie in of some sort.
Hansel & Gretel's Cake Crumb House & Rapunzel's Donut Tower – On either side of the cake I created two matching towers. On one side was a colorful cake ball tower topped with this Gingerbread House I first print then cut on my Cricut.
And on the other side, a donut cake tower with paper flowers I cut out on various colors of Cricut Cardstock Paper, and a Rapunzel tower topper I print and cut.
For both the gingerbread house and the tower toppers, I not only print and cut the actual design itself on regular paper, I also cut out just the outline on Cricut Poster Board then glued the two together to give it more weight.
You can see the pink posted board popping through on the tower, I liked the added color! Between the two towers, I plated a basic white cake that I picked up at my local grocery store and decorated with rainbow colored sprinkles. And on top, I created a custom DIY cake topper that I'll be sharing the tutorial for later this week.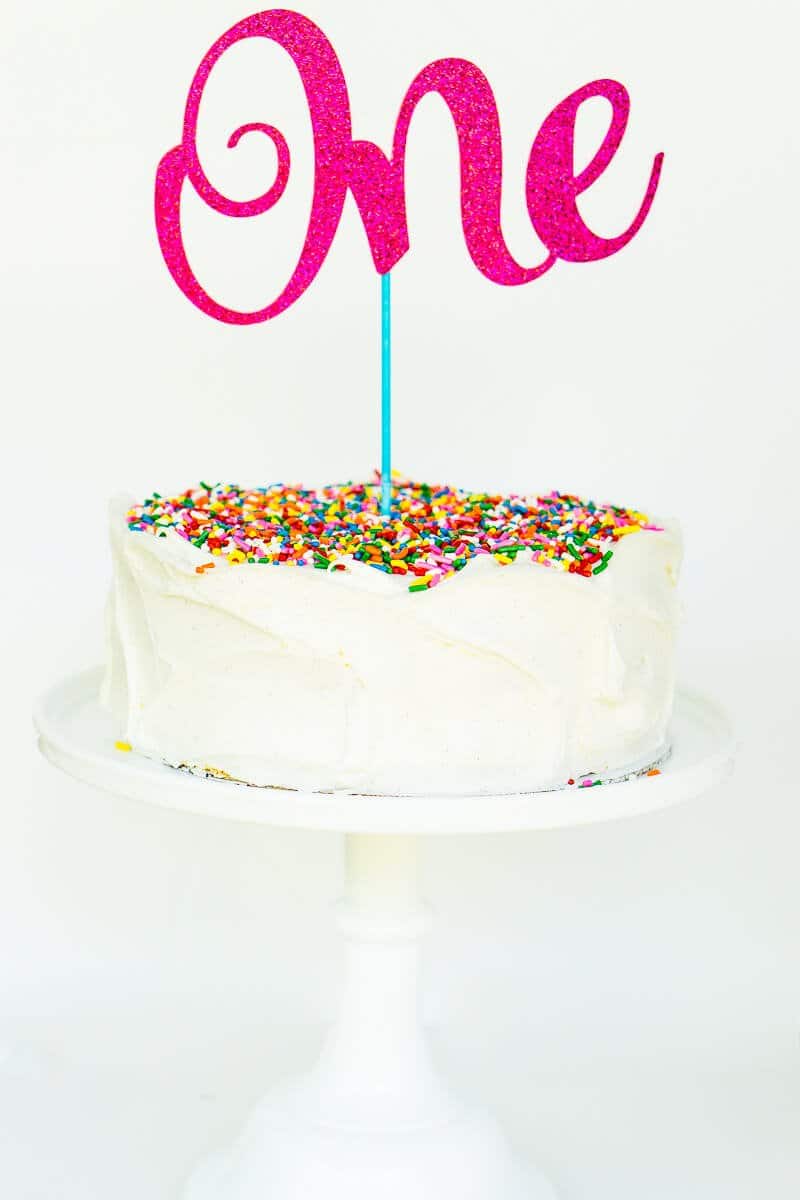 Princess and the Pineapple Cupcakes – Wedding cake cupcakes filled with a pineapple filling. I put them in these cupcake wrappers I cut on the Cricut with Coral Pearl and Sunshine Pearl paper. And to finish them off, I topped them with little pineapple erasers and a drink umbrella.
Three Little Berries Trifles – Trifles made with angel food cake, three types of berries, this raspberry sauce, and homemade whipped cream. And to tie it into the once upon a time theme, I used my Cricut, white vinyl, and transfer tape to create "Just Right" spoons like in Goldilocks and the Three Bears.

Magic Jelly Beanstalks – Little glass jars filled with pudding, Oreo crumb dirt, jelly beans, and a green rock candy beanstalk. And to go with each, I print and cut little print and cut seed pouches from the Cricut Design Space shop, then filled them with more magic jelly beans. These may not have been the prettiest item on the table, but kids love them!

Enchanted Fruit Garden – My sweet sister used a flower cookie cutter to cut out flower shaped pineapple and cantaloupe pieces then we filled the center with strawberries and put them on green grape stems.
To create the enchanted garden, I cut out this grass on my Cricut in green glitter cardstock and glued it around a styrofoam cake form. And to finish it all off, I print and cut this sign on regular white card stock. Making healthy food fun!

Ugly Duckling Pond – Our ugly duckling pond was made up of individual cups of pudding with Swedish fish that we colored blue then topped with print and cut flamingos. And in the front, I added this cute sign from the Cricut store because every pond needs a weathered wood sign.

Red Riding Bundt Cakes – For my ode to Red Riding Hood, I bought mini red velvet bundt cakes from Nothing Bundt Cakes and put them in a cute basket like Red Riding Hood uses to take treats to her grandmother. To decorate the cakes I added the cutest Big Bad Wolf cupcake toppers, that I customized to match our party colors.
They might have been my favorite part of the entire party! And finally, I added some little trees I cut out of green poster board along the basket front for the forest Red Riding Hood walks through.

Prince and Princess Punch – To drink, I simply served pink lemonade and turquoise lemonade (blue food coloring added to regular lemonade) and gave everyone a little mason jar with prince and princess straws.
For the straws, I used this prince crown and this princess tiara and cut them on bright cardstock paper then just taped to the straws with permanent double-sided tape. It's the little things that make a difference.

Once Upon a Summer First Birthday Ideas: Favors
No party is complete without favors and for this party, I made two favors that were all about the actual kids at the party. The first, a fairy tale book for everyone complete with a little "happily ever after" tag that I print and cut using my Cricut. Same castle design as my backdrop!
And second, little plastic containers of baby puffs with little print and cut pigs – or as I call them, huff and puffs.
This may have been my most detailed party yet. But I'm telling you, like this past season of Survivor, the Cricut Explore Air 2 is a game changer. It's the one craft room I recommend everyone have in their arsenal, especially for parties.
You can buy one here and while you're at it, make sure to get a weeder and a bluetooth wireless adapter to make it even easier to cut!
I was invited to participate in the Cricut Party Blogger Program Kickoff.
This is a sponsored conversation written by me on behalf of Cricut. The opinions and text are all mine.