These gifts for bakers are perfect for both the baker extraordinaire and the beginning baker! With unique gifts for bakers, gifts for the baker who has everything, and even some funny gifts for bakers – this bakers gift guide is sure to have something for the baker on your shopping list!
This post was originally sponsored by Nielsen-Massey Vanillas but has since been updated.
There seems to be a theme to the gift guides I'm making this year.
They're all gifts that match my interests. Gifts for entertainers. Cricut gift ideas. Personalized gifts.
And today's gift guide – gifts for bakers – continues with that trend! Baking is one of my favorite things to do and yes, I would love all of these gifts!
That just means that all my gift guides are spot on because they're all gifts that I would want to get! I'm not just coming up with random gift ideas, they're actual ones that people will love!
Gifts for Bakers
I've broken this gift guide up into three different sections of the best gifts for bakers – practical gifts, fun gifts, and gifts for the baker who has everything already.
I figure that way you'll definitely be able to find gift ideas that work for your person whether they already have all the baking tools they could ever need or maybe it's a kid who loves to bake and doesn't have it all.
So let's get started!
Practical Gifts for Bakers
When I say practical gifts for bakers, I simply mean gifts that they can use to bake. These are still super fun gifts; I tried to find unique gifts for bakers – not just baking dishes.
These are still way more fun than baking dishes, they're just things they can personally use.
Gourmet Flavorings
Anyone who loves to bake needs some gourmet flavorings to add to their baked goods.
I love using gourmet flavorings when I bake things like my peppermint sugar cookies and these ginger molasses cookies.
And we're talking gourmet – not just the generic stuff you can get at a regular grocery store. Think unique flavors, flavor combinations, and more!

Custom Spatulas
I'm sure your baking friend already has spatulas but do they have custom spatulas that are personalized for them? There are plenty of different saying options to choose from or choose your own.
Because spatulas are way more fun to use when they say World's Best Baker!
Personalized Etched Pie Dish
There are two reasons I love the etched pie dish idea – honestly any personalized etched dish would do. The first is that it's personalized, which is way more fun than just getting them a pie dish.
And second, it's actually practical because if they like to bake, they're likely baking things for other people. Everyone knows how hard it is to figure out whose baking dish is whose when you take something to a potluck.
This makes it easy to know where that delicious striped delight came from and to make sure you get the dish back. And plus, it's just cute!
Oven Baking Stone
Out of all of the practical items, this is probably the least fun, but stick with me. An oven baking stone is always a good gift because you can never have too many.
From making the best pizza to Christmas cookies, baking stones are my go-to secret weapon for perfect baking. They come in all shapes and sizes but a good round one is always nice.
Pair it with a baking cookbook or a couple of your favorite recipes for one fun gift idea!
Get an oven baking stone here.
Fun Gifts for Bakers
Okay now it's time for some more of the fun gifts for bakers! These aren't necessarily practical gifts to use for baking but more fun things to show that you know they love to bake!
I've said it before but gifts are all about intention – intentionally showing someone you know them and care about them! And these are the best gifts for bakers to show them that!
Bake the World a Better Place Shirt
I just think this shirt is so cute and it acknowledges the power of baked goods to make everything a little better, especially when paired with a printable gift tag like these "you've been treated" ones.
Secretly figure out what size your baker would want and order them this shirt to wear proudly as they bake for all the world to see!
You'll make their day, which in turn will make the world a better place because when bakers are happy (or sad) they bake!
Get the bake the world shirt here.
Foodie Dessert Dice
You all know how much I love games. Board games, scavenger hunt, minute to win it games – you name it. So any time you can combine my two favorite loves of baking and games, I'm in.
These dessert dice aren't technically a game, but they turn baking into a game. Roll the dice to find the inspiration of what you're going to make next.
Will it be a coconut cinnamon cobbler or dark chocolate pumpkin cake? No traditional pumpkin cookies here – just fun and unique desserts made with the help of these fun dice.
Procrastibaking Mug
Any true baker knows that the best form of procrastination is baking. Whether you're avoiding packing for a trip, getting some work done, or sending an email – procastibaking is a real thing.
This fun gift will have any baker laughing because of how true it really is.
And now I'm off to make some banana pudding cupcakes before I finish this post.
Get the procrastibaking mug here.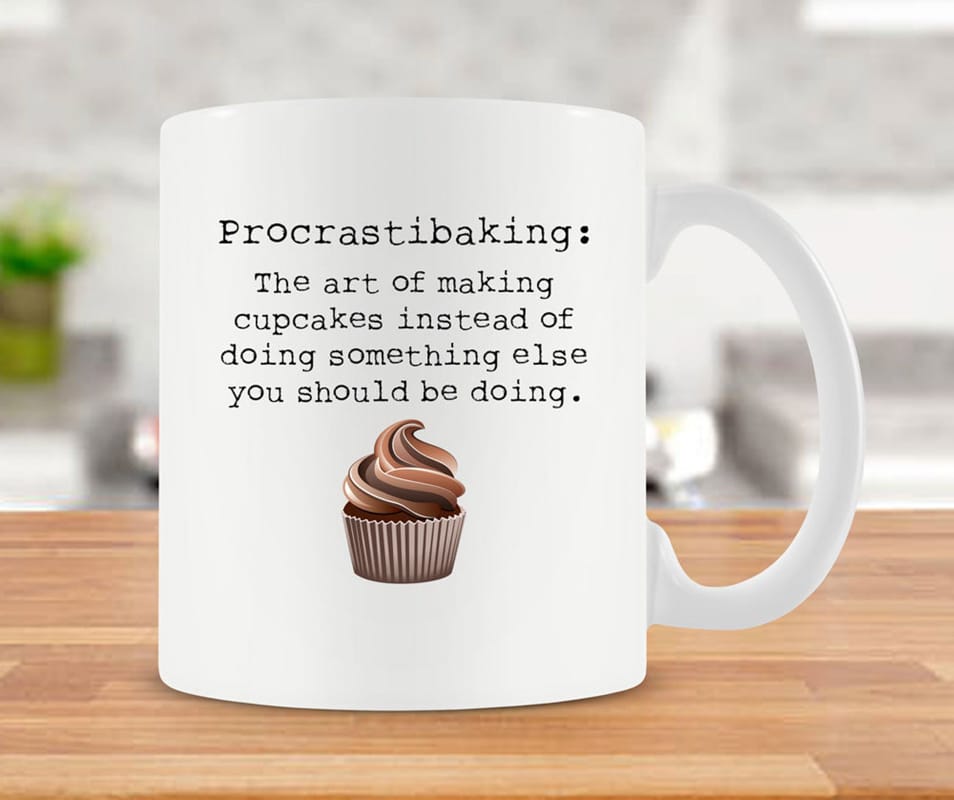 Bake Eat Love Subscription Box
I'm a huge fan of subscription boxes. I even made my son a monthly adventure box for his Christmas present next year. There's just something about getting a surprise in the mail every month and not knowing what it's going to be until you open it that's fun.
This Bake Eat Love subscription box is one of my favorites because not only does it include everything to make some sort of gourmet treat each month, it also includes some sort of fun baking tool or non-perishable baking item that you get to keep and reuse with all of your other baking needs.
This one would be especially fun for kids who may love to bake but may not be the best at it themselves yet. Or for the avid baker who just likes surprises (like me!).
Get the Bake Eat Love subscription here.

Gifts for the Baker Who Has Everything
Alright, now we're down to the final section and the nitty gritty. These gifts are all gifts for the baker who has everything. I tried my best to find tools and gifts that even if they have everything, they don't have these.
I know I don't, and I have a lot of baking tools.
3 in 1 Silicone Baking Spatula
This isn't just your traditional spatula. This is a 3-in-1 baking spatula. Three in one meaning that it's a spatula, scraper, and a scoop all in one handy kitchen tool.
And it's silicone, which is always a plus for scraping bowls, counters, and bits of burned cookies off the pizza stone.
It's also very affordable, fits in a stocking, and a perfect addition to a baking gift basket.
Or if you don't want the 3-in-1, you could always get them one of a blender spatulas instead – they're great for getting that last bit of batter or dough out of anything!
Get the 3-in-1 baking spatula here.
Cookie Dough Shaper
I've personally never seen one of these before and thought the idea of shaped cookie dough was just so fun that this cookie dough shaper had to make it on my list!
Give your favorite bakers a way to turn their favorite cookie dough into heart cookies with this fun gift. Perfect for Valentine's Day, saying I love you, or just saying a heartfelt thanks (with these thank you tags!).
It's fun, fits great into a stocking, and would make a perfect addition to a baker's gift basket!
A Meal Mug
This twenty ounce blue meal mug is perfect for bakers because it works in the microwave, toaster oven, and even a pre-heated convention oven.
It's perfect for making mug cakes, mug brownies, and anything else you might bake in a mug. And these days, that's a lot.
Edible Gold Brush Pen
Give your favorite baker a way to elevate their baking with a gift they probably wouldn't buy themselves but that they'll love to get and use in their baking.
This gold edible brush pen does just what it sounds like – brushes edible gold onto baked goods. It'd be perfect for some New Year's Eve goodies, Oscar party treats, or anytime a little gold is in order.
Get the edible gold brush pen here.
More Great Gift Ideas
Bakers aren't the only ones you're shopping for so make sure to check out these other great gift guides!