These 30 fun and creative 30th birthday gift ideas for him will surprise and thrill the lucky recipient! With gift ideas in all price ranges, there's something on this list of 30th gift ideas for everyone!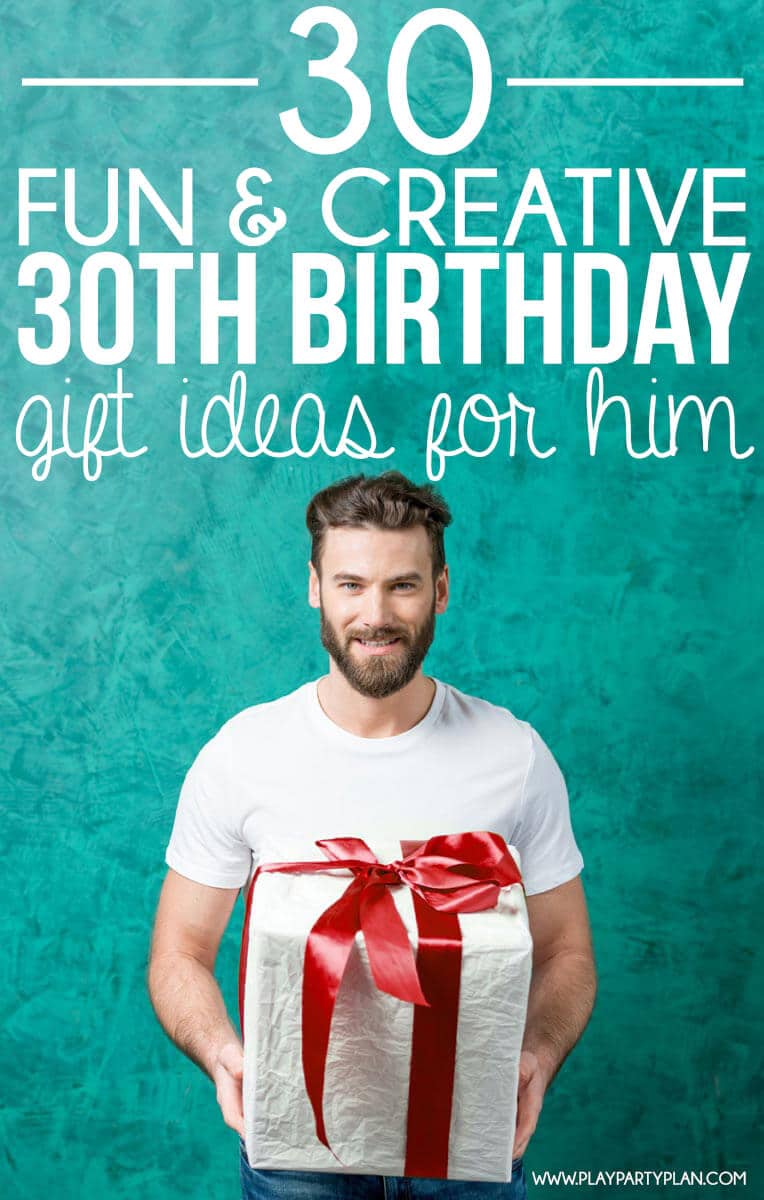 This post contains affiliate links. If you purchase via these links, I may receive a small commission at no additional cost to you.
Creative 30th Birthday Gifts for Men
When my husband turned 30, I gave him 30 presents – one present for each day leading up until his 30th birthday with the biggest one on his actual birthday. He loved it, I loved picking out his gifts, and he thought it was one of the most creative birthday gifts ever!
Whether or not you want to do 30 gifts is up to you, but I've included 30 (okay 60) creative birthday gifts for men below to get you started if you want to try it! I set up this
birthday scavenger hunt
and had his gifts at the end.
And if not, feel free to just pick and choose one or two or five of the items on the list below.
Coming up with 30th birthday gift ideas for him wasn't an easy task, so I'm sharing my list to give you some ideas to get started! The first set of 30 are what I actually gave him and the second set of 30 are things that are a little bit more universal, not as specific to my gift list.
30th Birthday Ideas for Him
Here's a list of what I included in my 30 days of 30.
I know some of these are kind of boring like his favorite snack but really who doesn't love to be surprised with their favorite snack? I'd love you forever if you surprised me with chocolate covered cinnamon bears.
Anyway, back to the list.
Unique 30th Birthday Ideas for Men
1 – Something from the year he was born (1984) – Tetris Jenga Game
2 – Jar filled with 30 of his favorite treats
3 – A playlist (kind of like a mix tape) of 30 songs that remind me of him or an iTunes gift card with a list of songs to buy
4 – An iPhone armband for working out
5 – These date night cards (one for every week of the year – my husband loved them)
6 – His favorite snack (these are my husband's)
7- A punchcard with 30 boxes to punch, each one for an hour of time whenever they want it
8 – A photo book with pages for each of their 30 years
9 – A list of 30 things you love about them
10 – Some sort of clothing/accessories like socks, tie, etc. These birthday socks would be awesome!
11 – A new wallet with $30 cash inside
12 – $30 1 dollar bills folded up and stuffed inside an empty box of chocolates
13. – Grill set (unless he hates to grill)
14 – Movie night gift set with one of their favorite movies, treats, and a blanket
15 – Wrapped roll of 30 quarters to spend playing air hockey (our favorite) at an arcade
16 – Treat bouquet with 30 of his favorite treats – jerky, candy, gum, etc.
17 – Some sort of tech gadget like an external iPhone battery, cord organizer, etc.
18 – Some sort of small tool like this cool pocket knife
19 – 30 birthday balloons blown up with secret messages inside that he'll find when he pops them
20 – A mini 30 shaped piñata filled with his favorite treats, socks, gift cards, etc.
21 – A TV show or movie with 30 in the title such as 13 going on 30, 30 Rock, etc.
22 – His favorite food with 30 integrated somehow (e.g., pizza with 30 pepperoni, 30 rolls of sushi, steak with mushrooms on top shaped into a 30).
23 – His choice of dinner that you'll make from this 30 minute meals book
24 – 30 notes from his friends/family posted throughout the house
25 – 30 mini cheesecakes or desserts to eat throughout the week
26 – 30 pictures of your family made into a collage for his office
27 – $30 gift card to his favorite restaurant or store
28 – 30 minutes a day for 30 days doing something you wouldn't normally do daily (e.g., cleaning, doing dishes, etc.)
29 – 30 Hershey's Hugs and Kisses that can be turned in for real hugs and kisses
30 – Subway art or a colorful word cloud with 30 words or phrases that describe him
Creative 30th Birthday Gifts for Men
And since I couldn't stop at 30, here are another 30 birthday ideas for him I came up with since my husband's 30th birthday a few years ago!
It's amazing how many more gift ideas you can come up with when you're not put on the spot! If only my husband was turning 30 again!
31 – A trivia challenge card game from the year he was born
32 – A month calendar out with nice things you'll do for him on each day (make sure it's a 30-day month, not a 31 day month!)
33 – A vintage t-shirt with the year he was born on it or a shirt with a movie that was released that year
34 – A 30 photo collage signed by his best friends and family
35 – SPF 30 sunscreen and sunglasses
36 – A set of birthday coupons with 30 pages of things to do together
37 – XXX DVD (the one with Vin Diesel) or movie night
38 – 30 lotto tickets or these fake ones (and then just give me a $30 gift card)
39 – A 30 ounce Yeti tumbler
40 – 30 rocks sign with rock candy
41 – A 30″ foam board with reasons why you love him
42 – 30 different candy bars with sayings about why he's awesome – tons of candy ideas here
43 – Lookin' good at 30 mug with 30 packets of hot chocolate, tea, or coffee
44 – You're only old once Dr. Seuss book
45 – A 30 piece puzzle with a secret message written on the back
46 – A birthday scavenger hunt leading him to his favorite places
47 – A customized root beer mug and 30 cans of root beer (and ice cream for groot beer floats)
48 – A surprise party with 30 of his best friends
49 – 30 Things to Do When You Turn 30 Book
50 – Pro Plus 30 Varidesk (my husband really wants one of these standing desks!)
51 – Bose 30 Wireless Noise-cancelling headphones
52 – 30 video games – or just this one Wii Family Party that has 30 different ones
53 – An AMC Stubs A-List pass (or Netflix subscription) to watch at least 30 movies this year
54 – Custom SnapChat filter just for their birthday
55 – 30 minute hourglass or other office game
56 – 30 pound dumbbells or kettlebells
57 – 30 minute back massage
59 – A 30th anniversary album or collectible
60 – A 30-page coupon book
You could do this same exact thing if you're looking for 50th birthday ideas, simply use 50 instead!
More Creative Gift Ideas
These aren't necessarily 30th birthday themed, but they might help spark your creativity!
Free Birthday Printables
In order to tie all of the presents together into one cohesive "present," I used this set of free birthday printables from J Goode Designs.
I love all of the various colors used in the birthday printables and especially love that there are colors that work for guys and girls. I chose to use mostly blues, greens, and reds for my husband's gifts.