These nautical young women handouts are great little gifts for YCLs and go perfectly with this year's youth theme – embark in the service of God from D&C 4:2. They make perfect girls camp pillow treats and one of my favorite girls camp ideas ever!
For the past four years, I have been in charge of planning and running a week-long camp for young women ages 12-18 for my church. It's one of my favorite things I've ever done, and I'll cry the day I'm no longer involved. Seriously, I love it that much.
One of my absolute favorite parts of girls camp is creating little handouts for the girls that go along with the theme. I typically go a little overboard, okay a lot overboard, for our 16-18 year old youth camp leaders (YCLs) and surprise them with fun themed pillow treats every night. It's one of the things that the YCLs look forward to and talk about for months after camp. And I love doing it.
This year we did these pillow treats along with some seasick pills.
Last year we did an Olympic theme for camp, and I loved the Olympic themed pillow treats I came up with. What I didn't love was how much it cost me to print out the color filled handouts. I kind of did them all at the last minute, so I of course ran out of ink and had to run to the only store that was open and buy ink at whatever price they were selling it for. Pretty sure the high cost of that last minute ink wasn't in our camp budget.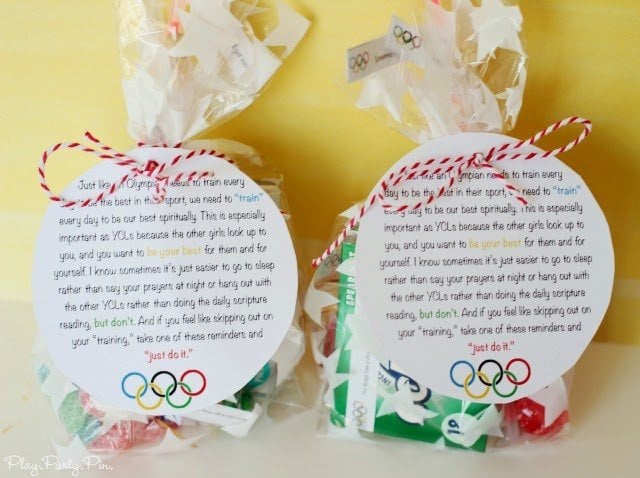 This year we are doing a nautical theme, and I've been working ahead by picking up things for the girls for the last few months; no more Saturday night shopping for this girl! And I'm already designing and printing all of my handouts for the YCLs and an "at sea survival kit" handout for the rest of the girls at camp. This year has to be different because with almost 40 more girls than last year, I can't spend a ton of money on buying ink and printing 100+ handouts. But I love these girls and want to say thank you for all of the hard work that they put into planning camp, so I still want to be able to give them awesome pillow treats without breaking the bank.
And that's why I signed up for HP Instant Ink. It allows me to still go overboard with my handouts and say thank you to these amazing girls without having to tell my husband why our credit cards are maxed out with camp charges. If you follow me on Instagram, you might've seen that I signed up and got my welcome kit for HP Instant Ink in the mail last week. And I bet you had no idea what I was talking about, so let me tell you. HP Instant Ink is awesome. My printer, yes, I said my printer, tells HP Instant Ink when I'm running low on ink and orders it for me and delivers the ink directly to my door so that I'll never run out. I don't even have to think about it, my new HP printer does everything for me.
HP Instant Ink has plans that start as low as $2.99 a month for 50 pages (no annual fee or long-term commitment, can cancel at any time) for the service and that includes the ink, shipping, and recycling. And you can print color or black ink at the same low price; that's way cheaper than having things printed at a local office supply store. And while I talk all about how I'm going to not procrastinate and print everything way ahead of time, you know I'll be printing the last of my camp handouts on Sunday night right before camp Monday morning. It's nice to know that even if I run out of ink on Sunday night and can't go to the store to buy ink, that I'll have some sitting in my computer drawer that was conveniently delivered by HP Instant Ink when it recognized I was running low.
It's like someone knowing what you need before you even need it Like someone delivering a gallon of milk to your door when you're thinking about making a batch of chocolate chip cookies or your car being filled with gas when you decide to go on a spur of the moment road trip. Who wouldn't love that? And right now is the perfect time sign up because for a limited time you can get 3 months of FREE ink when you purchase an HP Instant Ink eligible printer then sign up online for Instant Ink.
Anyway, I'm pretty excited about it. Here's the first of the girls camp pillow treats that I'm doing for the YCLs this year. The label says, "Being a YCL is naut (like nautical) easy. Here are ten ways to stay anchored (get it??) when the waves get rough." I just printed them out on white card stock on my HP printer, punched them out with a 2″ punch, and stuck them to the top of small tin cans (that I'll fill up with treats) with double-sided sticky tape. You can watch the video below to see how I put them together.
I also made labels for the candies with their "ways to stay anchored," that you can download and print below. I created versions that should work with both nautical and non-nautical themes, just in case you aren't doing a nautical themed camp like we are. A couple of examples of the candy sayings are below, the entire list of sayings and their associated candies is here. For the candy labels, print them on white card stock, cut them out, fold over the top of a 2″ treat bag, and staple shut.
Try "beary" hard to be patient – with gummy bears
Don't get sucked into the negativity. Pop it with a positive attitude – with suckers/lollipops
Chews to be a good example – with gum
Try to enjoy the unexpected twists and turns instead of getting frustrated by them – Twizzer Twists
Download The Free Printables
If you're ready to download the free printables to use, simply click the button below or click here.