This party has been compensated by #CollectiveBias and its client. While I have been compensated for this post, all ideas and opinions are 100% honest and my own. #TwizzlersSummer
Use these nautical party ideas to throw the best 4th of July party ever! Tons of great 4th of July party ideas that go right along with the nautical theme.
Recently I've had two things on the brain – anything nautical and candy. With my nautical themed young women's camp for church in two weeks and candy all over my house for the pillow treats, it kind of makes sense. I decided to combine my two current obsessions to put together a nautical themed 4th of July party this weekend. Everything about this party is simple enough that you could read this post, print out the printables from World Wide Party, go shopping for your supplies, and put it all together for a party this coming weekend.
If you've ever seen one of my parties before, you'll probably notice that I love using candy in a ton of different ways in my parties. It's definitely not just something for people to eat, and in this post, I'm going to share some of my expert tips for sneaky ways to use candy to add more flair to your party. So watch out for those little red and blue tidbits of advice as you're looking through all the photos.
Throwing a nautical party for the 4th of July is easy because the typical nautical colors are already red, white, and blue. To welcome guests, I just hung up some red, white, and blue garland and tissue fans in front of my house and on the deck.
For the actual table, I used a couple of fabrics that I found at Walmart to create a backdrop (fabric stapled to a white canvas), tablecloth, and table runner to give the table the red, white, and blue foundation. To add height to the table, I added in some major pieces like the awesome boat shelf I posted about on Instagram filled with USA cupcakes and a lighthouse that I filled with Twizzlers Bites. Don't think that cupcakes and treats always have to go on regular plates and cake stands. It's actually the creative displays that make parties more fun and and unique.
Expert Tip: Don't limit yourself when it comes to candy. It doesn't always have to be used just for eating purposes. Use it to add color underneath other food items like the Twizzlers Twists under the cupcake cups or to tie a more decorative element like my lighthouse to a dessert table.
Those USA cupcakes are seriously so easy to make using rainbow Twizzlers Twists and Twizzlers Pull N Peel. To make the American flag cupcakes:
Bake your favorite cupcakes and frost (flat, not all swirly) with white frosting.
Cut four 1 1/2 inch pieces of the red Twizzlers Twists and one 1 inch piece.
Cut each of those pieces in half lengthwise (like a hotdog).
Cut one 1/2 inch piece of the blue Twizzlers Twists. Do not cut in half.
Lay the red pieces on the cupcake, spaced evenly so that there is a white gap between each one. Line the 1 inch piece up with the right side of the other three pieces.
Place the blue piece on the left side of the 1 inch red piece and line up with left side of the 1 1/2 inch pieces.
See, easy right? For the USA ones, just use one strand of Twizzlers Pull N Peel to spell USA and then add red, white, and blue sprinkles. One strand is the perfect amount to create one set of all three letters.
Expert Tip: Twizzlers Pull N Peel are perfect for decorating cupcakes or cookies because you can cut, bend, and shape them in pretty much any form you want whether it's a letter, number, anchor, or pretty much anything else.
Next, I added in some more large pieces that were a little shorter to add some height contrast to the table. I added a gorgeous fabric garland from The Party Teacher to my large metal drink tub to turn something that otherwise wouldn't have fit the party color scheme into something that fit perfectly. I filled the tub up with ice and red, white, and blue drinks to keep my guests cool.
In the middle of the table, I added in some red, white, and blue anchor mason jars from Always the Occasion filled with colorful flowers to add a pop of brightness. If you have something you want seen like my mason jars, make sure to put something flat in front of it like I did with the white plate of red Twizzlers Pull N Peels. I also served small mason jar jugs with punch and striped straws, well because you know I have an obsession with striped straws.
Expert Tip: Candy is a great way to fill in an empty space on a table. Grab a plate, a mason jar, an apothecary jar, or a bowl and fill it in with candy like the Twizzlers Pull N Peel that matches your colors. It's way cheaper and easier than trying to figure out something else to make.
On one side of the mason jars I put out my favorite star spangled spinach salad (spinach salad with strawberries, blueberries, and goat cheese) in a trifle bowl to add height and paralleled the bowl on the other side with a plate of red, white, and blue cookies on top of a tall red cupcake stand. Aren't the little anchor place card holders from Kate Aspen just perfect? And the Twizzlers Bites were the perfect way to keep the anchor anchored, ha.
Expert Tip: Candy, like these Twizzler Bites, isn't just great for filling empty space on a table. It's also great for filling empty space on a plate and looks much better than if you'd tried to shove an extra cookie or cupcake in the middle of a cookie ring.
To round out the food, I served red, white, and blue banana boats, which were really just a fun way to serve a red, white, and blue fruit salad. You can make the boats by slicing down the front of the banana, pulling out the banana, and filling it in with banana slices, strawberries, and blueberries. Way more festive than just putting fruit salad in a bowl. On the other side, I served "fish and ships," aka fish crackers with Twizzlers Bites. And to make them cuter, I cut the striped bags from Pink Poppy Party Shoppe with a wave like design on the top. It's the little things that count.
Expert Tip: Small candy like Twizzlers Bites is a great way to add a pop of your theme color into any snack or dessert item. And most people love a sweet and salty combination (or sweet and sweet), so it's a win-win!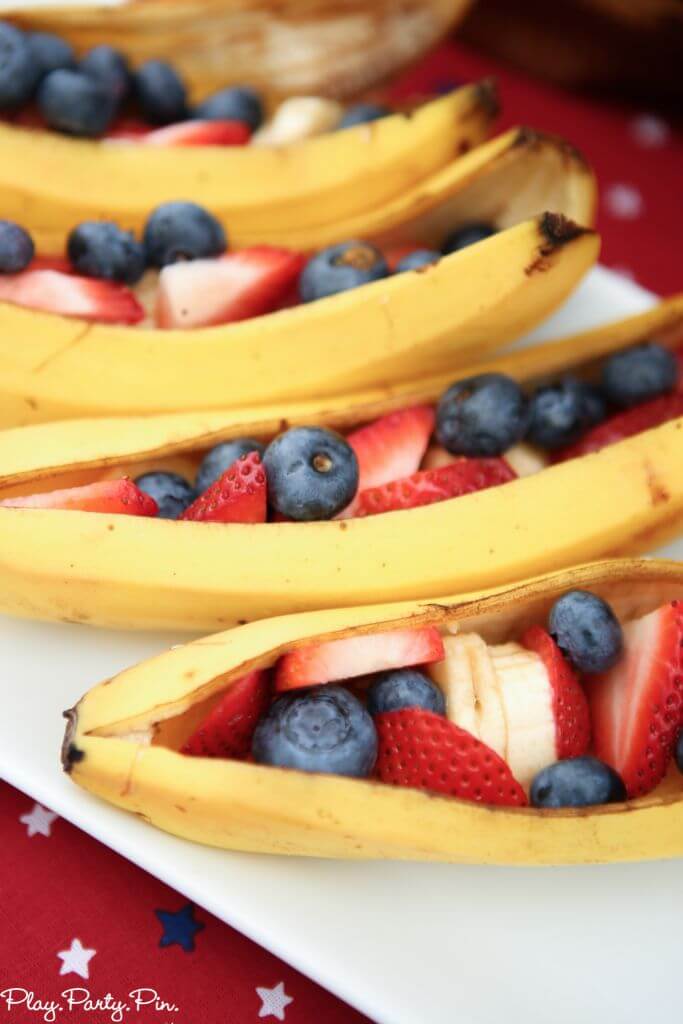 Nautical Party Games and Activities
You didn't think I could have a party without games did you? I actually went pretty low key on the activities for the party since the majority of the time I have an outdoor party people just want to enjoy the outdoors and run around anyway. Or at least that's what my kid does. So instead of planning crazy games for everyone to play together, I just put together two small play when you want games. First, guess the number of Twizzlers Bites in the nautical glass blocks that my friend Kelli from A Special Touch Events made me. The winner won the glass block and treats inside.
And on the other side of the table, I set out these amazing message in a bottle favors that I picked up from Kate Aspen. The majority of the messages inside were patriotic quotes but two of them actually had the word "liberty" on them instead of a quote. Guests could pick one message in a bottle (kind of like the duck in a swimming pool game) and if they picked the one with liberty, they won one the prizes that I'd wrapped up all cute with nautical tape, 4th of July tags, and red, white, and blue baking twine from Sugar Confetti.
Expert Tip: Candy makes a great prize! Give them a pack of Twizzlers Twists or do what I did and fill up a jar and have them guess to win the candy inside.
This was such a fun party to put together and made me even more excited to share all of my nautical themed young women's camp ideas with you soon! And don't worry, there will be plenty more ideas for using Twizzlers Twists and other candy!
How are you putting a twist on your 4th of July celebration this summer?
Nautical 4th of July Party Supplies – Plan Your Own Party
Twizzlers candy, fabric, and food – Walmart
Party styling + Photography – Play. Party. Pin.
Custom Party Printables – World Wide Party
Custom Fabric Garland – The Party Teacher
Straws, cupcake cups, and striped bags – Pink Poppy Party Shoppe
Tissue Fans, Garland, and Baking Twine – Sugar Confetti
Anchor Mason Jars – Always an Occasion
Custom Glass Blocks – Special Touch Events
Message in a Bottle Favors + Sailboat Link Cards – Kate Aspen
Boat Shelf and Trifle Dish – World Market
Lighthouse, Cake Stand, and Welcome Anchor – HomeGoods