Try out one of these minute to win it games or great recipes for the perfect Goosebumps party! So many fun Goosebumps party ideas!
I love to read and I remember when I was a kid there were two different series of books that I read pretty much all of: Baby-Sitters Club and Goosebumps. So when the Goosebumps movie with Jack Black came out last year to say I was excited was an understatement. One of my favorite things to do is to plan parties based on my favorite movies (and books), so to celebrate the release of Goosebumps on DVD today, I decided to host a Goosebumps themed party last week!
In addition to watching the movie, I decided to go with one of my favorites and created 10 minute to win it games using my favorite moments from the movie. The games were hilarious and the best part is that while I did this for Goosebumps, you could take all 10 of these games and easily make them fit any theme. They'd be perfect for Halloween, a kid's birthday party, or even as fun birthday party games for adults too!
Goosebumps Party Food
And of course, the party wasn't just party games. I also setup a movie snack bar.
One of the things that really struck me about the Goosebumps DVD movie cover and all the posters is the awesome blue green color in the background, so I used that as the theme for my party. I started by adding an awesome custom felt ball garland from My Paper Crush in my party colors on the wall behind my table. And right below the garland, I added another garland, one made out of Goosebumps cookies that my friend Katherine from Creating Awesomenessity created for me.
How amazing are these cookies? Oh and funny story. While I was hanging the banner behind my table I apparently pulled the string a little too tight and one by one as I was working on the rest of the table one of the holes on most of the cookies shattered.
It seriously felt like the invisible boy from the movie was playing tricks on me and just eating one corner from each of the cookies and tossing the other pieces of the cookies on the ground to scare me. I actually love how it turned out and now just think of it as my invisible boy banner.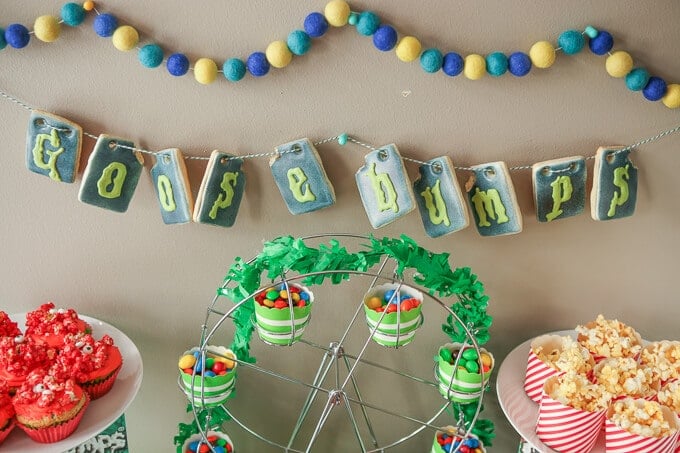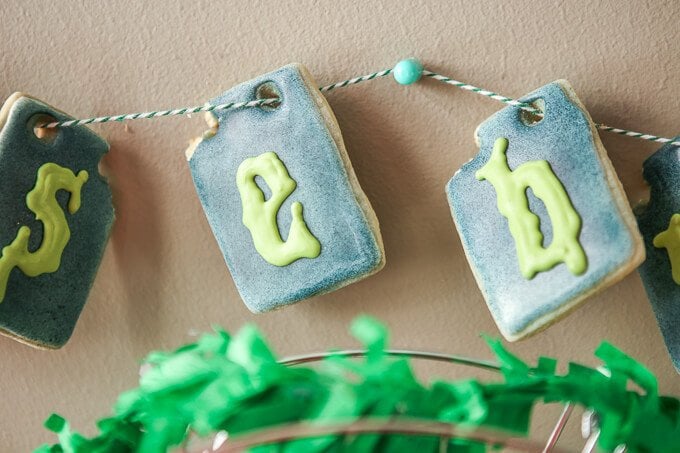 I kept the actual party food and full of movie Goosebumps themed snacks that would be perfect for watching the movie together. I started it off with a plastic tablecloth and then covered it with the coolest green fringe from Celebration Lane that made me feel like the entire table was covered in ivy and set in the forest, like so much of the movie. After watching the movie, I immediately knew that I needed a ferris wheel in the center of my table since it was such a big part of the movie.
Instead of people riding the ferris wheel, I added little cups of my favorite plain and peanut M&M'S® Chocolate Candies. I always include both since some people like nuts and others don't! On either side of the ferris wheel I balanced out the ferris wheel's height with two cake stands that I made by painting wood books and adding a printed out Goosebumps book cover to the front!
On one cake stand I added some yummy bog monster cupcakes that I topped with chocolate covered popcorn and candy eyes to make it seem like someone or something was being eaten by the popcorn monster. And on the other cake stand, cups of Orville Redenbacher popcorn because well you can't watch a movie without popcorn!
On the table in front of the ferris wheel I added a red rose to represent the rose that Slappy wears in his suit. It creeped me out throughout the movie, so I knew I needed to include it somewhere. I love how well it contrasts the green and blue all around it. On one side of the rose, I added abominable snow cones that I made with fresh snow from outside (we've got plenty right now!).
And on the other side, Professor Shock Creepy Coca-Cola Floats that I made by adding Coca-Cola to mint chocolate chip ice cream. The mint chocolate chip ice cream gives it a nice creepy green color and the mint chips look kind of like bugs or other creepy things. I used the coolest metallic teal straws from My Paper Crush with both of the drinks!
To finish off the party table, I set out my favorite white plates filled with pink Valentine's Day cupcakes to represent the cute crush story in the movie and on the other side, my absolute favorite part of the table – broken gnome bark.
One of my favorite scenes in the movie is when they fight the lawn gnomes and break them to bits. Chocolate bark is so easy to make, and I love that you can really turn it into whatever you want it to be.
For the bark, I melted some semi-sweet chocolate chips then used a spatula to spread the melted chocolate out fairly thin on a piece of parchment paper. Once it was spread out, I topped it with chopped up plain M&M'S® Chocolate Candies to represent the gnome hats and clothes, shredded coconut to represent the gnome beards, and candy eyes to represent their creepy eyes!
After you've added all of your toppings, just toss the chocolate bark in the freezer for 30 minutes to 2 hours (or overnight if you forget about it like I did). Remove from the freezer and break into large pieces. I kind of love the stuff and you'll likely see it appearing on my blog frequently in the next few months!
Chocolate Monster Bark
This simple chocolate bark recipe is perfect to celebrate a monster or Goosebumps party!
Ingredients
1 cup plain M&M'S® chocolate candies , chopped up
1 8 oz package semi-sweet chocolate chips
⅛ cup sweetened , shredded coconut flakes
1 tsp candy eyes
Instructions
Line large baking sheet with a piece of parchment paper. Melt your chocolate chips in the microwave (in a microwave safe bowl) on high for 1 minute.

1 8 oz package semi-sweet chocolate chips

Remove and stir. Continue microwaving for 30 seconds a time, removing to stir after each 30 seconds, until chocolate is completely melted.

Pour melted chocolate onto prepared parchment paper. Spread out with a spatula until you have a thin layer of chocolate almost covering the entire parchment paper.

Sprinkle broken chocolate candies on top of chocolate.

1 cup plain M&M'S® chocolate candies

Sprinkle shredded coconut on top of chocolate.

1/8 cup sweetened

Place candy eyes with the eyeball facing up evenly throughout the chocolate.

1 tsp candy eyes

Place entire baking sheet into freezer to freezer bark for at least 30 minutes.

Remove from freezer and break into pieces either with your hands or by dropping baking sheet on counter until bark breaks.

Store in an airtight container.
Nutrition Info
Serving: 1g, Calories: 218kcal, Carbohydrates: 29g, Protein: 1g, Fat: 11g, Saturated Fat: 7g, Polyunsaturated Fat: 1g, Monounsaturated Fat: 1g, Trans Fat: 1g, Cholesterol: 8mg, Sodium: 29mg, Potassium: 5mg, Fiber: 1g, Sugar: 26g, Vitamin A: 58IU, Vitamin C: 1mg, Calcium: 30mg, Iron: 1mg
Last but not least, I made cute homemade locked books filled with M&M'S® Chocolate Candies to represent the ones in the movie. To make the boxes, I just painted little wood locked boxes black and then printed out a Goosebumps book cover to put on the front. So easy and such a cute little favor. It's the details that count!