Looking for a brand new diaper bag? Look no further than a Lily Jade diaper bag backpack. Both Lily Jade diaper bags included in this post are perfect for travel or just going to the grocery store! There's space in these Lily Jade diaper bags to hold travel essentials for everyone!
Why You'll Love a Lily Jade Diaper Bag Backpack
If you're looking for a new diaper bag, Lily Jade should be at the top of your list. I've had two different Lily Jade diaper bags now and love them both!
Here's just a quick list of why – keep reading for more details!
They can be worn as a backpack.
They can be worn as a regular bag.
They have ALL the pockets and space for everything.
They're made to be easy to use and accessible.
They are designed to hold things for baby and for mom!
They're easy to clean.
They stand up on their own.
They're pretty.
Why You'll Love Lily Jade
In addition to producing gorgeous bags, there are a number of reasons to choose a Lily Jade diaper bag over another brand. One of the things I love most is that Lily Jade actually works with families going through the adoption process as well as mothers dealing with unplanned pregnancies.
Every Lily Jade purchase made goes to providing these families with contributions and support, such as baby showers.
My own family started with an unplanned pregnancy (my mom, not me), so I love that there's a company out there who is helping mothers choosing to either keep the baby or give them up for adoption.
And because of my mom's own experience, she did a lot of work with young mothers giving their babies up for adoption. It was a big part of our lives growing up, and I love being able to support such a good cause while also getting an amazing product.
1 – You Can Wear a Lily Jade Diaper Bag as a Backpack
Is there ever a time when it isn't beneficial to have your hands free?
Whether you're holding your baby, pushing a stroller, or carrying groceries in from the car – having the option to wear a Lily Jade diaper bag as a backpack is a great one.
Honestly, I recommend all moms get a diaper bag backpack whether it's Lily Jade or not. It's just smart.
The nice thing about Lily Jade is that not only can you wear it as a backpack, you can also wear it as a regular cross-body diaper bag as well.
And that goes for most of the Lily Jade diaper bag options including both the Madeline (gray) and the Anna (black) shown in these photos.
2 – You Can Wear a Lily Jade Diaper Bag as a Regular Bag
I mentioned it above but unlike some diaper bag backpack options that really are just backpacks, Lily Jade diaper bags work really well as both.
I typically keep both sets of straps on so I can just switch up how I use the bag on the fly but you could easily unbuckle the set of straps you aren't using and keep them tucked inside the bag as well.
The Madeline has more of a messenger bag look while the Anna has more of a tote bag feel and look when carried over the shoulder.
Both have straps that are incredibly comfortable, long enough to wear either over your shoulder or across your body, and sturdy enough to handle if you have an older kid hanging on the bag.
3 – A Lily Jade Diaper Bag Has All the Pockets
Both bags shown in this post have a ridiculous number of pockets.
In addition to the interior section that pulls out (and full of pockets), the Madeline has:
4 Large exterior pockets – easily fits a phone, water bottles and tablet
1 Small exterior pocket
Zippered interior pocket
Two interior pockets
And the Anna has two large pocket sections including one that opens up totally flat and one that opens halfway. In addition to the two large sections it has:
A back pocket closed with a snap
A front zipper pocket
Four interior pockets
Two side pockets for bottles, water bottles, etc.
If you're looking for even more organization options, you can buy these additional zipper pouches that fit perfectly into the bags.
I use one for extras clothes, one for my own things (so I can grab them out of the diaper bag and go), and one for diaper changing supplies. It makes it a lot easier to just grab the pouch and take it with you without having to carry the entire bag.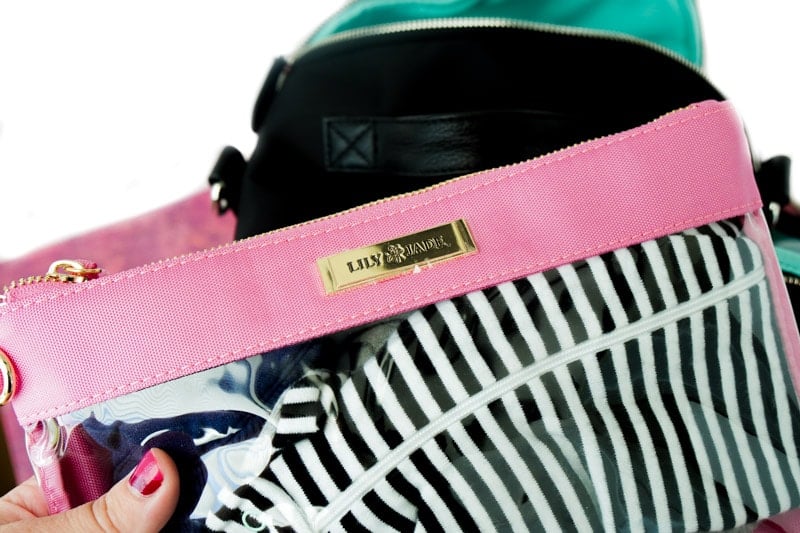 4 – A Lily Jade Diaper Bag is Easy to Get Into
My little sister had a baby two months before me and both her and my sister-in-law got the same diaper bag backpack.
They love it except for one thing – you need two hands to open the zipper.
And for anyone who has a baby or a toddler, you know that you barely ever have two hands free.
The Anna Lily Jade diaper bag in particular is super easy to unzip and because one of the sides unzips all the way, it's really easy to get to everything you need – even at the very bottom of the pocket!
5 – A Lily Jade Diaper Bag is Easy to Clean
Where you go, your bag goes too. Or at least that's how it works for me. And my adventures get dirty. Especially with a new baby.
A Lily Jade diaper bag is perfect because it's a cinch to clean – just dump out the crumbs from the inside and use a cloth with warm water to wipe off any dirt on the outside and it's as good as new.
No problems with dirt fading the color on this bag whether you get the gray Madeline, the black Anna, or something like the blush colored Anna.
6 – Lily Jade Diaper Bags Aren't Just for Baby
If you take a look at the Madeline, it doesn't even look like a diaper bag.
The Anna looks more like a diaper bag, but it has two totally separate pockets – one for baby and one for mom. Or if you're like me, one for baby and one for mom + my older son.
There's plenty of space in either Lily Jade diaper bag backpack! And because you can carry it as a backpack, it's not a pain to carry, even if it's totally full!
Need to take your laptop with you when you go? Put it in. Want to bring a water bottle? That fits too.
How about your Kindle full of Kindle Unlimited books? There's a pocket on the outside you can put that in so you don't even have to dig for it!
Fill up one side with essential baby items like a blanket, nursing cover, diapers, wipes, and toys. Then use the other section of the purse for all of your own needs – cell phone, Kindle, sunglasses, wallet, and keys!
Watch the video below to see all of the features and various pockets the Anna has! And if you need even more space, the Anna has a large size as well (the medium is pictured). I actually wish I'd gotten the large Anna, but they were all sold out when I chose my bag!
7 – A Lily Jade Diaper Bag Stands on Its Own
Both the Madeline and the Anna stand upright on their own so no more watching your bag fall over on the dirty airport ground or in the dirt.
The Madeline comes with small gold "feet" that help it to stand up on its own and the Anna is just designed to sit upright because of the balanced pocket design.
8 – Lily Jade Diaper Bags are Pretty
These days, it seems like everything has to be photo ready, even your bag.
Both Lily Jade diaper bag options are beautifully designed while still being durable and functional.
Check out the small detailing on the Madeline with the zipper pockets, beads, and more. Don't like the gray and gold color? They also have red and and black, camel and gold, and brandy and silver.
It's really the details that make both of these Lily Jade diaper bags shine.
Make sure to pin these Lily Jade diaper bag backpack options to check out later!