This free fall bucket list is full of amazing fall activities to enjoy the beautiful weather and fall season! Pick a few items from the list or try and do them all! There's no better time than fall to do outdoor activities and enjoy the this wonderful season!
Fall is by far my favorite season, I mean really it's the best season.
The weather is perfect (hello cozy sweaters), the color of the leaves is beautiful, candy apples abound, and my birthday is in the fall. And it's the perfect time to host one of these fall parties.
Fall also brings with it the return to routines, cooking weeknight dinners, sports, and other things that fill our schedules.
Honestly, sometimes the beauty of fall gets missed in the crazy schedules. So I've put together this fun fall bucket list (kind of like this summer bucket list) full of things to do in the fall to take advantage of the beautiful season!
I can't wait to get back to enjoying the best the fall offers this year after taking a few years off!
Fall Bucket list Activities
I've put together a bunch of different things to do in the fall to go on your fall bucket list. If you have other fall traditions or ideas, feel free to come up with your own to add as well!
I also included a printable version at the bottom of this post – there's a filled in one with some of my favorites and a blank list with others! There are so many fun things to choose from to do in the fall, I didn't know where to start!
Everything on this list includes family-friendly activities but if you are looking for things for young children, maybe skip the haunted house and scary movie!
Play in the leaves.
Drink apple cider. Even better if it's homemade spiced apple cider.
Make caramel apples or even better have an apple party and make caramel apple nachos.
Carve pumpkins.
Pull out your fall wardrobe and put away those summer clothes.
Dress up in costume. These DIY superhero costumes would be great!
Go for a scenic drive to check out all the fall foliage.
Watch Hocus Pocus (or Hocus Pocus 2 coming out in September).
Make a fall craft like this happy fall banner.
Bake something with pumpkin. I recommend pumpkin crunch cake or this no bake pumpkin pie.
Decorate your home for fall.
Read fall books. You might want to start with some of these books to read.
Make pizza pumpkins.
Make a leaf art project.
Go on a fall road trip. Make sure to take along these road trip must-haves on your way!
Eat some candy corn or make something that looks like it.
Go for a bike ride to enjoy the colors of the autumn season.
Check out pumpkin patches near you for pumpkin picking. We have a local farm near us that has the best pumpkins!
Go camping and play these camping games or do a camping scavenger hunt. Can't get outside? Try some indoor camping instead.
Go apple picking at a local apple orchard.
Have a chili cook-off. I recommend this white bean chicken chili, it's won many a cook-off!
Boo your neighbors with one of these you've been booed ideas.
Go on a nature hike in the crisp air. Take along this nature scavenger hunt for a little fun while you hike.
Roast pumpkin seeds.
Make yummy treats to give to friends. This fall snack mix is the perfect gift!
Go to a fall festival, even better if it includes a corn maze and hay ride!
Watch a scary movie. Or if you want something not so spooky, It's the Great Pumpkin would be a good choice.
Play football. Or go to a football game – your choice!
Make s'mores or s'mores bars. You could even setup your very own DIY s'more bar or s'mores charcuterie board to try different varieties of these tasty treats.
Take fall photos. You could get real fall photos taken by a professional (here are some great fall color palette ideas) or take silly photos on this fall photo scavenger hunt.
Send someone an orange gift. Orange is the color of fall after all.
Make your own Halloween costume or make DIY halloween costumes for one of your kids (or pets).
Do an outdoor scavenger hunt. Here are tons of scavenger hunt ideas to choose from.
Have an orange themed dinner. This almond chicken makes a great entree and these pumpkin cheesecake bars would be perfect for dessert!
Make homemade soup like copycat Zuppa Toscana or homemade chicken noodle soup.
Try something new.
Rake leaves then jump in the pile.
Host or go to a fall party.
Drink hot chocolate outside on a cool day.
Roast marshmallows over a campfire. Even better if you do it while snuggled up in cozy blankets.
Take family photos with the beautiful scenery of fall in the background. These make great additions to your family Christmas card!
Sit around a campfire and tell ghost stories (or just sing songs).
Play Halloween charades. Or any of these other Halloween games.
Make apple crisp. Or apple pie.
Go to a haunted house.
Make a gratitude jar or a thankful tree.
Hang a fall wreath on your door – homemade or store-bought works great!
Volunteer at a food bank or do some other service project.
Bake pumpkin bread or pumpkin cookies.
Printable Fall Bucket List
I also created a printable chart you can just print and use as your family's own fall bucket list. Keep reading for your free printable copy!
Cross the things off the list as you complete them! Complete them in order or just do them on your own time when it happens!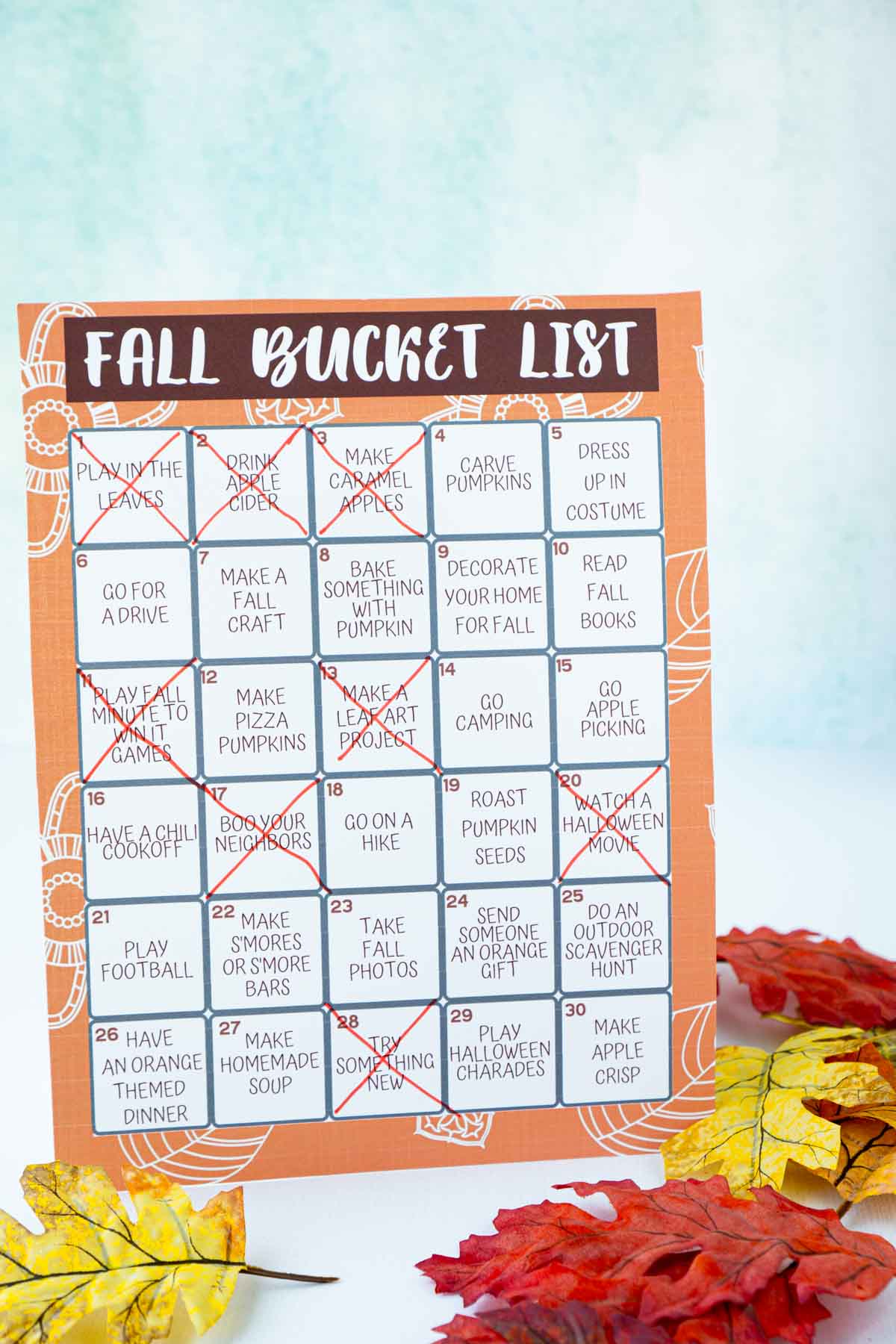 More Fun Fall activities
If you're looking for more fall ideas, here are lots of fun activities that work well in cooler temperatures and in the fall!
Download the Ultimate Fall Bucket List
Enter your first name and email address in the form below to get the printable PDF. You will receive a link to download the PDF to your email within minutes.
If you do not see it, make sure to check your promotions, spam, and junk folders!
If you do not see a link below you can click here.
The PDF will include both the bucket list shown above as well as a different version with a white background (for if you're concerned about using ink).