I am a member of the Collective Bias® Social Fabric® Community. This shop has been compensated as part of a social shopper amplification for Collective Bias and its advertiser.
New Year's Eve is one of my favorite holidays if you couldn't tell already by this New Year's Eve party post or this one. I think it might be because I love starting over and New Year's Eve represents the chance to start over with a new year. So today I'm sharing a fun New Year's Eve appetizer idea and an easy dessert recipe that's also really fun for everyone.
First is one of my favorite appetizers ever, spinach artichoke dip, stuffed into a crispy baked wonton cup. I order spinach artichoke dip almost every time I go to a restaurant and putting it into baked wontons makes it the perfect party food.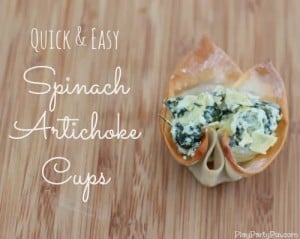 I got everything I needed to make these spinach artichoke cups at Walmart. Here's what you'll need:
1 package wonton wrappers (approximately 48)
1/4 cup Kraft Mayo
1/3 cup Kraft shredded Parmesan cheese
1/4 cup greek yogurt
1 cup frozen chopped spinach, thawed and drained
1 15 oz can artichokes, chopped
6 oz cream cheese
1/4 tsp garlic powder
1/4 tsp kosher salt
Preheat the oven to 375 degrees and spray mini muffin tins with a non-stick baking spray.
Press a wonton wrapper into each of the baking cups with your fingers to create a cup. It doesn't matter if they are perfect cups or if the wonton wrapper wraps over because you'll just fill it anyway.
Bake the cups at 375 degrees for 7-8 minutes or until they are lightly browned and crispy. Remove the cups from the muffin tin and let cool on a cooling rack. Once cooled you can store the cups overnight or for a few days in an airtight container.
If you are going to be filling the cups right away you can make the filling while the cups bake. I make my filling using a slightly modified version of this recipe. First,  heat up the cream cheese in the microwave for about a minute or until soft and slightly melted. Then mix in the mayo, yogurt, garlic powder, and salt.
Once all of your creamy ingredients are mixed in, add in the chopped spinach, artichokes, and Parmesan cheese and mix until well combined.
When you're ready to serve the cups, heat up the entire mixture in the microwave for 1-2 minutes depending on how hot you want it. Using a spoon or a plastic bag (like you would pipe frosting) fill in the cups with a good amount of filling and serve. The cups are better warm but still taste great cooled.
Now on to dessert because every party needs an easy dessert recipe and these panda cookies are a little time-consuming but so easy. I'm sure you're wondering why I decided to make panda cookies and honestly it's to represent the government shutdown and the panda cam. I thought it would be a fun treat to bring to our friends' party this year since we live in DC and even if no one gets the joke, they taste great!
All you need to make these cookies is:
Baker's Chocolate – white and semi-sweet
Jet-Puffed mini marshmallows
Baker's Coconut
Oreos
The first step is to melt your white chocolate in the microwave. Follow the directions on the package, making sure to melt slowly.
Once your chocolate is melted, setup an assembly line with Oreos, melted chocolate, and coconut. Dip one side of the Oreo in the melted chocolate then into the coconut. Repeat on the other side until both sides are covered in the coconut fur.
Next, melt your semi-sweet chocolate in the same way you melted your white chocolate. Once your chocolate is melted, dip your mini marshmallows in the semi-sweet chocolate and set in the freezer for a few minutes to let the chocolate harden.
While your marshmallow ears are setting, pour the remaining chocolate in a plastic baggie so that you can use it to draw eyes and faces on the pandas. Cut a tiny hole in the corner of the plastic baggie and draw on eyes, noses, and mouths. I added small pieces of mini marshmallows to make the eyes and finish the faces. After your faces are finished, put the cookies in the freezer for a few minutes to let the chocolate harden.
Once your ears are hardened, add them to the panda faces by piping a little bit of chocolate where the ears will go and pressing them on tightly. And that's it, you now have cute panda cookies that I'm sure both adults and kids will love. I always like to serve something on a stick because people like sticks but you could also just serve them on a plate as well.
There you go – an easy New Year's appetizer and dessert idea. And don't forget to pick up some Welch's Sparkling Cider because New Year's Eve isn't the same without some bubbly.
You can see more details of my shopping trip to pick up #KraftEssentials in my Google+ album. Want more ideas for New Year's Eve? Check out this Kraft EMagazine with all sorts of great ideas.
You might also like these yummy recipes!