These peanut butter blossoms are soft, chewy, and full of amazing peanut butter flavor! Top them with your favorite chocolate candy for one delicious cookie!
Three days before Christmas, and I'm still sharing cookie recipes! This week I've already shared my favorite take on white chocolate cranberry cookies, the best cut out sugar cookies, and even super adorable sugar cookie bites.
I've been saving some of the best for last. These peanut butter blossoms are the best ones I've personally ever tried, and I've tried a lot of peanut butter kiss cookies in my day. A lot.
Even my neighbor across the street (we gave these out with Oreo truffles for the holidays) texted me after she tried them and asked how I got them so fluffy and perfect.
Seriously, they're amazing. I'm just sorry I didn't share this recipe months ago after I tested it!
Why you'll love this recipe
Soft and fluffy – these cookies are super soft and fluffy because of the combination of the sugar, butter, and peanut butter.
Easy to make – there's nothing complicated about these cookies, just make, bake, and go!
Taste amazing – I mentioned it already but the taste of the actual cookie part of these is super flavorful compared to a lot of recipes out there.
Ingredients
Ingredient Notes
Brown sugar – make sure to use light brown sugar to maintain the pretty color of the cookies.
Peanut butter – you want creamy peanut butter that doesn't completely separate. Or if it is separated, make sure to stir it really well so that you get everything mixed together instead of just the oily part of the peanut butter. I personally just use a brand like Jif. Use leftover peanut butter to make these delicious chocolate peanut butter brownies!
Butter – your butter should be softened so take it out of the fridge at least 30 minutes before baking.
Milk – whole milk is best for the added fat and creaminess it brings.
Chocolate candy – you can really use any kind of small chocolate candies you want that melt well. I've done Kisses, Rolos, Reese's Peanut Butter Cups, and more. My personal favorite was Dove Promises with caramel inside.
How to Make Peanut Butter Blossoms
Preheat your oven to 375 degrees and line a large baking sheet with a silicone baking mat or parchment paper.
First, mix the flour, baking soda, and salt together in a medium bowl.
Now use a mixer on medium speed to cream together the butter, peanut butter, brown sugar, milk and vanilla until it is light and fluffy.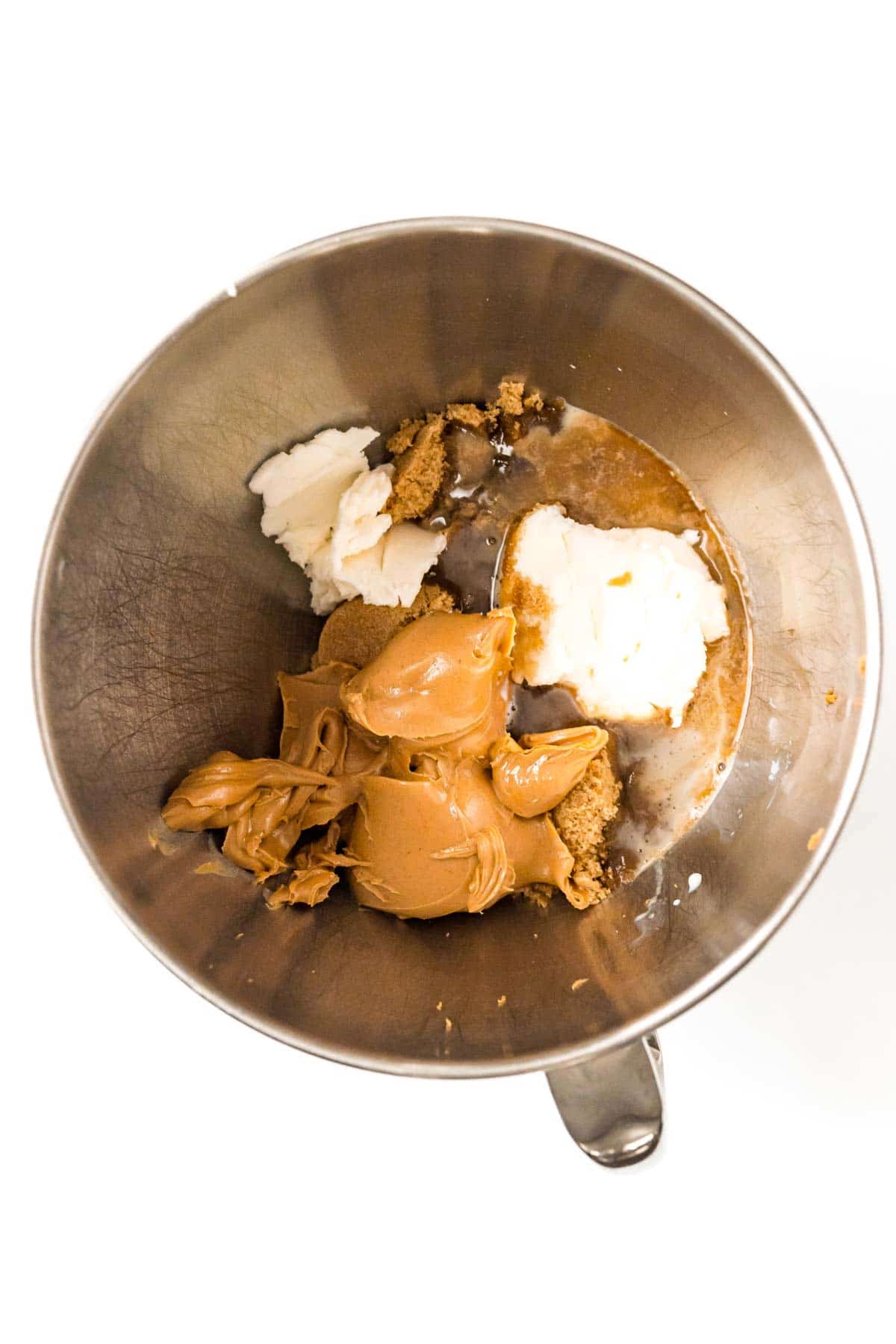 Add the egg and mix until is is just combined, then add the flour and mix just until it is combined.
You can either move directly to baking these or if you have extra time, wrap the dough in plastic wrap, just like you do with these cut out sugar cookies, and place it in the fridge to chill for 30 minutes before moving on.
I personally think they cook better when they're chilled for 30 minutes, but they're still good enough if you just bake them straight from here.
Using a medium cookie scoop, portion out the dough, roll it into a ball then roll the ball in granulated sugar.
After they are rolled in sugar, put the balls 2″ apart on the baking sheet. Make sure to leave some space between the cookies because they do spread a bit.
Bake for 9-10 minutes or until the edges are golden brown and the centers are slightly puffy. Remove from the oven and let cool on a cooling rack for 10-15 minutes.
Once the cookies have cooled slightly,, firmly press a chocolate candy into the center of each cookie. The traditional option is to use kisses, but my personal favorite is Rolos or Dove caramels so you can get both chocolate and caramel!
And if you want even more peanut butter, you could also do peanut butter cups! I've already proven that peanut butter cups make great desserts with peanut butter s'mores bars so definitely a popular option!
Add these to your Christmas cookie plates with these Christmas tree brownies, molasses cookies, and a little cranberry orange bread and your neighbors will love you!
Expert Tips
Store cookies in an airtight container and enjoy within 5 days.
The cookie dough can be stored in an airtight container in the fridge for up to 3 days before baking.
If the dough is cold going into the oven, bake for 1 additional minute.
Chill the dough for 30 minutes before rolling into balls if you have the extra time. These are good not chilled but even better if you have a few extra minutes to chill the dough before baking.
Try a variety of different chocolate toppers. Anything that melts well works great. Try chocolates with fillings like peanut butter cups, caramel filled chocolates, and more.
Recipe FAQs
Can you freeze peanut butter blossom dough?
You can freeze peanut butter blossom cookie dough, but I don't recommend freezing the actual baked cookies once they're already baked. To freeze the cookie dough, roll out into balls and roll in sugar. Freeze the balls individually on a baking sheet for then place all of the balls together on a baking sheet. Let them thaw in the refrigerator before baking.
How to keep peanut butter blossoms from cracking?
Unfortunately that's just what these cookies do. It's part of the character of the cookie and nothing to be concerned with.
Why are my peanut butter blossoms falling apart?
If you added too much flour to your dough, this could cause your dough to be too crumbly and fall apart. If you're having issues getting the dough to stay together to create balls, use my tip and chill the dough for 30 minutes then try again.
More Easy Cookies
If you like these cookies, you'll love these other ones! Perfect to finish out a dessert board or cookie plate!
Peanut Butter Blossoms
These peanut butter blossoms are soft, chewy, and full of amazing peanut butter flavor! Top them with your favorite chocolate candy for one irresistible treat!
Ingredients
1 ¼ cups light brown sugar
¾ cup peanut butter
½ cup butter softened
3 TBS whole milk
1 tsp vanilla extract
1 large egg
1 ¾ cups all-purpose flour
¾ tsp baking powder
¾ tsp salt
½ cup granulated sugar
36 candies (Kisses, Rolos, Reese's, etc.)
Instructions
Preheat oven to 375 degrees.

Line baking sheet with silicone mat or parchment paper

Mix flour, baking soda, and salt.

Cream together butter, peanut butter, brown sugar, milk, and vanilla.

Beat egg until just combined.

Mix in flour until just combined.

If you have time, let dough chill in the fridge for 30 minutes for the best cookies possible. If not, roll and bake right away.

Use a medium cookie scoop to make balls of dough. and roll in sugar then place on cookie sheet 2" apart.

Roll each ball in granulated sugar then place cookies on cookie sheet 2" apart.

Bake 9 – 10 minutes until edges are golden brown and centers are slightly puffy.

Let cool for 10 – 15 minutes

Press candy into center of each cookie.
Tips & Notes:
Store cookies in an airtight container and enjoy within 5 days. The cookie dough can be stored in an airtight container in the fridge for up to 3 days before baking. If the dough is cold going into the oven, bake for 1 additional minute. Chill the dough for 30 minutes before rolling into balls if you have the extra time. These are good not chilled but even better if you have a few extra minutes to chill the dough before baking. Try a variety of different chocolate toppers. Anything that melts well works great. Try chocolates with fillings like peanut butter cups, caramel filled chocolates, and more. To freeze the cookie dough, roll out into balls and roll in sugar. Freeze the balls individually on a baking sheet for then place all of the balls together on a baking sheet. Let them thaw in the refrigerator before baking. *Recipe adapted from Hershey
Nutrition Info
Calories: 142kcal, Carbohydrates: 19g, Protein: 3g, Fat: 7g, Saturated Fat: 3g, Cholesterol: 13mg, Sodium: 104mg, Potassium: 66mg, Fiber: 1g, Sugar: 13g, Vitamin A: 88IU, Calcium: 26mg, Iron: 1mg