This post contains affiliate links to the items that I used for this party. It also contains a TON of photos, so I apologize now for the photo overload. This pop-a-wheelie birthday party includes tons of great car and things that go birthday party ideas as well as fun activities and other boy birthday party ideas!
Three months ago, yes I said three months, my son turned two. Back when we were planning his party, he was absolutely obsessed with cars, trucks, and anything that moves. Since the "things that go" theme has been done so many times before, I thought it would be fun to still do what he loves but add my own fun little twist. He also loves cake pops, balloons, bubbles, and the things you throw on the ground and pop, so I combined his two loves in this "pop-a-wheelie" birthday party.
I'm am not a seamstress, so I asked a couple of my friends to make him a special outfit for the party. Megan from Confetti Couture Events made him the cutest red striped pants (that he had to sleep in that night as well) and
Michele from Sweet Threads made him a handmade shirt with a blue car (to match the invites) and the number 2. I wish I'd been filming his face when we brought out the outfit for him, he seriously was the happiest kid ever. And he still gets super excited anytime I bring out his special birthday outfit.
My awesome friend Donna from Swish Printables created these cute invitations for the party along with the matching party printables you'll see in all of the photos. And speaking of photos, all photos were taken by Big Bash Photos, one of my favorite local photographers. Stay tuned this week for your chance to win a party photography package worth over $500!
Pop-A-Wheelie Birthday Party Food Ideas
Compared to last year's Pajama Time birthday party, I went simple on the food this year. Instead of a cake, I stacked donuts from our favorite local donut place, Sugar Shack, up in a pyramid topped with a mini birthday banner because donuts are round like wheels and you do donuts with cars.
We cut the donuts into small pieces so everyone could try all of the different flavors. It's also a great tip for making something expensive go a little further because most people took 1-2 pieces of donut rather than an entire donut for themselves. If donuts aren't your thing, check out these 112+ other boy birthday cake ideas from my friend Stephanie, the queen of boy parties!
In addition to the donuts, I served yellow pop rock cupcakes with cupcake toppers in the back of one of his toy dump trucks. On the other side of the table I filled another one of his dump trucks with some styrofoam blocks then covered them up with chocolate sandwich cookie crumbs to hold the cutest wheel cake pops from Sweet U Off Your Feet.
In front of the donuts, I put out some yummy cookies that my friend Bethany at Auntie Bea's Bakery designed to match the invitations. And last but not least, I had to include some licorice wheels that I found at World Market! I put them in little cups from Celebration Lane.
I finished off the dessert table with juice box "fuel" and pop bottles with customize labels that the team from Custom Soda Labels sent me. I've seen custom labels before but never anything like these.
You can just go on their website, choose the colors/flavors of soda you want, and add in your own image or custom design for perfect soda labels. And they aren't paper labels that get gross when they're wet, they're super durable and easy to peel off when you're done if you want to use the bottles for something else like my candy corn bottles. They were the perfect finishing touch for my "pop" party.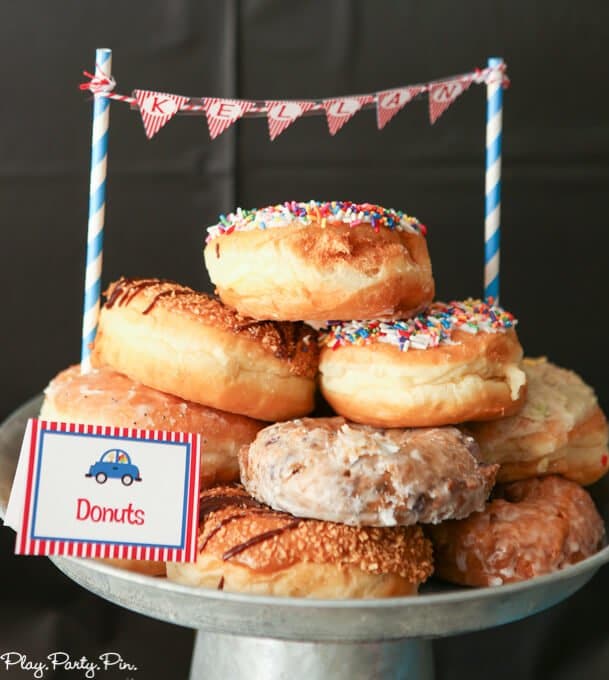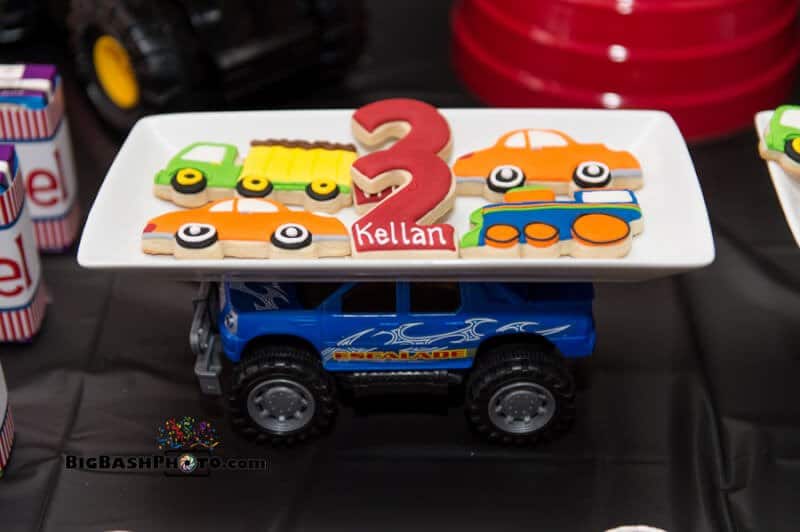 Pop-A-Wheelie Birthday Party Decorations
One of the most important things to make a party table look put together is a backdrop but a backdrop doesn't have to be difficult or time-consuming. For this party, I covered a large canvas and the table itself with a big black plastic tablecloth then just used yellow streamers to add the lines of a road. Easy and super impactful!
On either side of the table, I stacked up these amazing inflatable tires that Oriental Trading Company generously provided for the party and put a 36″ balloon from Celebration Lane inside. Again, not hard at all but super impactful. I didn't really do much for the rest of the room other than putting out my Cut It Out wood letters with a jar of plastic cars on either side.
Pop-A-Wheelie Birthday Party Games and Activities
I normally pride myself on coming up with amazing group party games, but this party was for toddlers and I've found that toddlers don't do as well with games as they do with just simple activities. And I planned three and just let them play the rest of the time.
Two of the activities weren't so much activities as they were just things to play with. I picked up a package of the blow-up balloon cars from Oriental Trading Company and handed them out to all of the kids.
It was so fun to watch dads blow up the balloons and to watch the kids chase them around the room. They probably could've done that for hours but the dads weren't too excited about blowing up balloons for hours.
After the cars, I took down the inflatable tires from beside the table and just let the kids play with them. I honestly had no clue how much fun they would be, but the tires were the perfect size for the kids to climb through, stack, throw on each other, and pretty much anything else they could come up with. Those tires were hands down the best purchase of the entire party.
And last but not least, I setup a simple balloon drop by taping a plastic tablecloth (seriously my favorite party supply ever) to the ceiling with a taped up cut down the middle. We filled the entire thing with balloons and then when it was time for the drop, we just pulled the piece of tape from the middle and watch balloons fall through the middle of the tablecloth.
Most of the kids loved it, but my kid, well he thought the sky was falling on him or something and ran away screaming. Oh well, 2 out of 3 isn't too bad. And he loved playing with the balloons afterwards, just not the actual falling part.
Each of the kids also went home with a little package of pop-a-wheelie inspired favors that Oriental Trading Company provided for the party. Gummy race cars, race car bubbles, balloon cars, and those little pull back cars that you have no idea how kids will love them, but they do.
This was seriously one of the easiest parties I've ever put together since I just served a couple of desserts and used things that I already had around the house (dump trucks, cars, etc.) for most of the decorations and activities. And while I ordered a couple of things in advance, I actually was able to put together most of the party in just a few days beforehand. So if you're looking for a great boy birthday party theme, pop-a-wheelie is a great way to go.