These fun reindeer poop and reindeer treat tags are a cute Christmas party favor or a treat to hand out to kids in the neighborhood, in a class, or at a holiday celebration! They're cute, easy to make, and kids will love the silly reindeer fun!
It's reindeer season, and I'm here for it! We've made our reindeer food, made some reindeer brownie balls, and even made ourselves some reindeer chow for a little Rudolph movie night.
So last but not least are these fun free printable reindeer treat bags!
Four different free printable reindeer snack bag toppers – reindeer noses, reindeer poop, reindeer horns, and even reindeer snacks. There's an option for all occasions and all taste buds depending on if you want something a little healthier or just funny.
And who doesn't love a free printable? And this post has four, actually 16 if you count the four different designs of each of the tags, but who's counting?
One of our favorite things to do is make festive treats for everyone we know – neighbors, family members, friends. These little reindeer treats make a really fun addition to other homemade treats like hot chocolate cupcakes and my favorite ginger molasses cookies.
And let me tell you, kids love these. They think they're hilarious and scarf them right up.
How to Make Reindeer Treat Bags
These reindeer treat bags are super easy to make! Here's everything you'll need!
Once you've gathered all of your supplies, these are real simple to put together!
Print out the reindeer treat bag toppers. Download the printables at the end of this post.
Fill 3×4 inch bags with your treats (see ideas below).
Fold the treat bag toppers in half and staple on top of the bags to close them.
If you got bigger treat bags, no big deal – just fold the tops in and staple to close.
That's it, they're super simple and super cute!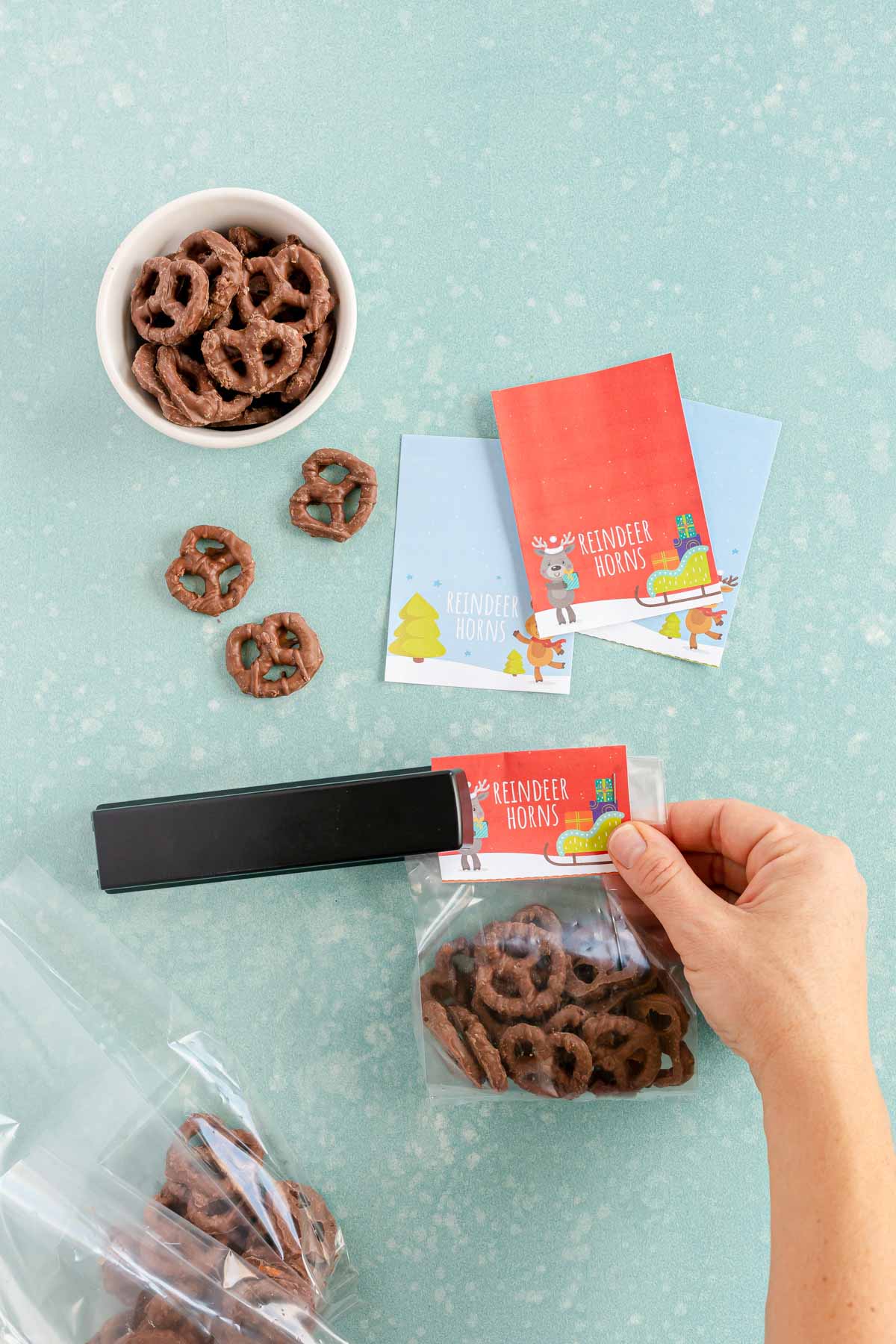 Four Reindeer Treats
There are four different reindeer treat bags in this post to choose from. And I use the term treat loosely because one of those treat bags is actually for reindeer snacks, meaning baby carrots.
But you could technically use that bag for any other snacks you want instead, I just thought carrots added a nice healthy option if you want to go that route.
Reindeer Poop
I actually came up with this idea because I wanted to do a printable reindeer poop tag. That turned into reindeer noses, horns, and snacks.
But it started with reindeer poop.
I've never seen actual reindeer poop but figure it probably looks like regular deer poop, so for these I just went with some chocolate balls in a little bag with the reindeer poop tag.
There are a lot of different things you could use here, everything from Whoppers to brown Sixlets, to just regular milk chocolate balls.
You could even just make smaller versions of these Oreo truffles or these brownie balls. Anything brown, round, and small enough to fit into a treat bag works.
Reindeer Antlers
Reindeer aren't reindeer without antlers so of course I had to make these as well.
You can use chocolate covered pretzels like I did, regular pretzels, or really anything you want that's kind of long and wavy.
If you wanted to get real fancy, you could even dip some pretzels in chocolate then sprinkle with sprinkles or edible glitter to make them feel a little more magical.
Reindeer Noses
Okay so I know that only Rudolph has a red nose but I thought it would be fun to do a bag full of red-nosed reindeer. You could also do a mix of brown noses with just one red nose if you want it to be more like Rudolph and all of his buddies.
Totally up to you!
I used the red cherry balls for mine but there are a ton of options for these. If you want to use balls, red Sixlets work great.
If you don't care about them necessarily being balls, red M&Ms, red Skittles, red pretty much any roundish candy would work!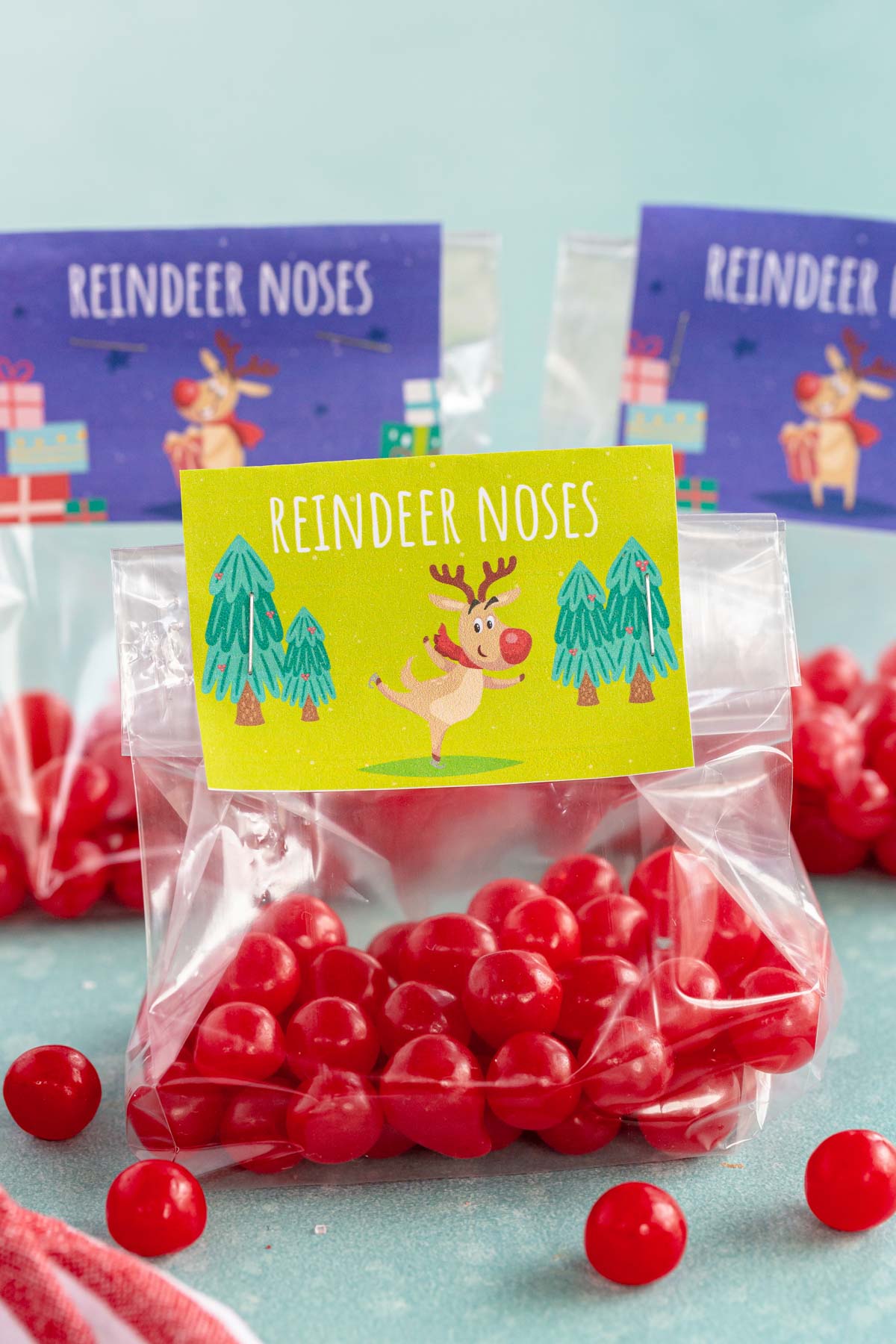 Reindeer Snacks
Last but not least, I did reindeer snacks with carrots because I feel like reindeer would eat carrots. It may just be horses that like carrots, but I thought it was a fun addition.
Luckily, it's just a tag that says reindeer snacks so you could really put anything you want in here. Make it reindeer chow, make it homemade Chex mix, make it really whatever sounds good!
And that's it, the four types of reindeer treat tags I made. Hopefully there's enough variety that you're able to find something to use! You could even do one healthier option and one just straight out reindeer treat!
More Christmas Printables
If you like these reindeer treat tags, make sure to check out these other free Christmas printables!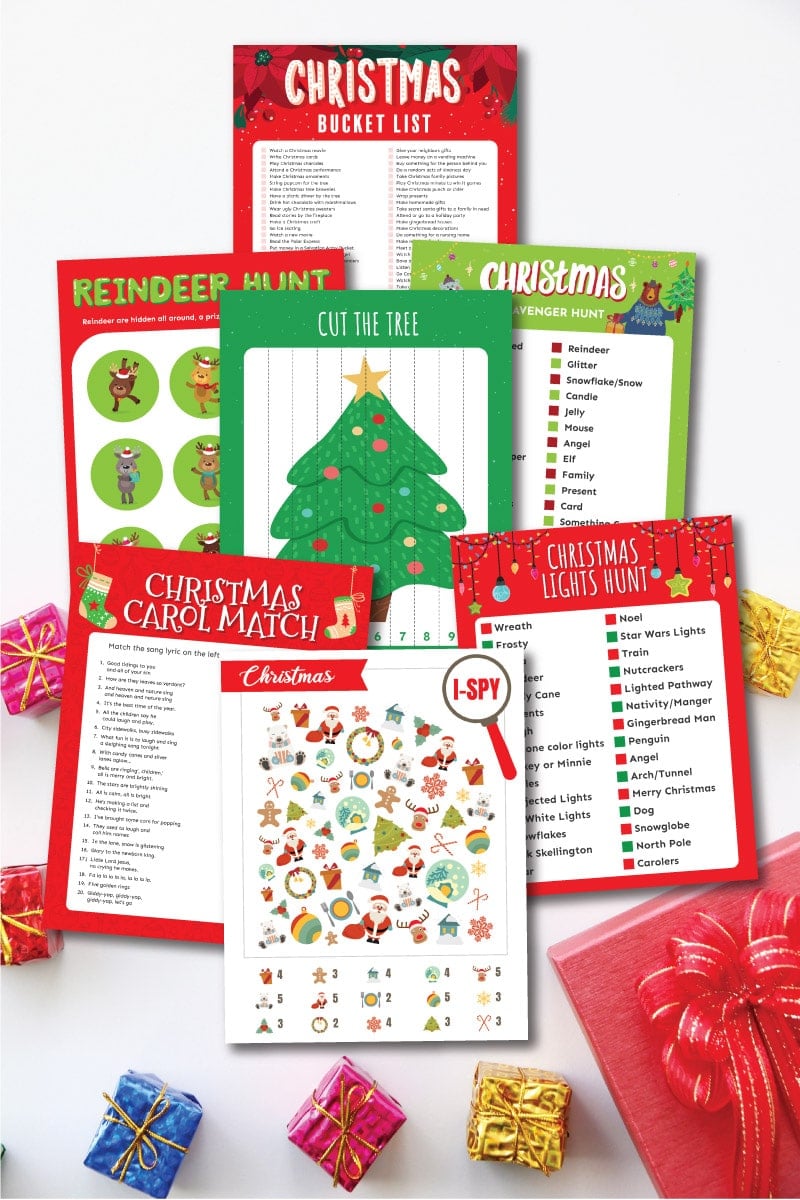 want more fun kids activities?
Download the Reindeer Treat Tags
Enter your first name and email address in the form below to get the printable PDF.
You will receive a link to download the PDF to your email within minutes.
If you do not see the form, click here to get to it.
If you do not see the email immediately after you fill out the form, make sure to check your promotions, spam, and junk folders!
As a reminder, the two page PDF will include:
Two reindeer poop tag designs
Two reindeer antler tag designs
Two reindeer nose tag designs
Two reindeer snack tag designs