While Anna Maria may not be full of attractions in the traditional sense, there are so many amazing things to do on Anna Maria Island, you won't miss any of the flashier rides and parks.
Anna Maria has a slow paced, laid back, vibe and its attractions and activities fit that feel. If you've been there before, you know what I'm talking about. If you haven't, you will as soon as you visit and try out the best things to do in Anna Maria Island!
There are very few places I go back to over and over again. Anna Maria Island is one of those and honestly the only one that comes to my mind that isn't a place full of family I'm traveling to. It's one of the only places we've been to for a family vacation more than five times, and I'm sure there will be more.
I've already written an entire post about why we love and return to Anna Maria Island, so I won't rehash that here. Read that post first if you're not convinced about Anna Maria then come back for all of the fun things to do!
We just got back from our eighth visit to Anna Maria Island and it was just as amazing as the first. This past visit we decided to try out some new things to do so that I could finally write from our experience – the best things to do in Anna Maria Island!
This list is long but it's full of don't want to miss activities to help you enjoy the island to its fullest! And if you scroll all the way to the bottom, there's a map of everything on here PLUS our favorite Anna Maria restaurants, so you can see where everything is!
Top Things to Do in Anna Maria Island
Okay before I get started, I'm calling this things to do on Anna Maria Island, which includes the entire island. It's actually broken into three cities – Anna Maria, Holmes Beach, and Bradenton Beach – activities in all three of those cities are included!
So these things to do aren't in any particular order, just the order that they came to me as I was writing this post. Choose the ones that make the most sense to you or do them all!
Go to the Beach
Where do I start with Anna Maria Island beaches? They're breathtaking. Gorgeous beaches everywhere. White sandy beaches. They're the beaches you dream of when you dream of a tropical vacation.
White sand, clear water, low waves that are perfect for swimming in, and just absolutely beautiful scenery. They're my favorite beaches in the entire country, even more so than the beach in Gulf Shores, Alabama (which is a close second).
There are gulf coast beaches all along the east coast of the island and honestly they're all gorgeous. Our personal favorites are Bean Point at the very northern tip of the island (our go-to beach) and after this past visit, Coquina Beach. More on that in a minute! And if you've never done a beach on the Gulf of Mexico, you're missing out!
There are lots of popular beaches on the south side of the island as well, I just like the less populated north ones!
We often plan an entire day just to spend at the beach. Grab some yummy food, take some water, (and the other things on this beach packing list), and enjoy one of the best parts of Anna Maria!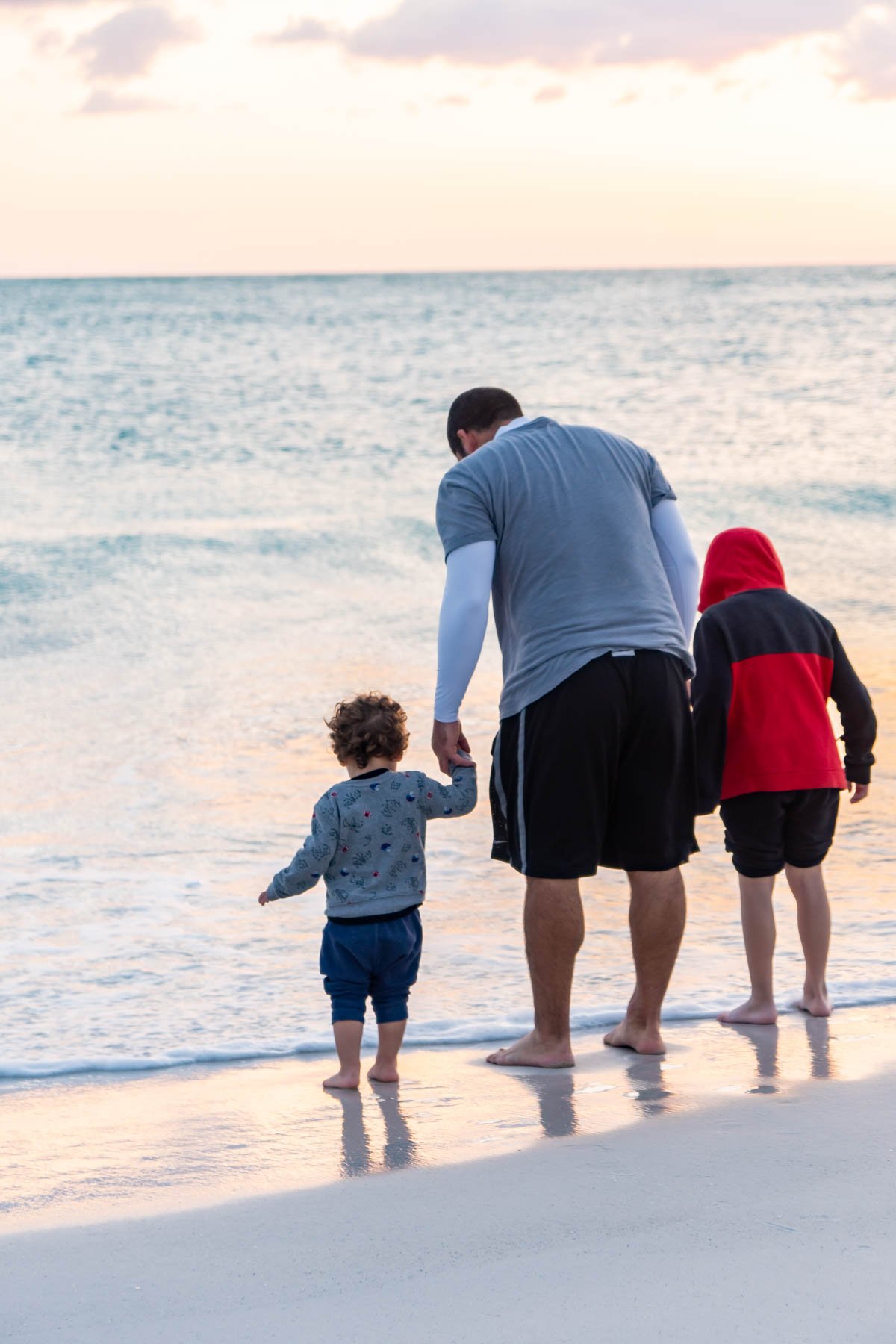 And if you're as obsessed with the beach as me, you can stay at a resort that's right on the beach or rent one of gorgeous beachfront vacation rentals. Our favorite beachfront option was Cedar Cove Cottages – multi-bedroom cottages right on the beach.
There's this one right on Bean Point that's total bucket list goals for me to rent – just need to find a bunch of other families to share and a little extra money to afford it!
If you need some good beach options, these are some of the more popular beaches. They're all on the west side of the island since that's where the real beaches are. We've always been able to find plenty of street parking or parking lots where we go so that shouldn't be a concern! But if it's a busy season and you're going to one of the best beaches, you may want to go early just to ensure parking!
Eat Delicious Food
When I tell people about Anna Maria, I always make it a point to mention the amazing food because often times islands or small cities mean not a lot of good food.
Anna Maria may not have a TON of restaurants but the ones that they have are high-quality restaurants.
Whether you're looking for delicious smoothies, the best donuts, amazing seafood, or even delicious barbecue – you'll find it here. It's one of the reasons we keep coming back – the food is absolutely addicting. Plus, there are quite a few waterfront restaurant options, which means good food and amazing views!
I wrote an entire post about the best Anna Maria Island restaurants here to give you an idea of what you have to look forward to!
There are plenty of different options, but these are our personal votes for the best places to eat on Anna Maria Island. The list includes everything from the most popular spot to eat beachfront to some local dives and things you may not have known about!
Tip!
If you have time when you're leaving, stop by The Farm House in Bradenton (right off Manatee Ave) for delicious fresh dipped donuts plus some signature favorites. They rival the ones at The Donut Experiment and aren't nearly as crowded!
Shop on Pine Ave
Another one of my favorite things about Anna Maria is that you won't find a tacky tourist shop anywhere on the island. The shopping is all handmade, boutiques, and unique items. Souvenirs are things you actually want to take home – not junk that you'll throw away as soon as you get home.
I could spend a day just wandering up and down Pine Avenue shopping in all of the little stores, snacking on the food, and just enjoying the atmosphere.
Just a few of the fun must-see stops on Pine that aren't restaurants. This post has details on all of the best restaurants in Anna Maria (including on Pine Ave).
There are also plenty of great eats on Pine Beach! You can find all of my favorite places to eat in Anna Maria here.
Explore Coquina Beach
This past visit was the first time we'd ever been to the Coquina Beach are and I still can't believe we've missed out on it all of our previous trips.
I'm including Coquina Beach as its own item because it's not just a beach, it's 22 acres of beautiful outdoor space. Here's a map showing the entire space! We just discovered it the last time we visited the beautiful island, but it's a new favorite!
There's a beach, a long paved trail, tons of picnic tables, volleyball nets, changing cabanas, and even a small cafe.
Unlike Bean Point that's just straight beach – Coquina Beach is a public beach you can go to and stay all day. Play in the sand for a few hours, take a walk on the trails, play on the playgrounds, and then get back into the gorgeous ocean.
It's definitely been added to our must-visit list for all future trips!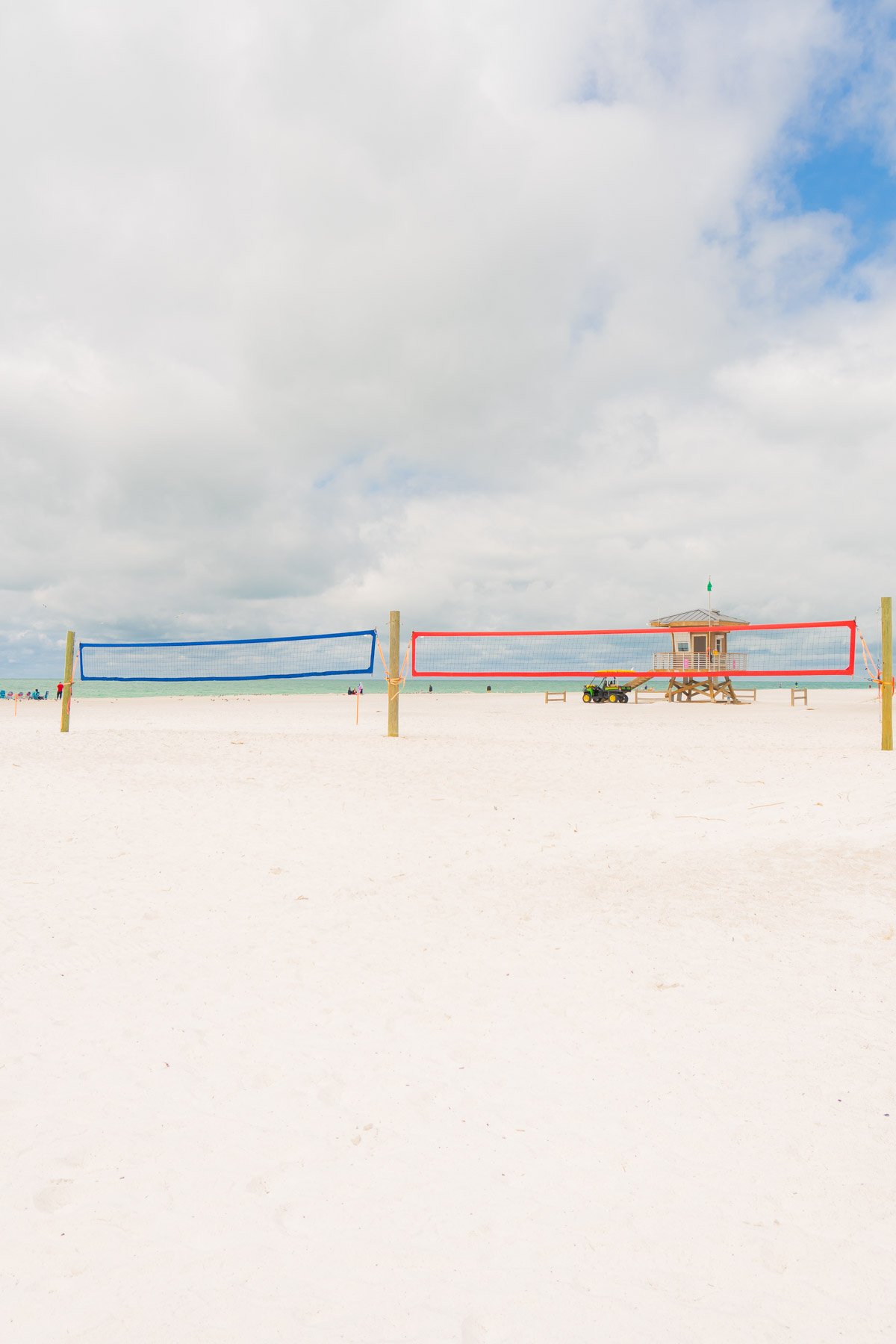 Walk Along the Piers
Anna Maria Island has a number of piers and they're all deserving of a walk!
Anna Maria City Pier
This pier was actually rebuilt after a hurricane destroyed it a few years back. It's a long, sometimes windy, walk on a pier that leads out to a takeout restaurant. We love doing this walk but note it is an actual pier without sides (lots of people fish) so if you have young kids, I recommend a stroller or carrying them.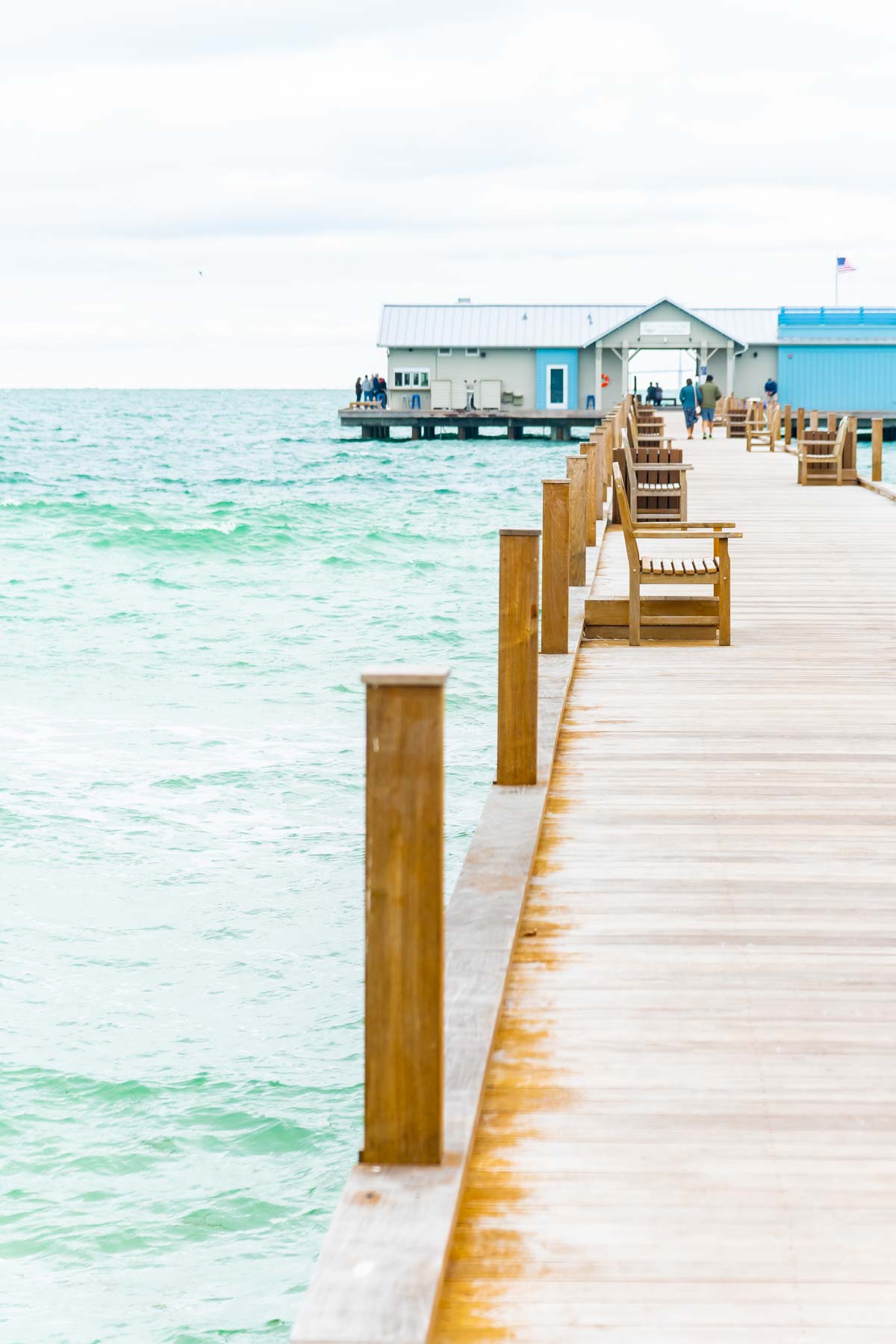 Bridge Street Pier
I'm not sure if this is actually what it's called, but it's on historic Bridge Street, so it's what we call it. This pier is the longest of the three, has rails all along the walk, and various shops and restaurants along the pier. It's a great place to see fish and turtles plus observe the nearby marina.
Rod and Reel Pier
This pier actually leads out to one of the more classic restaurants on the island. It's a bit shorter than the City Pier and less natural. If you're going to skip a pier walk, skip this one.
Catch a Sunset
Find out what time sunset is and be on the beach on the east side of the island about thirty minutes ahead of time, even better if it's Bean Point. Anna Maria sunsets are glorious.
Paint Sand Dollars
I mentioned this one earlier in the Pine Ave note but it deserves it's own mention because it's not only fun, it's a great take home souvenir!
If you go into Shiny Fish Emporium, you can sit down at a bar style booth table and paint your own sand dollars to take home. It's super fun both for the kids and for adults and something we do at least every other time we visit (you can only have so many sand dollars).
After they're painted, you have to leave them to get sprayed and finished with glitter (if you want) then pick up later, so make sure if you're not staying long to do this early in your trip!
Picnic at a Park
There are a handful of playgrounds with picnic tables throughout the island and one of our favorite things to do is grab takeout from one of the amazing Anna Maria Island restaurants and eat it at a park.
Our two favorite playgrounds are Bayfront Park up just north of City Pier and the ship playground down south of Coquina Beach.
It's a fun way to let kids burn a little energy, great to get outside, and just something different than sitting down at a regular table – in a restaurant or a rental. We typically like to do this on the first night we get onto the island since the kids will have been traveling for a lot of the day!
Some of our favorite places to grab takeout for picnics:
Buy something Handmade at Coquina Beach Market
If you're in town for a while, find out what days the Coquina Beach Market is open. When we were there it was on Wednesdays and Sundays, but I think they change to Wednesdays and Fridays during the summer months. You can check the schedule here.
If I'm being honest, I didn't expect much from the market. Anna Maria isn't huge, so I was expecting a few vendors and maybe a snack or two.
This thing was WAY bigger than I thought it would be. I was with my two young boys who weren't particularly interested in the handmade goods, so we blew through it (trying all the snacks on our way), but I would've loved to have had more time.
The market is full of vendors selling handmade (a theme for Anna Maria) and unique items – none of the junk you see so often at flea markets. Plus, there are a bunch of local food shops selling yummy goodies like homemade pretzels, cookies, and more!
Tip!
Go early if you want the best selection. We went early and by the time we walked back up an hour later many of the food vendors had sold out of many, if not all, of their selections.
There's also an Anna Maria farmer's market that happens every Tuesday from October to May right across from Two Scoops and the City Pier. We didn't get a chance to do that one but apparently the produce is amazing! So if you're in town for that, check it out!
Get out on the Water
I'll be honest, this isn't what I've actually done but only because my boys have been too young. There are tons of different options around the island for getting out on the water – boat rides, jet skis, parasailing, and dolphin cruises (we did one of these in Daytona Beach and it was so fun!), and more!
Figure out what sounds the best to you and go for it! Or don't. We've been to Anna Maria eight times and never actually been on a boat and still love it.
Listen to Live Music
Grab a smoothie or pastry at North Shore Cafe on Pine Ave, take a photo with the Anna Maria sign, and listen to some live music while you relax by the water.
There's even a corn hole game to play (one of our favorite outdoor games) if you can't just sit and listen. The entire place gives off chill in Hawaii vibes, and I'm totally here for it.
There are also plenty of other restaurants that offer live music including a bunch of the restaurants on Historical Bridge Street. There's nothing better than enjoying good food outdoors while live music is playing in the background.
Play Mini Golf
Historical Bridge Street has plenty of shopping, restaurants, and sights to see – but our favorite thing to do there is The Fish Hole Miniature golf course. Honestly, there's nothing super special about the mini golf course itself, but it's fun for kids and a good break from the norm.
Plus, they have a koi fish pond that my boys love and a swimming area with like 10 turtles that the kids can get fairly close to. Total win for our family!
Get Ice Cream
Since we're already talking about food, don't forget to try out at least one, if not all, of the ice cream places on the island!
Grab a cone (and some candy) from Two Scoops then enjoy it while you're walking on the City Pier. Or grab a cone (I recommend Heavenly Hash) and some fudge from Small Town creamery and enjoy it on the big banana sundae bench outside!
Or if you want something totally different, Dips sells combinations of what they call gelato (I call it more like soft serve Italian ice) and ice cream, and it's perfect for a walk along Pine Ave.
No matter which creamery you try, ice cream is a must during your trip!
Go for a Ride
Everywhere you go in Anna Maria you'll see people biking, jetting about in little buggy type cars, riding around in golf carts. Rent your preference before you get there for busy weeks or when you show up if you're going during off season.
It's all part of the experience. We haven't rented a golf cart quite yet because I'm afraid my toddler will jump out, but I always love watching families ride around in them!
Go for a Walk
Speaking of getting around, Anna Maria is a great place to take a walk. There are sidewalks everywhere, people drive slow, and so much of the island is walkable – it's a great way to explore the island, enjoy the fresh air, and get a little exercise.
Perfect for burning off all that yummy ice cream I recommended earlier.
If you prefer something other than street walking, there is a great trail at Coquina Beach Park and a great nature reserve at Leffis Key that both make great walks. Plus, there's always the beach!
Tip!
Many places on the island rent beach wagons (we got ours from Fun & More Rentals). They're great for carrying kids and all of your beach gear – super heavy duty so you can actually pull them through the sand and gravel (better than a stroller). We used ours EVERYWHERE!
Hop on and off the Trolley
Anna Maria has a free trolley that you can hop on and off throughout the island. While you may not want to use is as your transportation for your entire visit, it's definitely a fun experience to try out at least once!
You can find a map and schedule of all stops here, and I can almost guarantee that wherever you're staying can point you in the direction of the closest trolley stop!
Go Directly to Jail
Back on Pine Ave you'll find the historical Anna Maria city jail. It's a quick stop but a fun one to take some pictures behind bars. And don't worry – it's all outside, no roof or anything, so it's really as quick as just stepping in the building, taking a picture (and being glad you weren't arrested and put in there with mosquitos for the night) and being on your way.
There's also the Anna Maria Island Historical Museum there, but I didn't personally find it worth the time.
Look for Sea Life
My boys love animals, so we're always on the hunt! In Anna Maria it's totally normal to see everything from dolphins swimming out in the ocean to turtles popping their head out from under the pier. And SO many birds!
If you need some recommendations for the best animal sighting, rumor has it that manatees like to hang out under the bridge at the very south end of the island, dolphins can be seen swimming around in the ocean on the gulf side, and lots of varieties of sea life love to hang out by the Bridge Street pier!
Check out Leffis key
Leffis Key Preserve is another place that we checked out for the first time this past trip to Anna Maria. While I wouldn't say it's a must-do, it was a nice place to get away from the crowds and get back into nature.
There are miles of trails through mandrake trees with bridges, seashell covered trails, and just beautiful nature. Definitely the prettiest nature walk we found on the island!
It also gives you some absolutely gorgeous views of the Anna Maria coast from the overlook points, right at the end of the water. It's also a fun place to see animals – we saw some beautiful birds, crabs, and jumping fish during our visit! Definitely fun to check out if you want to see a little marine life or wildfire in their natural habitat!
Ride Horses in the Water
This is another one that I personally haven't done, but I've heard it's great. And when my boys are old enough, I'll definitely try it out!
You can not only ride horses walking along the beach but also through the water. I saw a group doing this on our drive into Anna Maria and one of these days, I'm going to try it out – maybe when it's warmer than 60 degrees out though.
I've heard good things about C Ponies, and I love that they use Gypsy horses, the same breed that I checked out during my visit to Ocala! And where else can you go horse surfing? Definitely a unique experience to try!
Go from Point to Point
Last but not least, I highly recommend that you explore the island from the most north spot at Bean Point all the way to the very southern most tip where the bridge connects Anna Maria to Longboat Key.
While so often people get caught up on the North Shore, the south is beautiful in its own way and deserves at least a second glance! Plus, it's less crowded and pretty peaceful.
One thing to note is that the south tip is not for swimming. You can play in the sand and enjoy the scenery but there are no swimming signs because of the dangerous currents!
Anna Maria FAQs
Which airport for Anna Maria Island?
Tampa International Airport (TPA) is 53 miles from Anna Maria Island and is our favorite airport to fly into simply because they have so many nonstop flight options. We typically try out a few of these things to do in Tampa then head down to AMI for the rest of our trip.

Sarasota-Bradenton International Airport (SRQ) is actually the closest at 17 miles, which typically takes about 30 minutes. If you can find food flights into there, that's the best option.

St. Pete – Clearwater International Airport (PIE) is about the same distance as Tampa but only services a handful of more regional airlines like Allegiant and Sun Country.

Where is Anna Maria Island located?
Anna Maria Island is on the west coast of Florida about an hour south of Tampa Bay and just northwest of Sarasota. It's in Manatee County and includes three cities – Anna Maria, Holmes Beach, and Bradenton Beach.
Where should I stay on Anna Maria Island?
We've stayed both in resorts and beach vacation rentals and both have their pros and cons. I always recommend staying somewhere that has a heated pool because Florida weather is temperamental and if it's not beach weather, you can still enjoy swimming in a pool!

Our favorite resorts we've stayed at are Cedar Cove Cottages (right on the beach but no pool) and Tortuga Beach Resort (across the street from the beach, great pool) on the south side of the island. On the north side, we've stayed in a couple of different Airbnb locations and beach vacation rentals. I recommend renting from Anna Maria Vacations for the best prices (you don't have to pay all the extra fees you do for Airbnb and VRBO) and lots of great options with the best places to choose from. They were one of the best rental companies I found


What's Open on Anna Maria Island?
There were only a handful of shops and restaurants still closed on Anna Maria Island and all of our favorites (other than Eat Here, which was closed for construction) were open! There's definitely plenty open to enjoy!
Is Anna Maria Pet Friendly?
There is plenty to do with pets on Anna Maria and lots of vacation rentals are pet friendly. There are however no pets allowed on the beaches or on the Coquina Beach walking trail (one of our favorite places to walk). I can say that I saw very few pets compared to other places that have such an outdoor vibe. If you are bringing your pet, here's a great article on things to do with pets near Anna Maria.
What part of Anna Maria Island is the best?
The northern part of Anna Maria Island (actual Anna Maria) is more residential with beautiful vacation rentals plus delicious food, Pine Ave, and Bean Point. It's our personal favorite place to stay and where we tend to spend the majority of our time.

The middle section of Anna Maria Island (Holmes Beach) also has beautiful beaches but feels a bit more commercial with strip malls, grocery stores, and the like. We spend the least amount of time here typically.

The south section of Anna Maria Island (Bradenton Beach) is where you'll find the majority of the resorts on the island plus beachfront restaurants, Historical Bridge Street, and Coquina Beach. It always feels a bit busier and more hectic because of all of the resorts, but it's still a fun area.

All three sections are very different and I recommend checking out all three to see what is best for you!
Is it safe to go to Anna Maria Island?
Safe is relative so I am not going to answer whether or not it is safe to go to the island. Instead I'll lay out the facts so you can make a decision on whether you would feel comfortable (my family did). Almost all restaurants and shops (including the beach market) required masks (just a few did not), all except one restaurant we went to had pickup/takeout ordering available, and all had some sort of social distance measures being taken.

With so many of the things to do in Anna Maria Island being outside, my family felt that it was easy to avoid others, have our own space, and feel safe. We rarely went inside other than to grab pickup food or ice cream cream and when we did, people were complying with the mask rules.

Anna Maria Island Map
Here's a quick view of what all of these things to do are located on Anna Maria Island! Purple are things to do, pink are restaurants, and orange are the two resorts I recommended above.
More Beach Travel Tips
If you like the beach, you need to check out these great locations as well!