Headed on a trip to Gulf Shores, Alabama? Check out all of the fun and unique things to do in Gulf Shores while you're there! Everything from delicious food to eat, places to visit, and activities both for the kids and for adults!
Gulf Shores Things to Do
With so many amazing things to do in Gulf Shores, Alabama, it's really hard to narrow it down to just a few things that everyone should experience.
Instead of listing all of the possible things to do in Gulf Shores, this post will focus on the things that make Gulf Shores unique – the experiences and adventures that will fall on a list of things to do in Gulf Shores Alabama and not many other places, if any.
My husband, our son, and I visited Gulf Shores, Alabama for a long weekend away. I'd never been to Gulf Shores before, and I didn't really know anything about it going into the trip. All I knew was that my family needed a break, time to get away from the stresses of moving into a new house and a new place.
We've traveled all over the country doing various things together from Daytona Beach to Lake Lure, and we still managed to find unique experiences and fun for the entire family in Gulf Shores.
Note!
While I'm calling this a post of things to do in Gulf Shores, there will likely be things on this list that are actually in Orange Beach. Since they're so close to each other, I'm just calling them all things to do in Gulf Shores, Alabama.
1 – the Gulf Shores Zoo
The Alabama Gulf Coast Zoo has been appropriately nicknamed "The Little Zoo That Could" by Animal Planet for being a zoo that's small, but definitely worth a visit. In fact, if you were only able to pick one single thing to do in Gulf Shores, I would recommend visiting the Gulf Shores Zoo.
Why? Because it's different than any zoo I've ever been to.
Alabama Gulf Coast Zoo isn't really what I would consider a zoo. Yes, there are animals in cages and exhibits that you can walk around and look at.
But the real intrigue and excitement about the zoo comes from all of its interactive exhibits. There are currently three different animal adventures including one with kangaroos, one with lemurs, and one with sloths. There is also a giraffe feeding experience that's not quite the same as an adventure.
You can read all about the animal encounter options here and book your own. At $24.95, these are great deals compared to a lot of animal experiences I've done!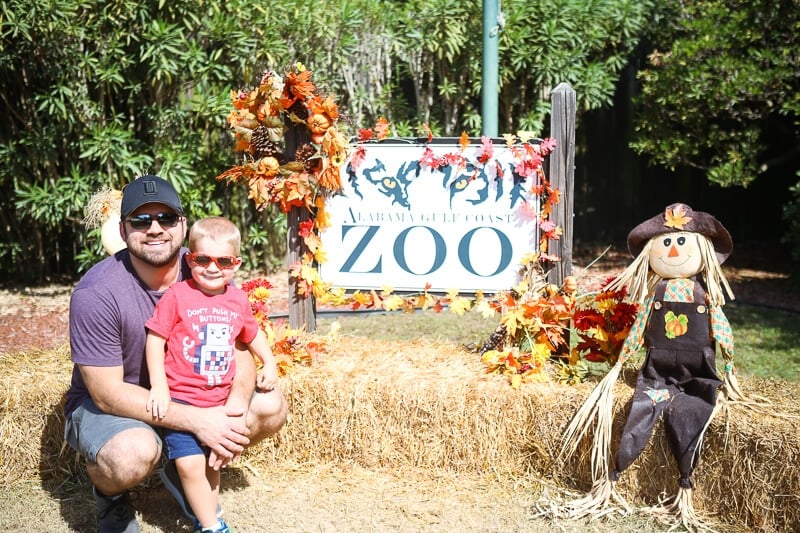 We chose to do the lemur encounter and while my son was nervous about going into the encounter at first, once he saw the way the lemurs crawled up on mom and played with my camera, he quickly joined in on the excitement. As I mentioned this is currently closed, but I've still included our experience so you can see what the interactive experiences are like!
The lemur experience was one of the coolest animal experiences I've ever had. You sit on benches in an animal encounter while curious lemurs climb on you, sit on your head, try to steal things from your pockets, and snuggle up against your body.
And while you're not supposed to pick the lemurs up, our animal guide picked a lemur up and brought it over to my son for some great lemur snuggles.
Outside of the animal encounters, the zoo also has over 300 animals including 22 endangered species. Many of the animals are observation only but many of them you can feed and pet as well.
My son's favorites were the reptile house, the petting zoo, and the fun monkey exhibits throughout the park.
2 – Gulf Shores Beaches
The Alabama beaches are likely what will bring you to Gulf Shores in the first place and for good reason. With over 32 miles of white sand beaches, they really are phenomenal.
We rented a two-bedroom condo through Young's Seacoast Vacation Rentals at the Seawind Condo Building that was right on the public beach, giving us gorgeous views and private access to what felt like our very own beach. Not only was it right on the beach, the Seawind location also had a nice pool and a fun splash area, perfect for our son when he was done with the waves but still wanted to play in the water.
It was also close to local restaurants so eating good food nightly was a cinch!
Make sure if you're planning on time at the beach to check out my printable beach vacation packing list! This beach scavenger hunt would also be a fun activity for younger kids if you get bored digging in the sand!
I can imagine in the summer that the beaches are crowded with people but in the fall, it almost felt like we had the coastline to ourselves at times. The water was still warm enough to swim, the sand was soft and perfect for digging, and the sunrises and sunsets along the coast were unforgettable.
So while I don't think every day on a visit to Gulf Shores needs to be spent on the beach, make sure to plan at least a day there! It's the perfect place to go for a few hours or an entire day!
And the turquoise waters are what family vacation dreams are made of. Let's just say we had a good time.
3 – Adventure Island
As you're driving down the main drag in Orange Beach, it's hard to miss Adventure Island. With a huge volcano jutting into the sky, you or your kids are sure to notice the attractions as you drive by.
We stopped for a quick afternoon and had a great time riding go-karts, teaching my son how to play miniature golf (with awesome clubs made just for young kids), and shooting each other with water guns on the bumper boats.
There are plenty of attractions for kids of all ages including kiddie rides, making it a fun place to spend a few hours if you need a break from the beach.
There's an 18 hole course that was actually a really fun one, better than the others we saw around town.
There are plenty of other mini-golf courses in Gulf Shores as well but we really like the volcano aspect of this one the best! Plus all of the other attractions like the go-kart tracks make this a great break spot!
And if you really like golf, Adventure Island added a new indoor black light mini golf course that looks like a lot of fun too!
4 – Gulf Shores Restaurants
Everyone knows you have to eat when you're on vacation.
What most people probably don't know is that in Gulf Shores, Alabama it seems like playing while you eat is almost a requirement. With a ton of great restaurants designed for kids and just having fun, Gulf Shores sure knows how to eat and play.
I wrote up an entire post about the best places to eat in Gulf Shores, but if you want just a few fun and unique places, these are some of our favorite choices!
We definitely had an unforgettable experience sitting at the picnic tables in the sand at Lulu's Gulf Shores while watching the kiddos play! Is there any better way to eat with kids?
5 – Alligator Alley
Alligator Alley was the last stop on our trip and other than playing with the lemurs, it was my son's favorite thing we did all weekend. Alligator Alley is a short drive away from Gulf Shores in Summerdale, Alabama and a great place to not only see plenty of alligators but also interact with them.
With over 450 alligators from baby alligator hatchlings to full grown adults, there are alligators everywhere you go. You can pick up a cup of alligator food when you buy your ticket and toss the food to the alligators throughout the property.
It's fascinating to watch an exhibit full of juvenile alligators leave their position sunbathing to go after a small pellet of food.
The baby and juvenile alligators are all kept in exhibits you can lean over and look into and the mature adults are housed in the swamp, a large natural habitat filled with alligators just doing their own thing.
Make sure to visit during one of the feeding times – 11AM, 1PM, and 4PM – to watch from the nature path as the keepers feed the adult alligators large chunks of meat. It's fascinating and a bit unnerving at the same time.
The real highlight isn't just seeing and feeding the alligators, it's holding them. Both kids and adults can hold a young alligator whose mouth has been taped shut for safety reasons. It was definitely one of the highlights of our experience.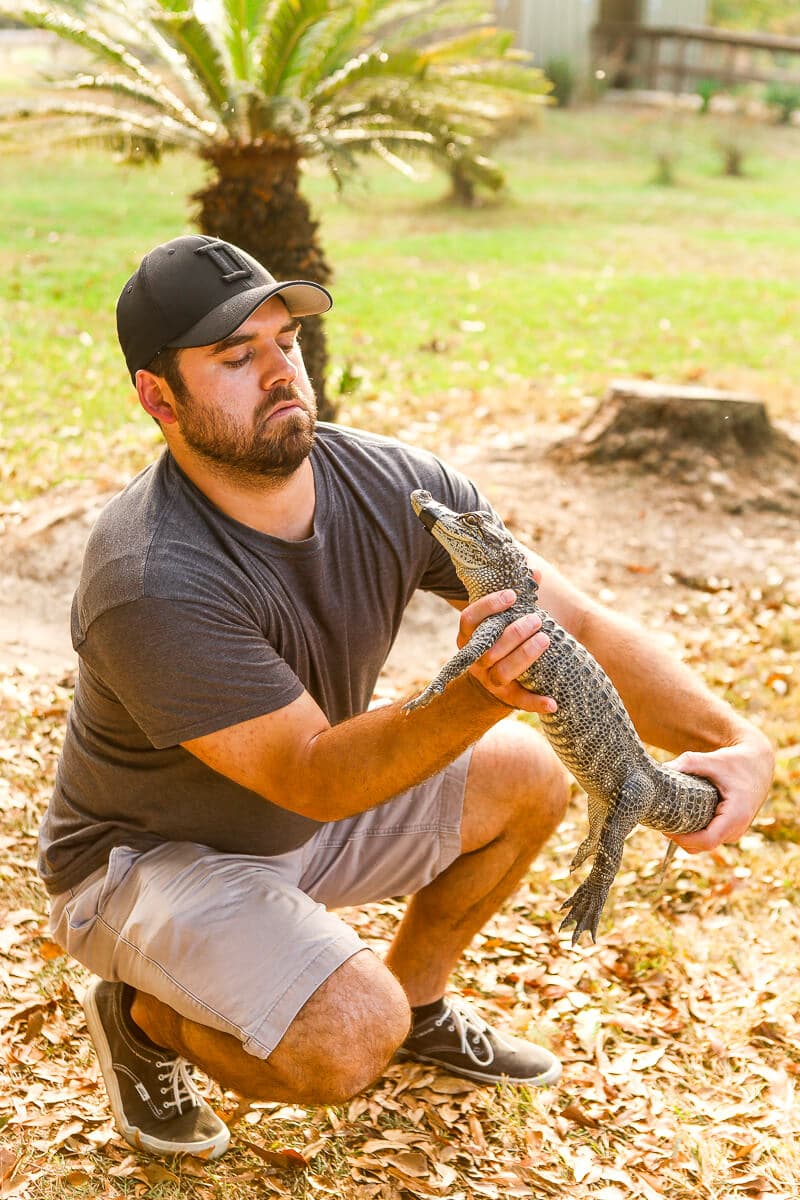 Tip!
Check the website to confirm hours, whether or not alligator feedings are happening, and if the Gator Farm is open. While they're open daily throughout the spring and summer, fall and winter hours and activities vary greatly. But if you're not there during summer months, make sure to check before you go!
6 – The Wharf Orange Beach
The Wharf in Gulf Shores is a blast in the evening or during the day. Take a ride on the ferris wheel for great views of the nearby areas. It may not be a theme park, but the ferris wheel is still a fun way to spend some time! There's a reason it's such a popular attraction!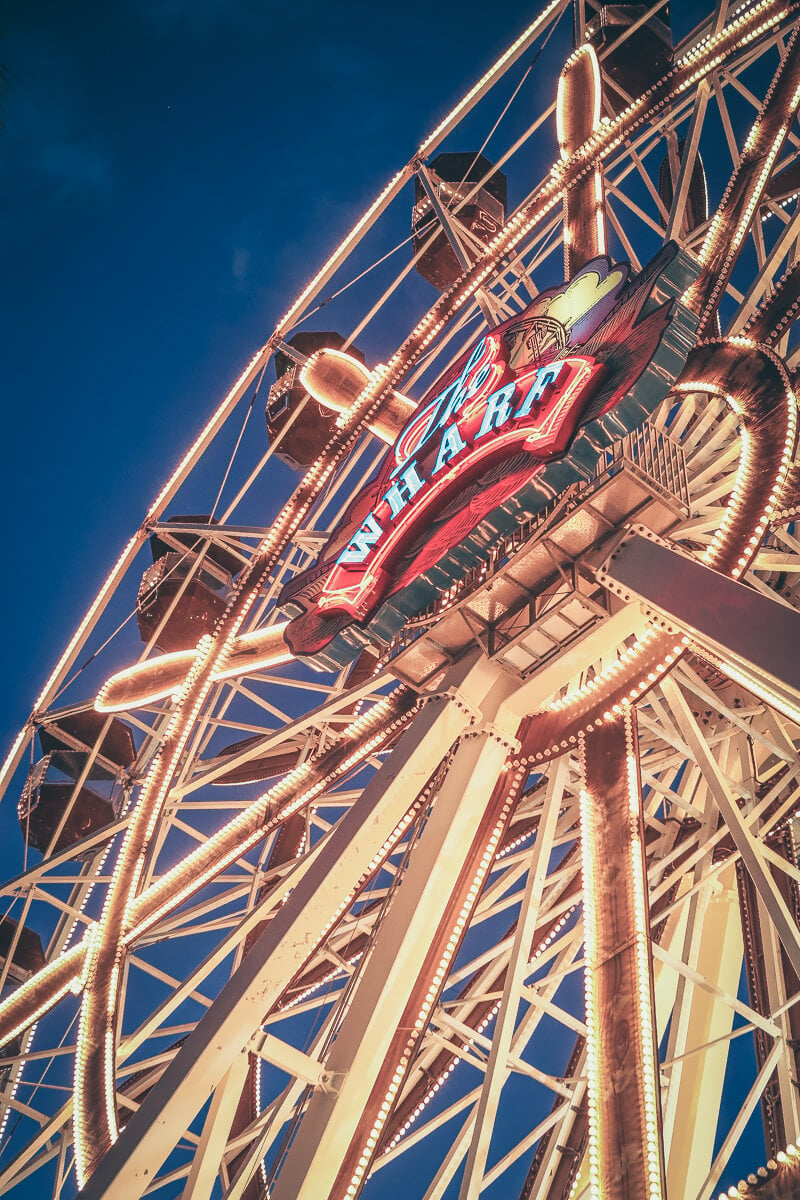 They've also added other entertainment options and tourist attractions like mini golf, laser tag, a movie theater, a mini train, and an arcade since our visit a few years ago! Plus, they regularly have live entertainment!
You can also walk by the marina to look at all of the boats peacefully floating away. Shop in the many boutique shops that line the streets.
Or my favorite, watch the SPECTRA Laser Light experience! It's seriously amazing and right outside the parking lot so you can see it from everywhere!
They also offer live music and concerts throughout the year including events in their amphitheater. You can find the schedule for their events here! Although the light show was enough for us, you may prefer a little live music or DJ.
Other Things to Do in Gulf Shores
My brother and his family actually just went to Gulf Shores for spring break with their three kids (ages 13, 11, and 7). These were some of their favorite things they did on their trip!
There are also tons of nature trails (miles of hiking trails actually), bike trails, picnic areas, and public beaches for nature lovers and outdoorsy families! If you like the outdoors and seeing local wildlife, Gulf Shores is definitely the right place for you!
And if you need even more ideas, these have all been suggested for us to try on our next visit!
Gulf Shores FAQs
Where is the closest airport?
Mobile Regional and Pensacola International Airport are both about an hour drive from Gulf Shores. Non-stop flights are available into both airports from various major cities throughout the US.
What is Gulf Shores Alabama known for?
Gulf Shores is known for its miles and miles of white sand beaches right along the Gulf of Mexico. If you don't like white sands, there are plenty of other outdoor activities and fun things to do too!
What is the best time of year to visit Gulf Shores Alabama?
Any time that it's warm enough to enjoy the beautiful beaches! Any time of year is really great, but I recommend summer if you really want to take advantage of the beach or fall if you want to avoid crowds.
More Travel Guides
If you need some more vacation ideas after Gulf Shores, these are some of our favorite destination spots!