This very berry smoothie recipe is a great way to start your morning with a well balanced, protein packed, breakfast. It's packed with triple the berries, creamy yogurt, greens, and healthy protein.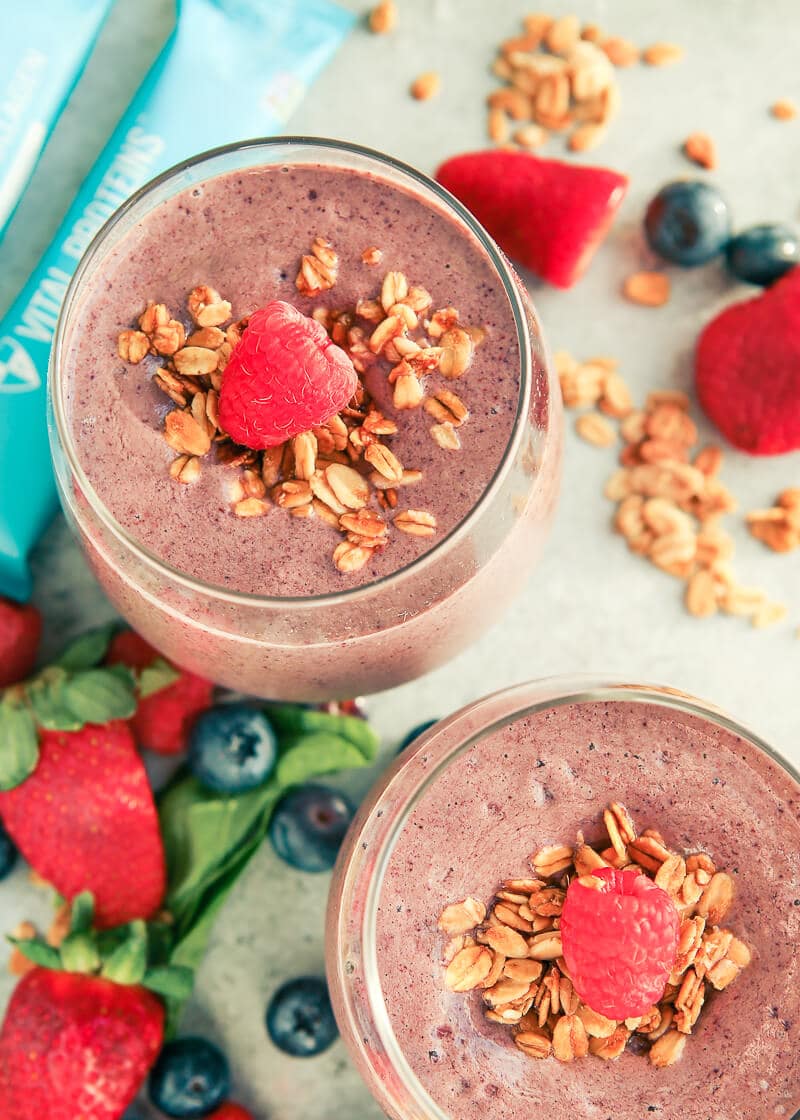 Once upon a time back in high school, my cute husband worked at Jamba Juice. His amazing smoothie making abilities coupled with being able to make a mean grilled cheese were a key reason I agreed to marry him in the first place.
Over the past 10 years of our marriage, we've made our fair share of smoothies. They're a great breakfast option when you want something healthy, protein packed, and easy to make. And change a few ingredients and you have a completely different smoothie!
The thing I love most about smoothies however is that I can toss in some Vital Proteins Collagen (either the Collagen Peptides or Marine Collagen to add much needed protein to my breakfast without having to eat any actual meat.
Very Berry Smoothie Recipe
This smoothie is inspired by my love of berries. And my love of hiding greens in smoothies that aren't necessarily green, so my munchkin will eat them. It's packed with protein, calcium, and tons of nutrients. And pretty much delicious.
All you do is put all of your ingredients into the blender. I recommend doing them in the order listed on the recipe card because it seems to make it easier to blend, but if you don't follow the order exactly, no big deal.
Just toss them all in there and blend, blend, blend. Get it as smooth as possible so you can't taste the individual berries or pieces of spinach. What's your favorite smoothie recipe?
Very Berry Smoothie Recipe
A refreshing smoothie that's packed full of protein, calcium, and flavor! The perfect way to start your day with a well balanced meal.
Ingredients
¾ cup milk
½ cup vanilla yogurt - lowfat or nonfat work fine
½ cup frozen strawberries
½ cup frozen blueberries
½ cup frozen raspberries
2 oz baby spinach
20 g Vital Proteins Marine Collagen (2 individual packs or 3 1/2 scoops)
Instructions
Place all ingredients in blender in order listed.

Blend until completely smooth.

Drink chilled.
Tips & Notes:
If you like sweeter smoothies, add 1 banana or 1/2 cup pineapple.
If you like thicker smoothies, decrease the amount of milk to 1/2 cup.
Nutrition Info
Serving: 16g, Calories: 202kcal, Carbohydrates: 25g, Protein: 17g, Fat: 4g, Saturated Fat: 2g, Cholesterol: 12mg, Sodium: 103mg, Potassium: 541mg, Fiber: 4g, Sugar: 19g, Vitamin A: 2835IU, Vitamin C: 41.1mg, Calcium: 249mg, Iron: 1.2mg