This wacky walk is a fun way to make a walk around the neighborhood or outside not quite so boring. Use a deck of cards to mix things up and make getting out of the house even more fun!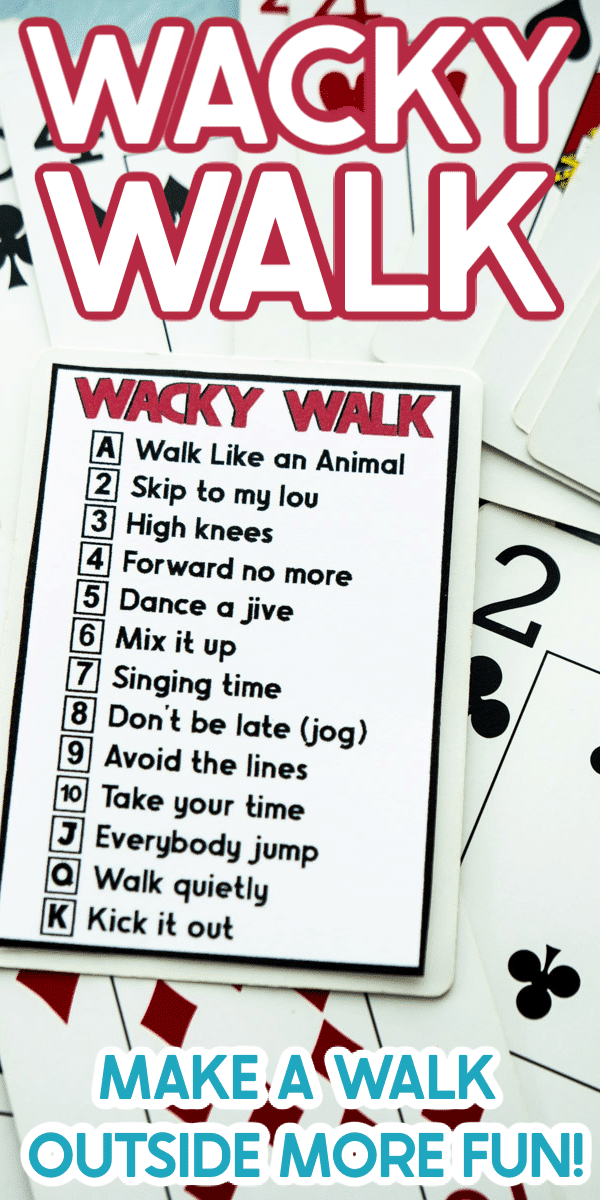 Wacky Walk for Kids
With school cancelled for who knows how long, one of my goals each day is to do something active with my family. Active and ideally outside if the weather cooperates. Getting outside is one of my favorite boredom busters.
Yesterday when I announced to my almost 7-year-old that we were going on a walk after being in the house all day, can you guess what his response was?
Walks are boring.
Everything is boring apparently these days. Except he still enjoys these board games for kids.
So I decided to do something to make our walk a little more fun. Apparently I'm not the only one who does silly things to make walks more fun based on the number of people who responded to my Instagram stories sharing our walk with their own walk type games.
I grabbed a deck of cards and with K's help, we came up with different things we could do during the walk based on the cards we drew from the deck.
And that kid smiled the entire time during our not so boring walk!
How to Do A Wacky Walk
All you need to do a wacky walk is a deck of cards and the free printable wacky walk key that I've created for you and shared in this post. You can watch the video in this post to see our walk yesterday!
1 – Make your deck.
First thing you need to do is grab your deck of cards and print out the key I made for you by filling out the form toward the bottom of this post.
If you want to do other actions for the cards, feel free to make up your own as well! I've created blank version as well that you can just fill in your own options if you'd prefer.
The key is intentionally the size of a playing card, so I just taped mine onto a joker to keep with the deck! You can either tape it onto a card or just keep it with the deck.
2 – Go for a walk!
I told you it was easy! Grab your deck and go for a walk. Pick the top card off the deck and do whatever action corresponds with the number you pulled.
We switched cards about every 30 seconds because we were just going on a short walk but if you're going on a longer walk, you could do it for longer. Our goal was to get through the entire deck by the end of our walk.
52 cards at thirty seconds is just about a 25 minute walk and was perfect for us.
To keep track of where we were in the deck, I simply put the card back on the bottom of the deck face up so I knew when we reached the end of the deck.
It may seem silly but this wacky walk was way more fun than a normal walk out and about our neighborhood. And when kids can't play with neighbors, play at playgrounds, or really do much that they're used to doing – a little silly is a good thing!
Wacky Walk Things to Do
Here are the things we associated with each card in the deck (and a note about each) – feel free to make your own!
Ace – walk like an animal
2 – Skip
3 – High knees
4 – Forward no more (aka walk backwards)
5 – Dance a give (dance while you walk)
6 – Mix it up (we either pretended to mix something in a pot, mix potions, or mix music like a DJ but you could really do whatever)
7 – Singing time (aka sing while you walk)
8 – Don't be late (jog/speed walk)
9 – Avoid the lines (don't step on the lines or if you want to take it a step further, jump over the lines)
10 – Take your time (walk slowly)
Jack – Jumping (can be two-footed, one-footed, hopscotch style, whatever)
Queen – Walk quietly
King – Kick while you walk
Get the Wacky Walk Download
Enter your first name and email address below to get the free PDF download – both the filled in version and the blank version. You'll immediately be taken to the PDF version to print as well as receive a copy to your email shortly.
If you do not see the form below, click here to get to it.
More Fun Ideas for Kids
Don't forget to pin this wacky walk idea for later!