Make learning more fun with these 1st grade learning games! Perfect for 1st graders but also for any other elementary school aged kids! These learning games are so fun kids won't even realize they're learning – they'll just realize they're having fun!
This post contains affiliate links. If you purchase via these links, I may receive a small commission at no additional cost to you.
1st Grade Learning Games
Last fall I had no idea that I might have my 1st grader home with me for the rest of the year. What I did know was that there were a lot of 1st graders around the country who needed help buying supplies for their classrooms.
I got a little addicted to the Twitter hashtag #clearthelist and went on a little shopping spree buying classroom supplies for 1st grade teachers around the country.
Okay school supplies might be pushing it – I specifically went through people's Amazon wish lists and bought learning games that teachers had on their list.
I'm a huge fan of playing games and think that playing games is one of the absolute best ways to learn. Learn, make friends, push people out of their comfort zone and more.
It's one of the reasons I have such a huge collection of board games for kids. And the best board games for adults but hey, that's a whole different topic! I mean I also have fun printable learning games like this historical two truths and a lie.
All of the learning games on this list come directly from those teacher's Amazon wish lists. A lot of these learning games are ones I'd personally never heard of but am now buying to play with my 1st grader at home while we get through the next few weeks. I'll be playing them along with these fun math games!
Learning Games for Kids
These 1st grade learning games were specifically for 1st grade classrooms but you could totally use them for any elementary school aged kids. They're definitely not just 1st grade games, they just happen to work for that age as well!
These dominoes are made specifically to work on math, counting, adding, and subtraction. Instead of just having regular numbers, they have little markers that help even younger kids work on their math skills while still having fun!
A fast game to help with reading, phonics, and sight words! Spin the spinner, a piece of popcorn, and blend sounds together to make a new word!
I think I bought this one for three different teachers – it seemed to be on everyone's list!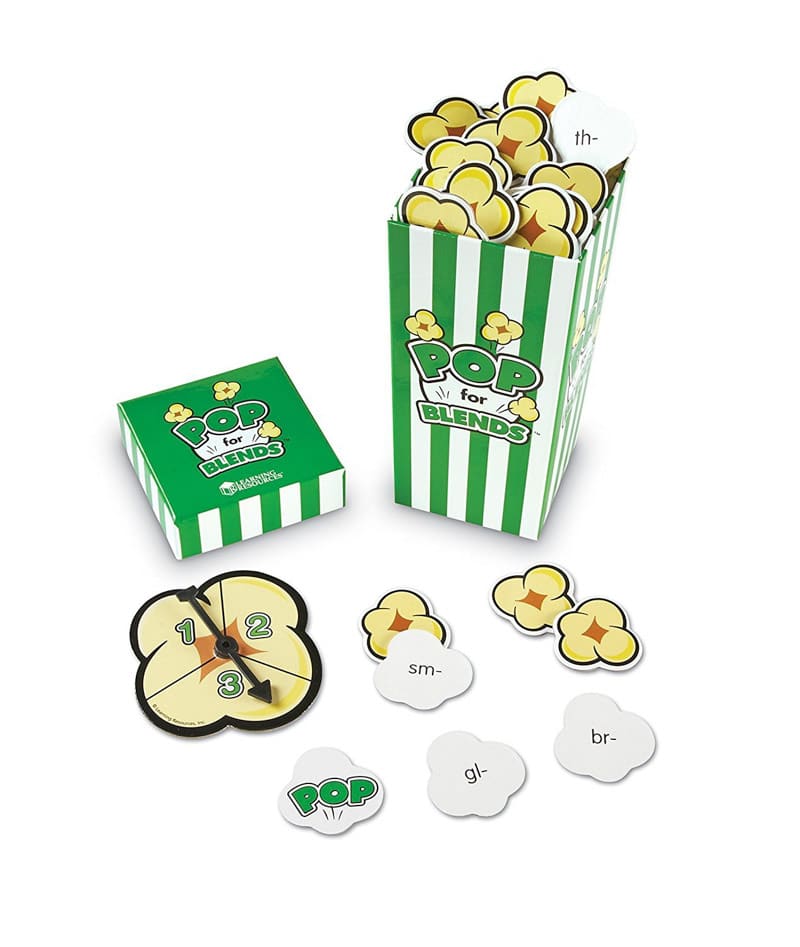 A fun game where you have to balance monkeys on a scale to help teach numbers, addition, and more! Monkeys making math fun, does it get better?
This game helps develop critical and planning skills as you stack blocks to create a marble run! This is one I know my own son would absolutely love because it doesn't feel like learning, just feels like playing!
What kid doesn't love the fishing game you'd find at any carnival? This takes it a step further by adding sight words to the fish and kids have to read whatever fish they pull out of the sight word pond!
Need more sight word games? These spelling games can double as both spelling and sight word activities!
Fly swatters, flies with sight words, and a whole lot of fun! See who can swap the sight word first but be forewarned, they can be easy trickier to catch than flies!
I debated whether or not I should add this one here because it's also in this list of classic board games for kids, but Monopoly is a great math game! You have to keep track of money, pay bills, and of course – buy properties! It's actually probably one of the best math learning games out there!

If your kids like playing bingo, this sight word bingo is perfect! Call out a sight word, cover it if you have it on your card, and the first person to cover a bingo wins!
If they like bingo, you could always try one of these bingo games too!
This innovative coding game helps kids have fun without realizing their learning in the process! Players simply have to use codes to issue commands and avoid obstacles. It's STEM learning at its best!
This game promotes a slightly different kind of learning, less academic, and more mental learning. It's a game all about learning how to express emotions and what different type of feelings mean and a really fun one in the process!
Get it here!
More Games for Kids
Don't forget to pin these 1st grade learning games!