If you're looking for words that rhyme with you, you've come to the right place! With over 100 different words that rhyme with you, this collection will have the perfect word for your scavenger hunt, poem, song, or class!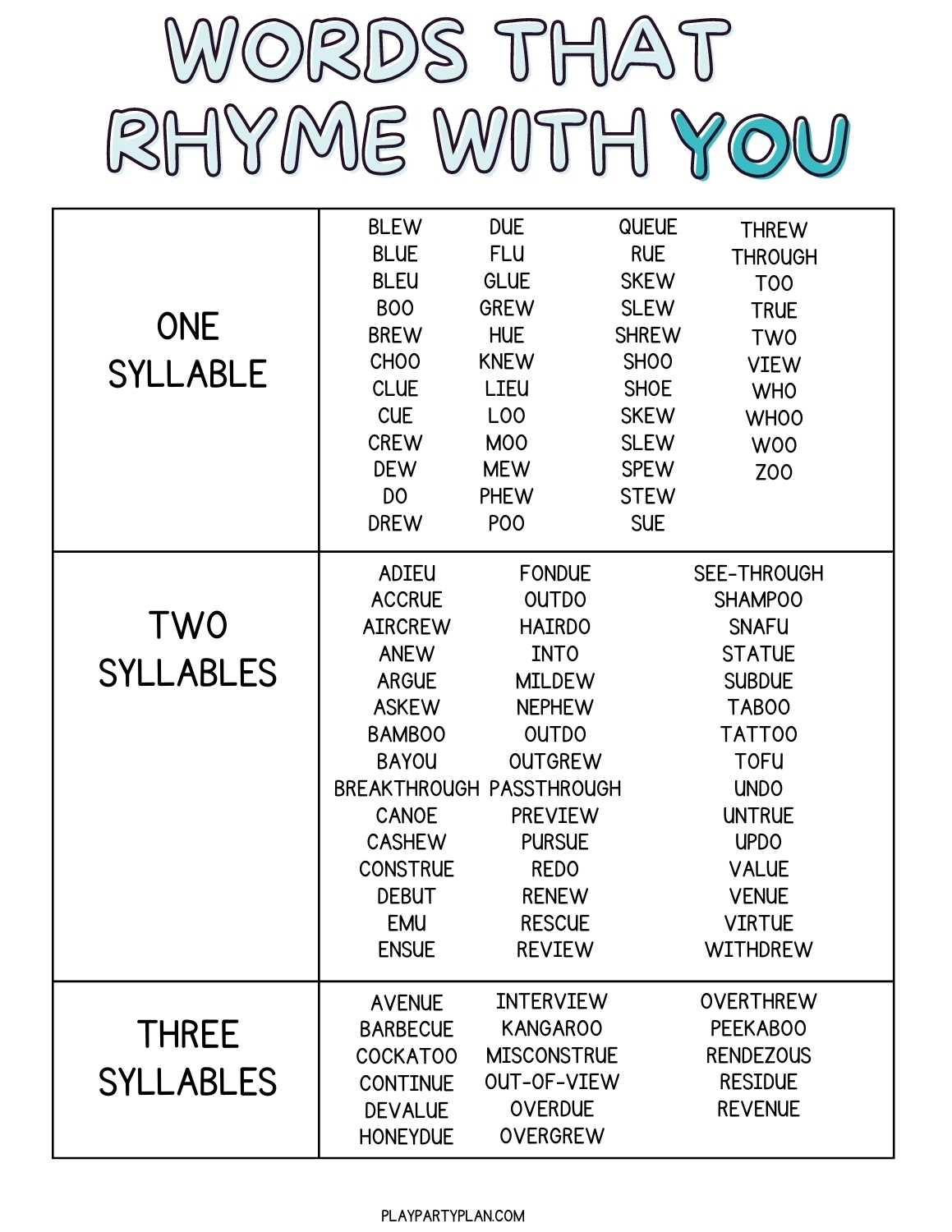 I've put together a list of great one-syllable words that rhyme, two-syllable words, and even three-syllable words that rhyme with you! There's something for everyone from little children to college students.
I write a lot of scavenger hunt clues that rhyme, and I'm always looking for words that rhyme to use in my clues or things like my Christmas rhymes!
Since I know I'm not the only one out there looking for words that rhyme, I thought it might be helpful to create a collection of useful words that rhyme with words I use a lot – like you!
I even have a list at the bottom of the post for music artists who might be looking for something that is more of a half rhyme than an exact rhyme since we all know songs don't necessarily have to rhyme perfectly!
So no matter what number of syllables you need in your you rhyming word, you can find it right here! Plus, I've included a free printable at the bottom of this post if you want to print out the list!
one-syllable words that rhyme with you
This list of words includes all perfect rhymes – they're perfect for the end of lines of poems, scavenger hunt clues, and more! Most of these are common words but some might be new words or ones you don't use that often.
These are also great for playing a rhyming game where you're trying to teach what a rhyme is because it's easiest to tell that these rhyming words rhyme!
Blew
Blue
Bleu
Boo
Brew
Choo
Clue
Cue
Crew
Dew
Do
Drew
Due
Flu
Glue
Grew
Hue
Knew
Lieu
Loo
Moo
Mew
New
Phew
Poo
Queue
Rue
Crew
Shrew
Shoo
Shoe
Skew
Slew
Spew
Stew
Sue
Threw
Through
Too
True
Two
View
Who
Woo
Zoo
Two-Syllable Words that Rhyme with You
This list is full of useful words if you're looking for a two-syllable word that rhymes with you. The first syllable won't rhyme, but the final syllables should rhyme in all of these words! This includes such words as adieu where only the ending sound rhymes with you.
Adieu
Accrue
Aircrew
Anew
Argue
Askew
Bamboo
Bayou
Breakthrough
Canoe
Cashew
Construe
Debut
Emu
Ensue
Fondue
Outdo
Hairdo
Into
Mildew
Nephew
Outdo
Outgrew
Passthrough
Preview
Pursue
Redo
Renew
Rescue
Review
See-through
Shampoo
Snafu
Statue
Subdue
Taboo
Tattoo
To-do
Tofu
Undo
Unskew
Untro
Untrue
Updo
Value
Venue
Virtue
Withdrew
Three-Syllable Words that Rhyme with You
If you're looking for a particular word that is three-syllables and rhymes with you, this is your list. All of these pure rhymes (meaning the ending sound rhymes)!
Avenue
Barbecue
Cockatoo
Continue
Devalue
Honeydue
Interview
Kangaroo
Misconstrue
Out-of-view
Overdue
Overgrew
Overthrew
Peekaboo
Rendezvous
Residue
Revenue
Words that Almost Rhyme with You
If you're looking for words that have similar sounds to you but maybe aren't an exact rhyme, try these words. These These are mostly rhymeless words that would still work in song lyrics, poems, scavenger hunts, and invitations! There aren't many slant rhymes (aka imperfect rhymes) so non-rhyming words will have to do!
Words that end with an "ool" sound like cool, wool, yule, tool, mule, school, fool, pool, drool, rule, and ghoul (perfect for a Halloween scavenger hunt)
Words that end in an "oom" sound like doom, room, bloom, broom, boom, gloom, tomb, womb, vroom, and loom
Words that end in an "oon" sound like moon, soon, dune, spoon, balloon, cartoon, and goon
Words that end in the "ood" sound like brood, feud, mood, food, rude, dude, and include
Words that end in the "oop" sound like stoop, droop, loop, soup, hoop, group and whoop
Examples of Words that Rhyme with You
And last but not least, here are a few examples of ways that can use these you rhyming words in sentences! I use these types of rhymes all of the time for my scavenger hunts, party invitations, and more!
Hello little children, I've been waiting for you. Head to the garage to find your next clue.
Time is running out, you know what to do. Hurry to the kitchen, there's a surprise there for you!
Our fun together is over, it's time to say adieu. But know in my heart, I'll forever miss you.
Halloween is coming and this invite's for you. Don't miss this party, whatever you do!
Printable List of Words that Rhyme with You
If you're anything like me and are constantly trying to come up with words that rhyme with you, I've created a free printable that you can download and have right at your fingertips next time you need a you rhyming word!
Just click the button below to download the free printable.