This free printable Halloween scavenger hunt is perfect for kids! Just give the kids the first clue, which will send them off to find a hidden clue at the next location. It's simple, fun, and perfect for a kids' Halloween party, classroom party, or even a trunk or treat!
A Spooktacular Halloween Scavenger Hunt
All growing up my parents set up fun little scavenger hunts for us where they'd write out silly rhyming clues that would send us from one place to another on our way to the "grand prize."
They did it for Christmas one year all over the neighborhood and all sorts of other times when they wanted the gifts to be a little more special.
I thought it would be fun to create this fun Halloween scavenger hunt that you can either play with your kids on Halloween along with some of these Halloween games or play with a bunch of kids at a Halloween party.
It's one of the most fun Halloween activities we do each year!
I kept the clues as universal as possible so that you can just print out the clues, hide them around the house, and be on your spooky way.
And this year I created a brand new Halloween scavenger hunt so there are two sets of 12 clues or 24 clues total!
If you're looking for more of a find all these things on this list scavenger hunt, I've got two of those in this Halloween neighborhood scavenger hunt post. Plus a Halloween themed group text scavenger hunt!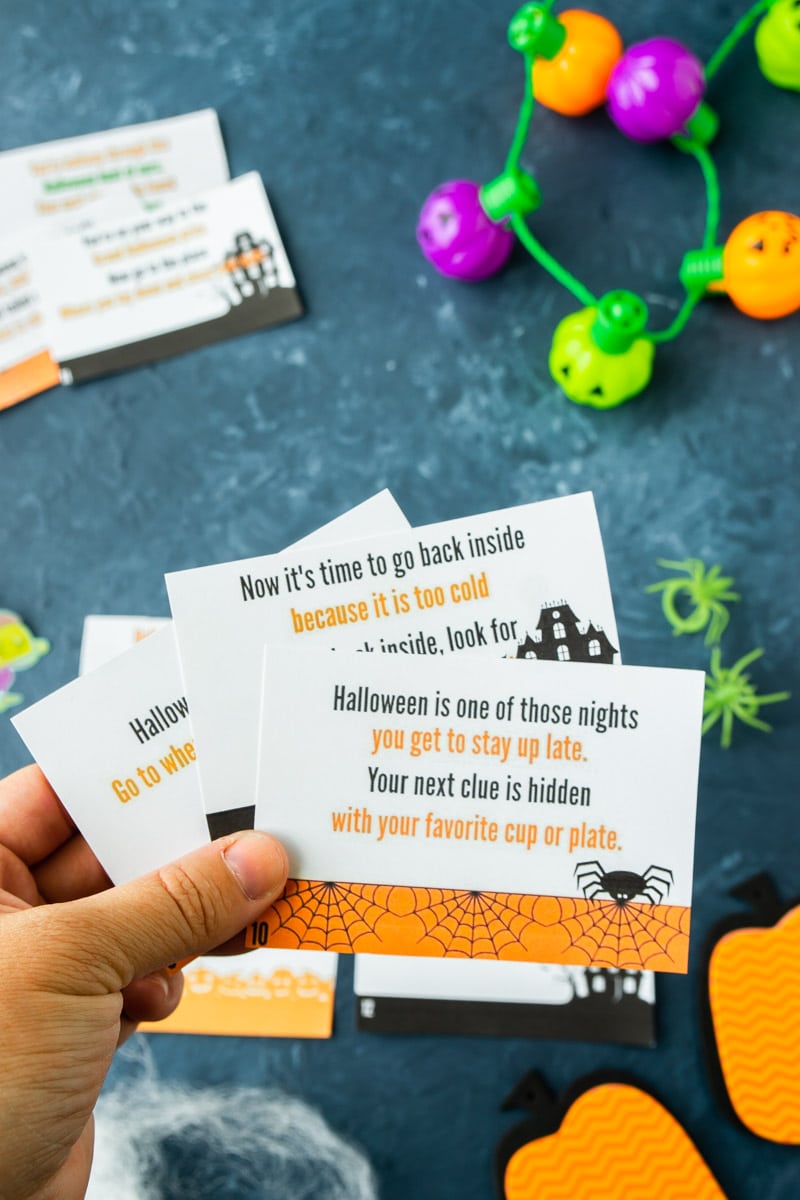 How to Set Up a Halloween Scavenger Hunt
If you've never participated in a scavenger hunt, they are a lot of fun and are really easy to set up!
To get started, print out the clue cards and location cheat sheet. Cut them up and put them in order using the numbers on the cards. Now the fun begins.
Hide all of the clues (except for #1) in the location that is immediately before the place the clue leads to.
I know that sounds confusing, so I've made it easy for you by creating a cheat sheet that tells you exactly where to hide which cards.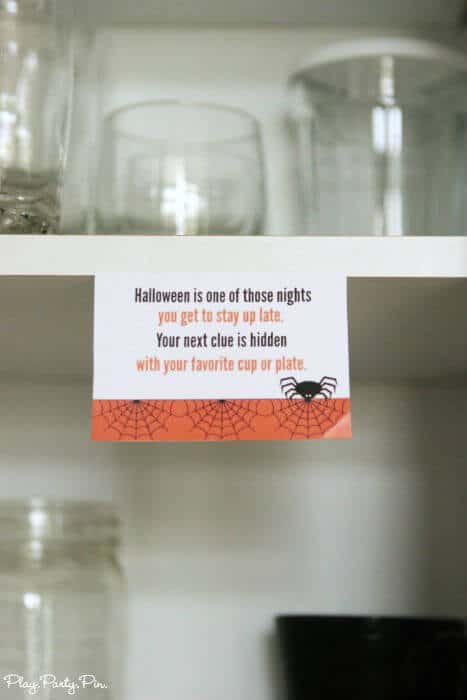 Once you've hidden all of the cards, give the kids the first clue. They'll read that clue and go in search of the next one.
And so on until they've found their fun surprise at the end.
If you want to make it even more fun, you can include little surprises along the way with random clues.
2023 Halloween Scavenger Hunt
One of the most requested things from my readers is more scavenger hunts since their kids have already done the first one! So this year I created a brand new scavenger hunt so there are TWO scavenger hunts included in the printable file, not just the one you see in the pictures.
You can see a picture of the new one below – same idea just different clues and hiding locations! Enjoy!
Halloween Scavenger Hunt Prize Ideas
One of the best parts of scavenger hunts, whether it be a Christmas scavenger hunt or 4th of July hunt is the prize at the end! I've put together a list of some of my favorite scavenger hunt prizes for kids and a couple that are good options for teens as well!
These prizes would work well if you wanted to play this Halloween bingo game too!
I know that some people might think to just do candy but with so many people with allergies – I think it'd be great to stay away from candy or at least offer an alternative, kind of like the teal pumpkin project for trick or treating!
If none of these work, you could always give out any of these Halloween party favors or make a fun Halloween snack board like this one!
Looking for more Fun Halloween Games?
Other Halloween Games
Download the Halloween Scavenger Hunt
Enter your first name and email address below to get the free printable. You'll receive a copy to your email within a few minutes. If you cannot find it, check your spam and promotions folders.
If you can't see the form below, click here to get to the form to enter your info.
And if you'd rather not provide your email address but would still love the scavenger hunt, you can purchase it from my shop here.
And I just updated the file so not only does it include one Halloween scavenger hunt but this year it includes TWO! There are two scavenger hunts with 12 clues each for a total of 24 clues!
Don't forget to pin this Halloween scavenger hunt for later!