This free printable Halloween scavenger hunt is perfect for kids! Just give the kids the first clue, which will send them off to find a hidden clue at the next location. It's simple, fun, and perfect for a kids' Halloween party, classroom party, or even a trunk or treat! 
A Spooktacular Halloween Scavenger Hunt
All growing up my parents set up fun little hunts for us where they'd write out silly rhyming clues that would send us from one place to another on our way to the "grand prize." They did it for Christmas one year all over the neighborhood and all sorts of other times when they wanted the gifts to be a little more special. I thought it would be fun to create this fun Halloween scavenger hunt that you can either play with your kids on Halloween or play with a bunch of kids at a Halloween party. I kept the clues as universal as possible so that you can just print out the clues, hide them around the house, and be on your spooky way.
If you've never participated in a scavenger hunt, they are a lot of fun and are really easy to set up! All you have to do is hide the clues around the house, and they'll lead the kids to a fun surprise at the end.
Hosting a Halloween carnival or fall festival? Try these Halloween carnival games for kids after this scavenger hunt!
To get started, print out the clue cards and location cheat sheet. Cut them up and put them in order using the numbers on the cards. Now the fun begins. Hide all of the clues (except for #1) in the location that is immediately before the place the clue leads to. I know that sounds confusing, so I've made it easy for you by creating a cheat sheet that tells you exactly where to hide which cards.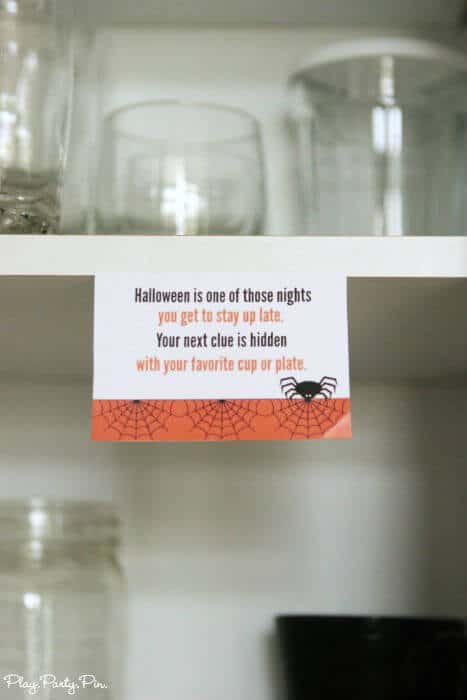 Once you've hidden all of the cards, give the kids the first clue. They'll read that clue and go in search of the next one. And so on until they've found their fun surprise at the end. If you want to make it even more fun, you can include little surprises along the way with random clues.
Get the Printable
Enter your first name and email address below to get the free printable. You'll be immediately taken to the PDF to download and receive a copy to your email shortly after. If you can't see the form below, click here to get to the form to enter your info.
Halloween Scavenger Hunt Prize Ideas
Stickers
Halloween Movies
Halloween Legos or other Toys
Fall Books like this one
Plastic pumpkin filled with treats
Mini fall erasers
Halloween Rubber Duckies (kids LOVE these)
Halloween Stamps or other art supplies
Fall bouncy balls, notepads, or other carnival prizes
Other Fun Halloween Party Games
Pin the Nose on the Pumpkin
Halloween Bingo
Spot It! Halloween Game
Witch's Fortune Wheel
Don't forget to pin this Halloween scavenger hunt for later!