This fun free printable 4th of July word search is great for 4th of July parties, summer camps, and more! Just print out the word search and start searching for all sorts of patriotic themed words!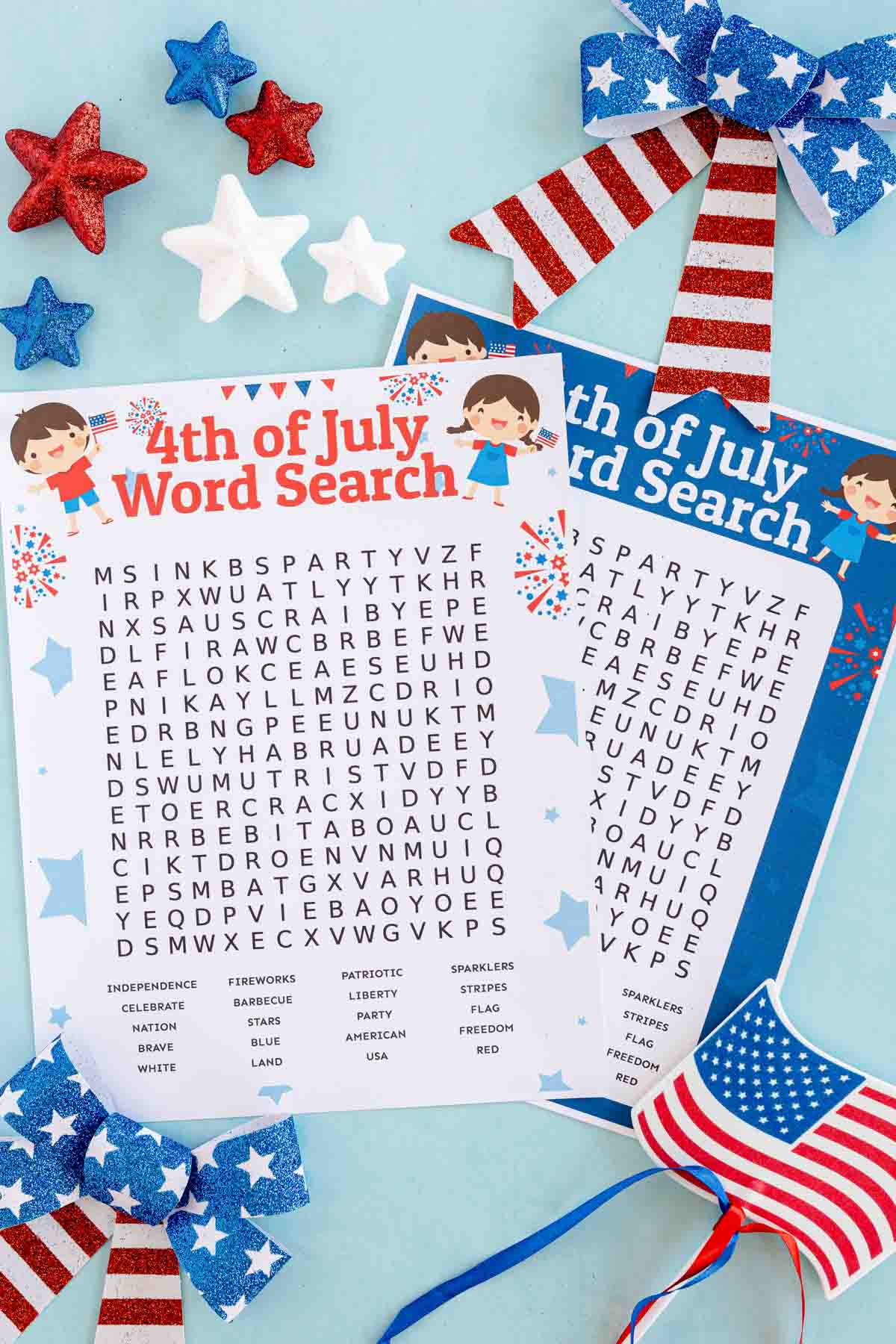 As my boys get older, they're starting to enjoy printable word games more than coloring pages and stickers. Don't get me wrong, those are both found in my activity bag often, but these days my oldest really likes things like word searches and crossword puzzles more!
I've made tons of word searches in the past including everything from a back to school printable word search to a St. Patrick word search printable. I kind of have them for every holiday and thought it was time to add a 4th of July word search to my collection!
This fun Independence Day word search includes all sorts of words inspired by July 4th. Some may even call it a patriotic word search because the word list includes a lot of patriotic words like freedom, liberty, and brave as well!
This fourth of July word search would be a great quiet activity for a 4th of July party, for a 4th of July themed week at summer camp, or just for some fun activities for kids at home when you need a little quiet time from all the fun things on your summer bucket list!
It's a great activity for people of all ages, but especially for kids because many of the words are actually spelling words depending on the age! Use it as a little summer school or a little quiet time activity for the kiddos leading up to the fourth!
4th of July Word Search Printable
There are a total of twenty hidden words in this fun printable 4th of July word search puzzle. They're all either patriotic terms or other things related to fourth of July like fireworks, barbecue, and party!
There are also two different designs you can choose from – a blue version and a white version. The word search printables are the exact same other than the design; I just know some people like to print out less ink (hence the white) and some people like me love the color!
I recommend printing on white printer paper if you're going to throw these away after or you can print on white card stock, laminate, and use year after year with different groups of kids. Just use dry erase markers instead of a regular writing utensil, and it'll wipe right off!
Note!
While these are not difficult, there is an answer sheet for the word search included with the PDF printable in case you get stuck and can't find a word!
More 4th of July Fun
Download the Free Printable 4th of July Word Search Puzzle
Enter your first name and email address in the form below to get the printable PDF. You will receive a link to download the PDF to your email within minutes.
The PDF will include:
A blue 4th of July word search
A white 4th of July word search
Answer key for both versions (spoiler alert – it's the same)
If you do not immediately receive the email, make sure to check your promotions, spam, and junk folders!
If you do not see the form below, click here to get to it.