Kids will love this fun free printable 4th of July scavenger hunt that will have them hunting for patriotic themed clues throughout the house! Use it for a fun activity for the 4th of July or any summer day!
If you've been on my blog before, there's a good chance you were here for one of my scavenger hunt ideas. It's kind of my jam.
I grew up writing rhymes and silly poems so writing scavenger hunt clues is one of the most fun things I do for my site! And I love sharing them with other people who may either not be as obsessed with coming up with creative rhymes or may just be too busy to do it!
This fun printable 4th of July scavenger hunt is patriotic themed of course and includes lots of references to things that you'd see on the 4th of July – fireworks, stars, stripes, and more!
Do it along with this red, white, and blue scavenger hunt (that's seek and find based rather than list based) for a really fun 4th of July party or just day of fun!
Supplies
All you need for this July 4th scavenger hunt is the printed out clues you can find at the bottom of this post, a pen (for writing down where you're hiding things), and some tape if you're planning to tape clues places. I recommend it – hiding them makes it a little more fun!
Other than that, you just need somebody to do your scavenger hunt once it's all done. Oh and some fun 4th of July themed prizes or a surprise to put at the end – that's always a fun way to end a scavenger hunt!
4th of july scavenger hunt setup
To help you out, I made a 4th of July scavenger hunt that is print and play. And 4th of July bingo cards, but you can get those over here!
I did this with my son, and he absolutely loved it. It's simple to set up in just a few minutes and will make kids happy.
1 – Print the clues
Start by printing out the scavenger hunt clues. There are twelve in all and they go in a certain order because the clues kind of fit together. BUT if you don't want to use one of the clues for some reason, they'll still make sense if you take one out.
2 – Cut the Clues
Once they're printed out, it's time to cut the clues. Here's how I recommend cutting them:
Cut one clue at a time, going from top to bottom and left to right.
As you cut one clue, write down on the back of the clue where that clue gets hidden. This will help immensely when you're hiding them – just trust me on this one!
Put the clues together in order so you can just hide them on by one.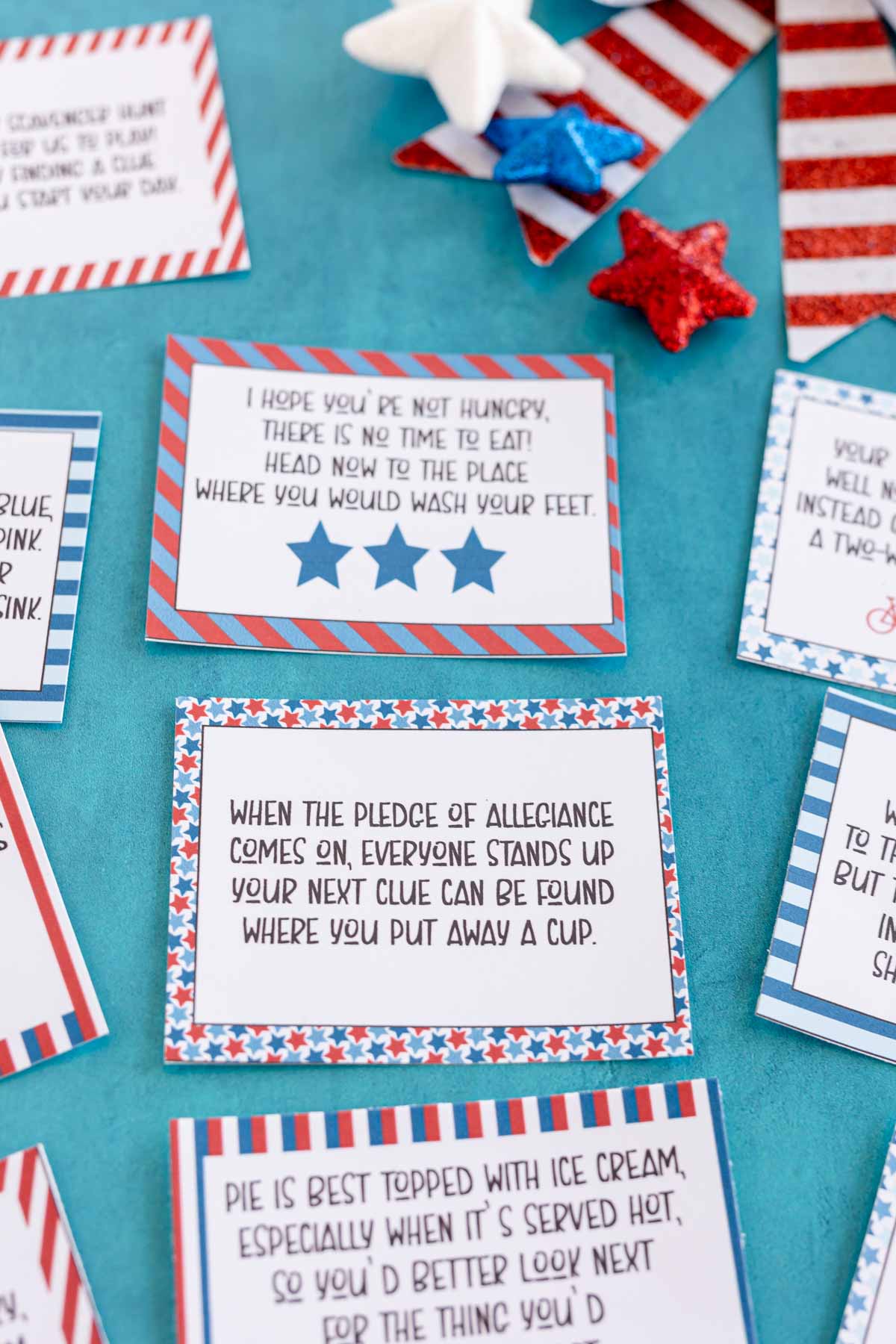 3 – Hide the Clues
Hide the clues in the locations that you wrote on the back of the clues. Or if you didn't take my advice and write down where the clue gets hidden, hide the clues in the location that the previous clue leads to. So for instance if clue #1 leads to a bed, you would hide clue #2 in the bed.
Make sure to hang onto the very first clue as that's the one that will start the whole thing off!
Oh and if you're planning to add a surprise at the end (DO!), you'll want to make sure to put that where the hunt finishes as well.
Tip!
For themed scavenger hunts like this 4th of July one, it's always fun to add some decorative elements in the places they'll find clues. It just makes it even more fun for the kids or whoever is doing the hunt!
How to Do the July 4th Scavenger Hunt
Alright, now that the clues are all hidden, it's time to actually do the hunt!
Give whoever is playing the first clue and let them be on their way. They'll read the clue and figure out where the clue leads then race to find the next clue in its hidden location.
Unless your kids are really young, they'll probably get it. We started doing scavenger hunts with my oldest when he maybe three, and he caught on real quick.
If your kids can't read yet, go along with them and help them read the clues! If they can read, you can go with them just to watch or you can just wait until the fun at the end!
All of these clues are designed to be places that are in pretty much all houses but if for some reason there's a clue that isn't in your home or where you'll be, just skip it or you can always cross it out and right something in. But most of the clues are things like sinks, TVs, and beds.
Fun 4th of July Prize Options
One of the best parts about a treasure hunt or scavenger hunt is the surprise at the end! Here are some great 4th of July surprise or prize options for kids!
More 4th of July Activities
If you need more fun things to do for the 4th of July, we've got you covered with these fun 4th of July games!
Get the Free 4th of July scavenger Hunt
Enter your first name and email address below to get the free printable.
You'll be immediately taken to the PDF to download and receive a copy to your email shortly after. If you can't see the form below, click here to get to it form to enter your info.