This 4th of July bingo game is perfect for passing the time waiting for fireworks! It's the perfect July 4th activity for all ages and a lot of fun whether you're a big bingo fan or not! Simply print out the July 4th bingo cards and play!
This post contains affiliate links. If you purchase something via these links, I may receive a small commission at no additional cost to you.
4th of July Bingo
4th of July is one of my absolute favorite holidays.
Fireworks. Food. Fun outside without a lot of prep. Freedom. I love it all.
When we lived in Washington DC, you had to find a place in the mall hours and hours before the fireworks actually started. And while you could explore a bit, it was so crowded that really you stayed in your spot so you didn't lose it. Or get lost.
That mean we had to come up with a lot things to do in our small space while we're waiting.
I wish we'd had this 4th of July bingo game (or this red white and blue scavenger hunt) back then.
My oldest son absolutely loves bingo so any chance we have to play bingo, I do it. Literally. We've most recently played Easter bingo, St. Patrick's Day bingo, and of course Super Bowl bingo!
And sitting around on a blanket waiting for it to get dark enough for fireworks is the perfect opportunity to play.
Or you could really do this any time during the day or night at a 4th of July party. And unlike these 4th of July party games, bingo is a nice calm game that works for all ages.
4th of July Bingo Supplies
One of the best things about any bingo game is that you really don't need much. All you need for this July 4th bingo game is:
4th of July bingo cards – get free ones to print at the bottom of this post or just buy a set on Amazon like these
4th of July bingo calling sheet – comes with the free printable cards at the bottom of this post
A bag, hat, or bowl to hold the calling pieces in
Markers – try something 4th of July related like red, white, and blue Skittles or these candy stars. Or something non-edible like these mini stars
Prizes for the winners – check out the section on prizes at the bottom of this post for ideas
How to Play 4th of July Bingo
This bingo game is played just like any other bingo game.
Let everyone choose a card or just hand out the cards.
Give everyone at least 25 markers, although they won't really need that many unless you're playing a blackout round.
Choose one person to be the caller for all the games or choose someone to be the caller for that particular game if you want to rotate and let different people call games.
When everyone is ready, have the caller pick the first card from the calling bowl and announce it to the group. Anyone who has that on their card should cover it up.
Continue pulling out cards, calling out objects, and covering objects until someone gets a bingo.
How to Win July 4th Bingo
The first person to get five in a row – horizontal, vertical, or diagonal yells bingo and wins the game.
Some fun variations on the traditional five in a row bingo include:
Covering all four corners
Covering a postage stamp (four spaces together)
Covering a cross or an X on your card
Covering either all in the top or the bottom row
And there are a ton more options for ways to win. Get creative! Just make sure everyone is very clear what type of bingo they're playing before they play.
After someone bingos, you can either have people continue playing on those cards (having more than one winner per game) or have everyone clear off their markers and start over for the next game.
If you're going to play multiple winners, make sure, just like what type of bingo you're playing, that everyone knows how many winners can win each individual game ahead of time.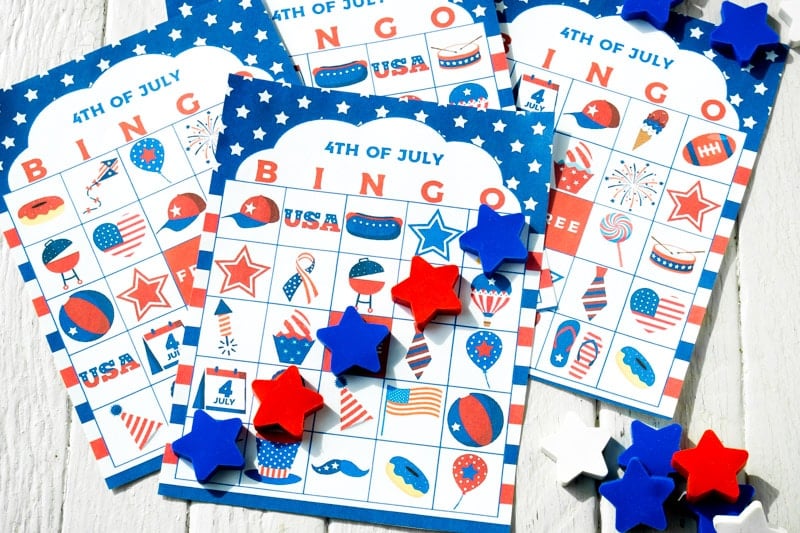 July 4th Bingo Prizes
These are just some fun bingo prize ideas that work well for a 4th of July theme!
Download the 4th of July Bingo Cards
Enter your first name and email address in the form below to get the free printable 4th of July bingo cards. You'll be taken directly to the printable PDF and receive an email with a link to it. Click here if you do not see the form.
The PDF comes with:
30 unique bingo cards
2 sheets of calling cards
Instructions for printing/playing
I recommend printing the bingo cards on white cardstock so that they're a bit more sturdy than regular bingo cards. Even better if you laminate the cards – then you can use them year after year!
If you use this game, share a photo on social media with the hashtag #PlayPartyPlan – I love seeing my ideas being used and love to share when others play my games as well!
Other Fun 4th of July Games
Need more fun things to do for 4th of July? These are always a hit!
Don't forget to pin these 4th of July bingo cards for later!