Celebrate your graduate in style with these unique graduation decorations. From creating custom photo numbers to creating personalized graduation banners, using photos and personalized items in graduation party decorations allow you to celebrate your graduate's achievements and years of hard work!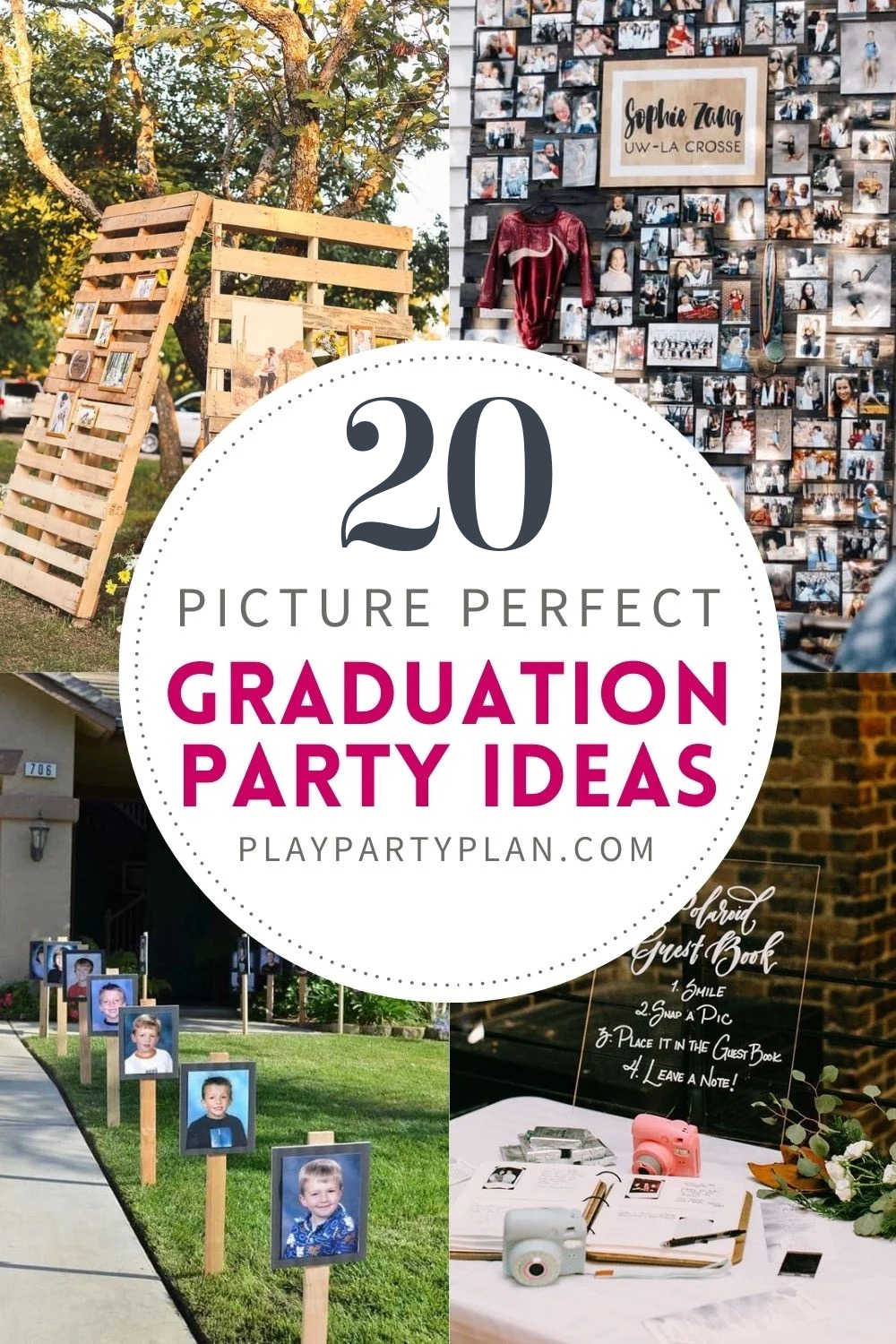 Whether you're hosting a high school graduation party, celebrating your favorite college graduations, or even just a fun kindergarten graduation playdate (hello water games!), you can use any of these great graduation party decorations to celebrate your grad in style!
I've got everything from DIY graduation decorations to ones you can order online and just put up when they show up! They're for kindergarten to high school graduates, no matter the party theme!
And if you need graduation party games, I've got those too. Plus, some of the best high school graduation gifts!
Picture Perfect Graduation Decorations
One of my favorite things to do is to use photos in the party decorations simply because this party is all about your graduate and you want people to know that! Use photos of them growing up, senior photos, or really anything as a way to personalize decorations!
Here are just a few fun ways to use photos in your decor! These would work well for a small graduation party or a big combined blow out bash! And the best part? They double as a party activity as people look at the photos!
Decorate Your Walkway
Use pictures of your graduate from when they started school until they graduated along the walkway for when people show up to the party! Love this idea from DoHappy! Such a fun way to do something other than a traditional yard sign.
If you're doing a backyard graduation party in the evening, you could even string lights along the path to keep the photos visible!
Use Photos on Food
There are so many different ways you could do this. Order personalized custom cupcake picks with photos of the graduates. Order a cake with a photo of the graduate. Or even some swirl lollipops with photos!
This is an easy way to keep your grad at the forefront! Use graduation pictures, silly photo booth photos, or even senior photos to add this personal touch.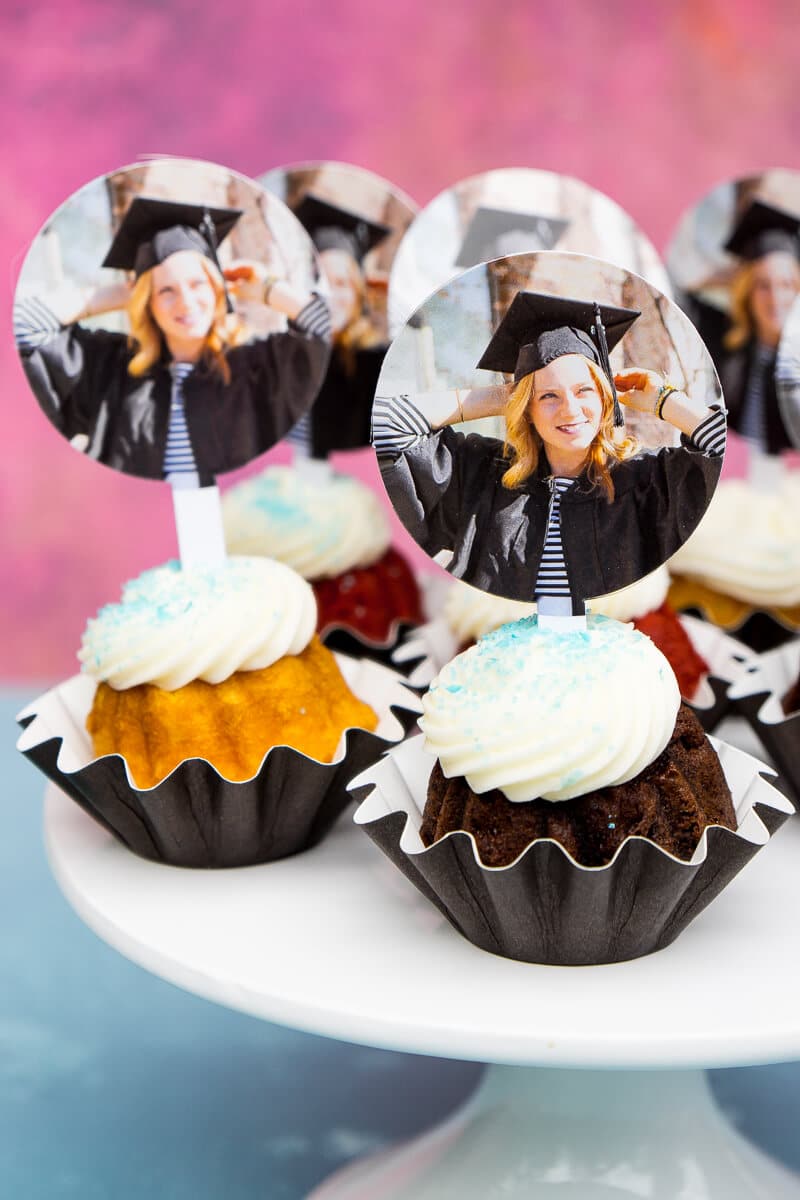 Create Hanging Photo Walls
We made these pallet photo walls for my sister's bohemian wedding but you could easily do the same thing for the graduate's big day as well! Hang photos, lights, and other decor to give a chic look!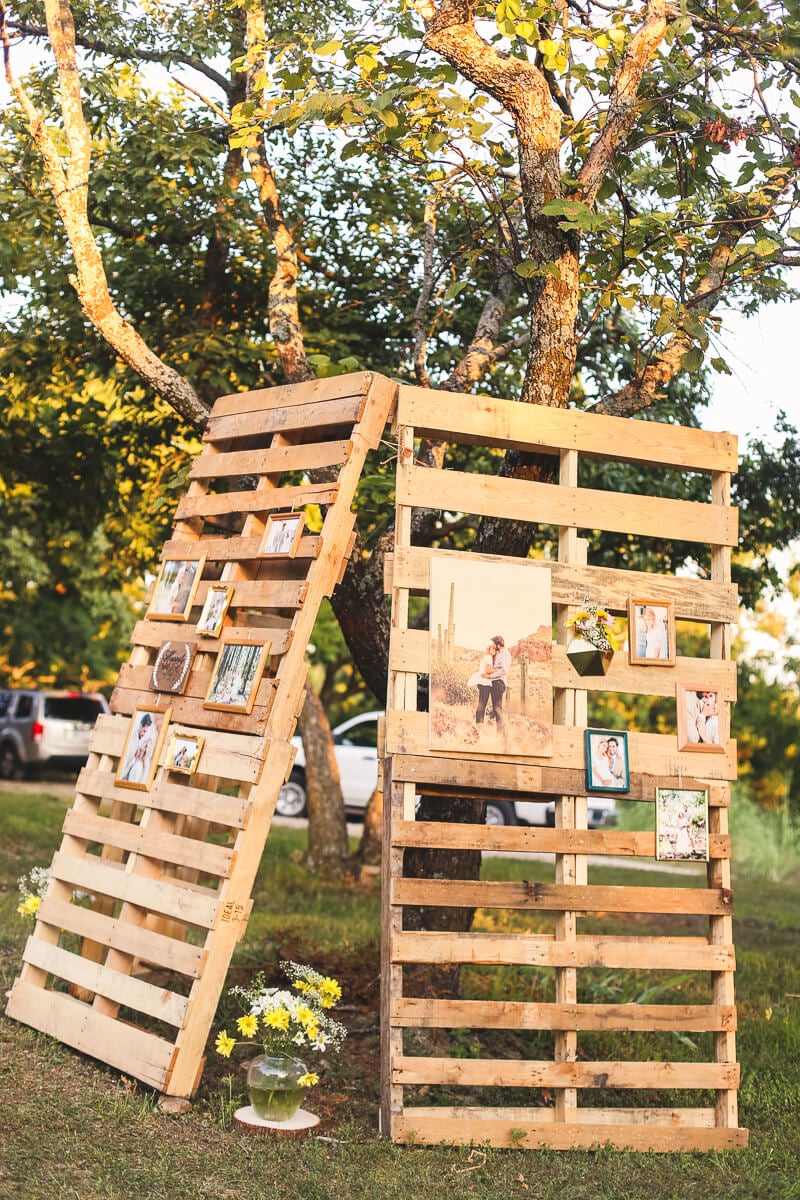 Incorporate photos into your tables.
Whether it's adding simple photos in frames like I did for this Bohemian wedding or printing an actual customized tablecloth with a photo of the graduate, it's easy to use photos to celebrate your guest of honor. I typically go for my favorite print, but you could definitely do silly or funny pictures if that matches their personality as well!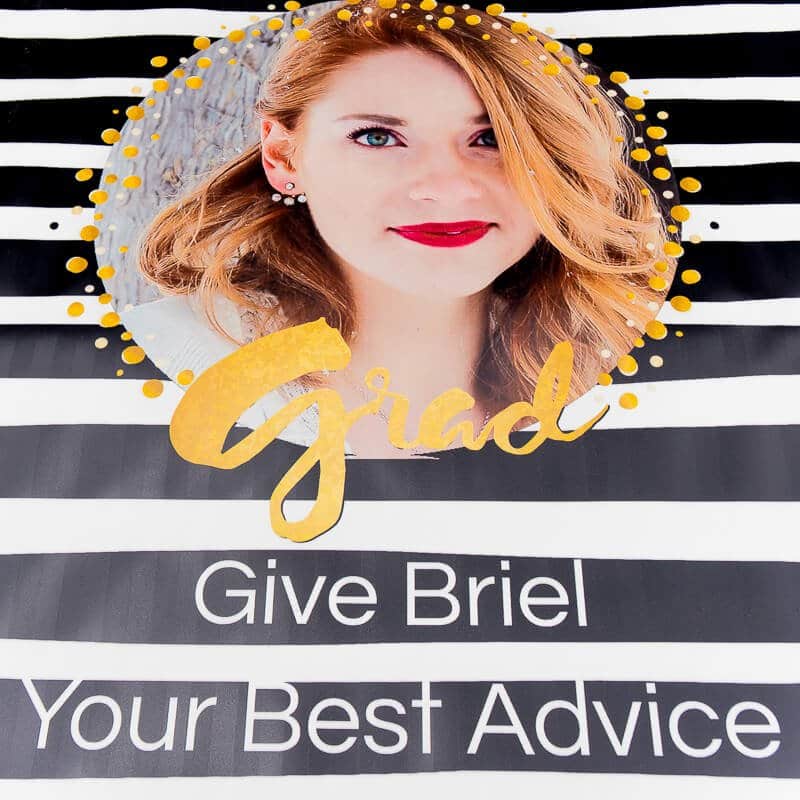 Set Up A Polaroid Guest Book
Put out polaroids or Instax cameras and let people put their photo and a note in a guest book for the graduate to read later! It'll give them something fun to look at PLUS it'll give them a reminder (with photos) of who showed up for their graduation celebration!
Make sure to leave a sign explaining what to do like this one!
You could even setup a DIY photo booth (one of my favorite graduation activities) with props and items for the photos!
Photo Numbers
When I was looking for 50th birthday party ideas, I found the idea of using photos to write the number 50 on the wall. You could do it this way or make it a lot easier and just order custom photo letters or numbers instead. I've seen this option through places like these shops on Etsy and others!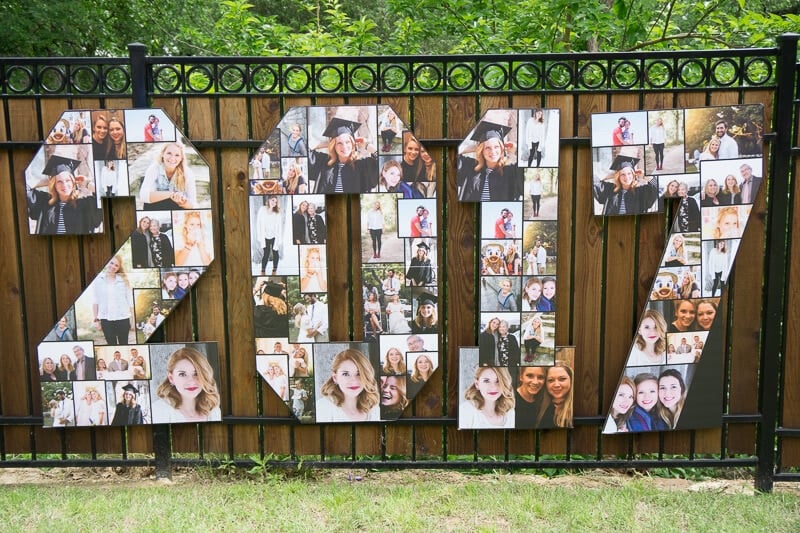 Have a candy buffet with personalized treats
Either personalize candy with something like lollipops, or use customized candy tubes or personalized candy jars. We used cute jars with a personalized topper, jelly beans inside, and a sticker on the inside that said, "Thanks for 'be-an' here."
These would make fun graduation party favors with a sweet treat for people to remember what a good time they had at the party!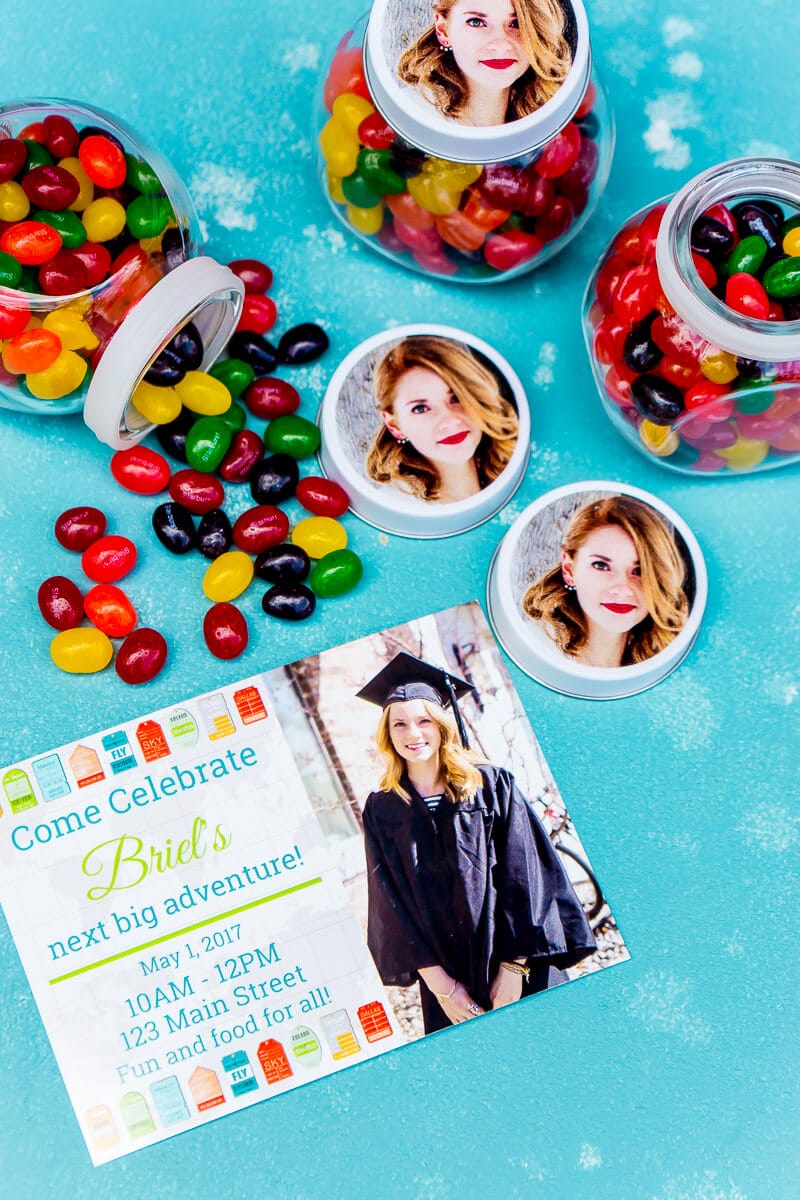 Create a Photo Collage to Share Memories
Put a bunch of the graduate's own photos together of the graduate through the years to create a collage! Family members and friends will love looking through to see everything the graduate has done and enjoyed as they grew up!
Add a few little momentos and examples of school spirit like this one from Sophia Lee for the perfect focal point! You could even use frames in school colors for your color scheme.
Make a personalized photo box
Ever played two truths and one lie? Order a customized personalized box and include instructions on the box to have people write down three stories of memories of the graduate.
Pull them out of the box and read the stories and have people guess which one is accurate. It's one of my favorite graduation games!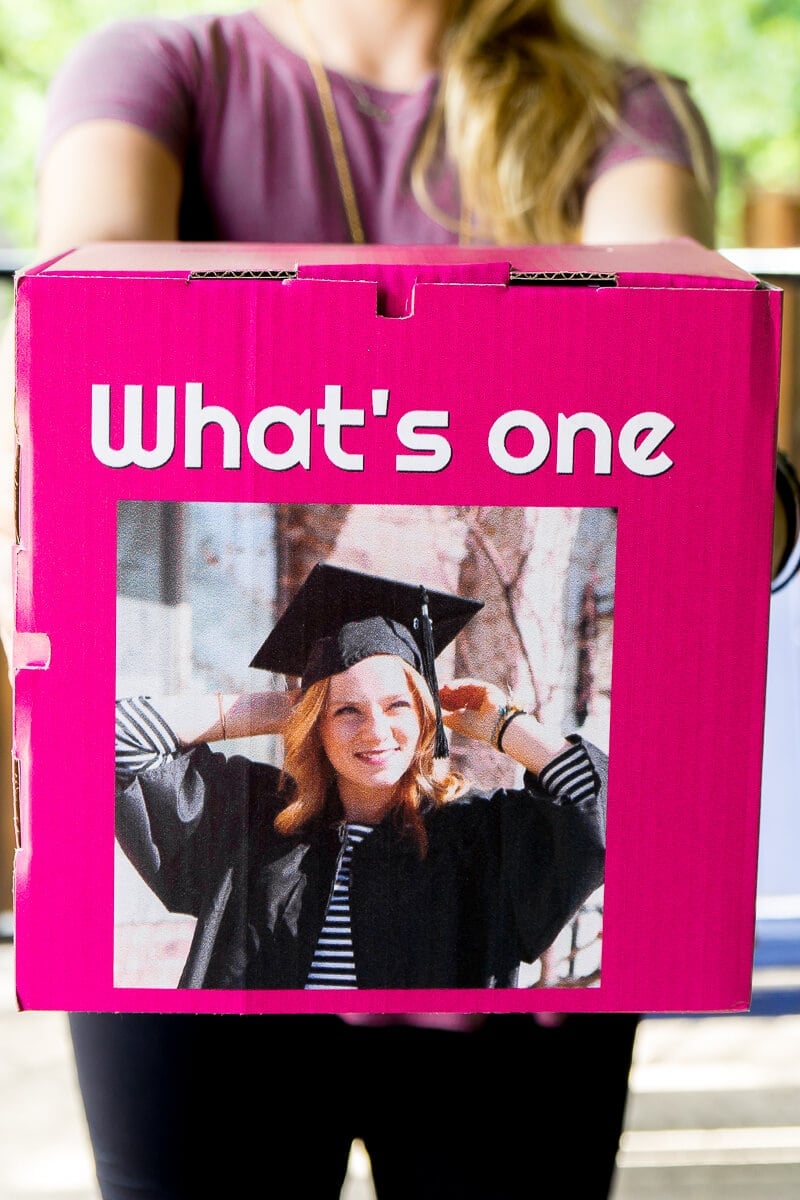 If your group isn't really into games, just have people write down things they wish they'd known or advice to the graduate instead.
Or use the box to hold cards or other small graduation gifts on a gift table.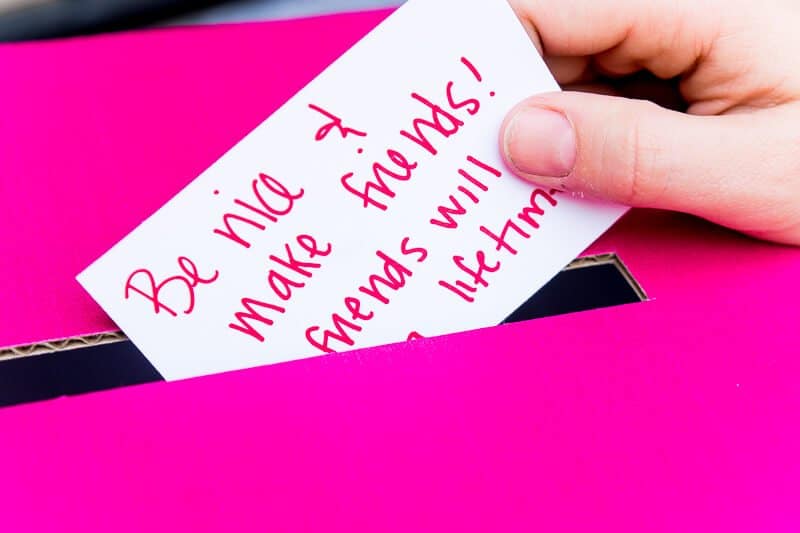 Give Guests a Reminder to Take Home
Pick out graduation favors and personalize it with photos and something your graduate loves. We did bags with photo stickers and candy sushi to represent my sister's love of sushi.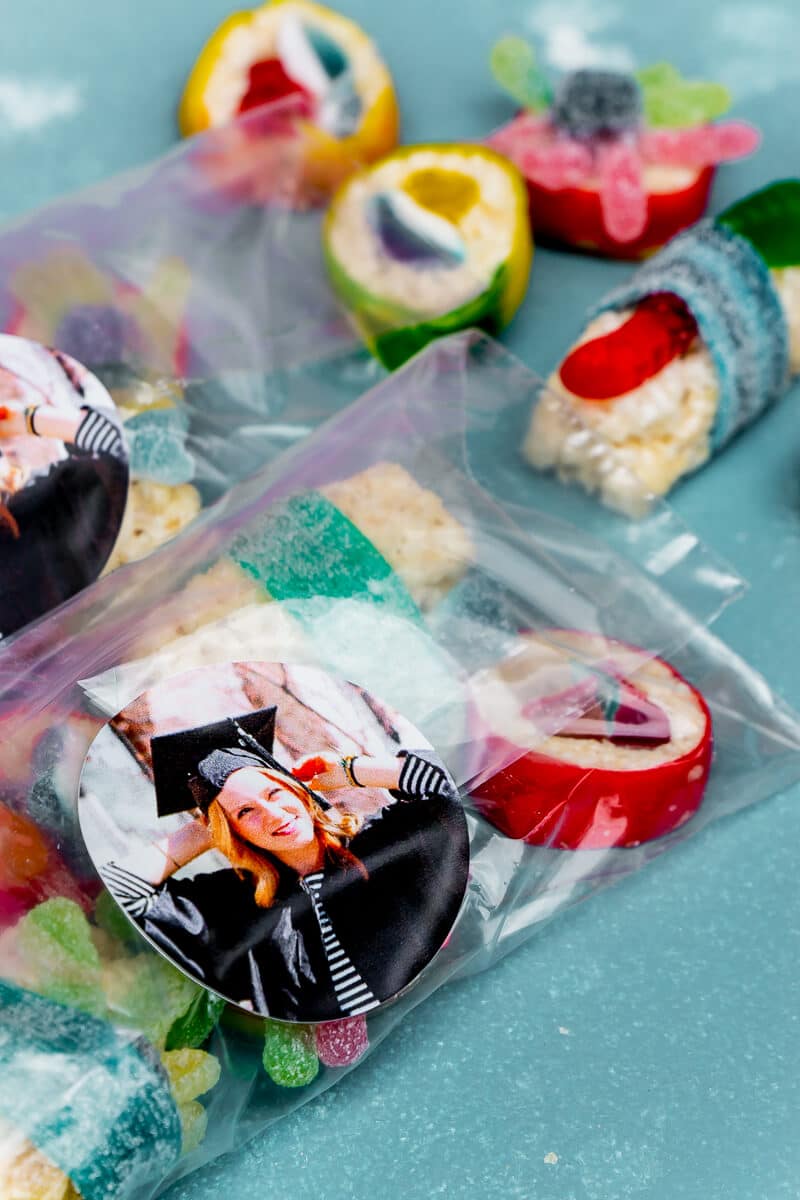 Custom Banners
Another great idea for adding a personalized touch and a fun way to welcome guests is with a custom grad banner that features your graduate and plenty of fun facts about them! There are tons of different options for having these created including ones with free shipping, but I personally loved the look of this one!
Graduation Photo Banner
Similar to the idea above where you share photos through the year as yard signs, this fun idea incorporates polaroid style images through the years featuring the grad as they grow up!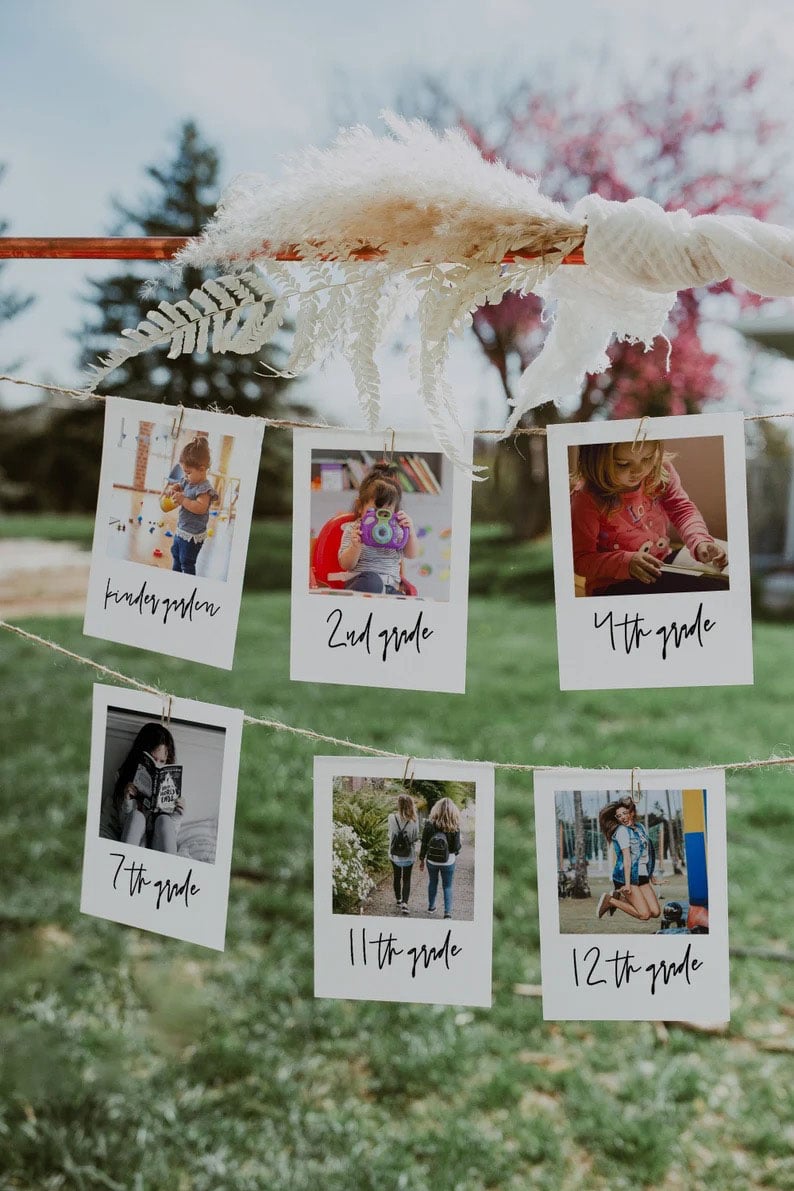 Other Grad Party Decor
If you'd rather not use your favorite photos, here are some other great graduation party ideas to really make the best use of any party space and make the perfect grad party with a really finished look!
Clay Pot Graduation Cap
This simple project is something that can be made in minutes and is the perfect idea for a graduation centerpiece or even to add to a dessert table!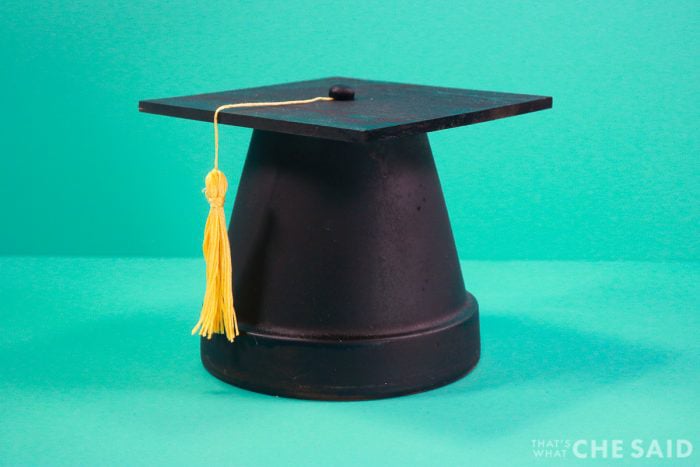 Graduation Balloons
While you could totally do something more extravagant like these custom name or graduation year or word balloons, I personally love the simplicity of this fun balloon cap and tassel! These would be really fun to use as table centerpieces!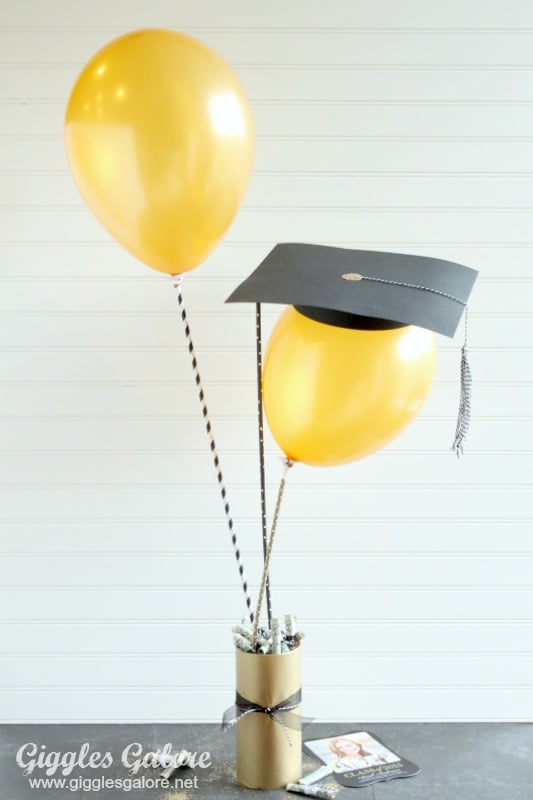 Graduation Mason Jars
These fun graduation cap mason jars are something you can buy at the dollar store and turn into a fun decor item to use throughout the party! Turn them into advice jars, card holders, or even just fun decorated mason jars to welcome guests!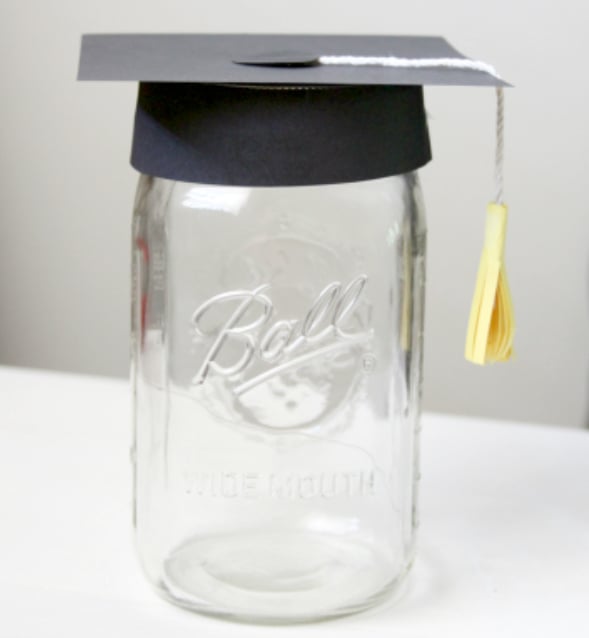 Graduation Chalkboard Sign
This fun graduation chalkboard sign can be personalized with all sorts of fun facts about the graduate you're celebrating! Set it up for people to learn more about where they're going to school (or what they're doing), their favorite memories, and more.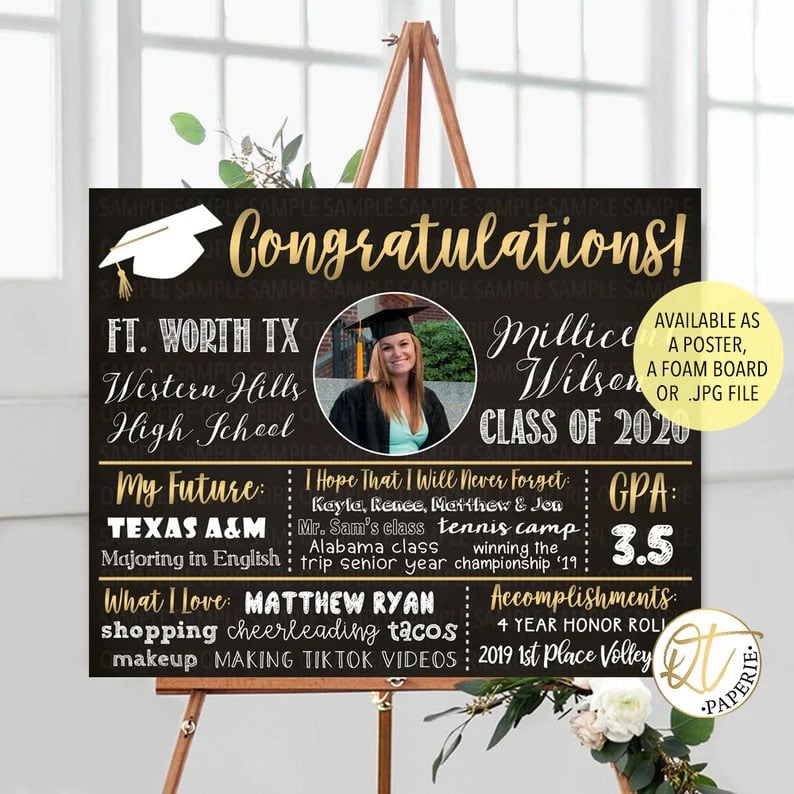 Tissue Paper Graduation Numbers
If you don't want to go for number balloons or photo numbers, these fun tissue paper numbers are great options as well! Plus, this DIY tutorial makes it super easy to make on your own!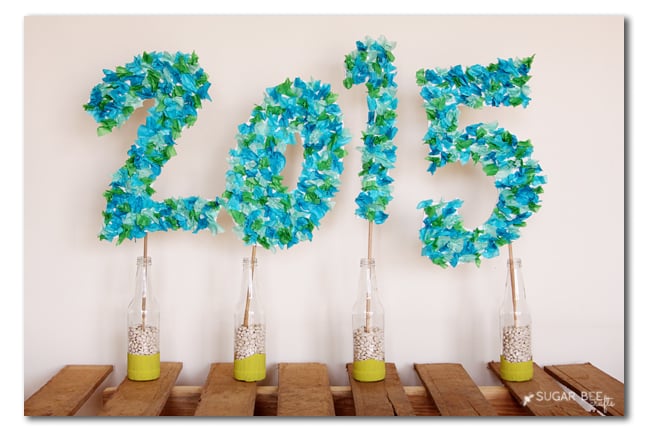 Light Bulb Decorations
I love the idea of this your future is bright theme, especially for kindergarten or younger graduations! But it's also great for college graduations and high school too. Grab some empty light bulb containers and fill with treats then send these home as fun party favors for your guests!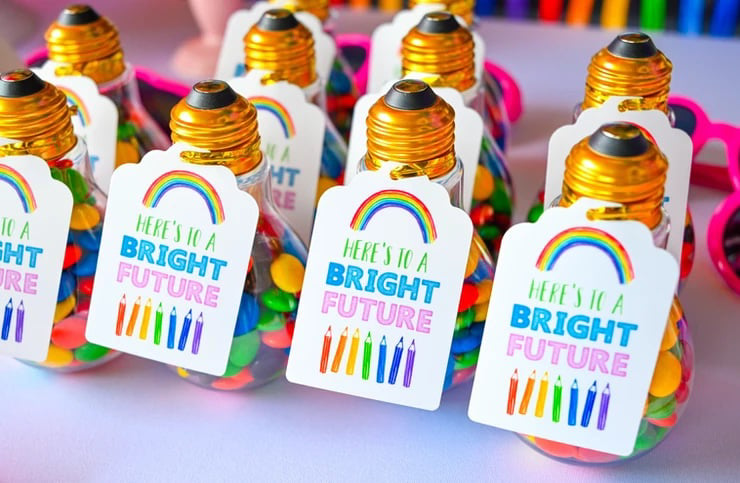 Light Up Graduation Table Decorations
If you're looking for inexpensive table decor (aka saving up all the money in that piggy bank), these light up centerpieces are a great way to celebrate new beginnings for your new grad! They're simple to make and a great price even if you're making a bunch of them!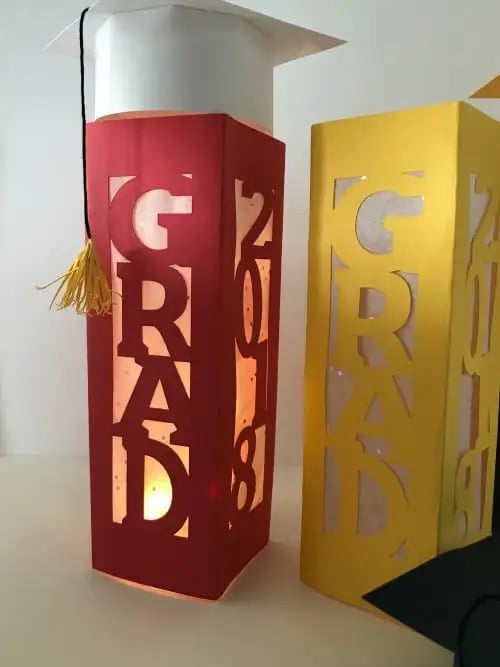 Other Graduation Party Supplies
If you'd rather just order graduation party supplies instead of making them or creating them on your own, here are some of my personal favorites!