This summer has been a crazy one already and with five more trips planned between now and when we move to Texas permanently, it's just going to get crazier. Between now and the end of August, we'll fly on ten different airplanes. To be honest, I think flying is almost easier at this point than driving for my toddler. It's just a regular occurrence. These printable activity placemats are perfect for all that travel!
One of my best tips for traveling with toddlers, whether in the car or on a plane is to come up with fun activities and games that are travel specific. I typically pick up a couple of items from a dollar store and some travel-sized snacks and pack it all up in his Avengers backpack.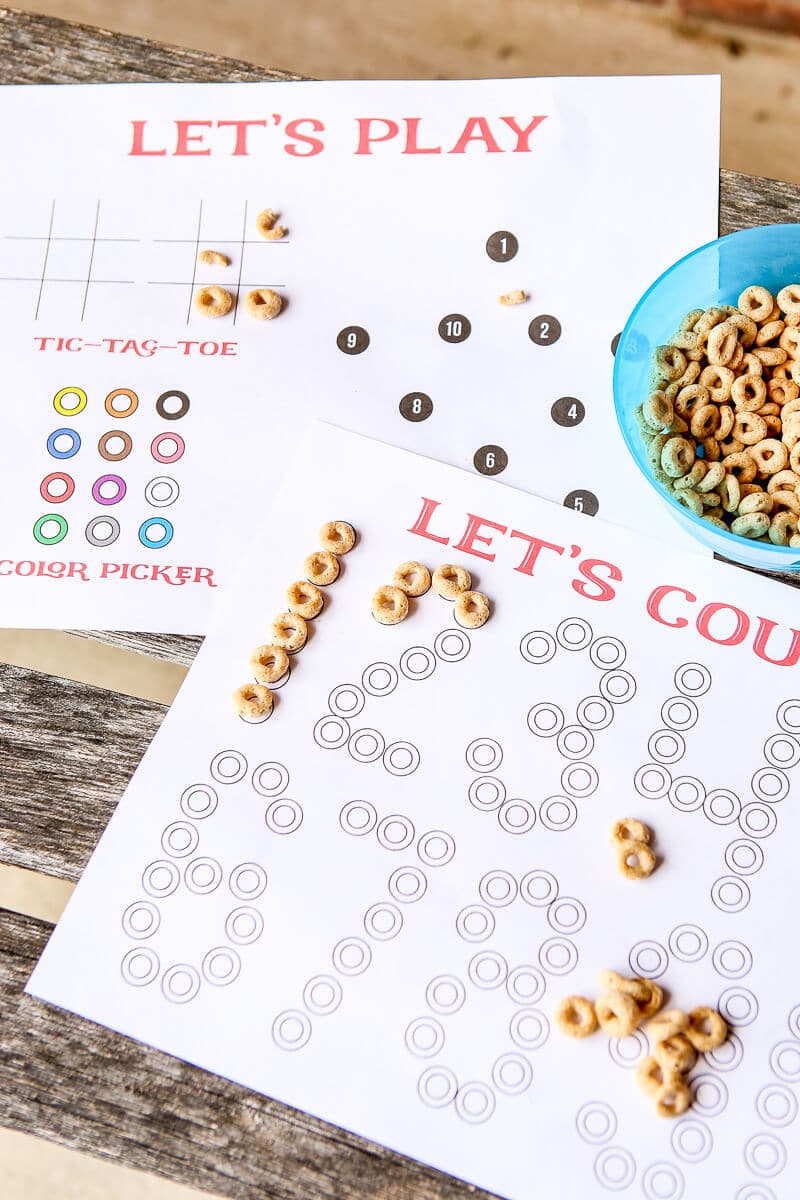 One of the big things that I want to keep doing this summer is learning. He learned a ton during preschool last year and will start again in September, but I don't want that learning to stop just because he's not in school. I made these fun activity placemats that are perfect for making learning fun while you travel.
Because Cheerios™ are one of his favorite snacks, I picked up a box of the regular Cheerios™ at Walmart using this coupon before our most recent trip and just gave him a bowl full to use for the activity mats. And we played with the Cheerios™ activity mats for a good hour, which in toddler time is pretty much a lifetime.
I created two different mats – one to practice numbers and one that has a few fun games like matching the Cheerios™ with the color, tic-tac-toe (break one of your Cheerios™ in half for your "x"), and connect the dots. I just printed them out on card stock and then threw them away at the end of the day, but you could easily laminate them and keep them in your to-go bag to reuse again and again if you'd prefer.
Printable Activity Mats
I designed them specifically to fit Cheerios™ but if the plain ones aren't your style, try out any of their other fun varieties like Honey Nut Cheerios™, Fruity Cheerios™, Multi-Grain Cheerios™, Frosted Cheerios™, Apple Cinnamon Cheerios™, or even Chocolate Cheerios™. There's pretty much something for everyone. Enjoy! Enter your first name and email address in the form below to get the printable. If the form isn't showing up below, click here to get to the form to download the printable files.
<<Download the Cheerio Placemats printable>>