There's nothing worse than a family road trip where everyone is sick or bored! Make sure on your next family road trip to take along healthy road trip snacks, road trip games, and some great road trip jams!
This post is sponsored by Hiland Dairy. All opinions are 100% honest and my own.
If there is one thing I remember about my childhood, it was the road trips. Specifically the road trips to go on roller coasters around the country. My dad has been a roller coaster fanatic since I don't even know when, and he's taken his kids along for his journey. He even has a spreadsheet of all of the coasters we've each been on!
We grew up having season passes for Kings Island in Cincinnati, Ohio, Elitch Gardens when we lived in Denver, and even King's Dominion when we lived in Virginia. But honestly, we didn't really go to the same parks that often. We went on road trips so that we could add brand new roller coasters to the list. Heck, we even skipped going to see the Vatican to go to Rainbow Magic Happyland during one of our trips to Rome.
What can I say, we're a roller coaster kind of family. And I love it.
Those road trips are still some of my absolute favorite childhood memories. Like the time we went with a bunch of random friends on a road trip to Sandusky, Ohio to ride Millennium Force at Cedar Point after it opened. We didn't just add Millennium Force to our list, we made lasting memories.
Just last summer we went on our most recent road trip to guess where? Yep, you guessed it, an amusement park. We went with my sister and brother-in-law down to Sea World San Antonio to check out their brand new roller coaster. Here are just a few of the roller coaster memories my family has made together!
Now that I have my own family, I'm trying to create similar memories with my own son. He just turned five and already has an incredible memory. And I really want him to remember the memories we've made, the fun we've had, and the things we've done together.
Two years ago we took him on his very first road trip to Silver Dollar City for Coaster Christmas and while it was only a three-hour drive, it was still a longer drive than we'd done before. During our visit, we went on all of the kid rides, ate cookie s'mores, and took him on the Grand Exposition Coaster! This year we're planning to return to Silver Dollar City for the opening of their brand new coaster Time Traveler, which means another coaster road trip is in order!
Win Your Own Trip to Silver Dollar City
I'm not the only one headed to Silver Dollar City this summer. Hiland Dairy will be sending two lucky families on a road trip vacation this summer just for entering their Ride of Your Life sweepstakes!
Two winners each will receive the following prize package from Hiland Dairy:
Five front-of- the-line park passes to Silver Dollar City
Hotel accommodations with shuttle service to the park
A $150 prepaid card for the road trip
A $50 coupon pack for Hiland Dairy products
A cooler to keep your farm-fresh Hiland Dairy snacks cool on the ride
Whether you win or not, Silver Dollar City is the place to be this summer! Time Traveler seriously looks awesome, and it's just a short road trip away!
Road Trip Must-Haves
Speaking of road trips, great road trips need more than just an amazing destination. They also need three main things – road trip snacks, road trip games (or entertainment), and great music. I'm still working on the perfect road trip playlist, so we'll skip that one for now and focus on the other two – road trip snacks and road trip games! Oh and don't forget to bring these other road trip essentials!
Road Trip Snacks
It almost feels like road trip is synonymous with junk food, but the fact is that if all you eat is junk food then you're likely going to get tired, grouchy, and sick of being in the car. Maybe even literally sick.
I think most people have the junk food part of road trip snacks down so instead, I'm going to give you some ideas for healthy road trip snacks you can put in a cooler and take along! We love bringing along farm fresh Hiland Dairy products to provide calcium and nutrients, and it's a great way to balance out the junk I'm sure you're going to eat anyway!
If you're traveling in an RV and have an actual freezer, make sure to stock up on the brand new Time Traveler ice cream too! It may not be healthy, but it's named after one exciting roller coaster so you know it's going to be good!
Road Trip Games
Now it's time for my favorite part of a road trip – the games! I've put together the best list of road trip games I could come up with along with a free printable road trip scavenger hunt just for my readers!
Free Printable Road Trip Scavenger Hunt
This game is inspired by one that I picked up on Amazon for my son during our road trip to San Antonio. The problem with that one was that we quickly ripped, lost, or ruined all of the cards. I highly recommend that you print out these cards, get them laminated, and put them on one of those binder rings so you can keep them all together! It makes one of the simplest road trip games you can grab and take as you're running out the door!
To play, one person should announce the item you're looking for (whatever is on the first card). The first person to find that item gets to keep the card. Keep playing until you've gone through all of the cards and whoever ends up with the most cards wins. If you're playing with younger kids, just see who can find the items and don't make it a competition.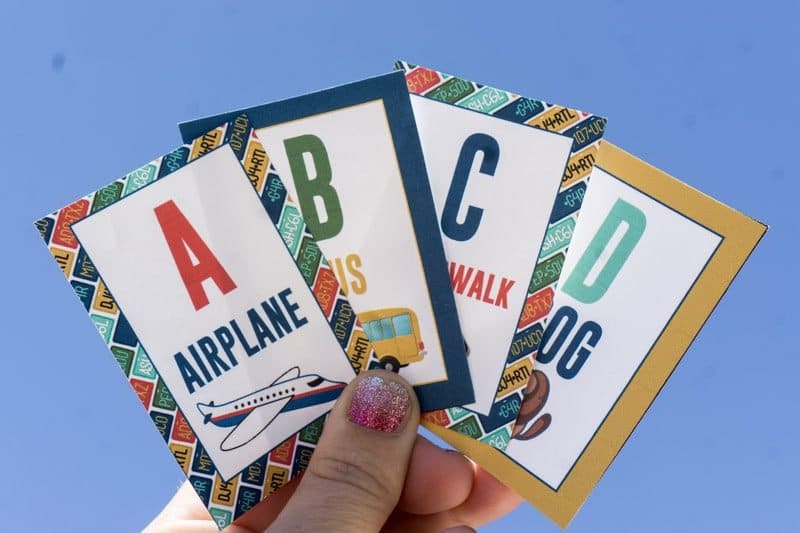 Get the Free Printable
Enter your first name and email address below to get the free printable. You'll be immediately taken to the PDF to download and receive a copy to your email shortly after. If you can't see the form below, click here to get to the form to enter your info.
Don't forget to pin these road trip games and snacks for later!
This is a sponsored conversation written by me on behalf of Hiland Dairy. The opinions and text are all mine.