This nature scavenger hunt for kids will have kids searching for things commonly found in nature while also forgetting that they're bored! It's a great way to make getting outdoors or a walk through nature a little more fun!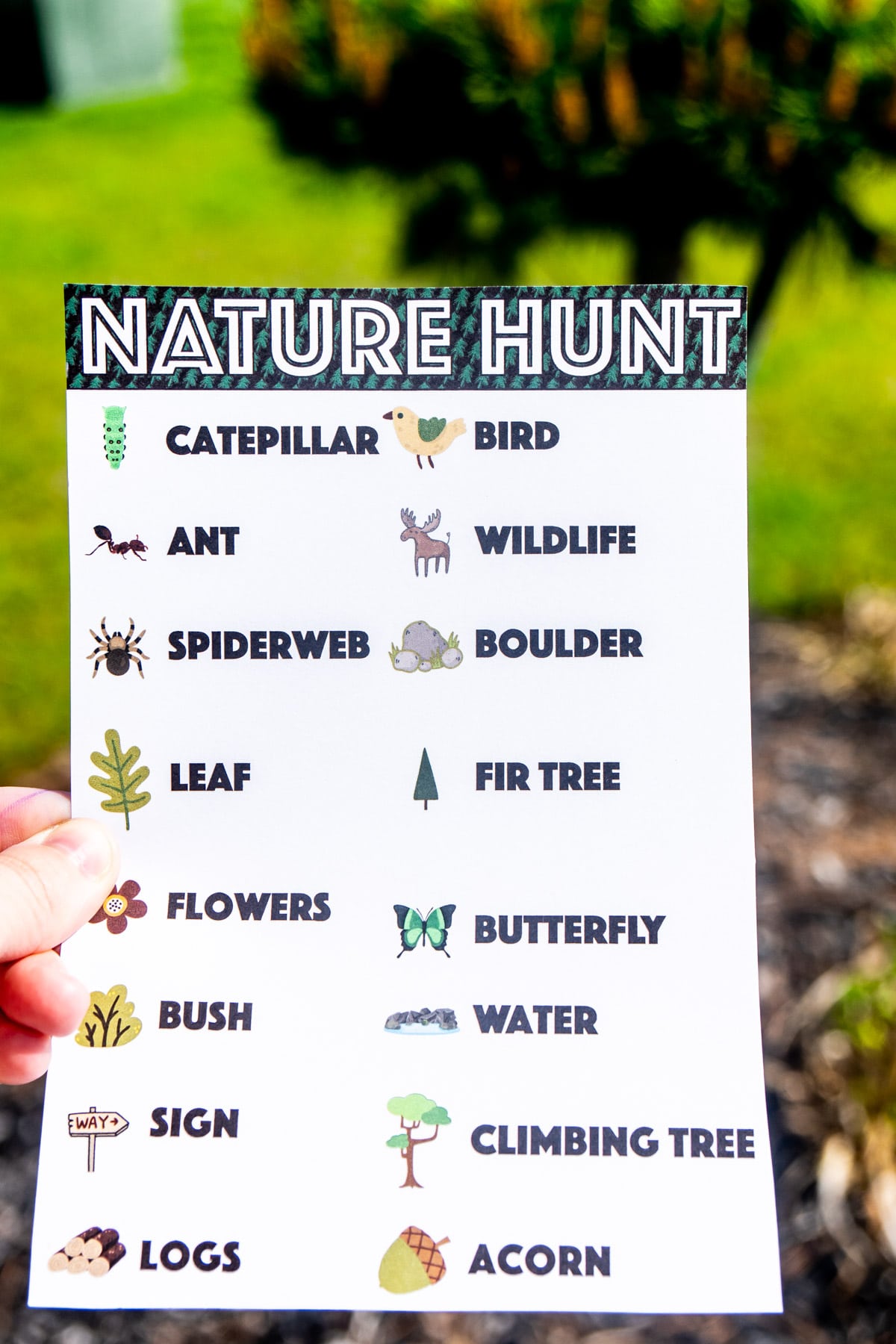 Nature Scavenger Hunt for Kids
One of our goals every day is to get outside as a family, whether it's going on a walk, going hiking at a nearby park, or just playing outside.
But I'll be honest – my son sometimes struggles with wanting to get outside, even if we're playing the most fun outdoor games.
So I'm regularly having to come up with ways to keep him entertained while we walk so he forgets to mention that his legs are so tired or that he's bored.
I made up this workout cards activity a few weeks ago and today we're doing this nature scavenger hunt to keep him thinking about something other than the fact we're walking again.
What is a Nature Hunt?
A nature hunt is exactly what it sounds like – a fun way to keep kids entertained outdoors by having them search for specific things in nature!
The free printable in this post can help you determine what things to look for or at least get you started – feel free to search for other cool things on your nature scavenger hunt while you're at it!
How Do You Do a Nature Scavenger Hunt?
Doing a nature scavenger hunt is simple, especially when you have the free printable scavenger hunt I've included in this post!
All you need to do is print out a scavenger hunt – either one for the entire group if you want to work together, or one per person if you want to have people look for things separately.
The printable in this post includes both a full sheet (for doing it all together) or half-sheet option (for splitting it up) to save a little paper. It is a nature scavenger hunt after all, probably should save paper!
Make sure everyone has a scavenger hunt and a pen. If you think you'll be doing this more than once, I recommend laminating the hunt and using a dry erase marker instead.
It's one of my parenting/teaching secrets.
Once everyone has a hunt and a pen, go outside and get into nature.
The items included on this hunt are all things you should easily be able to find while wandering around in nature whether you're hiking on a trail, walking around your neighborhood, or taking a walk in the park.
Although if you're just walking around your neighborhood, you might want to try this neighorhood scavenger hunt instead.
As you walk, look for the items on the hunt sheet. If you see something, mark it off on the sheet!
Try to get all of them marked off before you end your walk!
And that's it – so easy! There's a reason my family loves doing all sorts of scavenger hunt ideas.
How Do You Start a Scavenger Hunt?
For this nature scavenger hunt, starting is as simple as giving people the printed out scavenger hunt and walking outside. If you're thinking of something more like this birthday scavenger hunt, you'd start by giving someone a clue!
If you want to do this as a race with a couple of kids (say with fun camping games at a camping themed birthday party), you could start this off by giving everyone a sheet, counting down, and saying go!
Here are the items you'll be looking for on this nature scavenger hunt. If you don't think you'll be able to find these items, you can modify as necessary (i.e., look for sticks instead of logs).
Catepillar
Ant
Spiderweb
Leaf
Flowers
Bush
Sign
Logs
Bird
Wildlife
Boulder
Fir tree
Butterfly
Water
Climbing Tree
Acorn
Download the Nature Scavenger Hunt
Enter your first name and email address below to get the printable scavenger hunt. You'll receive a 2-page PDF that includes a full sheet scavenger hunt and a half-sheet scavenger hunt (in case you want to do this with more than one kid).
If you do not see the form below, click here to get to it.
More Scavenger Hunts for Kids
Don't forget to pin this nature scavenger hunt for later.